Asus ZenFone 3 Deluxe ZS570KL detailed review
Image can be everything in the smartphone market today. We've seen it happen time and again, where consumers expect a certain brand to sell phones at a certain price point. Anything more, and even a good phone takes flak from so called fans.
We saw a similar reaction to Asus' phones this year. The Zenfone 3 range, was launched at higher than expected prices, and as usual, the comparisons began. However, can one really blame a company for trying its hand at a more premium range? Or rather, should we be penalising Asus for ambition?
However, ambition has its challenges. The Zenfone 3 Deluxe leads Asus' product portfolio, but it also lays claim to the flagship throne, which includes contenders like the Samsung Galaxy S7 Edge, HTC 10, Google Pixel, and even the iPhone.
To us, here at Digit, a premium phone means something that is more than functional. A higher price means unparalleled performance, camera, battery life, and then some features that you didn't even know you needed — case in point, the Edge display on Samsung's flagship, which adds nothing to the phone, except a unique show-off value.
Build and Design
Speaking of uniqueness and showing-off, it all begins with the design. Asus chose the safest route, going for metal all over, in a thin-and-light body. That design has worked for many, and for the most part, it works for Asus as well. I doubt anyone would criticise the Zenfone 3 Deluxe for its looks.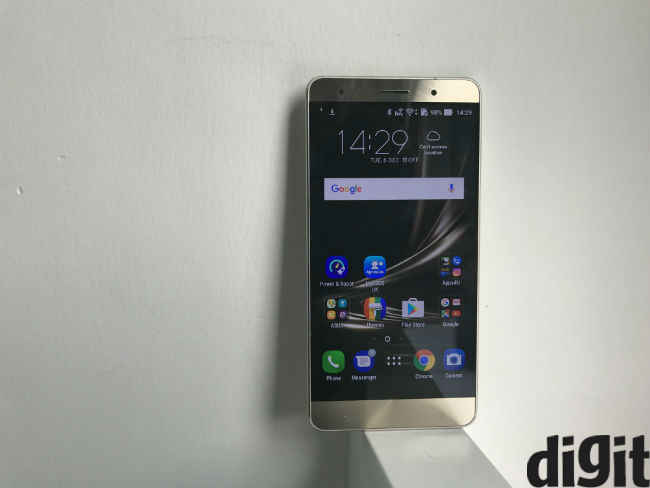 The Zenfone 3 Deluxe is tall and wide, which is not very ergonomic
On the other hand, design is much more than just looks. I'm not a big fan of how tall and wide the Deluxe feels, in my average sized hands. One of my fingers usually rests on the power on/off button (on the right side), but I have to routinely shift my grip to reach the volume rocker that's just above it. This matters when you need to use the phone urgently for a quick shot etc.
Height also comes into play when you're trying to reach different parts of the screen. While your thumb will never reach the other side of the screen, unless you have large hands, you'll also be shifting your grip to reach the backlit capacitive touch buttons below the display.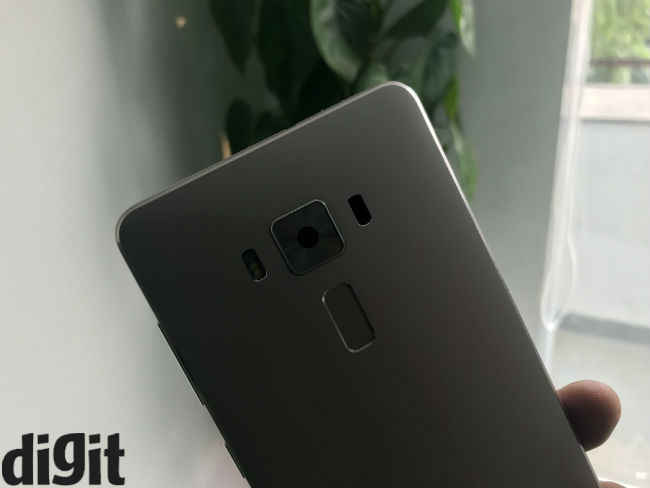 The rectangular fingerprint sensor takes some getting used to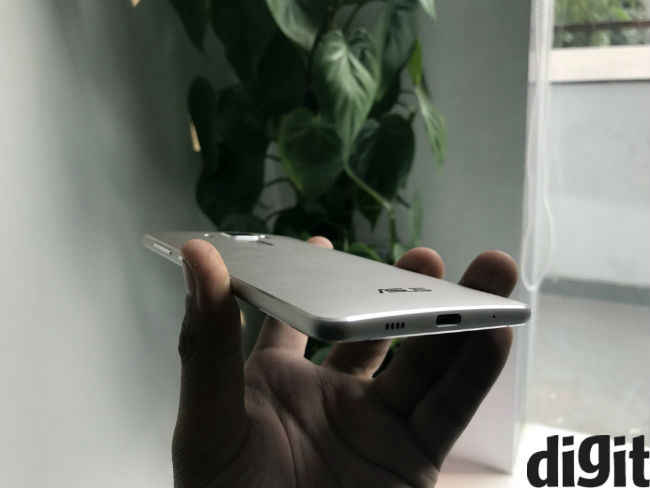 The Zenfone 3 Deluxe has one speaker at the bottom
You'll find the earpiece, 8MP front camera and ambient light sensor above the display, and the hybrid SIM slot is on the left side. The back houses a protruding, square camera module flanked on each side by the dual-LED flash and laser auto-focus. Below this is a rectangular fingerprint sensor, peculiar to Asus devices this year. Reaching this fingerprint sensor can also take some getting used to, thanks to the smaller surface area.
The back is metallic, with slight texture, which distinguishes it from the edges. You'll feel the slight chamfers on the edges, because there's definite change in texture between the back-plate and edges. The metal frame is slightly rounded, but with the same texture. Asus' concentric circles design is limited to the camera module, buttons, and above and below the display.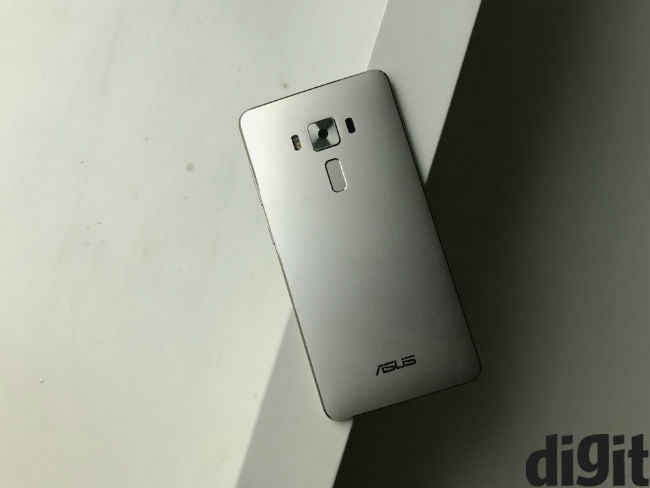 The Zenfone 3 Deluxe is still a good phone to look at
My gold review unit is not flashy, but looks good when placed on a desk. It photographs well, and is sleek.
Display
What it lacks in pixel density, the Zenfone 3 Deluxe makes up for with colour reproduction. 1080p on a 5.7 inch screen amounts to only 386 ppi, but this is a Super AMOLED screen, capable of a pretty wide colour gamut, and without extreme oversaturation that many AMOLED panels exhibit. It's nearer to Motorola's AMOLED panels than Samsung's, and personally, I prefer this colour tone.
There is still some oversaturation, which you see when placed next to phones like the iPhone 7. Asus has obviously made a conscious choice here, in order to make colours look more punchy, and many would actually like that. The only issue is that at high brightness, the Deluxe tends to blow out lighter colours, especially the whites. It's also a glossy and reflective display.
Speaking of brightness, the Zenfone 3 Deluxe can be stuttery when automatically changing brightness. It takes about two seconds to adapt to ambient conditions, and you notice the change constantly. As a result, I preferred to tweak brightness manually. Asus' auto-brightness algorithms evidently need more work.
We got a maximum luminance reading of 686 Lux, which is amongst the higher scores we've seen. However, flagship phones have been known to break the 750 Lux barrier quite easily. The OnePlus 3 for example, reaches 800 Lux on our tests. This, though, won't measurably affect sunlight visibility.
Considering the display as a whole, I'd call it decent, but not stunning. And that's just where the problem is - decent just doesn't cut it at Rs. 49,999.
UI
I've always been a critic of Asus' ZenUI. The bloated and overwhelming UI is a major deterrent to the phone's performance. My Snapdragon 820-powered review unit is capable of a lot, but there's a general sluggishness to Asus' UI. I mentioned one of these in the Zenfone 3 Deluxe performance test a few days ago. Thankfully, the phone hasn't gotten any worse over the past six days.
Most of the stutters on the Zenfone 3 Deluxe are thanks to the UI. The fingerprint sensor takes just over a second (1.13 seconds) to register and jump to the home screen, the camera app takes about 2 seconds (1.51 seconds) to boot, and about 2.3 (2.29) seconds to boot and focus automatically. Asus claims 0.03 seconds for auto-focus, and 0.02 seconds to register a fingerprint.
These numbers don't sound like much, but in practice they can be irritating. For example, consider that you want to click a shot in moving traffic. You need a total of almost 4 seconds for the phone to unlock, the camera app to open, and focus. You can bring this down by fractions if you use the camera shortcut on the lockscreen. The fact that you have to shift your grip to reach the bottom of the screen costs you valuable time here. Similarly, if you account for the times when the fingerprint sensor will miss your print because you're in a hurry, it doesn't really make for the most ideal solution.
To be fair, no Android phone or iPhone will really cut the time down to 0.02 seconds, but you can do all this up to two seconds faster on an iPhone, or a second faster on the Pixel. A better optimised UI could ideally have cut down on the time for the Zenfone 3 Deluxe as well.
Next, the sea of apps that ZenUI brings with itself are irritating. Each one of these needs some permission that I'm not willing to give, and there are better alternatives to all of them in the Play Store.
But perhaps the worst thing about ZenUI is that no less than 12.61GB is system reserved memory. That's nearly 20% of the ROM that you don't get to use!
Performance
Our test unit houses the Snapdragon 820 SoC, with 6GB of RAM. Here again, ZenUI leaves no more than 59% of RAM available to the user, after installing only about nine apps. The phone does seem to use as much of the RAM as possible, though. You can have a game open, and open at least three more, while keeping the first one running. It's not really a practical use-case, though, and doesn't really matter to anyone, except if you're nitpicking.
From a pure power point of view, the Zenfone 3 Deluxe is amongst the fastest we've tested this year. The lower resolution display helps in churning up frame rates as well. The processor is capable of all the wonders that every Snapdragon 820 powered phone is capable of. Barring the UI, which inhibits performance, the SoC itself is incredibly fast.
That said, it tends to heat up more on the Deluxe than many other flagships we've used. We've recorded internal temperatures as high as 59 degrees after about 20 minutes of gaming. It tends to throttle much before this, leading to slight stutters that a flagship phone shouldn't have. The problem is not really with stutters, it's how easily the Zenfone 3 gets there. 4K video recording also pushes internal temperatures to 58 degrees in 10 minutes.
Temperatures mentioned on the graph are those recorded on the body of the device
You'll feel the heat primarily on the metallic frame around the sides, while the back gradually tends to reach uncomfortable levels, starting with the area around the camera module. This leads to two concerns: firstly, we're testing this phone at 17 degrees indoor temperatures right now, which means summers will be harsher on this phone. Secondly, while this isn't particularly abnormal heating, it's bad for the internal hardware in the long term.
Camera
The 23MP Sony IMX318 sensor on the Zenfone 3 Deluxe, comes with every jargon you can think of. It supports both PDAF and laser-AF, OIS, EIS, has a dual-tone flash, and f/2.0 aperture. It misses on an important, and useful spec, though, and that's pixel size.
In smartphone photography, where lenses and sensors are small, pixel size really aids in collecting more light. Asus tries to compensate for the smaller pixel size with algorithmic boosts, and actually does quite well, but overall camera quality can suffer, primarily in terms of speed.
Asus Zenfone 3 Deluxe Camera Samples
Under low light, the Zenfone 3 Deluxe returns pretty true-to-source colours, but comparing what you see on the viewfinder and the final image, it's easy to note the huge processing when the shutter button is pressed. This increases time taken to shoot multiple images. You'll wait about 1.5 seconds after each shot. The camera also takes a tad longer to focus under low light, and compromises details.
Processing mentioned above is without the low light mode. Using this mode, you may get abnormally bright and soft photos. Highlights are massively blown out in this mode.
Artificial brightening of photos also affects the Zenfone 3 Deluxe in indoor conditions, under fluorescent lights. Highlights are again blown out often, and it messes up white balance, creating dull colours.
The Zenfone 3 Deluxe works best in outdoor sunlight, producing high sharpness, but with warmer colour temperatures. Images aren't as sharp as expected either. Compared to the best in the market, this is a camera that belongs in the sub-30k category.
Audio Quality
The Zenfone 3 Deluxe has a single bottom-firing speaker, which is loud, but doesn't offer much quality. You'll need headphones to listen to music, and the placement of the speaker leads to muffled sound while playing games or watching videos in landscape mode. Even so, the speaker is nothing out of the ordinary for smartphones today.
Battery
The Zenfone 3 Deluxe is strongest in terms of battery life. With the display on 50% brightness, about 20 minutes of gaming, an above average number of phone calls, texts and IMs, and social media surfing, it lasted me for about 16 hours, which is quite good. HD games can claim about 7% battery life in half an hour, which again is above average.
You're not looking at a full day's battery life here, but at least initially, the phone should easily get you past the work day.
Bottomline
We set out to answer two questions — is Asus ready for the big game? And is the Zenfone 3 Deluxe the flagship you should buy?
Looking at the Zenfone 3 Deluxe, the answer to the first question is yes, however, this isn't the flagship to buy.
Asus has provided almost every feature in the book, but it lacks proper implementation. The premium segment is all about details, and things like a poorly optimised UI, functional camera etc. just don't cut it. While the Zenfone 3 Deluxe is a good phone indeed, nothing about it is ideal, and that makes it short of recommendable.
With phones like the Google Pixel, Samsung Galaxy S7 Edge, Moto Z, and the iPhone 7 lurking just around the corner, this isn't the flagship phone you should be spending 50k on. Both the Moto Z and OnePlus 3 make better, and cheaper options, while the iPhone and Pixel are better choices for those who can afford them.
The 256GB variant of this device has the Snapdragon 821 SoC on it, but that only promises only about 10% higher performance (theoretically), which still doesn't justify spending Rs. 62,999 on it.