Android 4.0 Mini PC (KY-08) detailed review
When we got the fluorescent green box of this product, our first impression was that this was just another cellphone. But the words 'Android Mini PC' caught our eye and we got really curious as to what was housed inside. On opening the box, we had a palm-sized plastic enclosure, almost like one of your SD card readers, staring back at us with the Android greenbot embossed on one of its front face. On the rear side of the box we found the Android 4.0 Mini PC specifications. That is when it dawned on us, that this was in essence a smartphone or tablet SoC housed in a tiny enclosure which would require you to connect the peripherals to make it an Android-ready PC.
Bottomline is, Android 4.0 Mini PC KY-108 allows you to convert any display into an Android 4.0 ICS based PC. Thanks to its connectivity options, this can be used as a media player, and can convert any display into a Smart TV. It is developed by a Chinese vendor named OEM Systems Co. Do check out the unboxing video of this device to get an idea of what all is offered along with the Mini PC here:
Build Quality and Design
Like we said, the enclosure is palm-sized, measuring 89x35x13.5 mm and weighing less than an average cellphone. It is a black coloured matte-black plastic body which seems poorly built.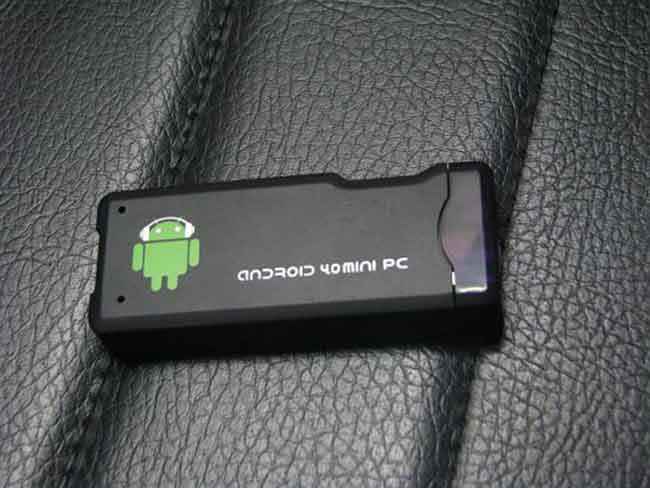 It has a mini HDMI port on the left hand side, a USB port and the power port on the right hand side. On one of the edges it has a groove which houses a mini-USB port. It bundles a mini USB to USB adapter wire. On the other edge you have a microSD card slot. It also bundles in a mini HDMI to HDMI cable which is a big plus. It comes with an inbuilt Wi-Fi adapter. So all-in-all, it has quite a lot of connectivity options for its size, but you will be better off using a USB hub along with this device. Just like a cellphone it is extremely portable.

Features
The Mini PC houses an Allwinner A10/1.5 GHz Cortex A8 SoC but on checking the processor clock speed using the AnTuTu app we realized that it is underclocked to 912 MHz. It comes in a variety of memory and internal storage options. The model we got had a 1GB DDR3 memory module and 4 GB of internal storage. Since this is a PC, you have to use a keyboard and a mouse to operate it. There is no dedicated power switch on the device. It can be powered on by connecting the mini USB to USB cable to a powered source (such as your TV) or using the bundled power adapter. To turn off the power, you simply disconnect the power adapter.
It comes bundled with a lot of apps including the Google native apps, Twitter, Angry Birds, Skype and a couple of Chinese apps such as QQ, Yokuku, etc which are of no use here. Most of the popular audio and video formats are supported.
Performance
We tested this device on an LG 42LK430 TV using a USB keyboard and mouse connected to the device via a USB hub. Since Android is primarily a touch-based OS, navigation using a mouse feels as alien as using Windows XP or 7 with a touch interface. It will definitely take some time getting used to. Also the responsiveness of the mouse pointer is not as smooth as we would have liked. This gets even worse when some apps forcefully go in the landscape orientation, when it becomes cumbersome to use the mouse.
There is no right click mechanism here. If you hold on to an app, then the OS gives you an option to rearrange the app or remove it, by dragging it to the top of the screen. When you are in the app menu, you can long hold onto an app to get it on any one of the five home screens.

Apps such as Flipboard, Quadrant, etc went from portrait to landscape orientation despite keeping the auto-rotation tab off. There may be many more such apps which make the overall experience a bit annoying. Considering this is a mini PC, there should have been a mechanism which disallows you from installing camera related apps or navigation apps, as it does not make sense on this product. Browsing experience was quite good. We noticed minor issues with scrolling on certain ad-heavy sites.
The pre-installed file manager quickly recognizes any external storage that you may add. You can also search for content based on its type: image, video, documents. It played most of the video formats we threw at it including .MKV and .MOV formats. It failed at playing .FLV files. The dual-core processor comfortably plays back even 1080p content, despite it being underclocked to 912 MHz and not the 1 GHz CPU speed as promised in the specs. We did not notice any frame skipping while playing our test samples. The YouTube app works quite well, but we did face some issues when we tried to play live Olympics content. The mouse pointer develops some sort of weird black halo around it once you start any video.
Since Android games are built around the touch interface and keeping in mind the slow response of the mouse, it is a nightmare to play games on the Mini PC.
We did notice the system responding very slowly at times. Specially whilst in the Google Play Store, where the mouse clicks were registered after a definite delay. Scrolling is a bit problematic.
Looking at the synthetic benchmarks, it performed better than some entry level tablets such as Mercury Mtab, Reliance 3G Tab and Beetel Magiq. But then, it is not really fair to compare the Mini PC with tablets, as they are completely different product categories, but the scores are just for reference purpose.
Quadrant – 1116
LinPack Benchmark (multi-thread) – 10.5
GLBenchmark Egypt Standard (Frames) – 1707
NenaMark2 – 15 fps
Verdict
This is definitely a very interesting device and probably your best bet if you are looking to buy a budget web-connected media player. It's extremely small form factor makes it very attractive. Connect it to your regular flat-screen TV and convert it into a smart TV. It does come with its fair share of flaws such as the response of the mouse, apps automatically changing their orientation despite forcing the auto-rotation off, among others. It is definitely not a tablet replacement. But it shines when it comes to video playback and that should be one of the main reasons why you should buy this. If you are a YouTube junkie, then watching HD videos on the big screen is a treat. Regular surfing, checking mails and minor office work is also quite easily doable on this Mini PC.
Update: We just got a word from Koway Tech that the retail price for this product after taking into consideration taxes and duties will be anywhere from USD 70 to USD 85 which is approximately under Rs. 5000. Still makes for a decent second PC at that pricing. You will have to get in touch with the company official directly for placing your purchase orders:
Company: Koway Technology Limited.
Contact person: Jason Xie
Phone: 86 13510691541
Email: jason_shell@hotmail.com
Website: www.kowaytech.com