VERDICT:
You may be slightly confused – is this an ultrabook, or just a mainstream laptop on a diet? With the Series 5, Samsung is smartly appealing to a wider demographic than a device otherwise does. This is meant for someone who wants consistent power on a laptop that is comfortable enough to carry around, without compromising on the display size. You are essentially paying for the portability bit.
Look & Feel
Despite a tapered design towards the one end of the machine, the Series 5 doesn't come across as an ultrabook usually would. However, it looks extremely classy, and being understated probably helps it more than ever. The grey matte aluminum finish doesn't catch fingerprints, dust and scratches like glossy surfaces do. Why, when laptop manufacturers can do this, do they bother with the glossy finish on laptops?
The optical drive is placed on the right side, and even that has a dual layered design. However, try picking up the laptop, and you risk accidentally popping it open. There is a USB port and the card reader, but popping open the card reader isn't a very elegant exercise! On the other side are two USB 3.0 ports as well as HDMI, Ethernet and even a VGA port and a combined port for headphone and mic.
While this is essentially a mid-range ultrabook in the logic of ascending numbers, Series 5 falls between the budget Series 3 and the ultra classy Series 9. The build quality and materials used are better what we expected, quite frankly. But it isn't the HP Folio, and it'll be wrong to expect it to be that. It feels considerably solid, and since it is quite slim, you can fit it into any bag. Surprisingly, not very light though, which proves what we had been saying all along – this is a slim laptop masquerading as an ultrabook.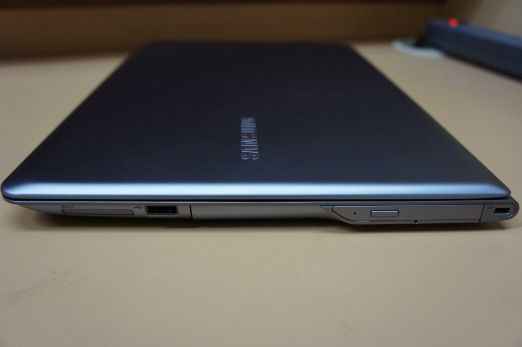 Features & Performance
Just as with the price and the build quality, Samsung has kept the mid-range theme intact with the choice of processor. This is an Intel Core i5-2467M, from the Sandy Bridge family, which is a minimum requirement of the ultrabooks. This is paired with 6GB of RAM, which really helps shuffle the performance among. The performance throughout is quite good, and the laptop doesn't slow down even with multiple browser tabs, music playback and even a Word document open in the background. The fact that this has 6GB of RAM against the standard 4GB that we have been seeing on laptops, is a critical factor. Essentially, the Series 5 is competing against the Acer Aspire S3, and does have the performance advantage on it throughout. Just for your reference, we have a table with the benchmark scores compared.
Benchmark scores compared

Acer

Samsung

Aspire S3

Series 5

Price

Rs. 50,990

Rs. 54,390

Overall Score

SM 2.0

HDR/SM 3.0

CPU Score

Battery Meter (in mins)

Speaker volume (at 50%)

Speaker clarity (at 100%)

HD video playback test (So 10)

WinRAR 3.9 (Compression / Decompression)

4GB single file copy (secs)- lower is better

179

4GB folder files copy (sec)- lower is better

100 MB File Conversion (VOB-to-DivX) (secs)- lower is better
The version that we got for review did not have an SSD, but instead had a 1TB HDD. Not that we mind, since this negates the need to carry around an external hard drive with you. However, what you do miss out on is the 25 second Windows boot times. However, if you are going to copy what that Macbook user on the next workstation does, and just close the lid to put the machine to sleep, you will be impressed with the near instant resume speeds. The 16GB Express Cache is what makes all the difference. When compared to the Acer Aspire S3, the hard drive on the Series 5 is slightly faster as well, as you can see with the quick copy times in the 4GB data transfer test.
Visit page two, to read more about the Samsung Series 5 Ultrabook's Features & Performance, as well as Our Verdict…
Do also read our comparison feature, where we compare four of the latest Ultrabook models in India, based on their reviews:
Ultrabooks comparison: 4 latest models reviewed
The 14-inch display has a resolution of 1366 x 768 pixels. However, Samsung deserves a pat on the back for thinking this through and ensuring that it is non-reflective. If you have ever experienced a reflective display on a laptop, you would have an idea of how much strain the reflection of almost everything on the ambience is. With this one, be it a well lighted office, or even while you may be sitting in sunlight, viewing will not be a problem. The added advantage being that you can turn down the brightness a tad and save up on the battery as well.
Ultrabooks are not meant for the gamers at all. Things could change a bit, because of the fact that this has switchable graphics – AMD Radeon HD 7550M,with 1GB dedicated memory. With the display resolution being 1366 x 768 pixels you will be able to play some games at medium-high resolutions. However, being an Ultra Low Voltage (ULV) processor, there will be distinct lack of grunt if you go any higher. Meant for the casual gamers only, for that quick one lap race before heading into the next meeting. However, the very fact that this machine has that feature and a certain amount of capability adds a lot of value to the entire package.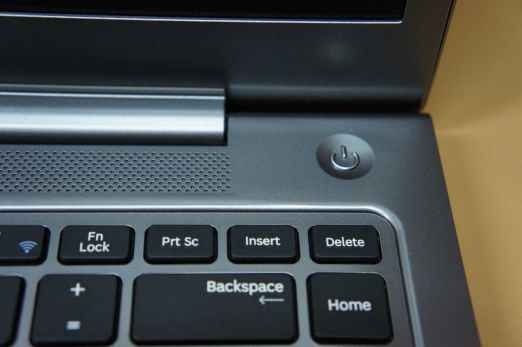 Having used a Macbook Pro just before switching to this for the testing, I can see a lot of similarities between the two. The keys are on a slightly depressed platform. Key size is slightly bigger than what we see in the Macbook, and with adequate palm rest real estate, typing quickly will not be an issue. However, the key press extracts a very muffled (soft, if you may) sound, which is a complete contrast to the MacBook's chunky sound. A big touchpad means multi-touch gestures will be comfortable to use.
Speaking of which, the built-in speakers do sound a lot punchier than what the tiny speakers on laptops usually offer. While the thump is still missing (we wont really hold that against the Series 5), the clarity is quite good. But all the goodness holds true if the volume is below 80%.
The battery lasted about 3 hours in our battery test. Under standard daily usage, it will last you a bit more than 4.5 hours easily, since it won't be taxed constantly and the display brightness will surely be lesser than 100%!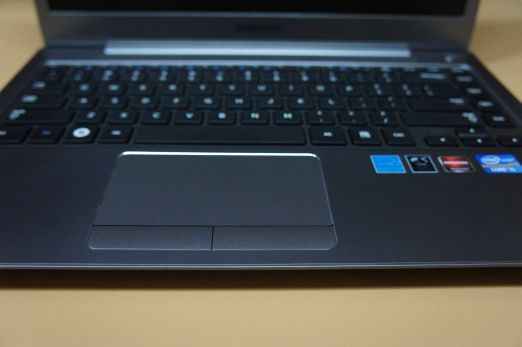 Our Take
The 1TB hard drive is something that cannot be overlooked, and neither can the comfort of using a non-reflective display, USB 3.0 ports, integrated optical drive and a very comfortable keyboard. Dedicated graphics means this one will do a bit of gaming as well. For this price, what you will get is essentially a mid-range laptop that has focused more on being slim and portable. Unless you still insist on calling it an ultrabook.
Contact: Samsung India
Phone: (Prefix Local STD Code) 3030 8282
Email: N.A.
Do also read our comparison feature, where we compare four of the latest Ultrabook models in India, based on their reviews: