VERDICT:
The MSI GT73VR is a high-end gaming grade desktop that's meant for the hardcore gamers and enthusiasts. If you're one of them, give this laptop a thought.
Tech specs of our test machine:
Display: 17.3-inch, 4K, IPS Panel
CPU: Intel Core i7-7820HK
RAM: 32GB
GPU: NVIDIA GeForce GTX 1080
Storage 1: 2 x 512GB SSD (Raid 0)
Storage 2: 1TB HDD 7200RPM
Battery: 75 whr
Price: 3,34,990
Looks and aesthetics
Gaming PCs or laptops are expected not only to perform well, but to have its extreme appearances. They should either look understated or should go all out with wild angular accents, fins, large heat vents, LED stips, you get the drift. The GT73 Titan Pro does the latter. It has all the right angles, paint schemes, design aesthetics, and screams gaming. You get red metal inlays on the lid, the dragon logo is backlit, the power button sits underneath an angular cut-out on the keyboard deck, the vents have red accents and the bottom has a red perforated grille. The MSI GT73VR 7RF Titan looks dramatic, which will appeal to the gamer.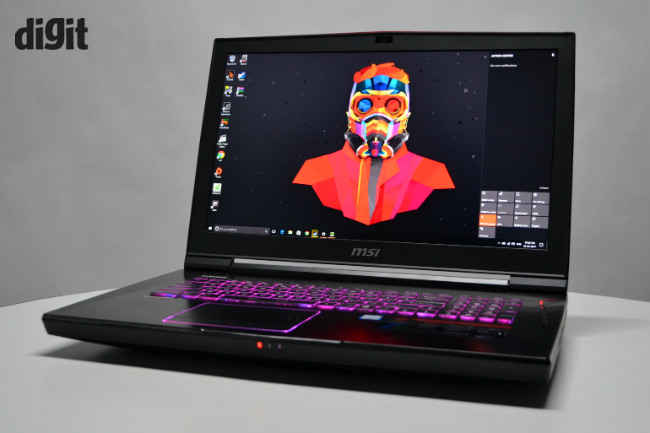 MSI has almost nailed the design here, but I believe it could have been better. Machines like the Asus G752VY not only look good visually, but are distinctive as well, whereas the MSI GT73 settles for the same old black-and-red design. That being said, it is as unwieldy as the Asus machine, weighing over 4kg and its about 2-inches thick.
Build quality and I/O
Like the design, the build quality leaves little room for complaints. The lid and the keyboard deck are metallic, laid over a plastic sub-frame. The machine feels quite sturdy and there is minimal flex in the body. There's some flex in the display, but it is not a really deal-breaker. Since this is a gaming laptop, there are plenty of grilles and vents. The keyboard is well laid out and the keyboard deck offers plenty of space to rest your palms on. The base of the laptop is plastic and has more perforated grilles for air flow.
The display hinge is one of the smoothest I have seen in awhile and opens to about 140 degrees, leaving enough room for third party cooling pads. While the base of the laptop is removable and some things, like the RAM and storage, can be user replaced, warranty will be voided if you do so.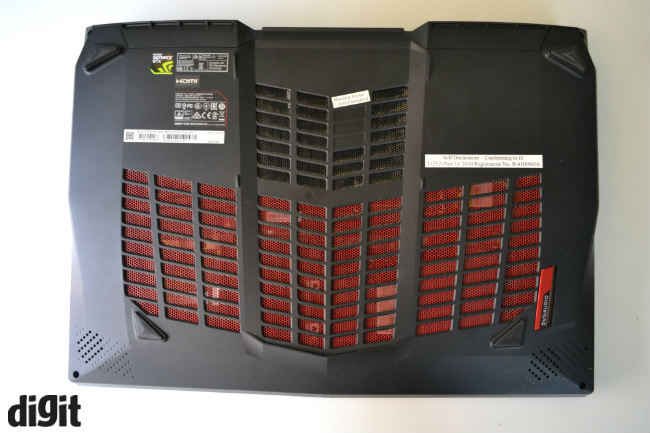 On the I/O front, you get almost everything you may ask for. You get three USB 3.0 Type-A ports on the left and two on the right. On the back, there's a standard RJ54 ethernet port, mini DisplayPort, Thunderbolt 3 via USB Type-C (USB 3.1 / Gen-2) and an HDMI 2.0 port, which will support a 4K output @60Hz. You also get an SD card reader on the right, but a DVD drive is not included. DVDs are indeed obsolete today, but the company provides one on its much cheaper GE62 laptop, so not providing one here seems a bit odd. Also, I expected at least two USB Type-C ports on the laptop.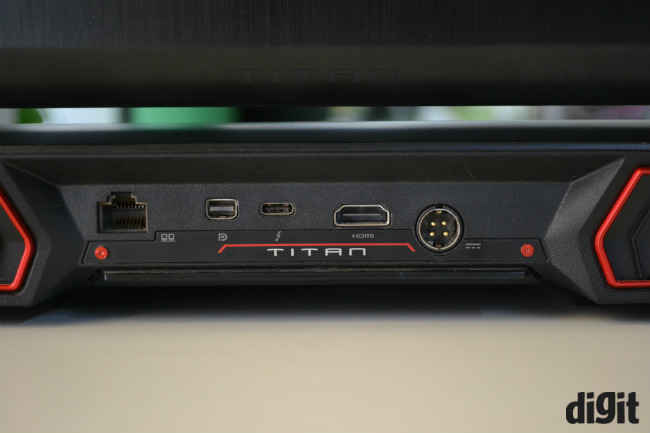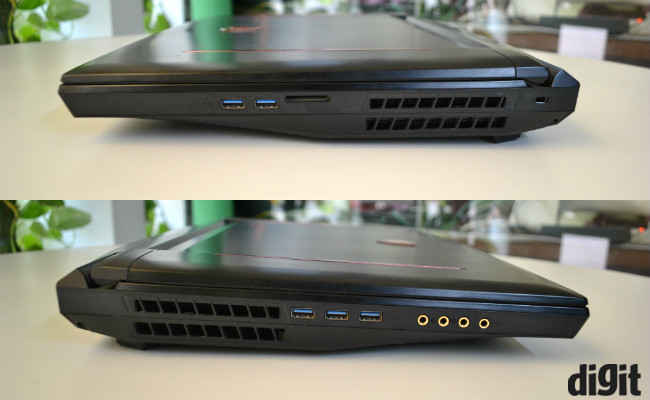 Keyboard and touchpad
The MSI GT73VR shares the same keyboard and touchpad layout we saw on the much cheaper GE62 a few months back. It's a Steelseries designed keyboard, with RGB lighting and a large but slightly stiff touchpad keys.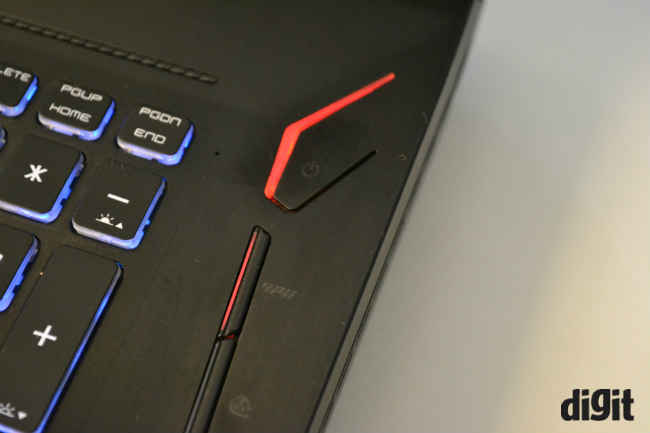 The keyboard has nice large keycaps and offers more travel than most of its counterparts. Each key-press feels precise, but if you are accustomed to a mechanical keyboard, you might want to stick to that. As for the light settings, there are plenty to choose from (RGB) and you can tweak them from the MSI Dragon centre app. While the keyboard works for gaming to some extent, I would have preferred a row of macro keys as well. It will take some getting used to, due to the unorthodox key layout. For example, the right Shift key is shortened to make space for the top arrow key, there is no Windows key under your left thumb and the Delete key sits on the top row above the keypad, breaking the flow whenever you use it.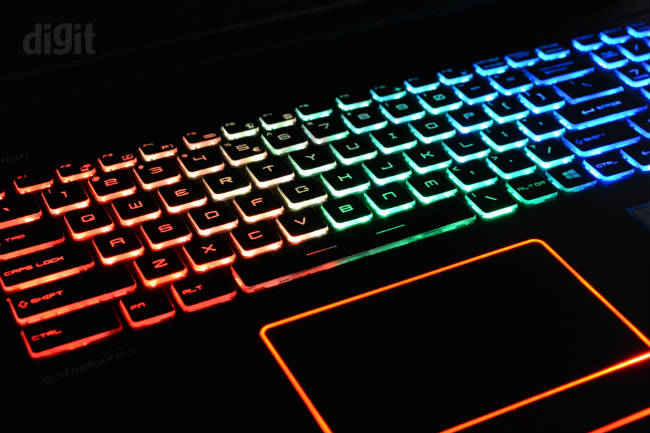 I also find the the function keys quite cumbersome. They are smaller in size and would have been better if brightness controls and media volume controls were integrated. That said, I am pretty sure nobody would be buying this machine to use Word and Excel.
The touchpad is good, as is expected from a high end laptop. The cursor speed is not calibrated to cover the 4K screen in a single swipe by default, but that can be toggled with in the settings. Once that was done, I didn't find the experience lacking in any way. The trackpad itself is smooth, supports gestures, and is quite accurate. The left and right click buttons are stiff to press, which pushed me to connect a mouse immediately. You will be a using a mouse most of the times anyway, as the touchpad is not really meant for gaming. Meanwhile, RGB lovers will love the illuminated ring around the touchpad.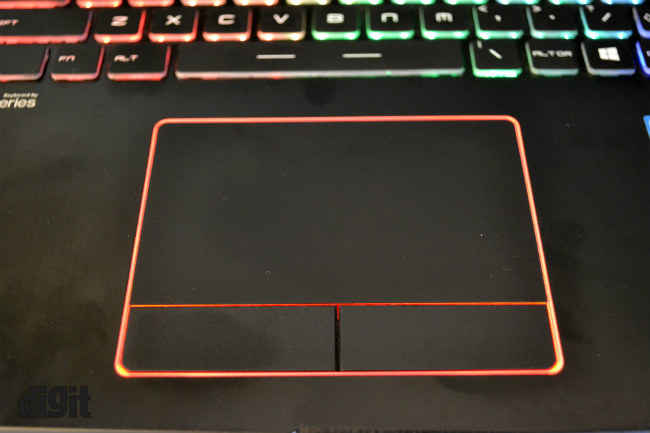 Display
The MSI GT73VR has one of the best displays we have seen on a laptop. While it is available in 120Hz FHD panel, only the 4K (@60Hz) variant is available in India. It has impressive colour saturation and very good viewing angles. There is no light bleed and the display is quite bright with a recorded max luminance of 480 lux at the centre. What is even more impressive, is that the brightness remains uniform all over the display. In addition to great colours and uniform brightness, the 17.3-inch matte display is also G-Sync enabled. This is supported by the heavy hitting hardware the laptop packs.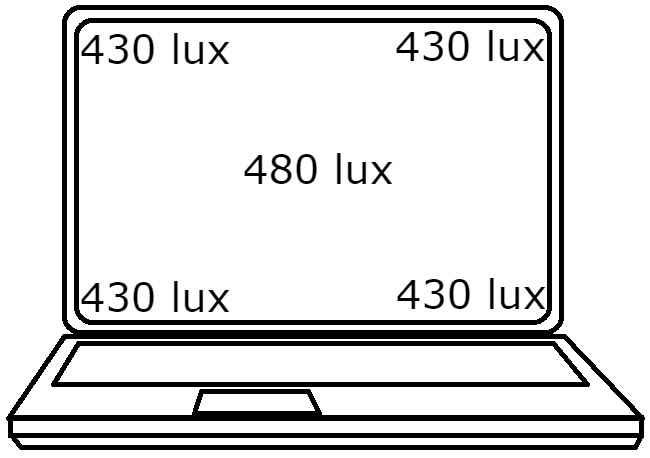 Performance
With an Intel Core i7-7820HK at the helm and an 8GB NVIDIA GeForce GTX 1080 to handle graphics, the GT73VR Titan Pro undeniably houses the best gaming hardware available on a laptop. Both the CPU and GPU can be overclocked using BIOS and afterburner software, respectively. Although, you don't need extra processing power since the system already has plenty in stock mode. Our test machine was configured with 32GB of DDR4 RAM and dual storage solution, with two Samsung SSDs in Raid 4 and one 1TB Toshiba HDD @7200rpm.
With such powerful hardware on the laptop, it wasn't a surprise that it blitzed through each and every benchmark we threw at it. While the scores are considerably higher than last year's G752 from Asus, performance is very close to the Asus ROG G20CB (1080 revision) gaming PC I reviewed late last year. Compared to the Asus ROG G20CB desktop, one can easily see the difference or lack thereof in performance of a last gen Intel desktop processor and a current gen top of the line Intel mobile CPU.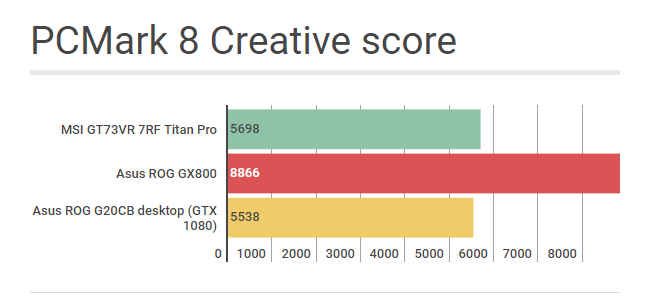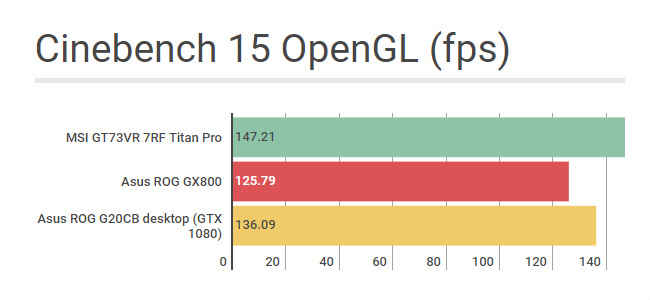 So, whether you look at the PCMark 8 Creative scores or Cinebench, the Intel Core i7 6700 (not K) processor used on the G20CB performs at par with the latest Intel Core i7 7820HK used in this MSI GT73VR notebook. Although this is an apples-to-oranges comparison, the fact of the matter is that a desktop class processor, albeit last generation will give you similar performance.
Same goes for the desktop and laptop variant of the NVIDIA Geforce GTX 1080 GPU. In 3DMark synthetic benchmark, the desktop grade GTX 1080 performed marginally better than its mobile cousin, and that just goes to show how NVIDIA has closed down the performance gap between desktop and its mobile class GPUs, although a slight performance difference is still there.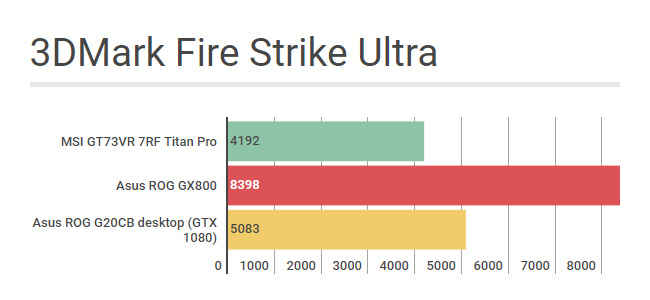 Synthetic benchmarks aside, the GT73VR works like a charm on the gaming front and chews through every game we threw at it in 1080p or even 2K. Newer titles like Battlefield 1 and Tom Clancy's Ghost Recon Wildlands run flawlessly punching more than 70 fps easily on 1080p. Even when I tried gaming on an external display, the drop in performance wasn't much. 4K rendering is still not particularly great, though. You can play most games in 4K in high or ultra settings, and it really helps if the game supports DX12. Older titles do struggle to provide you favourable frame rates.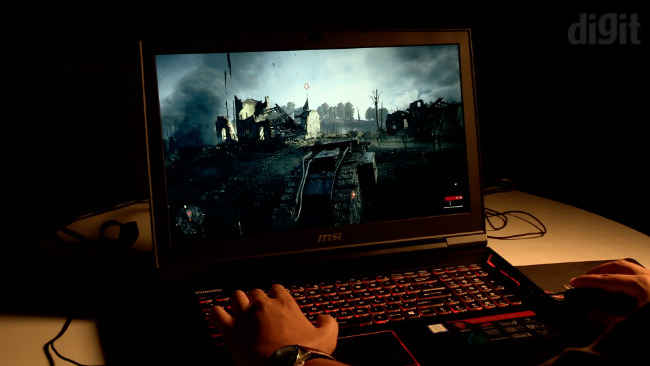 Games like Tom Clancy's Division, which is a heavy title, managed just 40 fps at 4K ultra settings, keeping it playable. However, older games like Metro Last light, known to bring GPUs to their knees, occasionally brought the frame rates down to single digits when testing on high graphic settings.
I even tested the machine with HTC's Vive VR headset, which again works without any issues. I tried more than half a dozen experiences and they all worked fine, with occasional stutters, although it could be because of other reasons as well.
I am truly happy with the cooling on this machine, which is really loud, but does the job well. There are four vents on the laptop, two on the back and two on the side, pulling in air from the bottom and cooling the hardware inside. Even at high temperatures I recorded less than 40 degrees on the keyboard deck, which is quite good for a powerful machine like this.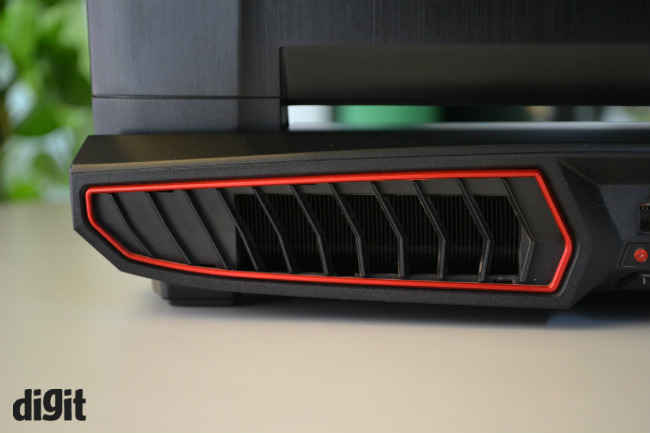 I should also talk about the 4.1 speaker system on this machines, which is enabled by Nahimic audio and produces crisp and loud audio output throughout. The software can be set for different types of games.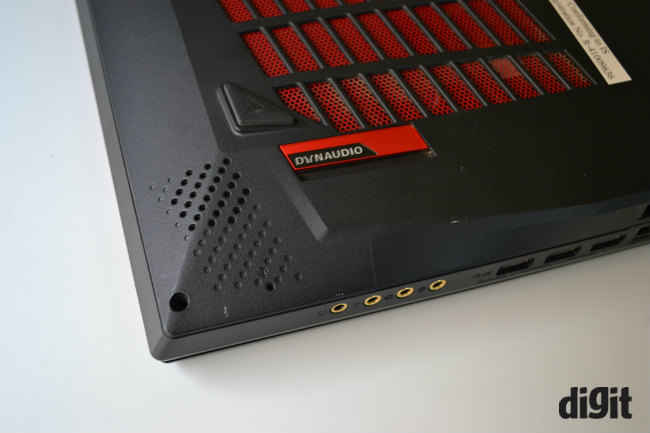 Software
To help you toggle all the performance settings and various others, MSI has added its Dragon Centre application on the laptop that one can use to check system stats, change the RGB keyboard settings or change performance and cooling modes. The laptop will even connect to an app by the same name on your phone, giving you the vital stats of your laptop in the palm of your hand.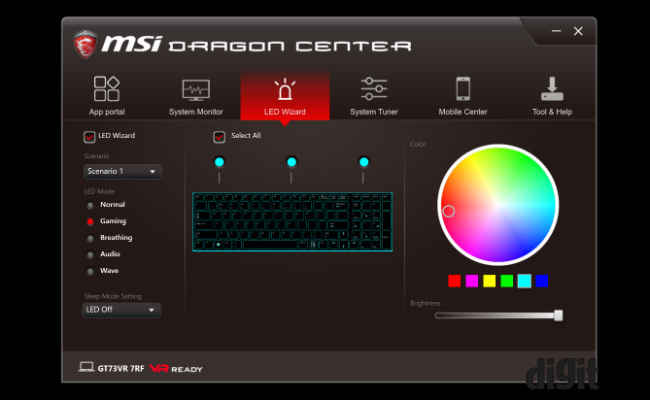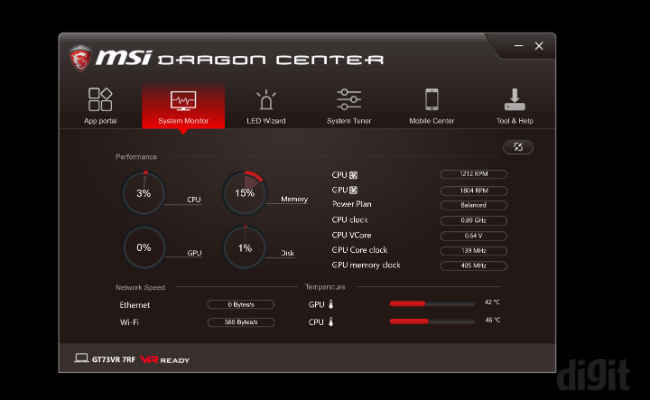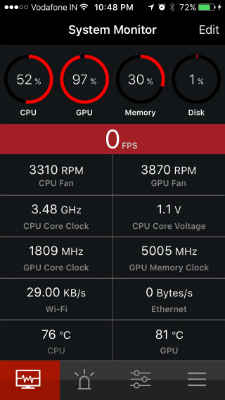 Battery Life
This is a gaming laptop, and the rule of thumb is that these machines don't have good battery life. With a 75whr battery on-board, I wasn't expecting great battery life and the GT73VR didn't prove me wrong. In fact, the laptop ran for just an hour and a half, before dying on the PCMark8 Creative battery test. If you are using it for browsing or writing Word docs (I am judging you now), the system easily lasts for two hours or more, but beyond that you may have to pick up the 1.2kg power brick to charge this device.
Bottomline
The MSI GT73VR 7RF Titan Pro is quite simply a desktop replacement for all your gaming needs. Yes, you can build a similar PC, but it will be only marginally cheaper if you include a 4K G-Sync display, keyboard-mouse and a 2.1 speaker system to match the GT73VR evenly. So, it is certainly worth the price, but do you need this much processing power? You don't, unless you plan to game in 4K only.
In conclusion, the MSI GT73VR 7RF Titan Pro is the perfect gaming laptop, although not the one you and I would be able to afford. It is primarily meant for enthusiasts or hardcore gamers, who have the cash to spend for it. For most of us out there, building a gaming PC would be easier and you can keep updating it in future.