MSI GT640 detailed review
Certainly well built, the 15.4-inch Intel Core i7-powered MSI GT640 gaming laptop is priced at Rs. 75,000, and is the smaller sibling of the 17-inch GT740. Seemingly well-specced, the laptop is built out of plastic and aluminium alloy, and features a brushed metal texturing on the palm-rest. All this doesn't make it seem as heavy as it is, going far beyond the impression of solidity by weighing in at 2.7kg (including battery). There are heavier 15.4 inch laptops, but we can safely assure you, carrying one of these in a backpack for an extended period of time is not a prospect we relish. Maybe that's why it comes in a cardboard carry case.
The 15.4-inch screen is unfortunately just short of a full 1080p HD rating, with a resolution of 1680x1050, and a near 'golden' 16:10 aspect. The colour accuracy was spot on, though the blacks certainly could have been darker.

The laptop sports a well-built touch-sensitive keypad above the full size keyboard, with an array of dedicated hotkeys, including Bluetooth, Eco (display power saving presets), WiFi, media controls, webcam, and a programmable key. The keyboard buttons offers good tactility, but unfortunately, a few points must be made about the layout. The presence of a numpad is appreciated, but one must question why it was required on a gaming laptop. Without it, the keys could have been better spaced out, and also allow for the important gaming keys, such as Return and Right Shift to be full sized, and a dedicated area for Home, End, Insert, Delete, and Page keys. The presence of the Fn modifier key at the left edge of the keyboard is once again unnerving for a gamer, counter-intuitively located right where the deadly-important Left Control key is.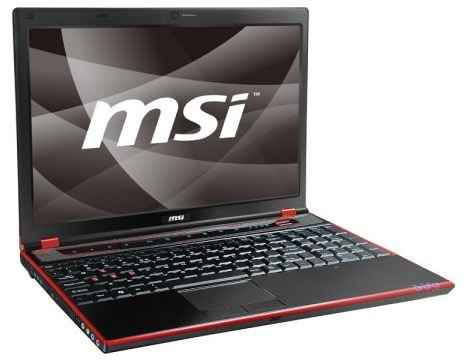 As for gaming, the GT640 acts its age, comfortably playing older games at 1680x1050 resolution with medium details. The Nvidia GTS 250M laptop GPU onboard sports 1GB GDDR3 RAM, but is simply unable to keep up with its price tag or 2007's Crysis at Very High settings, with average frames per second of 5 and significant load times. 1280x1024 at medium details fared much better, at a very playable 25 fps. Tom Clancy's H.A.W.X at DX10.1 and max resolution was pulled of decently (44 avg. fps), as long you kept the anti-aliasing and Vsync off. All that changed when we put it through its paces with max settings, with average frame rates of 6. The laptop found its niche at 1280x1024 4xAA Vysnc at medium levels, with an average of 19 frames per second, and maxing out at 104. Mass Effect 2, Blur and the Force Unleashed had decent outings on high-res and medium settings. At the end of the day, the MSI GT640, though powered by an i7-720QM processor and featuring 1GB of GDDR3 video RAM, is quite a bit on the expensive side without offering you comparable performance or DX11. Battery life (9-cell) is a plus, giving 4 hours of normal usage time, and a solid 2 hours while gaming.

To view the specifications and review parameters in more details click here.