The Mi NoteBook 14 marked Xiaomi's entry into the laptop space in India last year. While we did get new RedmiBook laptops from the company a few months back, but the new Mi NoteBook Pro and the Mi NoteBook Ultra are the true successors of the Mi NoteBook 14 we all were waiting for. Both the Mi NoteBook Pro and the Mi NoteBook Ultra are solid upgrades over the Mi NoteBook 14 with a lot of noteworthy improvements.
I've been using the Mi NoteBook Ultra as my primary laptop for the better part of the last month, and I think it's a fantastic option for anybody who's looking to buy a new laptop under Rs 60,000 in India. In this review, I will be diving deep into some key aspects of the laptop that should help you get a better understanding of the laptop.
Mi NoteBook Ultra Specifications
The Mi NoteBook Ultra review unit that I tested comes fitted with Intel's 11th gen Core i7-11370H CPU but the base variant of the laptop comes with an H-series Core i5 processor. I will be talking about the performance of this laptop in detail but before that, let's take a quick look at the specifications -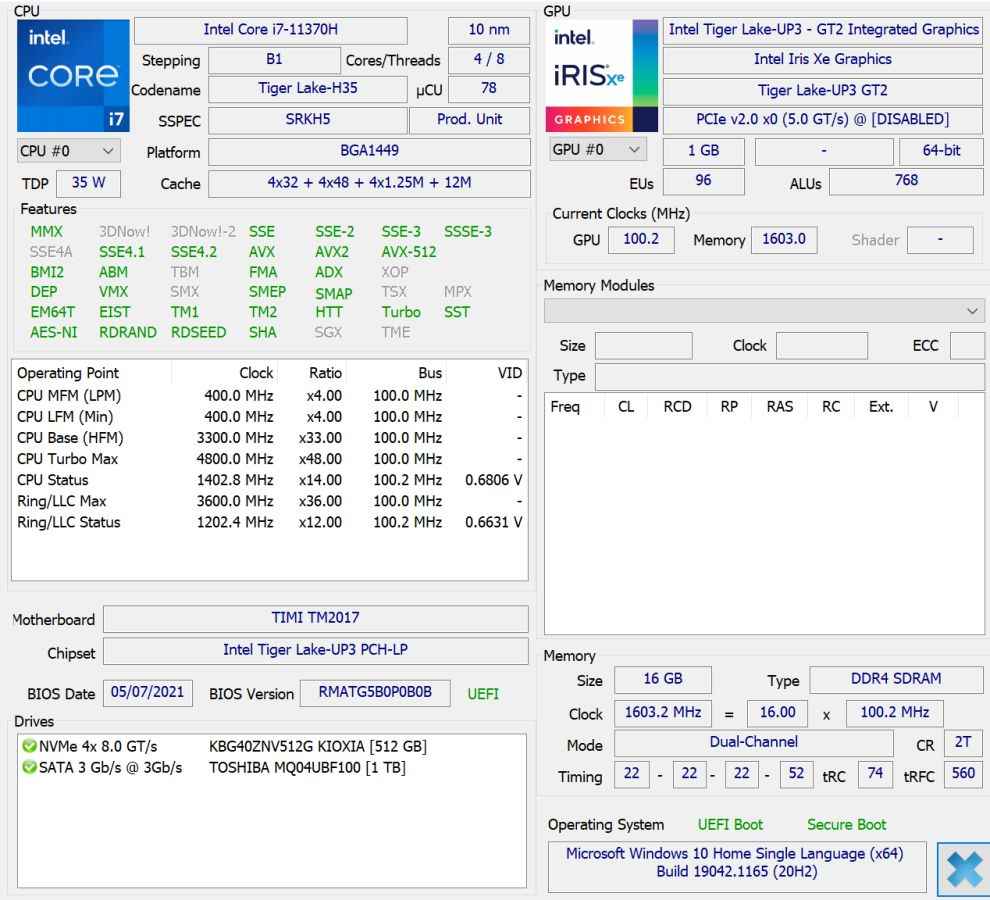 Processor: Intel Core i7-11370H 3.30GHz base clock and 4.80GHz max turbo, 35W
Graphics: Intel Iris Xe Graphics with 96EU
RAM: 16GB DDR4 RAM 1600MHz
Storage: 512GB Kioxia NVMe SSD
Display: 39.6cm (15.6) Mi TrueLife+ Display, 3.2K resolution, 16:10 aspect ratio
Mi NoteBook Ultra Performance
The Mi NoteBook Ultra given to us for review is powered by the Intel Core i7-11370H CPU. It's a high-end quad-core CPU that is usually seen in some thin and light gaming laptops. It's an interesting choice to use this SoC instead of an i7 from the U-series. The result? Well, it makes the Mi NoteBook Ultra way more powerful than some other ultrabooks on the market. Obviously, this comes at the cost of thermals, which we will discuss a bit later in this review.
The processor has 4 Willow Cove cores and 8 threads with support for Hyperthreading. The H-series chip inside this laptop is configured at 35W TDP with a base clock of 3.30GHz. It also has a single or two core boost of up to 4.8GHz whereas all cores and hit a max frequency of 4.3GHz. It is superior to the Core i7-1185G7 which has a lower TDP and subsequently, lower performance.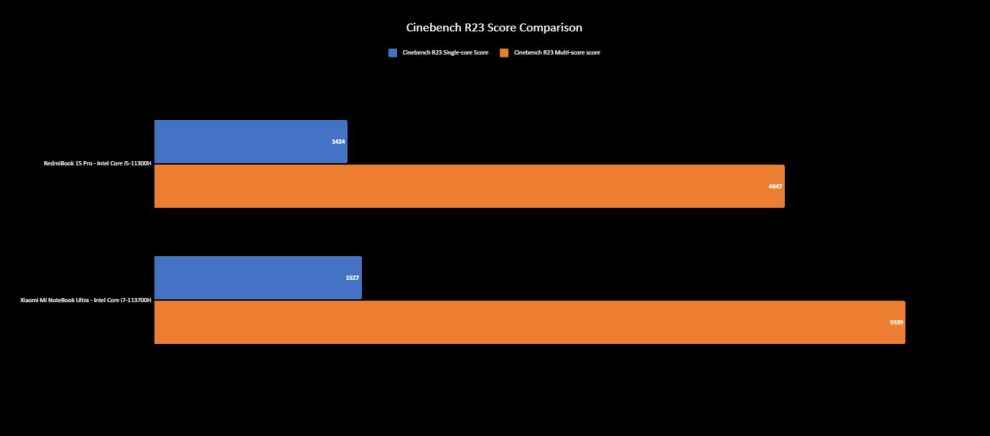 In Cinebench R23, the Mi NoteBook Ultra managed to score 5,539 in the multi-core test and 1,527 in the single-core test. The scores are higher than what we were able to get on both the newly launched RedmiBook 15 Pro and the Fujitsu UH-X Convertible laptops that are powered by the Intel Core i5-11300H and the Core i7-1165G7 respectively. Here, take a look -
The Mi NoteBook Ultra also managed to score 5,034 in PCMark 10, which is once again higher than some other ultrabooks on the market like the ASUS Expertbook B9400. Even outside of the world of benchmarking, the Mi NoteBook Ultra excels in putting up with my day-to-day workloads too. I was comfortably able to work with around 15-20 Chrome tabs along with some other apps like Lightroom, Spotify, etc. running in the background. The Core i7-11370H truly helps to bring the best out of this machine.
Not having a discrete GPU may sound like a deal-breaker but the Iris Xe Graphics with 96EU powering this machine is no slouch either. It handles most of the 3D workloads very well. I was able to play multiple games of Valorant on this laptop and it was indeed an enjoyable experience thanks to that 90Hz panel. Yes, you can play games on this laptop as long as you keep your expectations in check. The Mi NoteBook Ultra should be good for esports titles and even some AAA titles at low settings.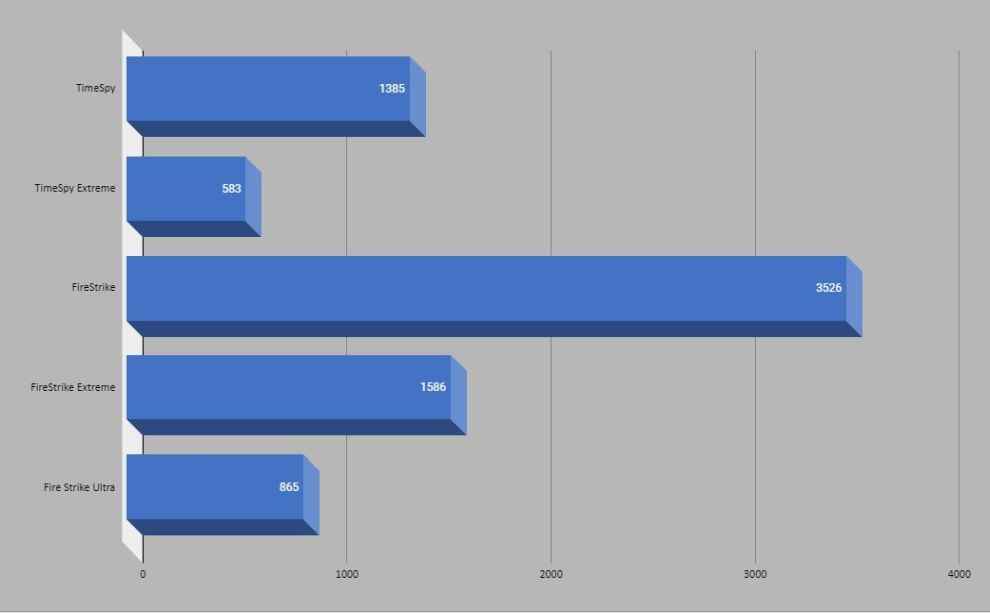 Here's a quick look at the 3DMark numbers that I managed to record on the Mi NoteBook Ultra. I also used the Mi NoteBook Ultra for creative workloads like photo and video editing and it delivered reliable performance. I was able to edit my usual test edit timeline in Davinci Resolve faster than I was able to on other notebooks like the ASUS Expertbook B9400. Adobe Lightroom was also able to export our test files without any issues. And did I mention that the 16:10 aspect ratio helps with creative workloads? It's hard to go back to a normal 16:9 panel after getting the taste of more screen real-estate.
Thermal Performance
Xiaomi seems to be hell-bent on using Intel's H-series chips even in its mainstream notebooks like the RedmiBook. I am not the one to complain as long as the thermals are well under control. So, what can you expect from the Mi NoteBook Ultra? Well, let's a look at some graphs before I answer that question.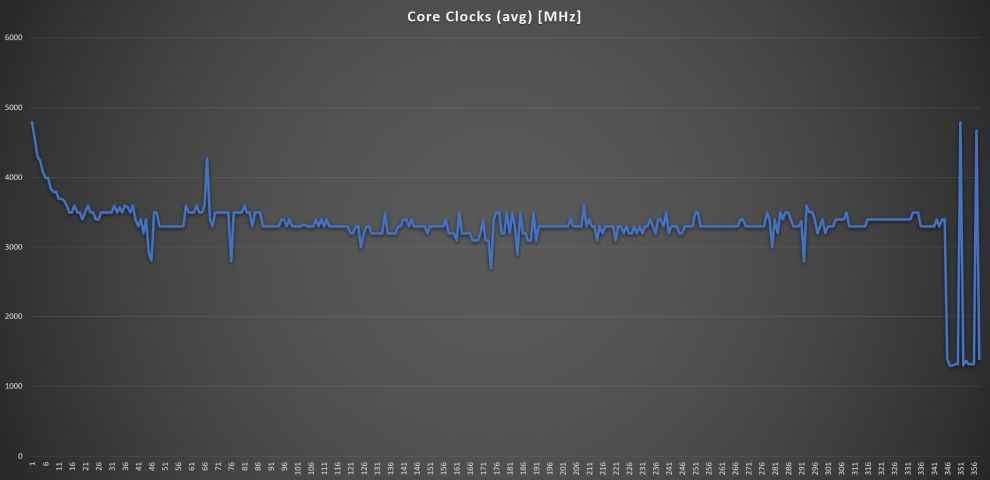 Cinebench R23's multi-core test pushes the i7-11370H to its limits by hitting the max turbo frequency of 4.8GHz. The core clocks settle at around 3.3GHz throughout the test. As a result, I was able to record a max temp of 97°C initially before it settled at around 80°C throughout the test. I never saw the core temperatures going above the 85°C mark outside of benchmarking applications, which is good.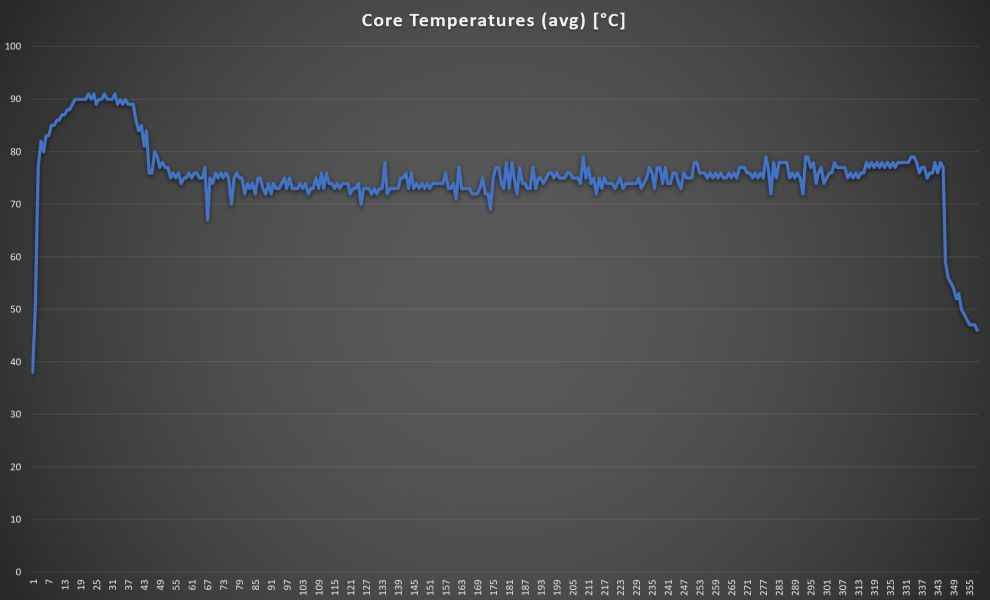 This is also true for gaming or running any applications that go heavy on the iGPU. So as long as you maintain a decent ambient temperature, the Mi NoteBook Ultra should be able to handle just about anything without having any major thermal issues. Yes, the laptop will throttle occasionally while running some resource-intensive application, but I am happy to report that it is not a common occurrence and it will not take away from the user experience.
Mi NoteBook Ultra Display
The Mi NoteBook Ultra not only has one of the best displays you can find on a laptop in this price range, but I think it's also one of the best laptop displays I've ever used. Yes, other OEMs offer laptops with both bigger and higher resolution panels but the Mi NoteBook Ultra's 15.6-inch 3.2K panel with a 16:10 aspect ratio hits the sweet spot for me. It's a fantastic display and is easily one of the best things about this laptop.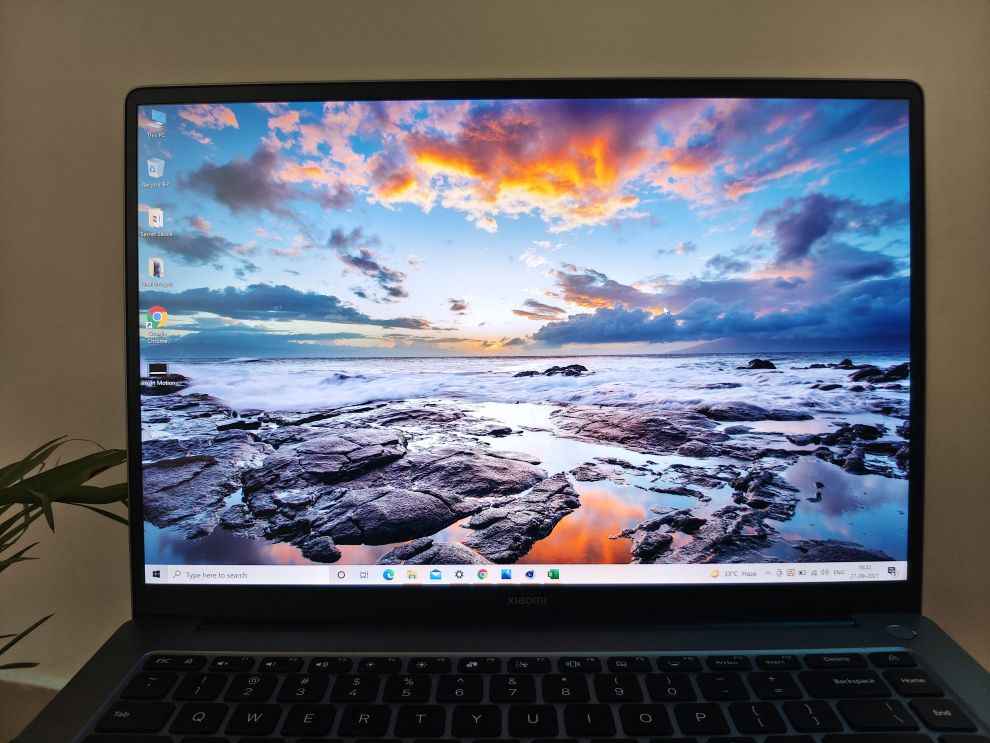 I managed to compare with Realme Book's 14-inch 2K panel to see which one's a better option and you can check out this video right here to see the detailed comparison -
The video also highlights other aspects of the Mi NoteBook Ultra's display, so be sure to check it out in case you want to learn more about the panel itself.
Mi NoteBook Ultra Keyboard, Trackpad & IO
Before we jump into the design and build quality section, let's talk a little bit about the trackpad, keyboard, and the IO situation on the Mi NoteBook Ultra. Just like its design, the Mi NoteBook Ultra's keyboard deck will instantly remind you about the MacBook. You are looking at a traditional laptop keyboard layout with generous space between the keys.
Xiaomi says it is using the scissor mechanism for the keys and they feel similar to the keys on a MacBook. I'd honestly say the keys on the Realme Book (Slim) come close to the MacBook keys but the Mi NoteBook Ultra comes close if that's even a metric to look at. That being said, they're very comfortable to type on with 1.5mm deep key travel and I personally got used to them in no time. The good thing about the keyboard is that it comes with backlighting which was missing on both the Mi NoteBook 14 and the RedmiBook 15 Pro.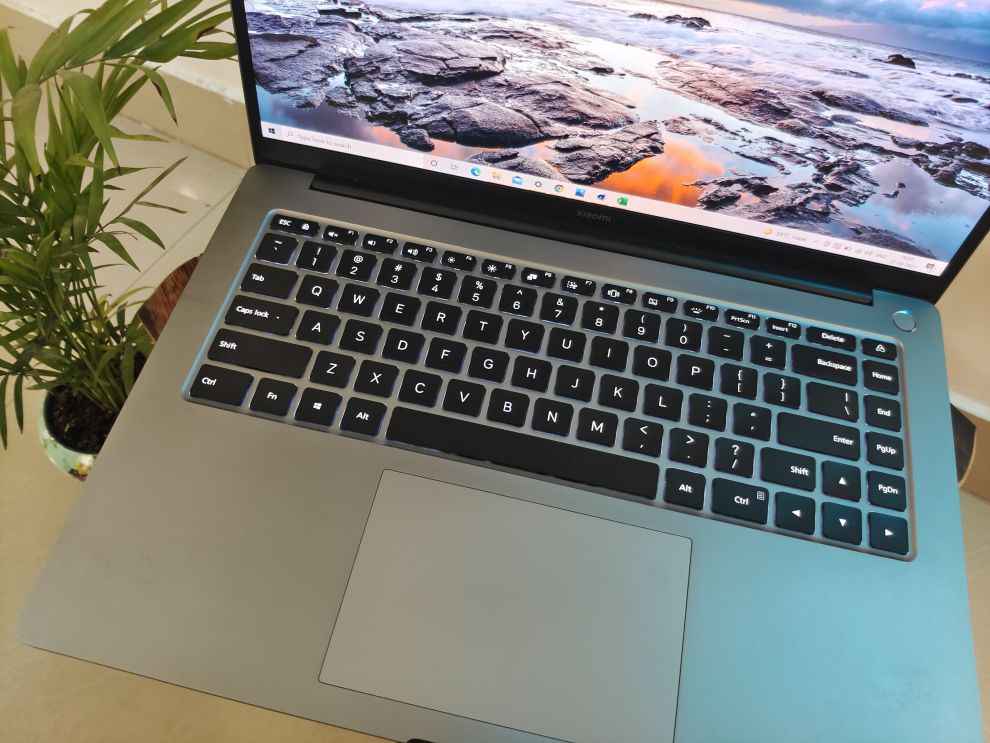 Moving on to the trackpad, this is clearly a bigger surface now compared to the one we saw on the last year's Mi NoteBook 14. It's also slightly better than what we saw on both the Mi NoteBook 14 and the RedmiBook 15 Pro, but I still think there's room for improvement. The smooth finish helps with gestures and tracking, but clicking the bottom half of the trackpad still feels "budget-ty" for the lack of a better word. It's certainly not a deal-breaker, but something I wanted to mention.
One thing do I like about the Mi NoteBook Ultra is the wide variety of port selections on offer. While most laptops in this range, including the Realme Book (Slim), come with only a couple of USB Type-C ports, the Mi NoteBook Ultra gives you a bunch of options. You get a Type-C USB port and Thunderbolt 4 for charging and two USB Type-A ports out of which one is a 3.2 Gen 1 port whereas the other one is USB 2.0. Additionally, you also get an HDMI port and a 3.5mm combo jack.
Mi NoteBook Ultra Design & Build Quality
It's no surprise that the Mi NoteBook Ultra resembles the MacBook Pro both from the outside as well as the inside on the keyboard deck as I mentioned earlier. And for its all intents and purposes, it's not a bad thing at all, in my honest opinion. In fact, I think it's one of the best laptops you can buy in this price range strictly speaking from a design and a build quality perspective.
The chassis is made out of Aircraft grade Series 6 Aluminium and it weighs 1.7Kgs. It's definitely not as wafer-thin or lightweight as, say, the MacBook Air, but it screams quality. There's also a 'Xiaomi' branding on the lid giving it a bit more personality which the RedmiBook 15 Pro lacked. The overall build quality is very premium and makes it stand out in this price range.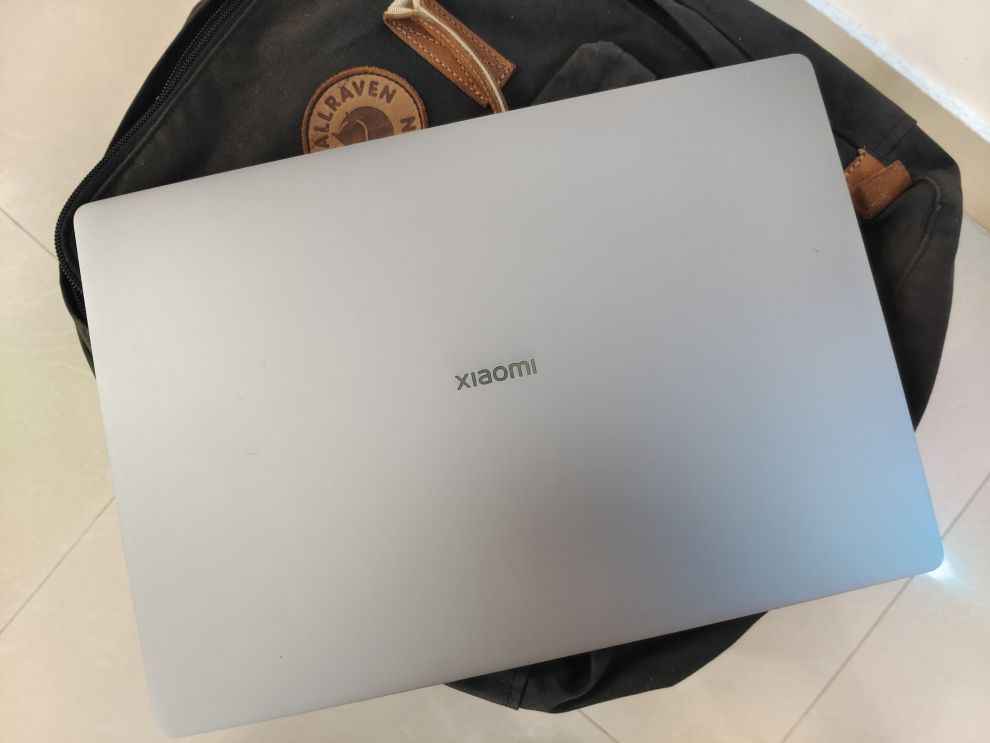 Other additional features like the built-in fingerprint scanner on the power button make it very convenient. Not to forget, there's also a webcam now on top of the display, something which was missing on both the Mi NoteBook 14 and the RedmiBook 15 Pro. The laptop is also fitted with dual 2W stereo speakers with support for DTS audio processing app. The speaker quality is no match to some other ultrabooks on the market, but it gets loud enough to fill a small room with decent audio quality.
The lid is also super easy to open thanks to the fantastic that lets you open the lid with just one finger. Opening the lid reveals the beautiful display with all its bells and whistles that we talked about in the video embedded above.
Mi NoteBook Ultra Battery Life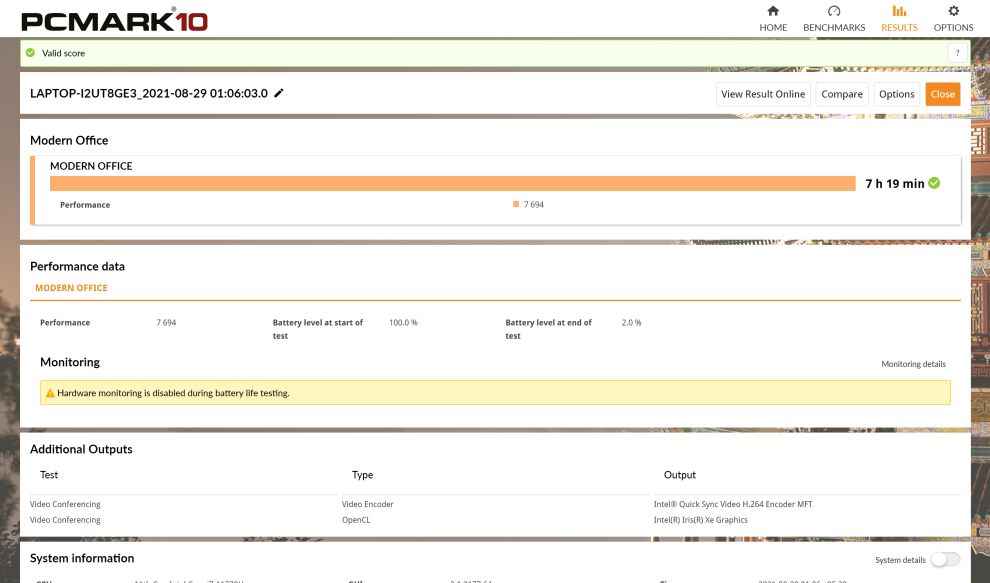 The Mi Notebook Ultra packs a 69,993 mWh battery, which Xiaomi says can last for 12-hours worth of usage. It charges via a 65W Type-C power adapter which makes it convenient. In terms of battery performance, the Mi NoteBook Ultra managed to last for around 7 hours and 20 mins with brightness set to 100-percent. This is one of those machines that can easily last you for an entire day before forcing you to look for a charger. Obviously, your mileage may vary but I still think it's commendable given the fact that it sports a 3.2K panel with a 90Hz refresh rate.
Mi NoteBook Ultra Verdict
Xiaomi has launched the Mi NoteBook Ultra for a starting price of Rs 59,999 in India. At this price, you are looking at the base variant of the machine with an Intel Core i5 processor and 8GB of RAM. The variant I tested for this review is the most expensive option priced at Rs 76,999. For that price, you are looking at a fantastic laptop that comes with one of the most beautiful displays, a powerful 11th generation Intel Core H-series processor, and an extremely well-built machine that's usually unheard of in this price range.
The Mi Notebook Ultra also outperforms some other expensive ultrabooks while costing a fraction of their price. This is a solid upgrade for those using an older machine or even the Mi NoteBook 14 that came out last year. It's also a no-brainer to spend a little extra and get the Mi NoteBook Ultra or the Mi NoteBook Pro over the RedmiBook 15 Pro that came out not too long ago. The Realme Book (Slim) stands as one of the main competitors in this price range, but there are some noteworthy differences that you might want to consider like a smaller display with an unusual aspect ratio and more. That being said, the Mi NoteBook Ultra is indeed the laptop to beat in this price range and I can already see this particular machine making it to a lot of our recommendation lists.