VERDICT:
If you can overlook the ThinkPad X1's underwhelming battery performance, it is exactly the kind of business ultraportable for frequent flying executives – slim, sturdy and easy to tuck away. It looks decent, feels good, is built like a tank, and has one of the best keyboards you�ll ever find on a laptop.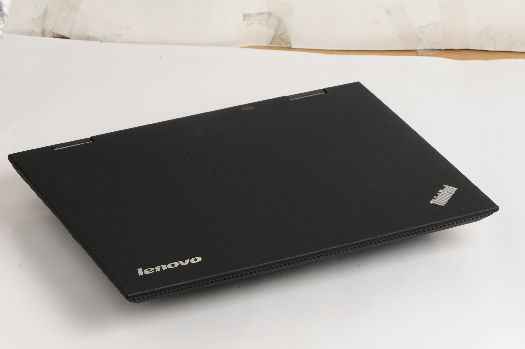 Lenovo ThinkPad X1: Looks & Design
The Lenovo ThinkPads are perhaps the most boring laptops to look upon — they don't dress as well as the Sony VAIOs and Apple MacBooks — but for their target audience of business men and women which don't mind the ThinkPads industrial look, they make perfect sense. The Lenovo ThinkPad X1 is no different — the business ultraportable has a lacklustre greyish black color all over, which makes them a regular sight around boardrooms and conference tables. The ThinkPad X1's screen lid has a smooth but tough rubber coating. Prop the slim laptop open to reveal a fine finish on the X1's palmrest, keyboard and the area surrounding it.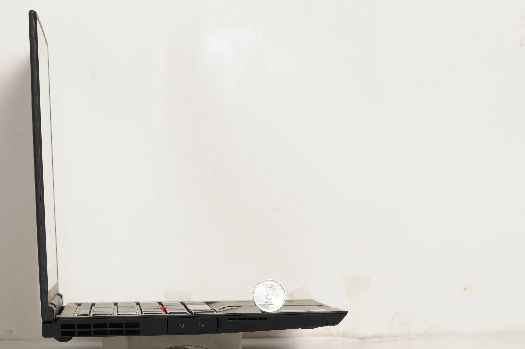 Of course, the Lenovo ThinkPad X1 — like previous X-series ultraportables — is quite rugged and built like a tank. It survives drop from up to 4 feet high without smashing its innards, thanks to a reinforced metal roll-cage designed chassis and metal hinges. Make no mistakes, when you touch and hold the Lenovo ThinkPad X1, you are definitely aware of its superior build quality compared to mainstream laptops, for example. The Lenovo ThinkPad X1 is 0.65-inches thin and weighs 1.72-kg — considering its 13-inch form factor, it's an ultraportable laptop to rival the likes of the 13-inch Apple MacBook Air and the recently reviewed Sony VAIO S. It may not be thinner or lighter compared to the two, but the Lenovo ThinkPad X1 is definitely the most rugged and solidly built laptop of the three.
Lenovo ThinkPad X1: Screen
The Lenovo ThinkPads have pioneered a thing or two for laptops over the years, and the Lenovo ThinkPad X1 is no different. The X1 comes equipped with an edge-to-edge Corning Gorilla Glass display screen, claimed to be the first laptop of its kind to have a scratch-resistant surface found on most high-end smartphones. And it does work — we tried scratching the ThinkPad X1's surface with coins and keys and it was impervious to damage, leaving no scratch marks. But it is glossy, the ThinkPad X1's 13.3-inch LED backlit LCD display, which may not go too well with ThinkPad loyalists — past ThinkPads almost always had a non-glossy display screen. We're also miffed by the fact that the X1 comes with only 1366×768 resolution screen compared to the X300/X301's 1440×900 pixel screen.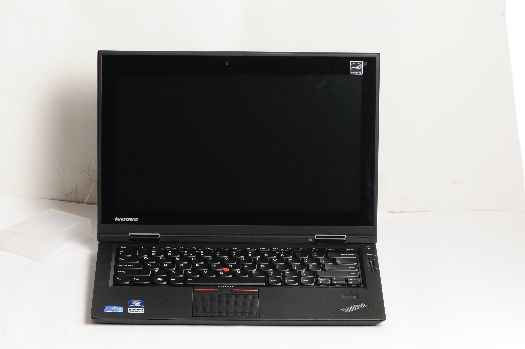 As to the screen's performance, it's not bad at all. The Lenovo ThinkPad X1 is not only designed to be the ultimate business ultraportable, it is meant to dual-up as a basic entertainment laptop for business executives who don't want to carry two different laptops for personal and professional use. The glossy screen of the Lenovo ThinkPad X1 is very bright — 350 nits — brighter than the Sony VAIO S — and displays both text and video pretty well, sharp and crisp. However, colours aren't particularly deep and the ThinkPad X1's screen has average viewing angles. The screen's top bezel comes with a 2MP webcam for video-conferencing with up to HD 720p video output capability. The webcam worked well with Skype and we liked its Web Conferencing control panel which lets you exert fine control over the mic and camera.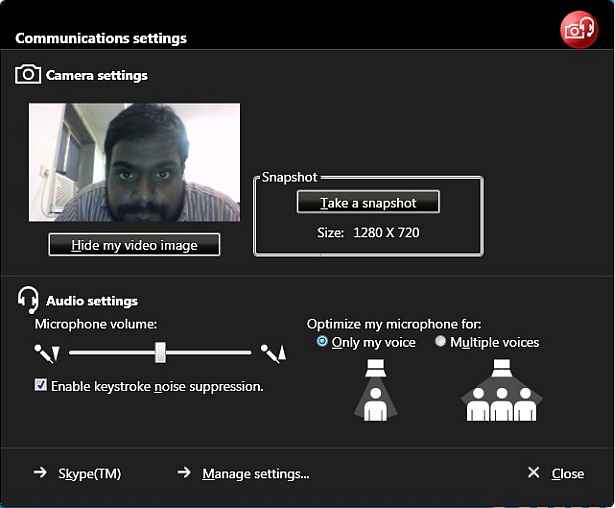 Lenovo ThinkPad X1: Keyboard and Trackpad
[RELATED_ARTICLE]Quite simply, without much exaggeration, the Lenovo ThinkPad X1 has one of the best keyboards we've seen on a laptop — ever. The key-design on the X1 may not be the same as past X300/X301 ultraportables, but it doesn't take anything away from the overall typing experience and only enriches it. The island-styled, isolated keys sported by the Lenovo ThinkPad X1 have a slight dip or "scooped" scalloped design — it helps your fingers nestle on top of the keys perfectly while typing on them. The X1's keyboard provides a great deal of comfort while typing and your wrists are parked well on its wide keyboard. Every keystroke produces a response and feedback that's near-perfect and there's a soft clicking sound accompanying them. Overall, a top-notch keyboard which can resist up to 60ml of spillage — courtesy a channel along the keyboard's edge with two see-through vents for water to go out — and comes with two levels of backlighting for typing in the dark. The backlit keyboard also means no Lenovo ThinkLight at the top of the screen.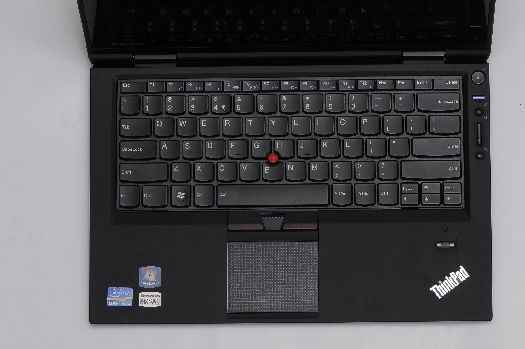 The X1 comes with the traditional Lenovo TrackPoint system — a pressure-senstitive red rubber button placed in the center of the keyboard with accompanying left, right and center buttons on top of the traditional touchpad. The TrackPoint navigation, once you get used to it, is a great way to navigate the mouse on screen, reducing a lot of back and forth time between typing on the keyboard and reaching for the touchpad. The normal touchpad on the ThinkPad X1 is a square box of finely textured pattern — there are no separate mouse buttons, they are designated at the bottom of the one-piece touchpad. The touchpad works well and has a similar concept like the MacBook Air's trackpad — to provide one large clickable area.
Click next to read on about the ThinkPad X1's hardware features, its performance, and our verdict…
You might also want to check out our:
Lenovo ThinkPad X1: Hardware Features
The Lenovo ThinkPad X1 comes arrayed with the latest generation hardware features. It comes with Sandy Bridge Intel Core i5, i7 processors — our review sample came with an Intel Core i5-2520M 2.5-GHz processor with a Turbo Boost speed of 2.93-GHz and it also had vPro support for advanced IT management. There's also 4GB of DDR3 RAM, 320GB hard drive and Intel HD 3000 graphics to complete its core hardware components — quite good for an ultraportable business notebook. Needless to say, the ThinkPad X1 packs a lot more firepower than its predecessors and can match the performance of most current-gen 14 or 15-inch mainstream laptops.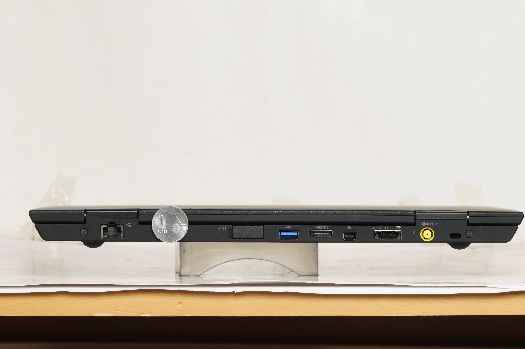 In terms of connectivity ports, the Lenovo ThinkPad X1 covers all the bases. It comes with a USB port and audio jack under a rubber flap on its left edge, an SD card reader on its right, and Gigabit Ethernet, 3G SIM Card slot, USB 3.0, HDMI, mini Display Port, and a hybrid eSATA powered USB port on its spine. There is no DVD slot — as it's an ultraportable laptop — or a VGA port, you'll need a mini Display Port to VGA cable to use any old office projectors with the X1. Wireless connectivity is looked after Wi-Fi 802.11n, 3G, and Bluetooth.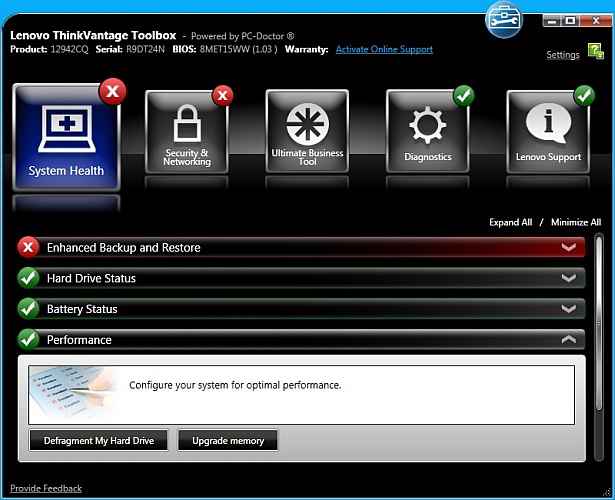 The Lenovo ThinkPad X1 comes with a fingerprint sensor for logging into the system without a password and biometric protection. Next to the keyboard is a blue button which launches Lenovo ThinkVantage software, one of the best proprietary suites we've seen on a commercial laptop — it's a one-stop destination for monitoring your ThinkPad's healthy, download updates, plug security holes and more. The X1 also comes with a very good power management tool built into ThinkVantage — more on that later.
The Lenovo ThinkPad X1 comes with a 64-bit Windows 7 Professional operating system and a one year warranty. It's definitely better equipped than the Sony VAIO S or the Apple MacBook Air, in terms of its hardware and features offering.
Lenovo ThinkPad X1: Performance
This laptop is built like a tank, make no mistakes. We dropped it thrice from heights ranging from 3 feet to 4 feet, with lid closed, and it would resume its session instantaneously within seconds after picking up — no scratches on screen, no loose hinges. Just goes to prove the toughness of the ThinkPad X1 ultraportable. We also tested the ultraportable's spill-resistant keyboard claim by dropping between 30 to 40 ml of water squarely across the keyboard, and watch the water drain out along the side — the system didn't shut down and ran just fine, no internal electronics were harmed. Pretty amazing.
Despite being aimed primarily as a premium business ultraportable laptop, the Lenovo ThinkPad X1 is quite the performance machine. In our synthetic benchmarks — PC Mark Vantage — the X1 scored pretty high, better than average in fact. Its high-speed turbo boost enabled processor and 4GB of fast-paced RAM paid rich dividends, letting us multitask with a multitude of apps simultaneously without feeling any pinch in performance bottlenecks. The laptop handled tasks like video encoding, file transfer, etc., without a hitch as well. With the Lenovo ThinkPad X1, you can be sure that you can do a lot more than just working with spreadsheets and presentation slideshows.
In terms of entertainment, the Lenovo ThinkPad X1 comes with Dolby Home Theater v4 technology for better-than-average sound quality. The laptops speakers are hidden below the keyboard but still offer loud enough audio levels. The sound does crack at 90% volume but the overall experience is pretty good for an ultraportable laptop, with good bass levels. Watching movies and HD videos is handled well by the glossy Gorilla Glass display of the X1 and apart from the ordinary viewing angles and reflected objects, the experience is quite good for a laptop.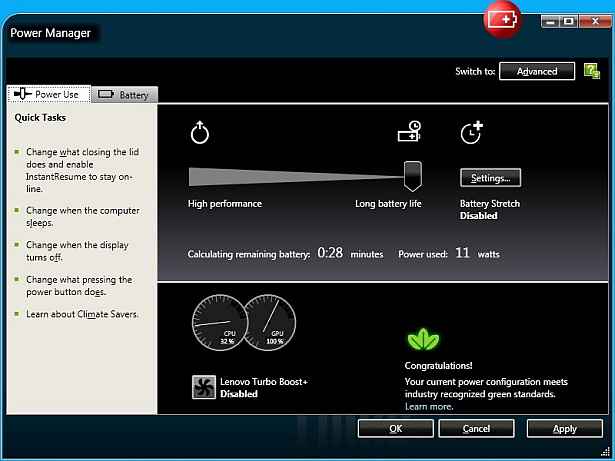 [RELATED_ARTICLE]The Lenovo ThinkPad X1 falls short in one department — battery life. It's a disappointment, the battery lasted just over an hour in our synthetic test done at maximum performance preset, full volume and 100% screen brightness — which is way below the average, definitely less compared to the MacBook Air and Sony VAIO S. On a conservative power plan, you can barely reach 3 hours. With Lenovo Power Manager's battery stretch feature turned on, we managed to cross the 3 hour mark but with a severely compromised user experience. The fact remains that the Lenovo X1's standard battery isn't one for the long haul — although it will last you longer over the years with its claimed 1000 recharge cycles. But if you're thinking of using the X1 on the go, combining work and pleasure (movies, music, etc.), anything over a couple of hours is a bonus — unless you opt for an extra battery pack.
Although the battery may not be long lasting, 40% of the battery was recharged within the first 15 minutes of plugging it into the adapter and 99% in 1 hour 4 minutes — which is quite fast for a laptop. The ThinkPad X1 heated up a bit during our benchmarking, especially when under close to maximum stress, particularly around its left edge which has the heat exhaust vents. As long as you keep the left edge off your lap, you won't feel a thing — but yeah, the ThinkPad X1 did heat up.
Bottomline:
The Lenovo ThinkPad X1 is a premier business ultraportable laptop, with our review sample priced at Rs. 85,000 — SKUs with Core i7, SSD built-in will obviously cost more. The Lenovo ThinkPad X1 is close to the ultimate business ultraportable, with features like vPro, fingerprint sensor, and decent HD video conferencing. It has a scratch-resistant Gorilla Glass display which is a first amongst laptops and comes with most of the connectivity features you'd expect — including a 3G SIM card slot. You'd be hard pressed to find all of these features on a business laptop from Dell or HP.
If you can overlook the ThinkPad X1's underwhelming battery performance, it's exactly the kind of business ultraportable for frequent flying executives — slim, sturdy and easy to tuck away. It looks decent, feels good, is built like a tank, and has one of the best keyboards you'll ever find on a laptop.
Overall Rating: 4.5/5

Price: Rs. 85,000 (MRP)

You might also want to check out our:
| | |
| --- | --- |
| Brand | Lenovo |
| Model | ThinkPad X1 |
| Warranty (months) | 12 |
| Price (Rupees) | 85000 |
| Features | |
| Component Specifications | |
| Processor Model No | Core i5-2520M |
| Processor Speed (MHz) | 2500 |
| RAM (MB) | 4096 |
| RAM Type | DDR3 |
| Memory Speed (MHz) | 1333 MT/s |
| Chipset | Intel Cougar Point QM67, Intel Sandy Bridge |
| Graphics Solution | Intel HD 3000 |
| Dedicated Video Memory (Y / N) | N |
| Dedicated Video Memory Size (in MB) | N |
| Audio Chipset | Intel Cougar Point HDA |
| Storage size (in GB) | 320 |
| Drive type (HDD/SSD/other) | HDD |
| Optical Drive Type / Speed | N |
| Bundled OS | Win 7 Pro 64-bit |
| Characteristics | |
| Screen Size (Inches) | 13.3 |
| Type of LCD | TFT with LED backlit |
| Screen Resolution (Native) | 1366×768 |
| Weight (Kg) | 1.72-kg |
| No. of USB ports | 3 |
| No. of FireWire ports | 0 |
| USB 3.0 (Y/N) | Y |
| Connectivity (LAN / Bluetooth / Wi-Fi) | Y/Y/Y |
| E-Sata (Y/N) | Y |
| Display output (VGA/DVI/HDMI/Display Port) | N/N/Y/Y |
| Memory Card Reader (Y/N) | Y |
| Type of Memory Cards Supported | 3 |
| Inbuilt Webcam (Y/N) | Y |
| Webcamera resolution (in megapixels) | 2 |
| Build, Ergonomics and Usability (So 10) | |
| Body | 9 |
| Keypad | 9.5 |
| Lid, movables | 9 |
| Keypad Tactile Feedback (So 10) | 9.5 |
| Key Layout, bevelling, spacing & Usability (So 10) | 9 |
| Shortcut Keys/Switches (So 10) | 8.5 |
| Trackpad ergonomics, size, position (So 10) | 8 |
| Trackpad accuracy (So 10) | 8 |
| Biometrics (fingerprint/face) login (Y/N) | Y |
| Wi-Fi On/Off Switch or Button (Y/N) | Y |
| Dedicated Bluetooth On/Off Switch or Button (Y/N) | N |
| Dedicated TouchPad On/Off Switch or Button (Y/N) | N |
| Performance | |
| Synthetic Scores | |
| PC Mark Vantage | |
| PC Mark Score | 7550 |
| Memories Score | 3955 |
| TV and Movies Score | 4120 |
| Gaming Score | 4077 |
| Music Score | 6939 |
| Communications Score | 10316 |
| Productivity Score | 6448 |
| HDD Score | 4226 |
| 3D Mark 2006 | |
| CPU Score | 2766 |
| Graphics score | 1400 |
| Overall Score | 3504 |
| Maxxon CineBench R11.5 (CPU score) | 2.71 |
| WinRAR 3.9 (Compression / Decompression benchmark) | 2268 KB/s |
| Wi-Fi Signal Strength Test (Zone 2) | |
| Real World Tests | |
| Battery Life Test (in minutes) | 77.25 |
| Speaker Quality (at 50% volume) (So 10) | 6.5 |
| HD Movie Viewing (using VLC) (So 10) | 7.5 |
| DivX Encode 7.0 (.VOB to .Divx, default mode) | 35.1 |
| File transfer Test (4 GB test file-sequential) (Sec) | 108.3 |
| File transfer Test (4 GB test file-assorted) (Sec) | 151.8 |