Lenovo Ideapad 500-15ISK detailed review
The Lenovo IdeaPad 500 could be easily misunderstood to have a weak construction. One has to hold it to realise its superior build quality and let us make it clear, Lenovo has used no inferior quality plastic on the outside. But that's just on the outside. On the inside Lenovo has made little compromise as the IdeaPad 500 sports an appealing brushed aluminium body and silver accents running along the sides giving it a premium feel.
The laptop sports an ergonomic design, weighing just over 2 kg. The hinges are sturdy and hold the screen pretty well, and the overall construction is quite good.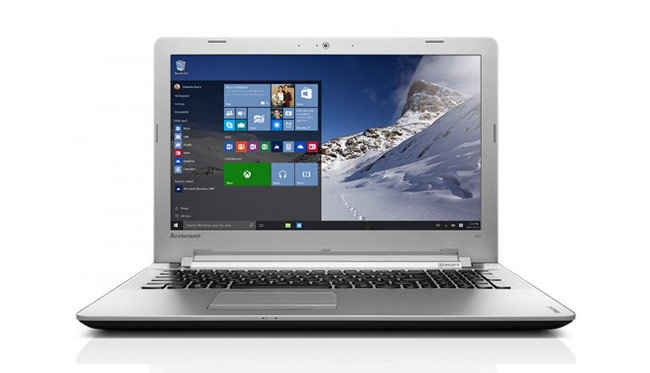 The ldeaPad 500 sports a 15.6-inch Full HD display which is a TN panel and not an IPS one. We were not particularly impressed by the screen's washed out colour and average brightness. Trying to compensate, the IdeaPad 500's screen was sharp, replicating detail imagery.
During our performance tests, PCMark 8 returned a score of 3907, making the IdeaPad 500 one of the top performers in our mainstream category. However, gaming performance is where the laptop falls short. Casual gamers should be able to get light gaming sessions at low settings on the IdeaPad 500. We did not notice any heating issues and it was quite impressive to see the laptop staying cool as well as super silent. In our battery test, the laptop could survive over 3 hours, which is quite good.
Lenovo's full size island type keyboard is one of the best features that this laptop can boast. The chiclet keyboard comes with curved keys, something that Lenovo has been very consistent with. Long typing sessions are a breeze on this keyboard owing to its tactile feedback and adequate key travel. The keys are wide, comfortably placed but you will have to make do with just one level of backlit support. The multi-gesture trackpad, too, is smooth to use and quite precise. It comes with a matte finish and separate section that consists of the left and the right click.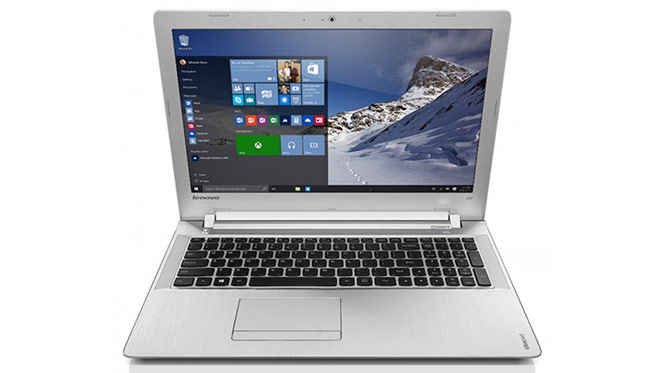 The HD webcam on the IdeaPad 500 features Intel's RealSense 3D technology that recognises faces and gestures in order to interact with your laptop. You could use it to change the backgrounds and add effects in real time while you are using the webcam or use gestures to command the laptop to do perform specific actions, including signing into apps using your face as the pass key. It's a nice touch, something that you don't see on many machines, further boosting the laptop's mainstream appeal.
Perhaps the most outstanding aspect of the IdeaPad 500 are its two bottom-facing JBL speakers that are quite loud when coupled with Dolby audio presets. The Dolby Audio comes with a number of presets such as Dynamic, Music, Movie, Game, Voice that allows you to switch the audio output according to your preference. Once enabled, the Dolby Audio app makes sure it impresses with its audio output, when compared to other laptops.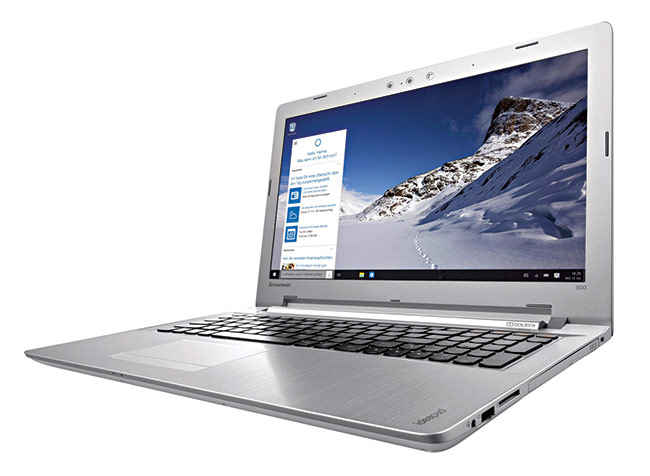 Along with an audio-enhancing app, Lenovo has bundled along various other software, that they consider to be utility, such as a Windows 10 companion, a photo manager and a host of apps from its DoIT series.
Verdict
Overall, the Lenovo IdeaPad 500 is a complete multimedia laptop for users that need a little bit of everything. It does have a powerful hardware inside but lacks in a few important sectors like the average display and battery backup. If features like the RealSense and the JBL speakers coupled with Dolby audio can cover up for what it lacks, this one is definitely worth considering, given its attractive selling price.
Specifications
CPU: Intel Core i7-6500U
GPU: AMD Radeon R7 M360
RAM: 8GB
HDD: 1TB
Weight : 2.2 Kg
Webcam: Intel Realsense 3D Camera
Contact
Lenovo India
Phone: NA
Email: NA
Website: lenovo.com/in