VERDICT:
Aside from putting in a GTX 1070, there really isn't much about this laptop that would attract the "gaming" label. Performance wise, the HP Omen 17 does take a few steps back because of the older CPU but when it comes to gaming it decimates practically most of the competition.
The HP Omen 17 comes in a pretty decked out package which includes a backpack, HP Omen branded gaming mouse and headset manufactured by SteelSeries. Kudos to HP for picking a good OEM with a good track record but we couldn't help but notice that HP is a bit late to the gaming party in India. Why so? As companies get bigger, they have a large line up of products and the decision to bring a certain segment goes through way too many people than necessary and hence, late to the party. Also, the configuration that we received (older than competition) also reinforces that opinion. So without further ado, here's the configuration of the unit we received.
HP Omen 17 Specifications

Processor

6700HQ 2.6 GHz

Platform

HM170

RAM FSB

2400 MHz

RAM Capacity

16 GB

Screen Size

17.3–inches

Screen Resolution

3840 x 2160

GPU

NVIDIA GTX 1070 8 GB

SSD

Samsung NVMe 256 GB

HDD

HGST 1 TB

Ethernet

Realtek GbE

Wi-Fi

Intel AC 7265

Audio

Realtek (4x 2W + 1x 3W Speakers)

Battery

6-Cell 95.8 Whr

AC Adapter

230 W

Weight

3.35 Kg
Chassis Build
Firstly, the HP OMEN 17 is one of the most difficult laptops to take apart. Going by the fact that these are marketed towards enthusiasts who like to switch components like the SSD and the HDD out for better performing components, HP sure did make it hard to do that. There is an easy access hatch on the bottom of the HP OMEN 17, but that only gives you access to the RAM modules which is a good start but the competition is far ahead in this regards.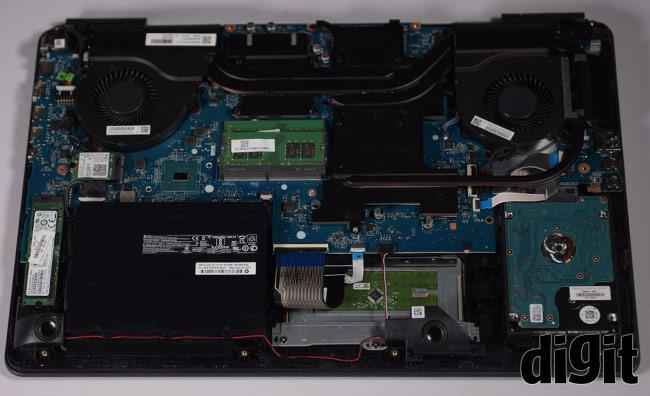 We then have an enclosed battery in the bottom left, which in this case is a 95.8 Whr (8300 mAh) 6-cell assembly. Batteries don't need to be replaced often but it is one of the first things to lose capacity with any laptop owing to poor usage. Also, performing a hard reset becomes difficult since long-pressing the power button does not produce results in certain cases.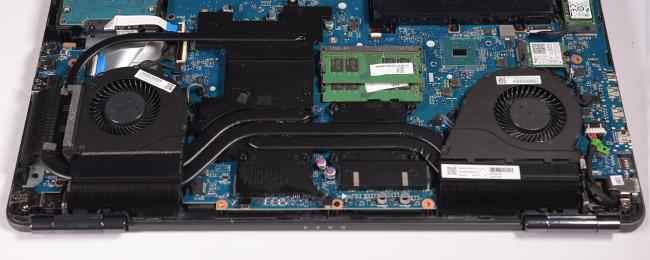 The cooling assembly is well built, there are individual heat pipes for the CPU and the GPU and each heat pipe is fairly wide. However, there seems to be a glaring omission with the PCH. There is no heat sink, which is fine since the HM170 is a low powered SoC but what you see right next to the RAM modules is the PCH in its bare form when it's the most vulnerable. That does not bode well in anyone's book.
Another thing that stands out is the speaker assembly which isn't in a symmetric arrangement and there are only two drivers while gaming laptops from the competition have multiple drivers to cover different bands of the audio spectrum. And when you experience the audio on the HP OMEN 17, it becomes really apparent that the audio is simply not up to the mark.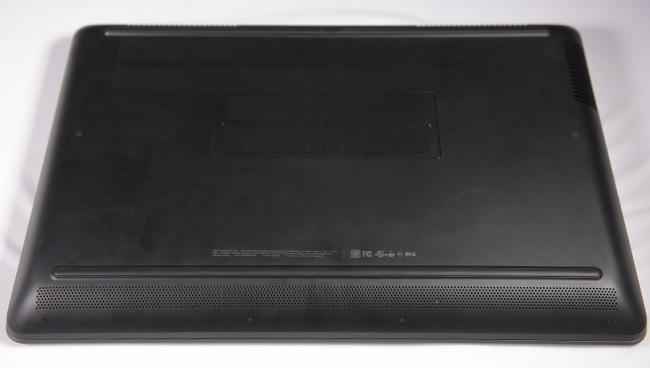 The HP OMEN 17 does not have an optical disc drive which is a welcome change since nobody uses them anyways and the space saved can be utilised to incorporate more features or improve upon existing features present in the laptop. For example, the extra space could have been used to re-arrange the components and make way for a better audio solution. However, as it stands now, it seems HP just saved some money in this department.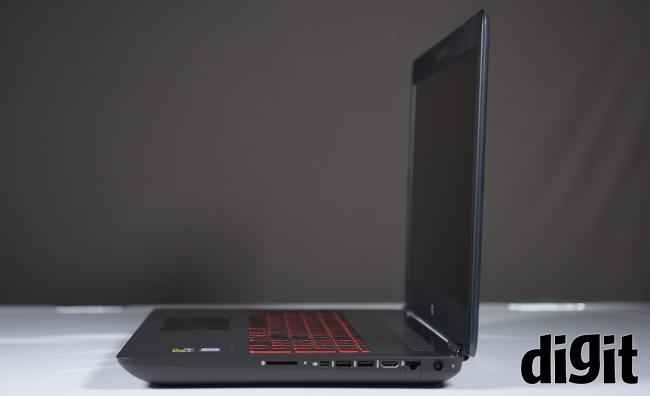 We prefer the 17.3-inch panel over the 15.6-inch panels since we're used to gaming on large monitors and a larger display panel feels less of a compromise. However, this is largely subjective. The display lid is slightly thicker than what some of the competition offers but we'd say it is warranted to add mechanical strength owing to the larger size. The hinges are not wobbly at all and rarely are they when a laptop is pristine. And going by our previous experience with HP units, we don't forsee it to be a problem area either.
Overall, we'd say that the HP OMEN 17 has a very standard build quality which is unexpected given the cost. A lot could have been done better with the insides since the competition has been improving by leaps and bounds with each iteration. HP, being a much larger entity than almost the entire competition, certainly has the manpower to perform better R&D that what we see here. We'd say that HP should have paid more attention to the most expensive article in the entire package (i.e. the laptop) rather than throwing in a couple of freebies.
Keyboard and Touchpad
Although we aren't fans of RGB, we appreciate that it does give consumers the ability to customise. HP's keyboard is backlit but with a single colour. It's not exactly a disappointment but you have to give what the consumers want. The selection of keys switches is optimal, they're chiclet-buttons and they feel just fine. We can't say anything more than this, because there frankly isn't much to talk about. Some of the competition have frequently used keys like the space bar or the WASD keys to be textured differently, but that's not the case here. There are no extra macro keys either.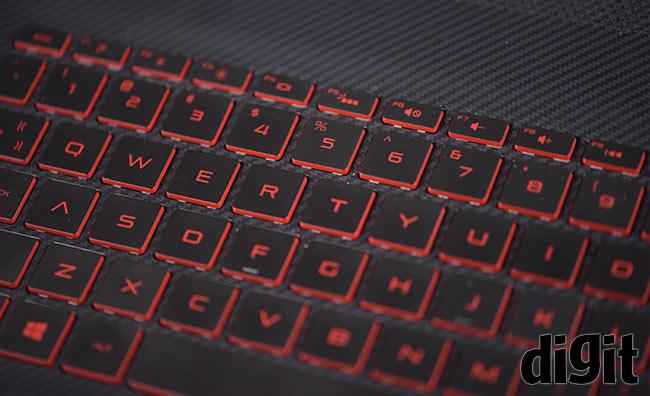 The touchpad though not used for gaming, is one of the redeeming factors of the HP OMEN 17 gaming notebook. It's large, has no physical separation for the left and right clicks and the texture is slick. It's not too glossy which causes sweaty fingers to stick not is is too rough. It hits the right note.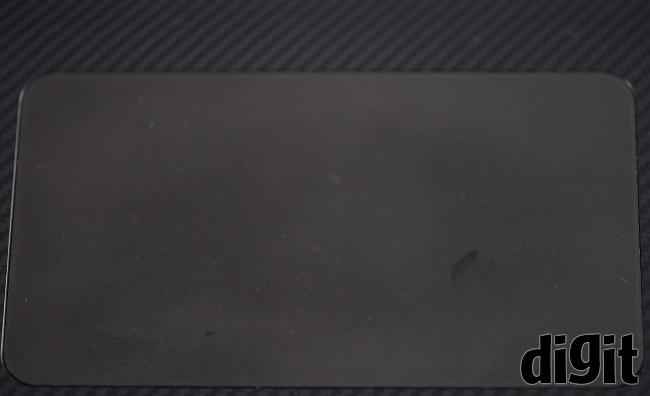 I/O port
The HP OMEN 17 has a very standard arrangement of I/O ports. There are three USB 3.0 ports, one on the left and two on the right. Audio I/O on the left and all remaining I/O options on the right. This includes the Gigabit Ethernet port, the card slot, HDMI and DP ports. It's missing a Type-C port which has now become standard with many devices, especially flagship smartphones and tablets. So not having Type-C is something we aren't too fond of.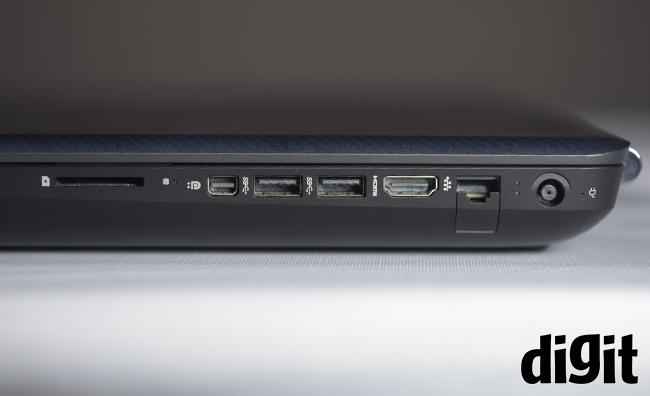 It should be noted that the optical drive was not replaced by another I/O. There certainly was enough space and you can never have too many USB ports. The audio connectors aren't premium and could surely have used non-corrosive metal contacts.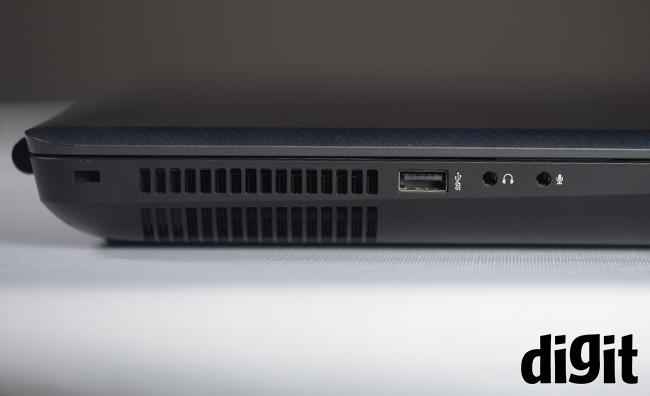 Display
Another really good facet about the HP OMEN 17 is the display panel. It's 17.3-inches and an IPS panel. Being a 4K panel, you really appreciate it since the GTX 1070 that's powering the HP OMEN 17 can do justice to it. We didn't take the panel chassis apart so we don't know who the OEM is. The panel makes use of an RBG sub-pixel arrangement, has an average luminance of 338 nits and a very uniform brightness level across the board. There's no backlight bleeding nor did we spot any dead pixels which are getting rarer to spot by the day.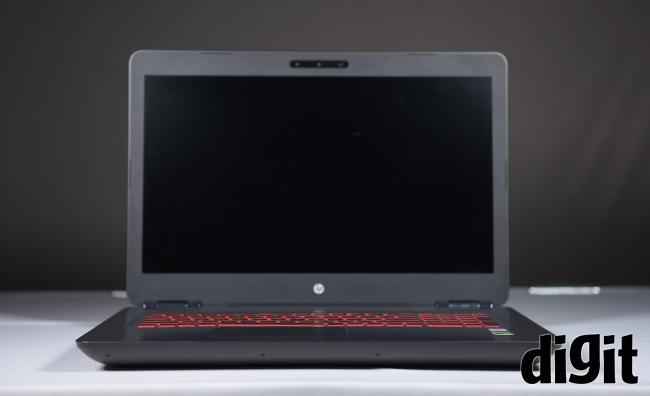 The tone response was ordinary and the colour uniformity and accuracy were very high. So the display panel on the HP OMEN 17 could very well be the best thing about this gaming laptop.
Performance
The actual variant that sells in India will perform about 5-8% better but then again, this is an assumption which we can only confirm if we get the proper unit. Our demo unit being powered by an Intel Core i7 6700HQ and 16 GB of DDR4 RAM clocked at 2400 MHz isn't exactly bad but these benchmarks should be considered to be lower than what you'll get.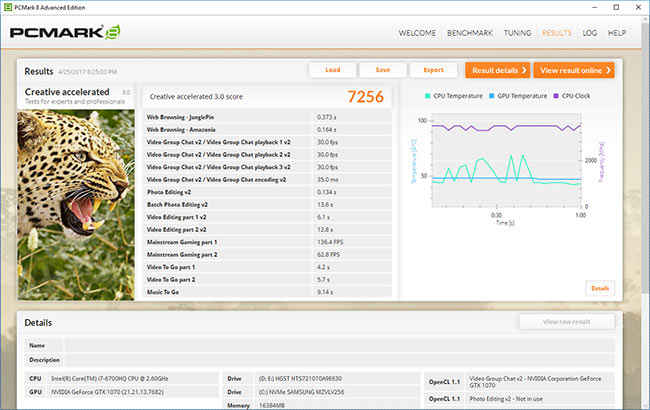 In our tests, we managed to get 147 points in Cinebench R15 on single threaded and 677 on multi-threaded. While in Cinebench 11.5 the score was 1.69. Kabylake processors aren't that big an upgrade from Skylake so day to day computing tasks will practically give you very similar performance.
PCMark8 Creative accelerated benchmark scored 7,256 points while home accelerated scored 4,139 points. All of these indicate a highly capable system.
Storage
The OMEN 17 comes with a 256 GB Samsung NVMe SSD which is well above the bare minimum you should have for a boot drive. It has just about enough storage to house the OS, essential apps and perhaps a game or two. Most of the competition has 128 GB so kudos to HP for getting the storage part right. Accompanying the SSD is a Hitachi 1 TB 7200 RPM drive which if you compare to the competition's 5400 RPM drive, is better.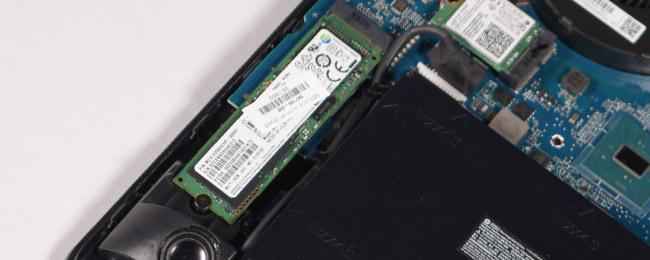 Transfer speeds are what you'd expect with NVMe SSDs. There's no RAID array or any additional caching technologies. Read speeds were at 1,650 Mbps and write speeds were at 1,170 Mbps for the SSD according to AS-SSD. Our IOMeter mixed trace results were a lot lower but we didn't notice any bottlenecks in the SSD storage performance.
SD Card Reader
We used a 32 GB Lexar 1000x UHS-II SD card which easily gives 135 MB/s read speeds and 55 MB/s write speeds on USB 3.0 SD card readers to test the SD card slot. The HP OMEN 17 managed an average of 74 MBps which is fairly good for inbuilt card readers.
Wi-Fi
For the Wi-Fi and Bluetooth, the HP OMEN 17 uses the popular Intel AC7265 module which is a proven winner. It's dual band, supports 802.11ac and in our iPerf test we scored a little over 520 Mbps on the uplink and over 650 Mbps on the downlink. Being a gaming laptop, we're used to seeing either software or hardware QoS which the OMEN 17 does not have. Implementing a software QoS is a recurring cost and a hardware Qware solution doesn't always work properly out of the box. We're looking at you Killer. However, of late we've experienced next to no issues with the aforementioned hardware solution so we don't see why QoS solutions from Qualcomm or Realtek should not be implemented.
Gaming
Another neat part about the HP OMEN 17 is the NVIDIA GTX 1070 GPU that's under the hood. However, the older CPU does throw up a major difference in benchmark scored. 3DMark 8 FireStrike chalked up 12,516 points which could have certainly gone a little higher into the 13,000s otherwise. Similarly, FireStrike Extreme scored 7,293 which is a pretty decent score for a GTX 1070. We used the latest NVIDIA graphics driver at the time of benchmarking so some of the scores aren't validated in the 3DMark database.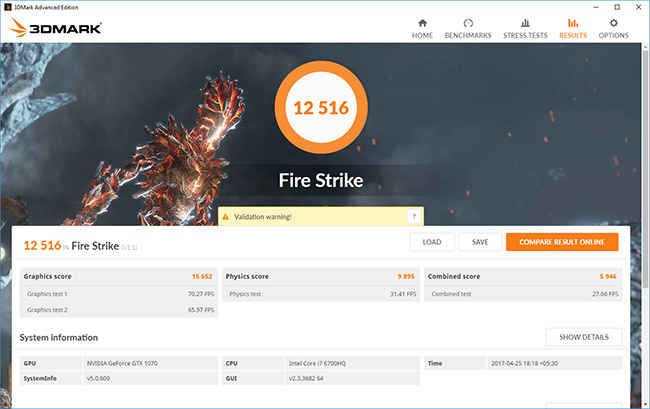 When it comes to actual video games then a 1070 is a workhorse. Even at 4K resolutions, the 1070 can manage playable FPS scores. Rise of the Tomb Raider is a common game to test 4K gaming performance and the HP OMEN 17 managed 35.5 FPS on average. However, since the Indian variant of the laptop will feature a 1080p display, we'll stick with the 1080p scores. And for Rise of the Tomb Raider, that'll be 90.2 FPS. DOOM goes way about 110 and Witcher 3 teeters around 50 FPS. All in all, a highly performance gaming laptop.
Verdict
The laptop has a pretty slick looking textured design that not only adorns the back of the display panel but also extends to the chassis front. Compared to the other gaming brands, HP doesn't put much emphasis on competing in being flashy. So we peeked inside and they have a pretty simple design with dual cooling assemblies for the CPU and the GPU. They access hatch only opens up to the RAM so replacing the HDD and SSD will require opening the entire cover. Aside from putting in a GTX 1070, there really isn't much about this laptop that would attract the "gaming" label. Performance wise, the HP Omen 17 does take a few steps back because of the older CPU but when it comes to gaming it decimates practically most of the competition. With the 1070, 4K gaming is pretty easily accomplished on the unit, however, since the Indian units are limited to just FullHD, the FPS counter is going to be riding high in the double digits for a year or two. There aren't that many GTX 1080 laptops and even fewer GTX 1070 laptops, so HP's bagged itself a pretty good configuration and price point to sell the Omen 17.