VERDICT:
The HP 15-BA021AX is a decent machine for casual gamers, but it comes with heating issues typical of AMD driven machines. Overall, the laptop is reasonably functional, but there are better Intel counterparts out there.
Specifications of our test machine
Display: 15.6-inch, 1366 x 768p
CPU: AMD A10-9600 APU
RAM: 4GB, Max 8GB supported
Storage: 1TB HDD (5400rpm)
Battery: 41whr
Design and Build
As far as looks go, the HP laptop here presents nothing worth writing home about. It is a simple design, that is functional but looks dated. That being said, the understated silver and black is easier on the eyes than glossy exteriors of some other laptops in the same price bracket. The ridged top looks unique, but the HP 15-BA021AX is in no way an attractive looking laptop.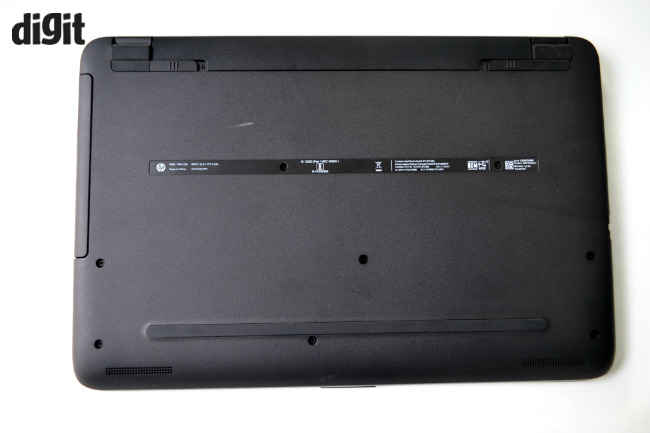 The build quality on the other hand is among the best in the category. Even though the laptop is made completely out of plastic, it feels quite sturdy. There is minimal flex in the structure, be it the keyboard deck or on the display itself. The hinge mechanism also works well and is sturdy enough to keep the display in place under minor jolts. That being said, a slight wobble is noticeable if you are using the machine in a moving vehicle.
Display and I/O
The laptop uses a 15.6-inch backlit LED display panel offering a 1366 x 768 pixel resolution. It is a decent panel for the price and colour saturation is comparable to any other budget laptop. The viewing angles however are poor and you won't be able to enjoy any video content unless you are looking at the display from dead centre. There is no light bleed on the display, but the poor viewing angles might be a deal breaker for some.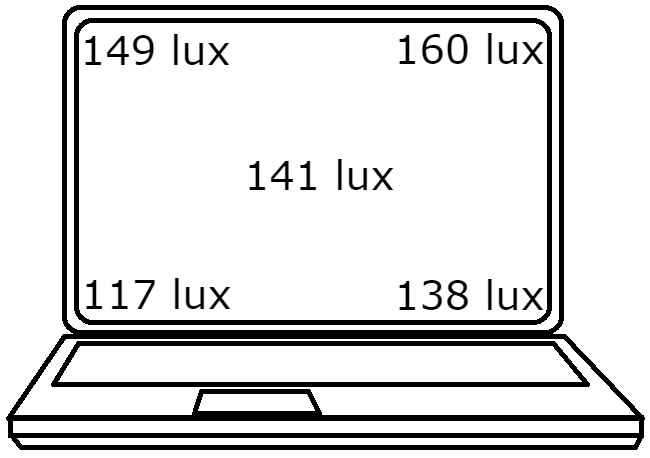 On the I/O side, you get almost everything you expect from a laptop in this category. On the left side you get a standard LAN port, two USB ports, one HDMI and a microphone plus headphone jack combo. The right side features a USB 3.0 port, an SD card slot and the humble DVD writer, which is slowly becoming a rarity on most laptops. This current lineup of ports does cover everything with the exception of a Type-C port, which could have been a nice addition. Moreover, I would have preferred two USB 3.0 ports instead of just one.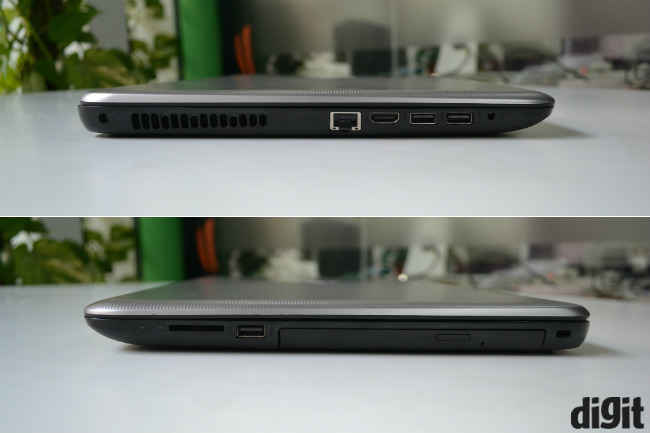 Keyboard and Touchpad
The keyboard and touchpad layout are again pretty standard. The larger footprint easily accommodates a number pad along with the standard keyboard. The standard chiclet style keyboard employed here is among the best in terms of typing experience. All keys have good tactile feedback and travel distance is quite decent. Now, don't expect Thinkpad like feedback from the keyboard, but it is good enough for the price.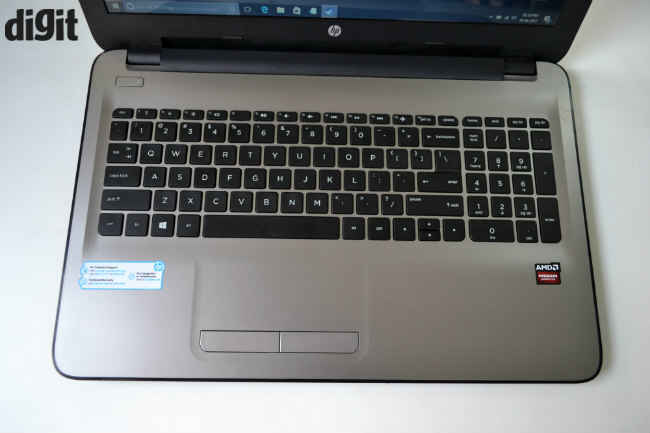 Below the keyboard lies a well sized touchpad, which has the same finish as the keyboard deck and offers separate left and right mouse buttons. Like the keyboard, it is functional and works accurately most of the time. During the review period, I did encounter few ghost cursor movements, but nothing which would break your workflow. Also, the two physical keys are a bit stiff to use, making it tedious if you are working on Excel etc.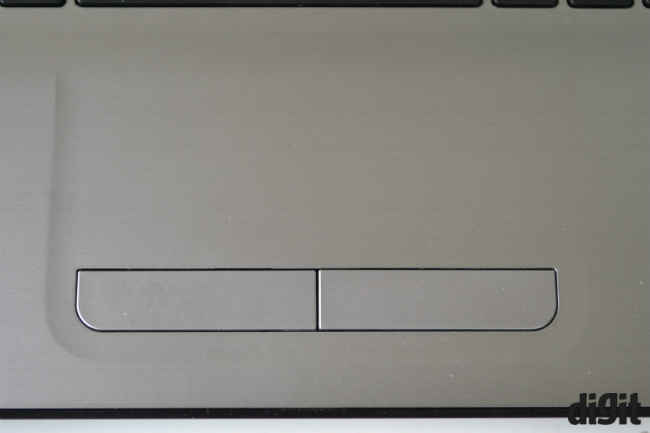 Performance
While its name might suggest so, the AMD A10-9600 APU does not have a deca-core package. It's a simpler quad-core chip that uses the same excavator cores AMD introduced back in 2015. Here, it is paired with 4GB of RAM and 1TB storage. While it seems to be plenty for a budget machine, I was expecting at least 8GB of RAM at its price. Specs aside, the performance is somewhat lacking. The quad-core AMD processor, is unable to perform at par with the entry level Intel Core i3-7100U we encountered on the Lenovo Ideapad 310.
The CPU not only feel sluggish at times, but there are some serious performance drops that shouldn't be there. The AMD A10-9600P has a base clock speed of 2.3GHz (as tested), which can boost up to 3.3GHz if a process requires. To stress the processor we used the Prime95 blend benchmark. While the CPU starts strongly at 2.3GHz, the speed swiftly drops to 1.97GHz within 3-4 minutes. This will only affect single large processes, such as video conversions. However, as far as day-to-day tasks are concerned, the A10 is not a slow processor as it still manages to keep up with multiple browsers, media files, streaming services and other daily apps easily.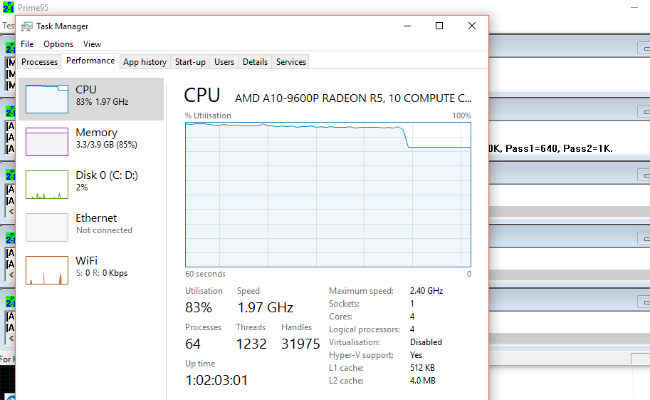 Lastly, I tested some games and this is where I was surprised. The AMD A10 chip has an integrated Radeon R5 GPU inside. Less demanding titles such as Dota 2 and Counter Strike: Go work exceptionally well at native settings, offering more than 65fps, I was surprised to see Bioshock Infinite running at over 45fps at medium settings. Now, I do need to mention that having a lower 1366 x 768 resolution does help the GPU perform better, but if you are a cash-strapped casual gamer who is into MOBA games, this is worth considering.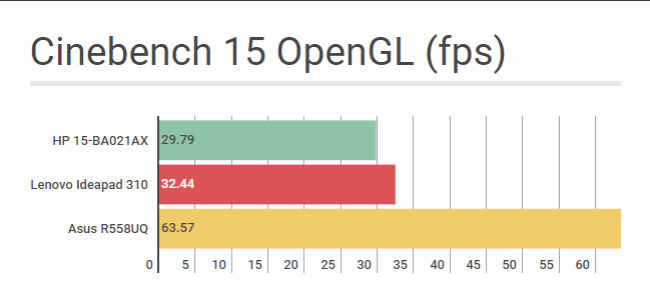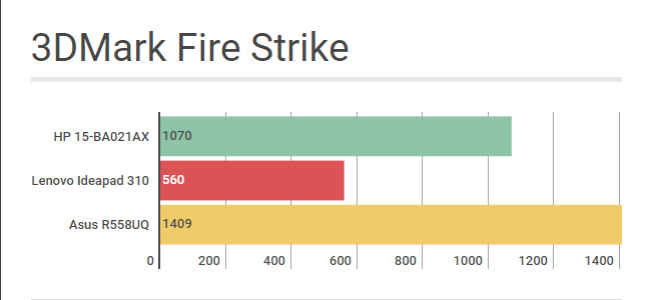 It's worth mentioning that if you are willing to 4-5K more, you might get a similar Intel powered laptop with a discrete GPU, something like the Asus R558UQ which with its NVIDIA GeForce GT 940MX GPU performs better in gaming compared to an IGP.
As far as gaming is concerned, unlike its Intel counterparts, this AMD A10 powered HP laptop really boils up. Internal core temperatures hit 75 degree celsius. What's more concerning is that even at ideal loads with just a couple of browsers running in the background, the core temperatures remains at a toasty 62-68 degree celsius. So, the laptops remains warm on the left side of the keyboard deck and gets a little uncomfortable if you switch on any game. That being said, this is not really a new issue with AMD processors, and shouldn't be there.
Battery Life
The 15W TDP of the AMD chip ensures that power draw is equivalent to 6th gen Intel-powered laptops. This being said, due to high heat emissions and the small 41Whr battery, the laptop barely lasts less than two hours on a single charge. This is about half of the category average of 4 hours. Moreover, if you are thinking of gaming on the go, you can do that only for about an hour before the battery runs out. Overall, I think HP could have packed a bigger battery in this machine. In essence, you will have to carry around the charger all the time.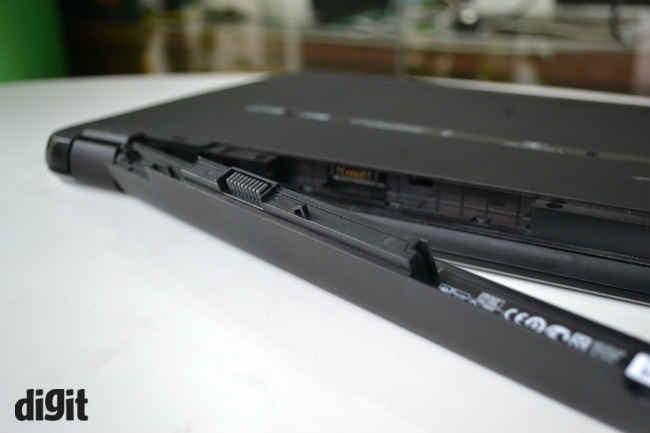 Bottomline
The HP15-BA021AX is ultimately a compromise and it is hard to recommend it over the better performing and cooler (pun intended) Intel powered laptops. It has its strengths when it comes to gaming, but those are limited to casual, non-graphic intensive and very well optimised games. The build quality and the I/O support is good enough for the price. However, the sub-par battery life and the not so good display does not help its case. You would be better off with the Ideapad 310 from Lenovo and the Asus A555LF.
On a side note, AMD is yet to make its presence felt in the laptop segment, but it seems that the task to do that will be handed over to next chip in the lineup, which would be based on AMD's new Zen architecture.