VERDICT:
The Dell XPS 13 is probably the smallest 13-inch ultrabook out there. And despite its slim-trim dimensions, Dell packs the XPS 13 with a lot of hardware firepower and features an excellent look, feel and design to propel it amongst the best ultrabooks available in the market.
Design & Build
Just like the Asus Zenbook UX31E, the Dell XPS 13 is yet another ultrabook that steps very close to mimicking the Apple MacBook Air's look and design. The Dell XPS 13 has a plush silver-grey metal screen lid that complements its dark coloured base. The Dell ultrabook features rounded edges and minimalistic design to heighten its overall elegance and appeal. It's a premium laptop through and through. It may not be as thin or light as the 11-inch MacBook Air or the Toshiba Portege Z830 (which weighs 1.11 kg), still the Dell XPS 13 is quite thin and its 1.35 kg frame is very easy to carry around.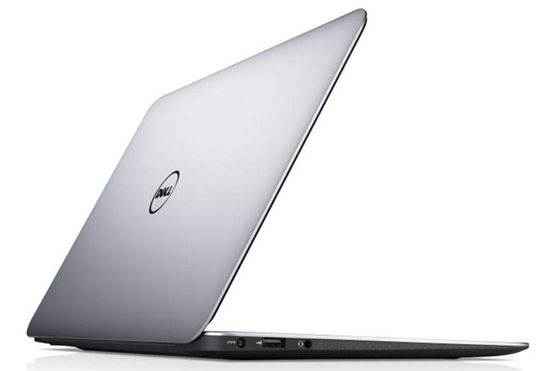 Another interesting highlight of the Dell XPS 13 is its petite frame. The ultrabook's dimensions, in terms of its width and depth, are smaller than a conventional 13.3-inch frame laptop — e.g. the MacBook Air or any other 13-inch ultrabook we've reviewed. This gives the Dell XPS 13 the impression of being a 13-inch laptop in a smaller 12-inch frame. It's a noteworthy achievement and Dell's right to make a big deal out of it. The Dell XPS 13 ultrabook has a Corning Gorilla Glass display; not only this, but the XPS 13's bottom panel is made of carbon fibre — even the finishing and texture on the bottom panel feels rich and premium. This combination of metal and carbon fibre lends the Dell XPS 13's frame a degree of robustness that defies its super-slim profile. From its hinge design to the overall finish of the ultrabook, the Dell XPS 13 blends attractive looks extremely well with dependable build quality which is simply a cut above the rest.
Screen, keyboard, touchpad
The Dell XPS 13 ultrabook's 13-inch screen is glossy and bright in nature, with a 1366×768 pixel resolution. It has edge-to-edge Gorilla Glass layer, but average viewing angles. Having said that, the Dell ultrabook's performance is good whether it's watching movies and video clips for personal entertainment or reading text. There's a 1.3 MP webcam grooved into the screen's top bezel which is great for video chats, and Dell also throws in a webcam utility that promises to add a bit of fun to your video chat sessions.
The Dell XPS 13's keyboard is almost exactly similar to the Dell Adamo XPS 13, which had a very good keyboard. Likewise, the Dell XPS 13 features wide chiclet-styled backlit keys that are very well laid out and just a treat to type on. All the alphanumeric keys and frequently used keys like Space, Enter, Shift, Alt, etc, are accurately placed. Overall, we're very impressed with the Dell XPS 13's keyboard, it's as great as any Lenovo ThinkPad laptop launched last year.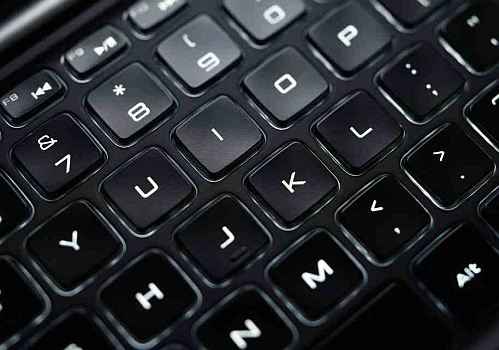 Visit next page to read Dell XPS 13's performance and our verdict…
As great as its keyboard is, the Dell XPS 13 ultrabook's trackpad leaves a lot to be desired. The XPS 13 has a roomy palmrest but its trackpad, like every other ultrabook out there, is a work in progress — it's good to use but we aren't great fans of the combined mouse buttons. They're difficult to press and deserve to be re-looked. This is a common complaint with most ultrabooks launched and available in India right now.
The Dell XPS 13 comes with a powerful hardware feature set that can rival any ultrabook currently available in the market. Like the HP Folio 13, the Dell ultrabook has an Intel Core i5-2467M 1.6 GHz processor, 4 GB of DDR3 RAM, 128 GB SSD, and onboard Intel HD 3000 graphics. This is slightly less extravagant than the Asus Zenbook UX31E ultrabook which has a faster Intel Core i7-2677M, 4 GB of DDR3 RAM, 256 GB SSD, and onboard Intel HD 3000 graphics. Be that as it may, the Dell XPS 13 is still more powerful than any other mainstream 14 or 15-inch laptop out there.
The Dell XPS 13 has a healthy mix of connectivity ports sprinkled on both sides of its base frame. You'll find two USB ports (one of which is a USB 3.0 port), a 3.5mm combined headphone and mic jack, a mini DisplayPort. It comes with a bundled USB-to-Ethernet cable, but lacks an onboard SD card slot. Its battery compartment is sealed, and there's no way to upgrade it — a common feature on every other ultrabook. Wireless communication includes Wi-Fi 802.11n and Bluetooth 3.0. On its right edge, the XPS 13 has a MacBook Pro-style battery indicator which tells you how much charge is left — very handy.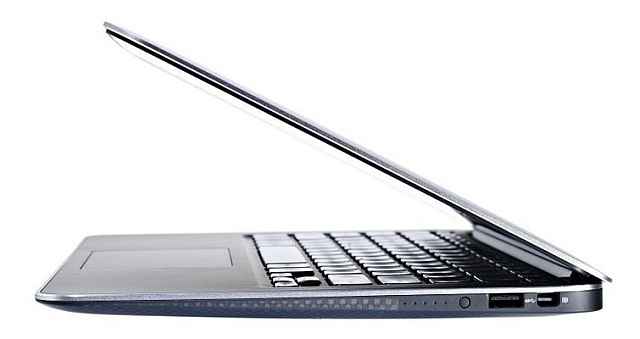 The Dell XPS 13 comes with a 64-bit Windows 7 Home Premium operating system, and an online backup feature called Dell DataSafe. Not only that, the Dell ultrabook supports face recognition to login to your system and substitute it for passwords. The feature works well. And, perhaps the most important feature of the Dell XPS 13, from an Indian viewpoint, is the 3-year complete cover (hardware software) that it offers — something we haven't seen on any other ultrabook vendor. This is extremely useful as it helps safeguard your investment longer compared to any other brand.
Performance
The Dell XPS 13 is the fastest ultrabook we've reviewed so far, it steamrolled past every other ultrabook we've reviewed in our synthetic benchmarks. In our PC Mark Vantage tests, the Dell ultrabook posted the highest numbers, better than the HP Folio 13, Lenovo IdeaPad U300s and Asus Zenbook UX31E. It also had the fastest cold boot times among all other ultrabooks we've reviewed — a consistent 11 to 12 seconds. This is impressive and enough to assure that the Dell XPS 13 ultrabook has a power-packed CPU, RAM, SSD combo that's unrivalled. Multitasking isn't a problem for this ultrabook.
Watching HD 1080p and 720p movies is a good experience on the Dell XPS 13's screen — it's not the best, though — and its onboard speakers are surprisingly good for personal entertainment, by thin laptop standards — definitely one of the best onboard audio for an ultrabook. Gaming isn't recommended, but the onboard Intel HD 3000 graphics can get away with 2 to 3 year old games played on low-settings.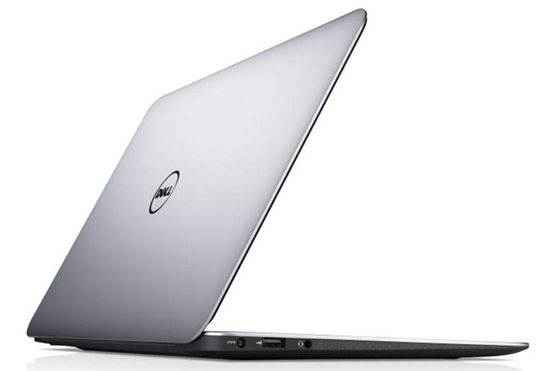 The Dell XPS 13 ultrabook's battery lasted for 2 hours 20 minutes in our battery test conducted on high performance preset — this is the third best score after HP Folio 13 and Lenovo IdeaPad U300s. Expect the XPS 13's battery to last just over 5 hours on a single charge while browsing the Web over Wi-Fi on a conservative power plan. Not too bad, not too great either, the XPS 13 ultrabook's battery life is just about right.
Verdict
The Dell XPS 13 is certainly the most attractive Dell laptop to buy right now. It retails for a price of Rs. 79,900 and is certainly expensive than a bunch of other ultrabooks out there. It also has features like Gorilla Glass display and facial recognition software, not to mention online data backup feature. Sure it may not have the best feature set for the price, but when you take into account its excellent aesthetics, premium look, feel and design, impressive performance and an unmatched 3-year warranty cover, the Dell XPS 13 is probably a much better deal than any other ultrabook out there.
Visit the next page to read Dell XPS 13's test scores, spec sheet…

Check out the Dell XPS 13's test scores, specifications, and other details, below:
| | |
| --- | --- |
| | Dell |
| | XPS 13 |
| Price (Rs) | 79900 |
| | |
| | Intel Core i5-2467M |
| | 2000 |
| | 4 GB |
| | Intel HD Graphics 3000 |
| | 128 SSD |
| | Windows 7 HP 64-bit |
| Screen Size (Inches) | 13.3 |
| | LED backlit |
| Screen Resolution (Pixels) | 1366×768 |
| | 1.35 kg |
| No of Ports (USB/Firewire) | 2/0 |
| No of USB 3.0 (Y/N) | 1 |
| Connectivity (LAN / Bluetooth / Wi-Fi) | Y/Y/Y |
| E-Sata / Thunderbolt (Y/Y) | N/N |
| Display (VGA/DVI/HDMI/Display Port) | N/N/N/Y |
| | Y/Y |
| Memory Card Reader (Y/N) | N |
| Fingerprint scanner? | N |
| Optical Drive (Y/N) | N |
| Inbuilt Webcam (Y/N) | Y |
| | |
| PCMark Vantage Score | 11290 |
| | 6276 |
| TV and Movies Score | 4312 |
| | 8434 |
| | 14335 |
| Communications Score | 10861 |
| Productivity Score | 15656 |
| | 47504 |
| | 4192 |
| Maxxon Cinebench R11.5 (CPU Score) | 1.94 |
| Battery Meter (in mins) | 159 |
| Speaker volume (at 50%) | 6.5 |
| Speaker clarity (at 100%) | 6.5 |
| HD video playback test (So 10) | 7.5 |
| 4GB single file copy (secs) | 22 |
| 4GB folder files copy (sec) | 27 |
| 100 MB File Conversion (VOB-to-DivX) (secs) | 45.4 |