VERDICT:
The Dell Inspiron 7572 scores high in the performance, build, and audio departments. Where it loses is aesthetics, portability, and gaming. It's a pretty capable machine for browsing, movie-watching, and some photo-editing all the same.
While configuring their new Dell Inspiron 7572, a buyer has the option to pick the following extras: a Microsoft Office 2019 licence (Dell says it was the first to offer Office 2019 in the Indian market), an extended subscription to McAfee Multi Device Security, Windows 10 recovery media, extended hardware warranty, extended premium onsite service support, data protection, accidental damage service, and other digitally delivered software. All this points to a pretty positive beginning for the Inspiron 7572. Let's see how the laptop fared in this review.
Build and Design
There's nothing strikingly different about the design of the Inspirons of today, whether you're buying the 3000 series or the 7000. They all look subdued and uniform—as if someone at Dell's design labs had imposed a dress code on the laptops—and the Inspiron 7572 is no different. In fact the Dell G3 gaming laptop I reviewed a few weeks ago is essentially an Inspiron 7000 in mufti. But a closer look reveals the differences. According to Dell, the 7572's lid and base are made of brushed aluminium that's reinforced with a magnesium alloy inner frame. As a result, the exterior looks classy and is grippy to hold. The base contains neat silver-finished screws for the cover, grilles for the two speakers, heat vents, and a debossed Inspiron badge in the middle.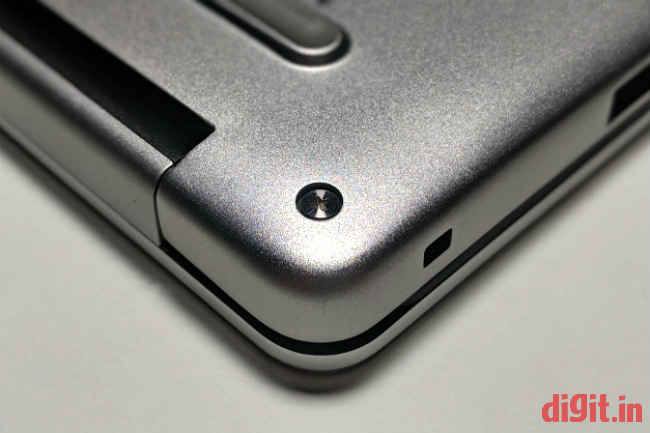 Attention to detail is right up there
The lid is too tight to be opened with the push of a single finger but that's not always a bad thing because when it's opened the display rests firmly in position even when the laptop is shaken about. Sadly, it refuses to be pushed back beyond say, 145 degrees. There's absolutely no sign of flex on the lid or the keyboard, which is a testament to the Dell's solid build.
The first thing you'll notice when you open the 7572 is that the web camera sits below the display and the Dell logo, very close to the hinge in fact, like in the Dell XPS 13. Apparently, Dell decided to move it down there so it can achieve thinner bezels on three sides instead of two—to throw emphasis on its 'InfinityEdge' display, in other words. The position shouldn't cripple your video-calling experience by a lot, except your callers will now get a better view of your nostrils.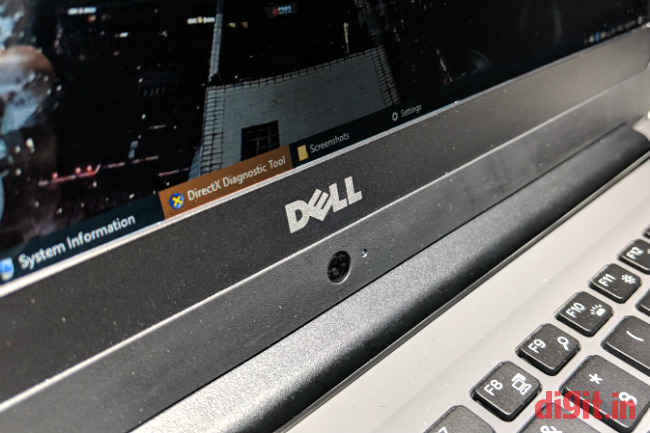 It's better than a notch, no?
The area around the keyboard has a nice, soft feeling to it. Dell's used a material that makes you feel like you're touching smooth rubber but without any of that stickiness rubber generally has. For all that softness, the 7572 gets you back by threatening to slit your wrists every time you use the keyboard. The lower edge of the laptop base is sharp—very sharp—and it makes typing practically impossible. The only simple solutions I can think of are getting an external keyboard and wearing full sleeves all the time. All things considered, the build and design of the Inspiron 7572 is pretty good.
Display, Audio, and IO
You can't miss the big 15.6-inch display on the Inspiron 7572. Dell has plastered it as close to the sides as possible so it could call it an InfinityEdge display. The Full HD IPS LCD panel is bright enough for most conference rooms but not so much for sunny balconies. With Night Light enabled in Windows 10, I found myself reaching for the Brightness Up key quite frequently even inside a well-lit bedroom. Colours appear rich to the eye even though our tests showed that only 67 percent of the colours on the sRGB colour scale (and 50 percent of the colours on the Adobe RGB colour scale) made it to the panel. In comparison to say, the Acer Aspire 5, the 7572's display certainly seems more colourful. The display's surface is quite reflective, which makes viewing at certain angles a bother at times. In summary, the display on the Inspiron 7572 is good enough for a lot of dinnertime video-watching but not so much for image-editing.
Below-the-display web cam exposes nostrils
The two down-firing speakers on the Dell Inspiron 7572 are loud enough for a quiet bedroom of say, 25×25 feet. Vocals and instruments can be heard sharply but bass is limited. I was able to watch Mad Men and catch all the lines spoken in the show at full volume without needing to plug in my speakers. The good thing is that the speakers handle low frequencies well; there's no sign of the drivers bottoming-out even at full volume.

Good old HDMI and ethernet. Bless you, Dell
The Dell Inspiron 7572 comes with a big set of traditional ports. On the left, it's got a proprietary round-pin power port, an ethernet port, an full-size HDMI port, a 3.5mm audio jack for headsets, and two USB 3.0 ports. Of the two, one is a Dell PowerShare port, which lets you charge other USB-powered devices even when the laptop is turned off. An option in the BIOS lets you configure PowerShare. For example, you can set it to turn itself off when the battery dips below 25 percent. On the right side, it's got an SD card slot, a USB 2.0 port, and a Noble Lock Security Slot (and not the Kensington Security Slot you see on the Inspiron 3000s). So, no USB Type-Cs on the 88-thousand-rupee Inspiron then. Right… moving on quietly…

What about USB-C? It's not there? OK.
Keyboard and Touchpad
I have mixed feelings about the Inspiron 7572's chiclet-style keyboard. The keys per se are just fine; they have enough travel and resistance but could have gone deeper, especially considering the laptop's thickness. The two-stage backlighting provides ample light in the dark. So, typing long emails is a trouble-free affair. My problem is with the overall design of the keyboard: given the amount of space available on this 15.6-inch machine, Dell could have thrown in the number pad as well, like in the Dell G3. According to Dell, premium-laptop users don't care for the number pad. Well, if that's the case, I'm pretty sure they care for individual Home, End, Page up, and Page down keys at least, which the 7572 lacks. On the whole, I can't say I liked the Dell's keyboard too much. I find the keyboard of a thin Convertible like Lenovo YOGA 730 more comfortable.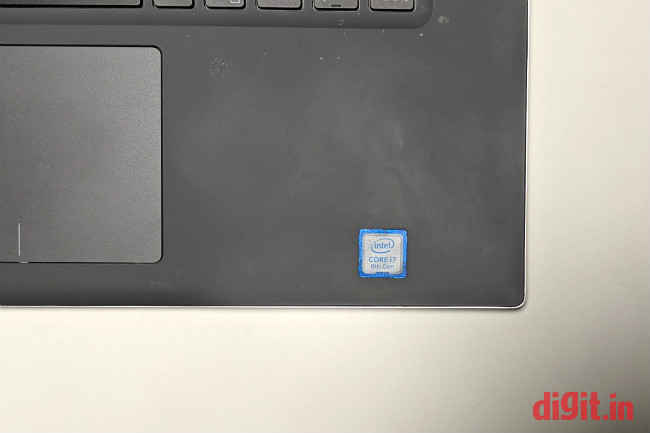 Metal edge beneath touchpad doubles up as a sharp wrist-slicer
The matte-finished touchpad on the Inspiron 7572 is a large and comfortable one. Clicks aren't very tactile but aren't difficult either. It uses a Windows 10 precision driver, which means multi-finger taps and swipes can be customised directly in Windows Settings. No other third-party driver is required. On the whole, the touchpad on the Inspiron 7572 is easy and pleasant to use.
Performance
The review unit of the Dell Inspiron 7572 was the top-of-the-line variant. It sported an Intel Core i7-8550U CPU and 8GB of RAM. For storage, it had dual drives: a 128GB solid-state drive and a 1TB hard drive that spins at 5,400 rpm. There was also an NVIDIA GeForce MX 150 GPU on-board. Now, there are a couple of things I want to clarify here: the 7572 ships with a single 8GB RAM chip and there's no second slot available on its motherboard. If you feel like upgrading it, you'll have to buy a 16GB chip through Dell. Then you'll have a more beefed-up Inspiron and a very expensive tongue scraper in your hands. The second is that though there is a solid-state drive inside, it's SATA-based, and not PCIe. So be prepared for a bandwidth of 6.0 Gbps or less.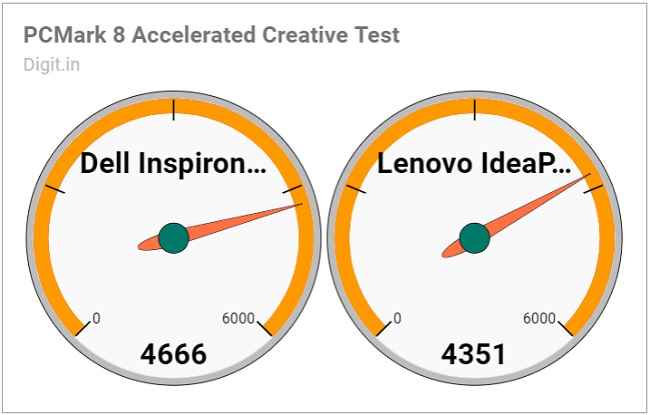 The Dell is ahead here by 315 points
The Inspiron 7572 scored decently on our benchmark tests. While it scored above the similarly priced Lenovo IdeaPad, which also features an 8th-gen Core i5 CPU and an MX 150 GPU (but with 2GB of vRAM), in processor benchmarks like PCMark 8's Accelerated Creative test, it failed to beat it in video-rendering benchmarks like 3DMark's Sky Diver. In everyday use case scenarios the Inspiron performed well. With over twenty-five tabs open on Chrome and multiple app installations happening, the Inspiron held up with no lag or stutters. There was that time when a window went blank on trying to open multiple instances of File Explorer but the 7572 recovered quickly. Heat, sadly is not very well managed. I could feel plenty of heat on the keyboard, which made typing a bit bothersome.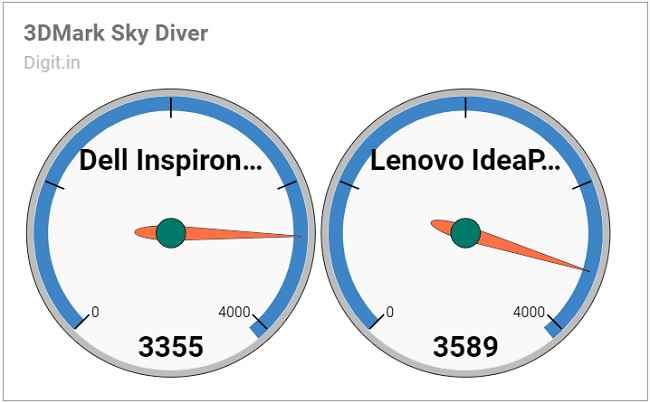 The IdeaPad 530S' MX 150 has only half the vRAM but fares slightly better
Gaming on the Inspiron 7572 was a disappointing experience. I ran Doom on Ultra graphics settings in Full HD resolution only to watch a single-digit frame rate on the top right corner of the screen. Obviously that's a lot to expect from an MX 150. The frame rate jumped to an average of 15 frames per second when I turned the graphics settings down to Low. At no point did the frame rate cross 30 frames per second on Doom. I had more luck playing Metro: Last Light in Low graphics settings. I was able to achieve an average of 40 frames per second when there wasn't too much action on the screen. In short, the MX 150 is best suited to light image-editing work. On the whole, performance on the Dell Inspiron 7572 is good.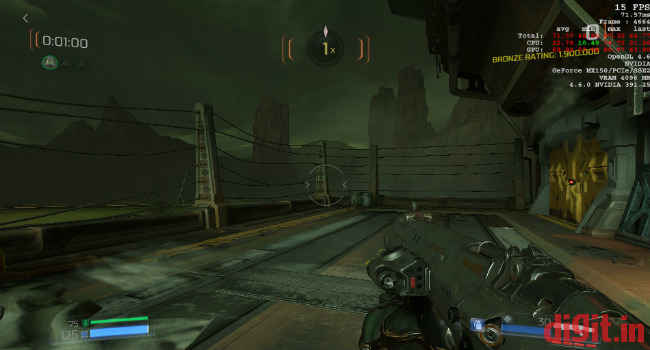 Expect 15 frames per second when you play Doom on High graphics settings
Battery
On our battery benchmark test, the Inspiron 7572's battery scored about 4 hours, which is not too shabby. It's ten minutes behind the Microsoft Surface Laptop. In reality the Inspiron 7572's battery dropped from full to 80 percent in a little less than 45 minutes. On an average it lasted between 4 and 5 hours with the screen brightness turned up to 75 percent, the Wi-Fi enabled, and Bluetooth disabled. Charging happened from near zero to full in almost exactly two hours, which isn't bad at all.
Bottom line
The Dell Inspiron 7572 promises a lot and delivers most of it. Should you buy one? It boils down to whether what it's good at is relevant to you: if you're looking for performance, great build, a clean look, and decent battery life, while getting access to everyday ports like HDMI and USB-A ports, then consider the Inspiron 7572.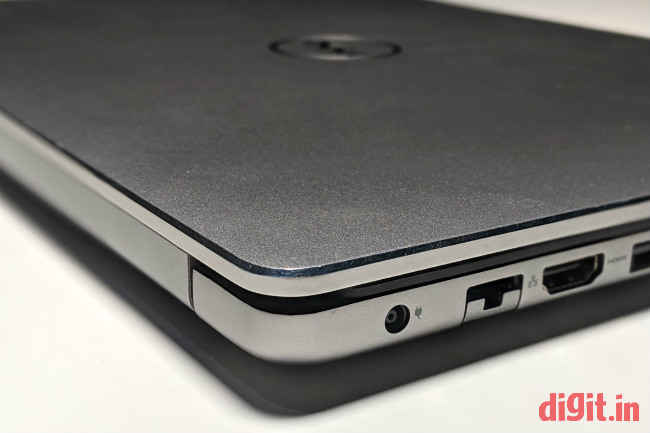 Dell has poured its money into good build
The Dell Inspiron 7572 a great machine for movie-watching and some photo-editing. But if you're looking for portability, lightness, and a USB-C port while getting similar performance, look towards the Lenovo IdeaPad 530S. If you're looking to play video games more seriously, then consider the Dell G3. On its own, however, the Dell Inspiron 7572 is not a bad buy at all.
Reviewer's Notes
Dell is making more noise about its DellCinema technologies than necessary, in my opinion. CinemaStream, which is one of the technologies, uses SmartByte, along with the laptop's wireless driver, to prioritise internet-based activities. For example, it can pause updates and other downloads when you're watching something on Netflix so the video doesn't buffer too much. Ironically the video that explains the technology on its website didn't play smoothly with it enabled. Oh well, like they say, c'est la vie.