Asus ZenBook UX303UB detailed review
Much like the ZenBook UX305LA we reviewed last year – which turned out to be the best performing ultrabook in our Zero1 Awards 2015 roundup – the ASUS ZenBook UX303UB continues in the tradition of offering elegant looks with a performance punch.
It's never been only about the looks as far as the ASUS ZenBook's concerned and the UX303UB stays true to that principle. The 13-inch ZenBook's dressed in an all-metal exterior, leaving no doubt in anyone's mind that it's a premium notebook. Its signature design element, the spun metal concentric circles are a striking feature of the ZenBook UX303UB, one that definitely heightens the overall aesthetics of the ultrabook.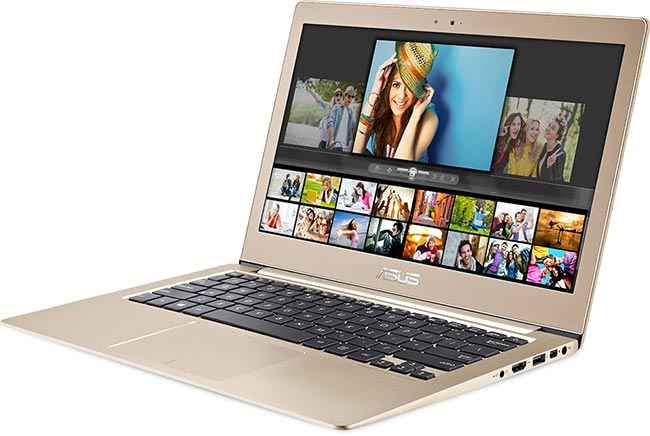 While the ultrabook weighs 1.45 kg, which is bang in the middle of ultrabook territory, the notebook doesn't really feel sleek and light when you try to hold it. Unlike the ASUS ZenBook UX305FA and UX305LA that we tested last year, which had tapering edges and shrunk in size along its breadth from the hinge to the front lip, this ZenBook UX303UB feels a bit bulky and chunky, which is a bit of a shame as it takes away from the overall aura of the notebook. Having said that, the ZenBook is quite well built, with a sturdy hinge that holds the screen and the rest of the chassis in place very well. Four rubber stoppers on the ZenBook's bottom panel does a good job of gripping wooden, glass and metal surfaces – you definitely can't slide it away without focused effort, which is good to know. If we were to nitpick, at frenetic typing speeds on the ZenBook UX303UB's keyboard, the screen showed just a sliver of vibration.
The ASUS ZenBook UX303UB continues to house an isolated keyboard with chiclet-style keys that are great to type on, no problem whatsoever. Even their dip and travel is quite good, and there's virtually no learning curve involved here. The keyboard is backlit, which is a good feature to have for typing in the dark. The ZenBook UX303UB's keyboard deck features a nice wide palm rest that's convenient for parking most wrists on it without a hitch. The wide palm rest also houses a large single slab trackpad which has a fine matte finish. The trackpad houses left and right clickable mouse button zones and they work fairly accurately.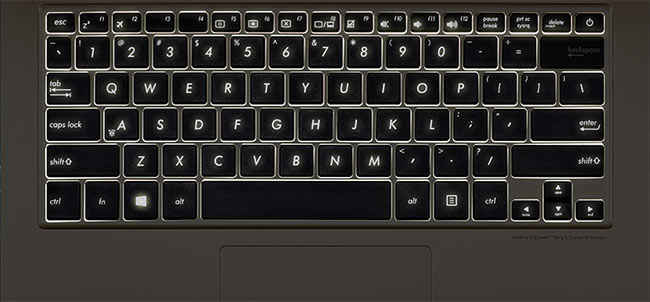 In terms of the ZenBook UX303UB's overall performance, it definitely ranks higher than last year's ASUS ZenBook UX305LA and UX305FA, respectively. While both these ZenBooks came with fast-paced SSD storage and oodles of RAM packed into their diminutive shells, the ZenBook UX303UB drops the SSD for a regular spinning hard drive. However, it does better than the previous two ZenBooks in the CPU and GPU department, packing in the latest generation 2.3 GHz Intel Core i5-6200U chip that supports Turbo Boost speeds of up to 2.8GHz under heavy load and NVIDIA GeForce GT 940M graphics with discrete 2GB of GDDR3 memory for some much-needed performance chops.
As a result, we found out that the ASUS ZenBook UX303UB is easily one of the fastest ultrabook we've reviewed this year, with PC Mark 8 Creative Score of 3521 and 3D Mark Ice Storm Extreme and Cloud Gate scores of 42,326 and 5,895, respectively. These scores are better than some of the mainstream notebooks we've reviewed since November last year, just short of gaming notebook territory, which speaks volumes of the ASUS ZenBook UX303UB's performance prowess. We tried playing CS:GO and slightly older games on the ZenBook UX303UB and it handled them well on medium settings. While it has a discrete GPU, you'll do well to remember that the ZenBook UX303UB is NOT a gaming notebook.
The ZenBook UX303UB's Full HD 1080p screen isn't glossy and doesn't attract fingerprints. The screen's quite bright and offers decent contrast levels. Both watching HD movies and reading large chunks of texts is handled well on the ZenBook UX303UB's LED-backlit 13.3-inch screen panel. It isn't an IPS panel, though, which means discernible colour shift when you view the screen from acute angles. The ZenBook offers ASUS's SonicMaster audio with Bang and Olufsen technology. Audio output from the notebook was decent and the sound was largely clear and distortion free up to the 70% volume. Listening to audio from movies and videos is fine, but you'd still have to go for headphones if you want to elevate your music-only sessions on the ZenBook UX303UB. Overall, we still think the overall audio output's slightly better than the two ZenBooks we tested towards the end of last year and even the Dell XPS 13 for that matter.
The one area where the ZenBook UX303UB disappoints is in its battery output. Its 3-cell battery only lasted for 3 hours 26 minutes in our high-performance battery test conducted at full-screen brightness and high-performance preset mode of Windows 10's power options to ensure the laptop's always in an always on state. This number is shorter than all the other ultrabooks we tested recently, including the ZenBook UX305LA, UX305FA and Dell XPS 13 which clocked just under 6 hours – easily the best of the lot. On a more conservative power plan, the ASUS ZenBook UX303UB will last under the 6-hour mark, which is relatively low by most ultrabook standards.

In terms of features and connectivity, the ASUS ZenBook UX303UB tries to pack in all the essentials. Three USB 3.0 ports, dedicated ports for HDMI and mini DisplayPort, SD Card slot, and headphone and microphone combo. The package comes with a USB-to-Ethernet adapter for wired connection and mini-DP-to-VGA adapter for connecting the notebook to an old projector, if at all in a business boardroom. The ASUS ZenBook UX303UB comes with an ambient light sensor to dynamically alter the laptop's screen brightness and trigger the keyboard's backlighting which you can toggle on or off through the Function+A key combo – this is a nice feature to enable, especially where you want to save the ultrabook's battery.
The ZenBook UX303UB's built-in HD 720p webcam does a good job of Skype video or Google Hangouts over a steady Internet connection. The laptop supports Wi-Fi 802.11ac and Bluetooth 4.0. It also comes with Windows 10 built-in out of the box and a very attractive brown-coloured laptop sleeve with velvet texture inside to make sure the ZenBook UX303UB doesn't get any wayward scratches.
Conclusion
The ASUS ZenBook UX303UB definitely raises the bar in terms of what a ZenBook can offer in terms of performance. It does so while keeping the essence of the ZenBook, which is premium elegance and great looks. The ASUS ZenBook definitely does a very good job of blending in a plethora of connectivity and I/O features, offering a little bit of everything to attract a wide array of customers. It does has its low moments, especially in its bulk and battery life, but nothing that upsets the overall appeal of the ZenBook UX303UB. If you can afford its Rs. 71,490 price, this is a good notebook for use both inside a boardroom and in a design workshop.
Specifications
CPU: Intel® Core™ i5-6200U Processor, 2.3GHz (3M Cache, up to 2.8GHz)
OS: Windows 10 (64bit)
RAM: 4GB
HDD: 1TB 5400RPM
Display: 13.3-inch, Full HD resolution
GPU: NVIDIA GeForce 940M 2GB GDDR3 + Intel HD 520
Weight:1.45 kg (with 3 cell battery)
Battery: 50WHrs, 3S1P, 3-cell Li-ion Polymer Battery Pack
Keyboard type: Illuminated Chiclet Keyboard
Supplied Accessories: Sleeve & cable
Contact
ASUS India Pvt Ltd
Phone: NA
Email: NA
Website: asus.com/in