VERDICT:
The Asus Zenbook 3 is one of the best ultrabooks we've seen this year, but it's also expensive. If you can afford it, and want the show-off value, this is one laptop to consider. However, the Dell XPS 13 and Lenovo Thinkpad X1 Carbon are still more cost effective options.
But, that's all on paper. While we don't see many people questioning the Zenbook 3 on its looks, testing the performance reveals some interesting details.
Specifications of our test unit:
Processor: Intel Core i7 7500U
RAM: 16GB DDR3, 2133MHz
Storage: 512GB PCIe Gen 3
Display: 12.5-inch, 1920 x 1080p
I/O ports: 1 x USB 3.1 Type-C, 1 x microphone headphone combo
Build and Design: Premium, sophisticated, but unorthodox
Let's face it, the Asus Zenbook 3 looks like an Apple Macbook, but it's more flashy and colourful. The dimensions and weight are similar to the 12-inch Macbook.
However, what makes this design fascinating is the fact that Asus has managed tuck in a full fledged Intel Core i7 Processor, a cooling fan, and heat pipes within that ultra-thin chassis.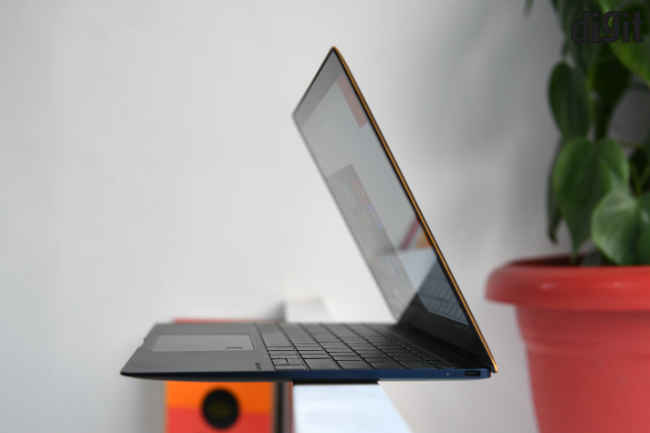 The Royal blue colour scheme with gold accents around the lid, and gold lettering on the keyboard on our test machine looks blingy, but it's not as flashy as the Spectre.
Personally, I find the design a little over-the-top, but that may differ for you. What I can tell you is that this is a well built device. I found no flex on the display, or the keyboard, and the metallic top panel can stand some rough usage.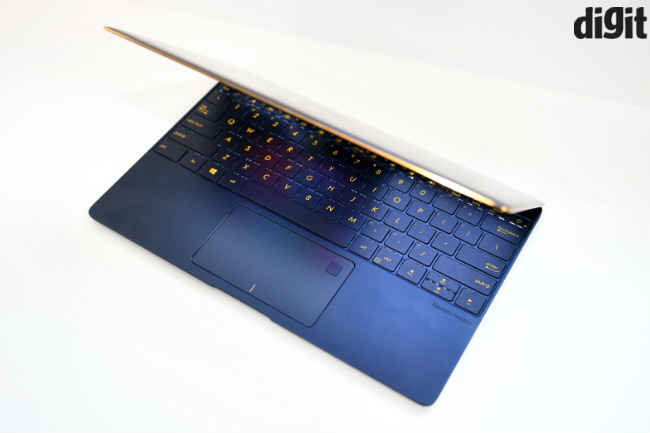 There is one shortcoming however,in the fact that the laptop is top-heavy. The display hinge moves from its position when you lift the laptop suddenly.
This may have been a trade-off to achieve seamlessness in opening and closing the lid, which can be done with one finger.
USB and Ports: Adapter in the box
The small chassis does not allow more than one Type-C USB ports and you end up carrying a dongle everywhere you go. Good thing is, Asus provides a solution in the box itself.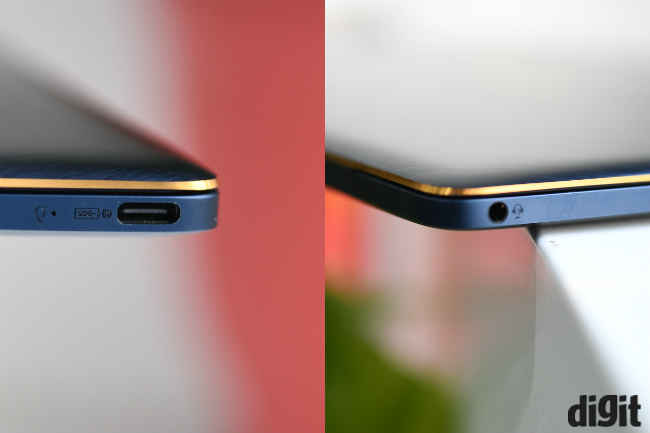 The adapter in the box has 1 x USB 3.0 port, 1 x HDMI and 1 x USB 3.0 Type C port, which can be used to charge the laptop. Single USB Type-C port could be annoying right now. Laptops like the HP Spectre and the Acer Swift 7 offer at least two USB Type-C ports, making them a little more practical in day to day use. None of these are truly ideal, though.
Display: Colourful and bright
The 12.5-inch display on the machine is bright and beautiful. Like the HP Spectre, Asus has opted for a glossy display with 1080p resolution. It has very good viewing angles and the narrow bezels make it a good video consumption device. We recorded a max luminance of 430 lux at the centre of the display, making this, one of the brightest laptops we have tested this year.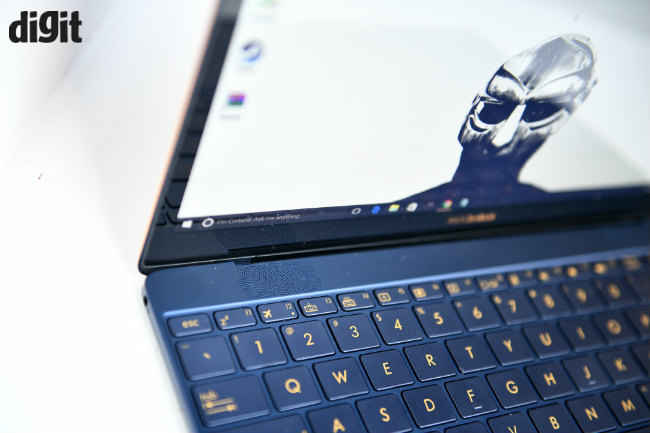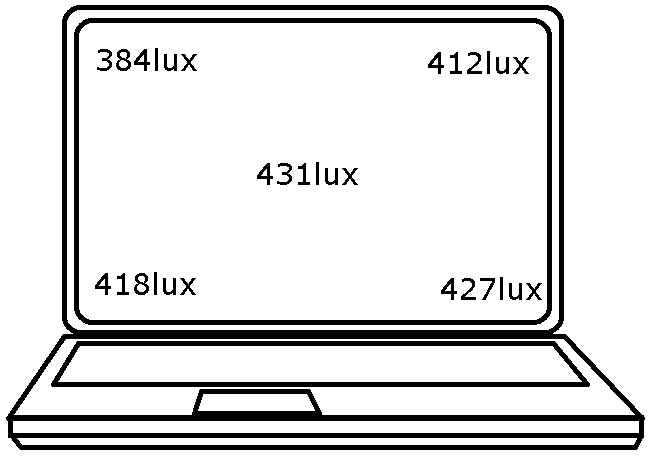 That said, the glossy panel catches fingerprints very easily and is quite reflective even when working indoors.
Keyboard and Touchpad: One's good, one's not
Asus has tried to imitate the shallow keyboard of the 12-inch Macbook and failed. The keys have 0.8mm of travel, which is too shallow and since they use a conventional scissor style mechanism, most of the times they never bottom out.
The keyboard will take some getting used to, and using it over the last 10 days, it hasn't grown on me. Thanks to my job, 10 days is more than enough time for me to get used to a keyboard. With the Zenbook 3, I still make many mistakes.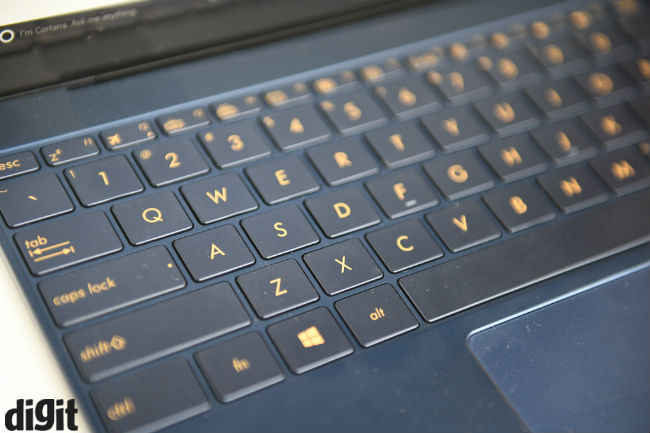 In contrast, the touchpad on the Zenbook 3 is simple, smooth and a joy to use. It shares the same shallowness as the keyboard but the left and right buttons have small yet firm depression. It is very responsive too. There is also a super fast fingerprint scanner on the touchpad itself, which is part of Windows Hello on this laptop.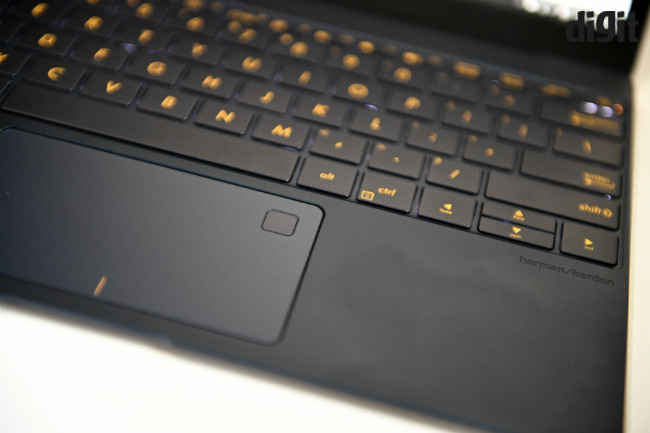 Performance: Small yet powerful
On paper, the Asus Zenbook 3 is a beast and it almost performs like one. Using the laptop for daily tasks, such as browsing the web, watching or streaming videos or just copy pasting large amounts of data, I didn't find it slowing down. In fact, it turns out to be one of the fastest ultrabooks we have tested this year, especially in data transfer speeds, which were more than 1.5GBps during internal data transfer.
The Intel Core i7-7500U processor churns out respectable benchmark scores comparable to the HP Spectre 13, which has similar specifications. And like the Spectre, the Asus Zenbook 3 is an absolute performer, until you really tax it.
Gaming is not really recommended or feasible on this laptop, but you can still play some recreational games such as Cut The Rope, without making the machine sweat. However, like the Spectre if you push it and try to run games like Dota 2, you'll have to lower graphic settings. There is some throttling, but not as aggressive as most other thin laptops we have seen recently.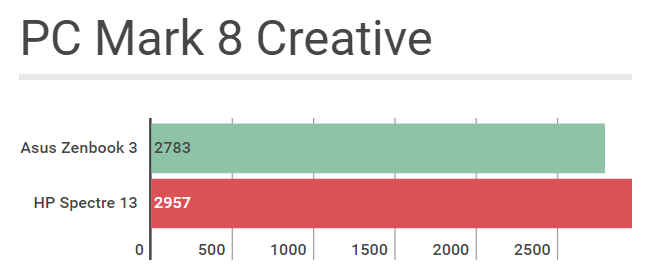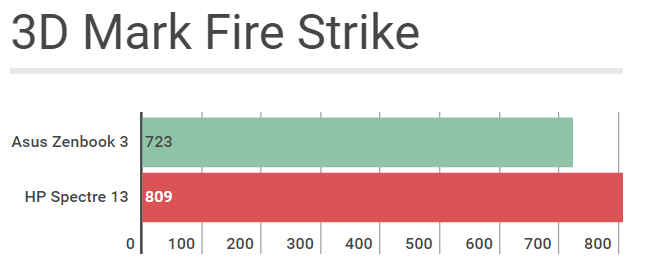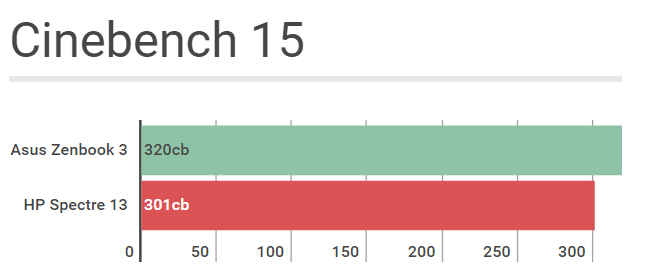 The small machine does generate some heat but the new cooling system copes up with it well. With no active applications running, the CPU temperature remains around 35 degree celsius and after running back-to-back benchmarks, the temperature went up to just 60 degree celsius, which is good enough for an ultrabook of this size and caliber.
Battery: Work in progress
The battery life is also relative to what you do on it. If you are doing just normal everyday tasks, like writing on docs, playing movies or video chatting with a friend, the laptop easily lasts for 7-8 hours. If you push the brightness to a 100%, stream movies and listen to audio via the speakers, the laptop will last for 4 hours at max.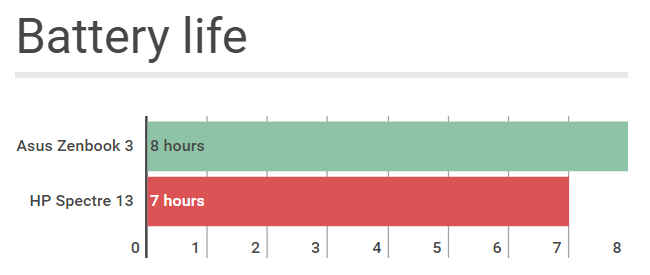 That's not ideal battery life, and is in fact lesser than competitors like the HP Spectre 13 or Dell XPS 13.
Bottomline: Amongst the best
The Asus Zenbook 3 is one of the best ultrabooks we have seen this year. It is thin and light, but has a lot of raw power to churn out. It is not perfect, but it's closer to it than many others.
It is also expensive. Just like the HP Spectre 13, this isn't a functional device per say. It's for those who want to show off and want no compromise on speed, and for them, the price may not matter. If you're looking for more cost effective options, the Dell XPS 13 and Lenovo Thinkpad X1 Carbon are better options.