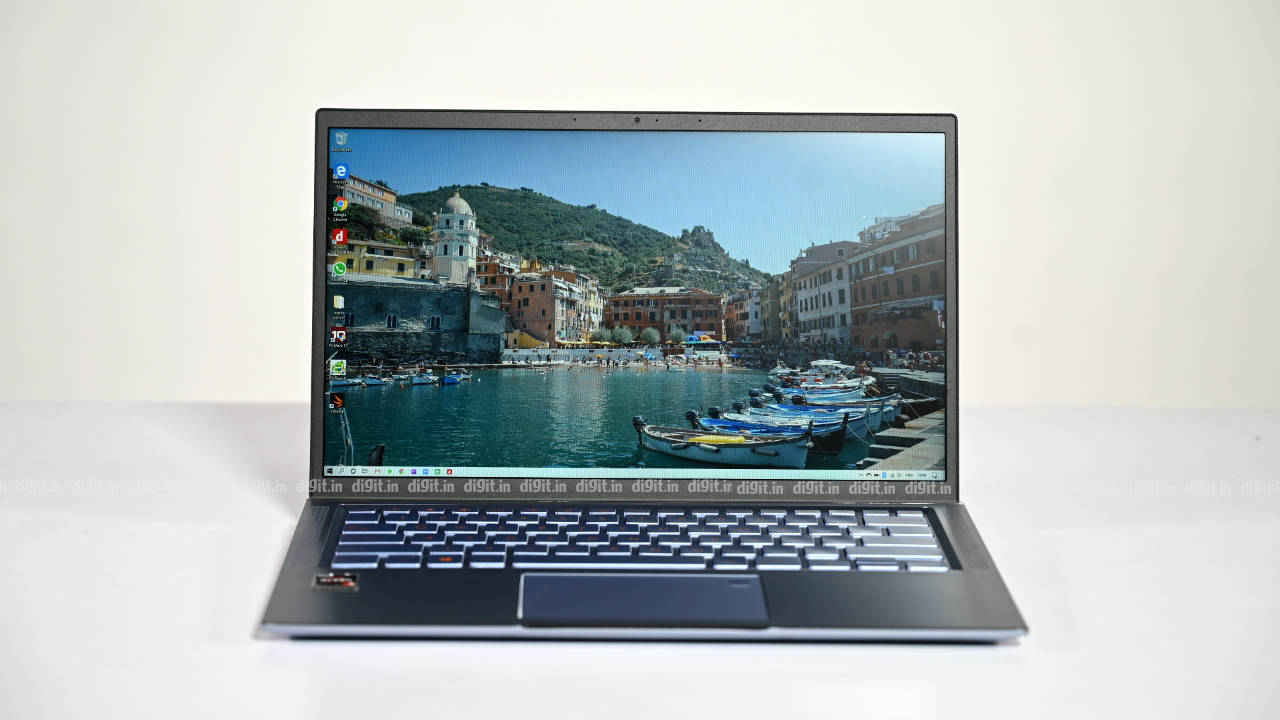 VERDICT:
Except for a couple of minor design niggles, the Asus ZenBook 14 is a solid laptop with a lot going for it in the performance, display, and audio departments along with looks that kill.
The Asus ZenBook 14 has had a busy life cycle in 2019 alone. The popular Taiwanese electronics manufacturer introduced the 14-inch Thin and Light model (with Intel's 8th Gen Core series CPUs) along with the ZenBook 13 and ZenBook 15 in January this year only to refresh the ZenBook 14 and ZenBook 15 later in September. It's when the two models received Asus' ScreenPad 2.0 innovation and saw the addition of the ZenBook Flip 13.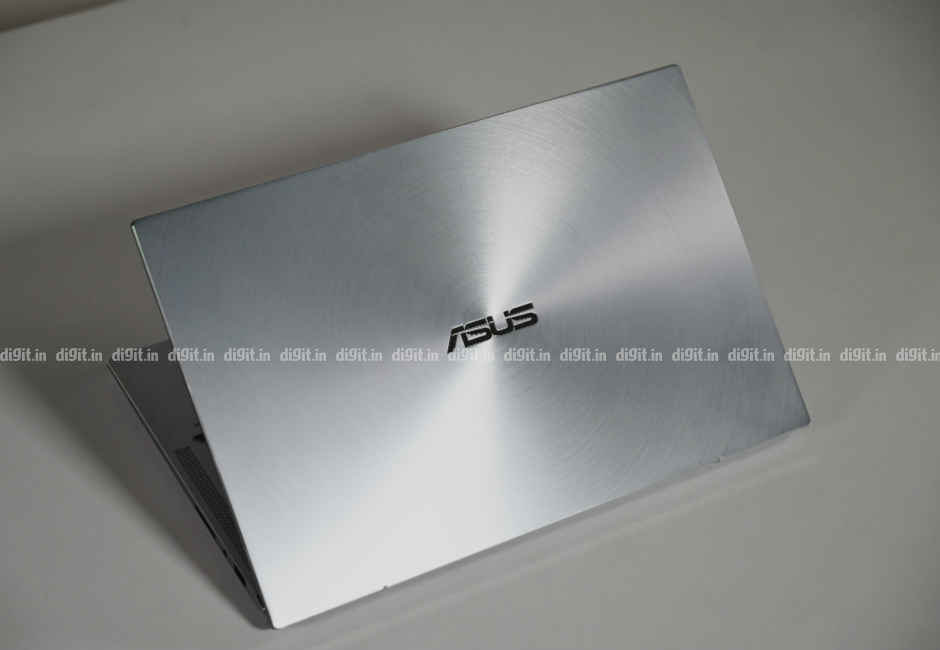 Now, however, the ZenBook 14 comes in yet another new variant: one that's powered not by an Intel Core chip but an AMD Ryzen 3000-series chip. Joining the new ZenBook 14 in the Red Team is a Ryzen-powered ZenBook Flip 14 (UM462) Thin and Light Convertible. This new ZenBook 14 does not feature Asus' ScreenPad 2.0, but does come with a much lighter price tag of Rs 59,990. Does it still retain all the essentials? Let's find out.
Performance
In the one and only variant that it's available in, the new ZenBook 14 comes powered by an AMD Ryzen 5 3500U quad-core processor with Radeon Vega 8 integrated graphics. System RAM is a comfortable 8GB and can be upgraded to a maximum of 16GB. Storage comes in the form of a 512GB PCIe NVMe solid-state drive. Unlike the Intel Core i5-powered ZenBook 13 from January this year, this one doesn't get a GeForce MX-series graphics card from Nvidia.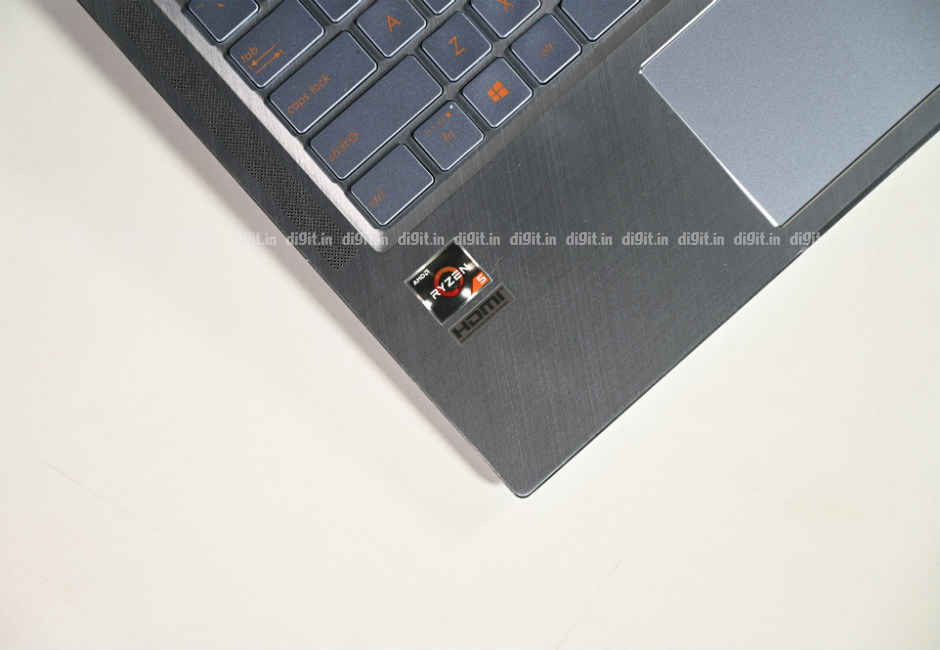 On our standard CPU and GPU benchmark tests, our review unit's scores were good but not great. On PCMark 8's Accelerated Creative test, the new ZenBook 14 bagged 3578 points. This is a little ahead of the Acer Swift 3's score of 3371 points and many points behind the Intel Core i5-powered ZenBook 13's score of 4457 from January this year. Since there's no discrete graphics card on the new ZenBook 14, its GPU performance isn't quite up there with the Nvidia GeForce MX150-powered ZenBook 13's. On 3DMark's Fire Strike and Cloud Gate, our review unit picked up 1801 and 10215 points, respectively. You can read our review of the Asus ZenBook 13 here, and the Acer Swift 3, here.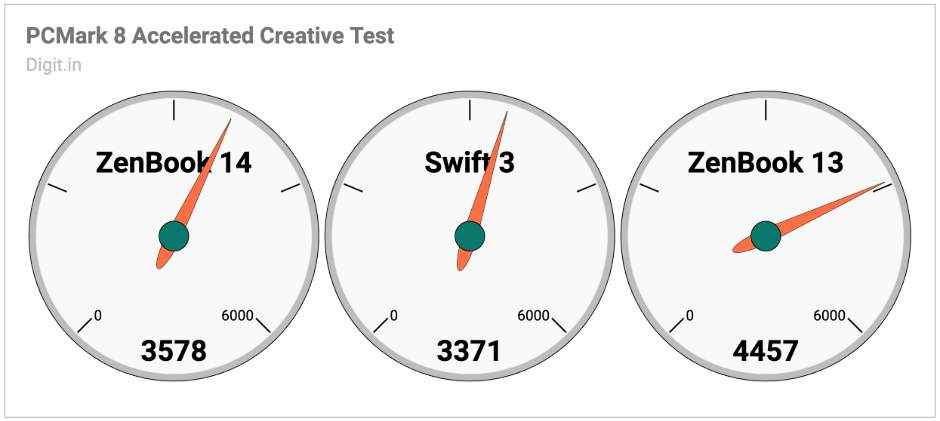 On our everyday performance tests, the review unit behaved better than expected. I was able to multitask on numerous common applications such as Word, Excel, Chrome, OneNote, File Explorer, WhatsApp for PC, etc. across multiple virtual desktops. Switching between open applications and virtual desktops vigorously led to no stuttering or lag in the animation, and that's always a good sign. Whether it was quick note-taking, large file transfers, simultaneous application installs, or intense browsing sessions, the Ryzen-powered ZenBook 14 seemed to handle it all without any noticeable signs of slowing down or hiccupping.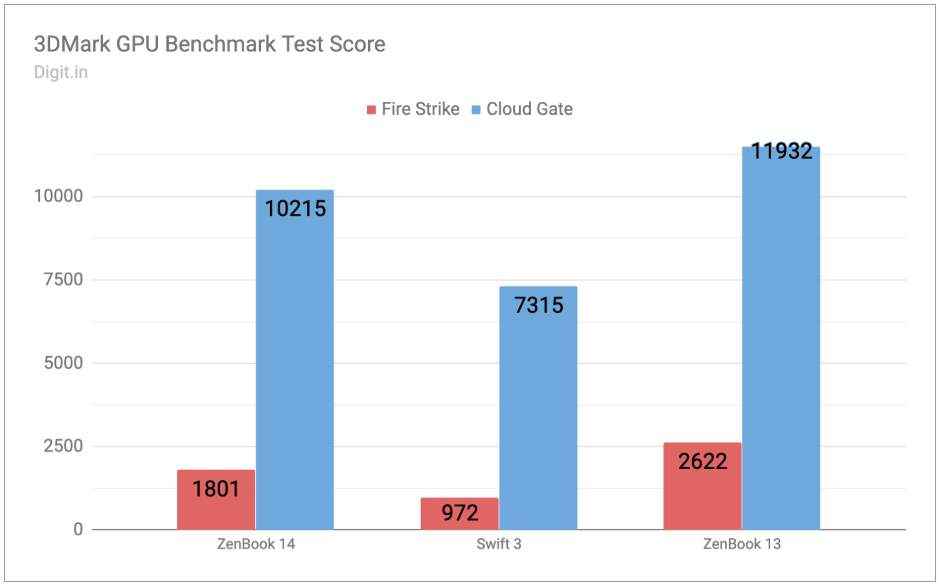 Battery
The Asus ZenBook 14 is powered by a 47Wh dual-cell lithium-ion polymer internal battery. On our standard battery benchmark test, the review unit lasted 4 hours, 13 minutes. It's not a bad score but it could've been higher. The Acer Swift 3 from earlier this year managed to score a slightly higher 4 hours, 37 minutes on the same test. The Intel-powered ZenBook 13, on the other hand, bagged a much higher 5 hours, 20 minutes.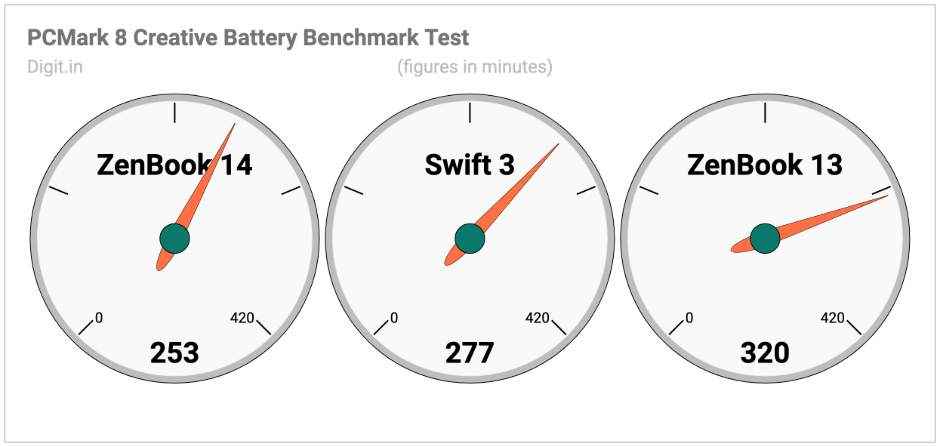 On our everyday test runs, where the screen brightness is set to 70 per cent and Wi-Fi + Bluetooth are turned on, the review unit's battery dropped from full charge to 20 per cent in roughly four hours. During the tests, the review unit was tasked with browsing on Chrome, a couple of app installs, and some background music playback on a YouTube window. After fifteen minutes of online video playback on Netflix, the laptop lost about 7 per cent of its charge. Charging from near zero back up to full took close to two hours. In summary, you can expect up to five hours of unplugged performance from the new ZenBook 14. It's not bad but it's not great either.
Display, Audio, and IO
The Asus ZenBook 14 features a 16:9 14-inch LED-backlit IPS LCD screen with Full HD resolution. According to Asus, it delivers a 100 per cent sRGB colour coverage and a 178-degree maximum viewing angle. In my experience, the colours on the laptop's screen appear natural without any noticeable signs of oversaturation or light bleed. The screen's backlight is bright enough for most indoor spots, including conference rooms with bright overhead lights. If anything, the screen could've done with a stronger matte finish for improved readability under direct light.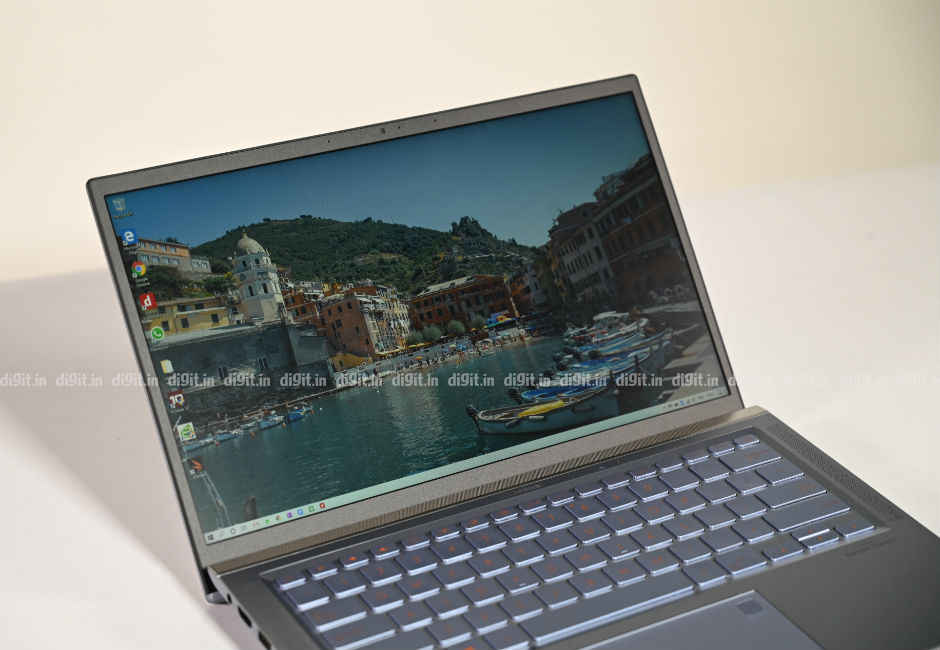 Crisp, colourful display
Audio is one department in which the new Asus ZenBook 14 excels. The sound from the two top-firing stereo speakers on the ZenBook 14 is loud, clear, and balanced. Whether you're playing music or watching videos, there's ample stereo separation when you sit directly in front of the laptop. What's more, the volume is enough to fill a quiet medium-sized living room. In other words, you won't have any problems while watching a movie trailer or two with your friends. Lows, mids, and highs are fairly well expressed on these user-facing units.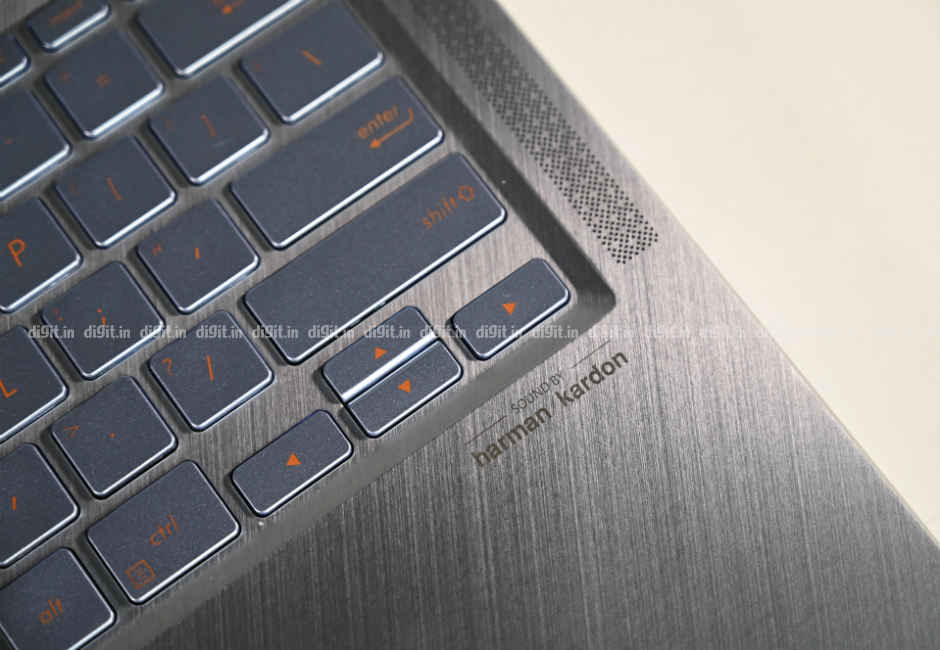 Excellent audio with clear stereo separation
The Asus ZenBook 14 has ample connectivity for a Thin and Light model. On the left side of its body, we see a round pin power port, a full-size HDMI port, a USB-A 3.1 port, and a USB-C 3.1 port. On the right side, we see a single USB-A 2.0 port, a 3.5mm audio jack for headsets, and an SD Card slot. In addition, the ZenBook 14 gets a small square fingerprint scanner on the top right corner of the touchpad. It works swiftly in conjunction with Windows Hello for screen unlock.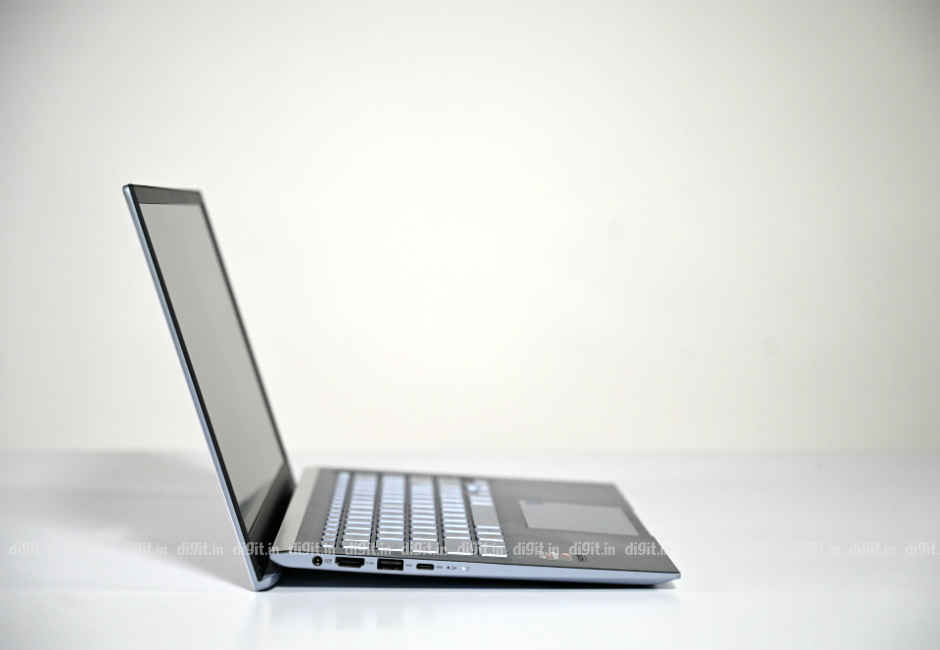 Ports on the left…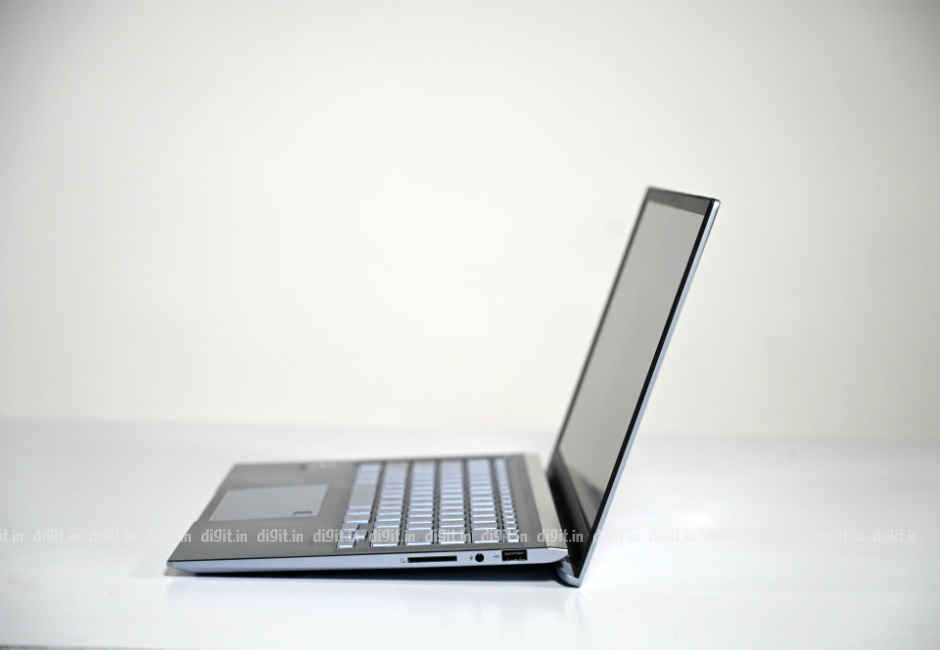 Ports on the right…
Keyboard and Touchpad
The keyboard on the ZenBook 14 takes a little bit of getting used to because the keycaps are placed fairly close together but once you learn to position your fingers closer while typing, you should have a mostly comfortably experience. The keys have three-stage backlighting (in a nice, warm tone) and ample travel (1.4 millimetres). They also have the right amount of resistance, so there's plenty of feedback when you type fast. If anything—and this is a frequent gripe I have with Asus keyboards—the power button could have been placed away from the Delete key as one accidental press while typing can lead to an unintended sleep/hibernate session. Also, I'm not sure why Asus loves shuffling the position of the Home, End, Page Up, and Page Down keys with each new model. All things considered, it's a fine keyboard setup for the price you pay.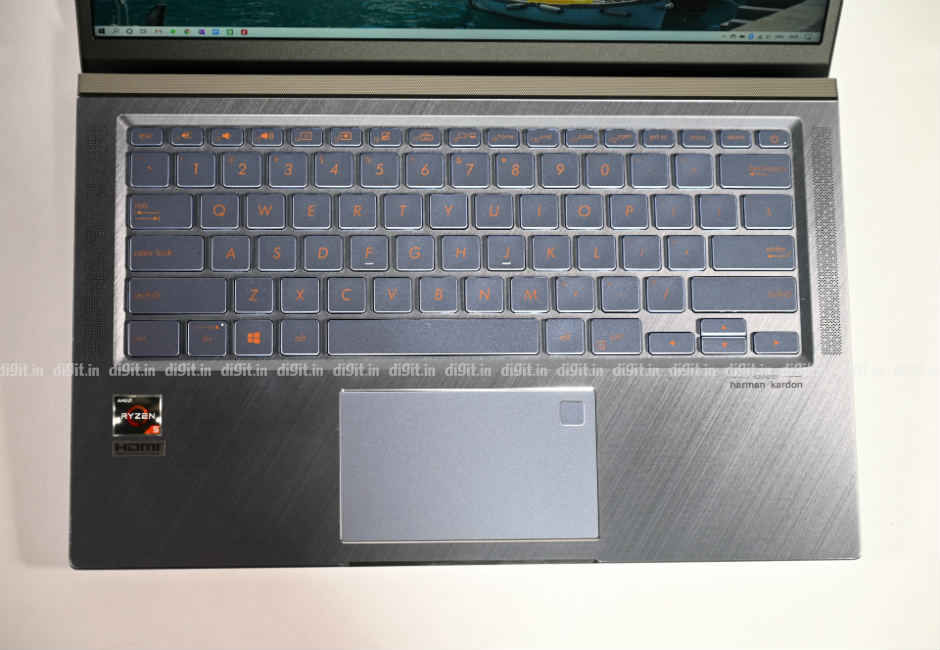 Keys are a tad small but offer a lot of comfort
The touchpad, being a precision unit, offers smooth and linear pointer movement on the screen in addition to multi-finger taps and swipes. What's more, you can change the touchpad's settings directly in Windows Settings without installing a third-party driver or utility. The two click keys below the smooth surface of the touchpad are fairly easy to press too. On our review unit though, I came across one particular issue that I thought was worth mentioning: I noticed a fair amount of unwanted play on the touchpad surface every time I rested my finger lightly on it. This feeling soon became a bit annoying. Despite the play, the touchpad is still very much usable for everyday tasks.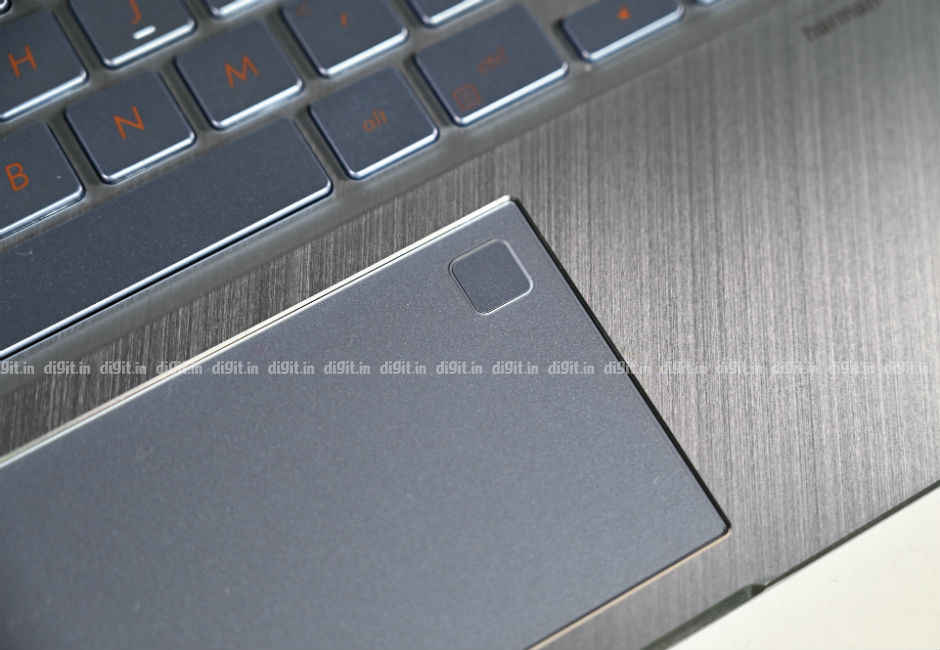 Touchpad on the review unit had unwanted play
Build and Design
The new ZenBook 14 looks and feels just as good as the first ZenBook 13 that was launched earlier this year, if not better. This AMD-powered model comes in a new Utopia Blue colour that's both refreshing and pleasing to the eyes. The all-metal build delivers sufficient rigidity and grip in the user's hands. At 1.39 kilogrammes, it's fairly lightweight too. The one thing you don't see on the top cover is the new offset logo placement, something Asus decided to do in the refreshed ZenBook models. What I liked the most about the review unit was its overall appeal. Combined with the new colour, the brushed metal finish looked stunning against the light in almost every angle. I often caught myself admiring the fine strokes on the palmrest and top cover.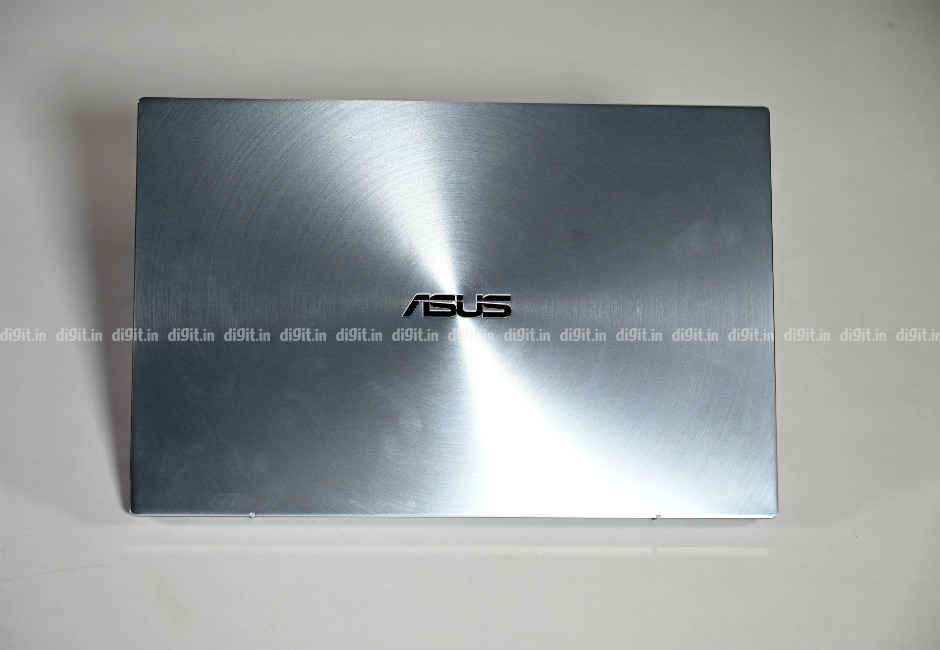 No offset Asus logo on this ZenBook
Opening the lid reveals a 14-inch screen with fairly slim bezels all around and almost no flex or bend on the lid and keyboard island. Asus says the laptop delivers a screen-to-body ratio of 86 per cent, which makes the body 6 per cent smaller than its predecessor. As is the case with most ZenBooks, the ErgoLift hinge gives the entire keyboard island a tilt of 4.5 degrees in the user's direction, which makes typing slightly easier when the laptop is on a tabletop surface. All things considered, the new ZenBook 14, in its new colour, is a stunning piece of machinery that's sure to catch many eyes.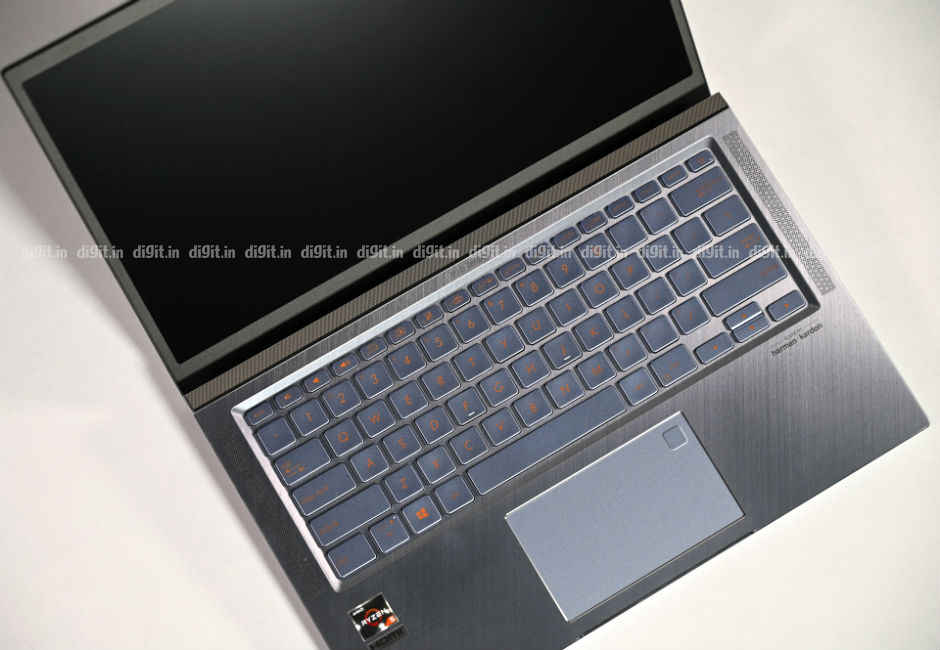 This ZenBook sure is a looker
Bottom Line
Given that the new AMD Ryzen-powered Asus ZenBook 14 is entering the market at Rs 59,990 when the refreshed ZenBook 14 with an Intel 8th Gen Core i5 CPU and ScreenPad 2.0 is selling on Amazon.in for Rs 75,990, I expected some visible compromises in screen quality, perhaps audio, and overall performance. But to my pleasant surprise, that is not the case with the new Asus entrant. Except for a few design niggles here or there (small keys and loose touchpad, for example), the new Asus ZenBook 14 is perfect all around.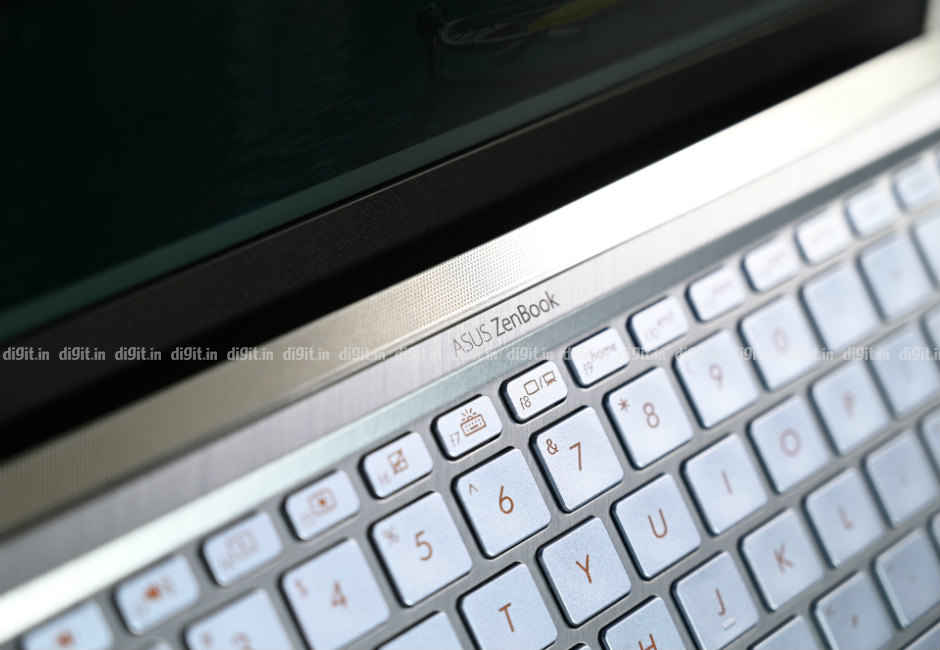 The new Asus ZenBook 14 is for someone who expects their laptop to grab eyes at an airport. It is also for someone who wants a reliable machine on which they can compose long emails, create numerous spreadsheets, browse to their heart's content, edit a few images, and play a lot of movies and songs. It is also for someone who wants a cheaper AMD-powered ZenBook without Asus' ScreenPad 2.0. In other words, it's a fine modern alternative to its Intel-powered competitors, such as the new Lenovo IdeaPad S540 and Acer Swift 3.