Asus ROG G501VW detailed review
Gaming laptops are immensely powerful, but with that power, comes great weight and generally bulky bodies. There are slimmer alternatives available, but none come close to the Asus ROG G501, in terms of price. It was launched in India just last month and it can run the best games, without breaking your bank. With a price tag of Rs. 95,490 and a 4GB GTX960M to boot, the G501VW is certainly one of the most affordable, slim and truly portable gaming laptops in the Indian market.
Design and Build
Remember the Asus Zenbook Pro UX501? Well, this is its gaming counterpart. The ROG 501 shares a similar aluminum build, along with almost similar hardware. It has an anodised brushed aluminum body, with a black, matte-ish paint job, for the gaming look. However, this makes the laptop a fingerprint magnet.
The G501 features a vertical brush finish, which conforms well with the whole design. In terms of sturdiness there is not much to complain but if we had to nitpick, there is a slight flex on the display and the keyboard base, but it is only noticeable if you really look for it. Also, we would have loved to see a metal bezel along the display. The plastic bezel does not look out of place, but it lacks a metallic feel.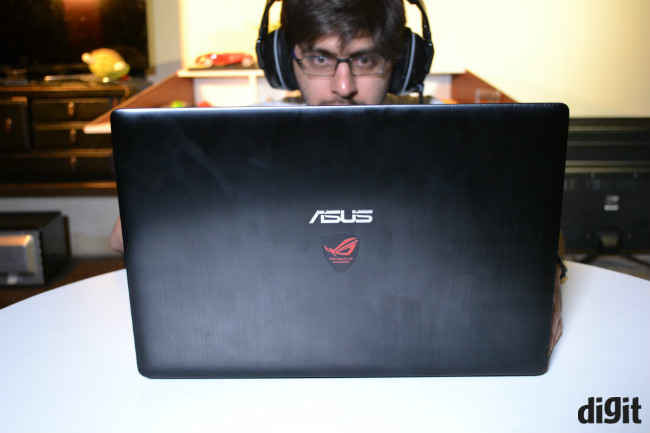 Asus' Hyper Cool Technology, which is basically an independent dual fan system, keeps both the CPU and GPU under comfortable temperatures. The venting is placed between the display hinge, which is successfully hidden and is out of sight. It serves its purpose well, keeping the design clean, and the overall temperature on the keyboard bay, down.
While this system works well if you are using the laptop on a table, we wouldn't recommend gaming while on a bed or on your lap, as the backplate does heat up. Also, gaming on a bed and rug can also choke the airflow.
Ports
The Asus ROG G501VW has all the ports a gamer would generally need. There is an HDMI port, a USB 3.0 port, a USB Type C port and the power jack on the left. On the right, there are two USB 3.0 ports, one SD card reader and a microphone/headphone jack combo. There are two things we need to point out here, the SD card slot is a little shallow for our liking and the laptop doesn't have an Ethernet port, but Asus ships an ethernet connector, if you need one.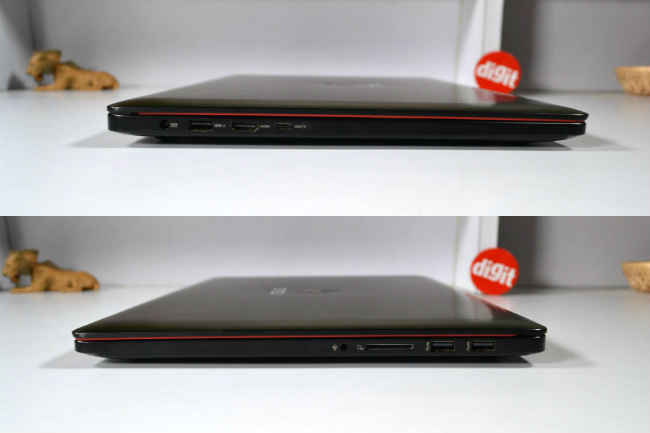 Display
There is a 15.6-inch display on the ROG G501VW. It has a matte IPS panel and offers good viewing angles. The display is quite bright and has very good colour saturation. Moreover, Asus has equipped the laptop with its ROG gaming centre app allowing you to tweak the display.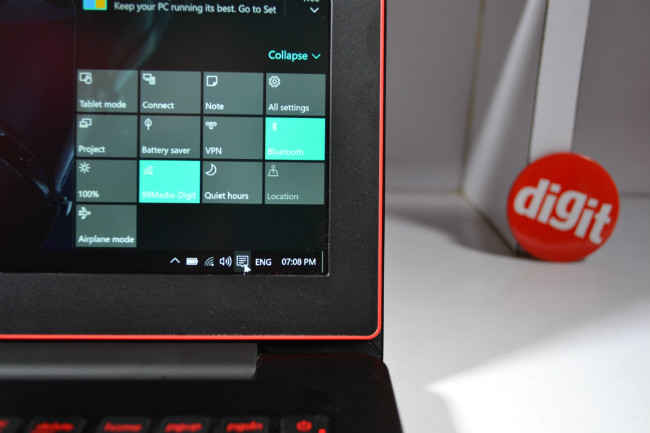 It has three presets — normal, eye care and vivid — but you can manually override the colour temperature to your liking. That said, the 4K resolution is somewhat unnecessary. While the GTX960M is quite powerful, it's not really powerful enough for 4K gaming. So, a 1080p display would have been enough, and would perhaps have offered even better performance. For most games, you'll be changing the resolution to 1080p, for best performance.
Keyboard and Touchpad
The Asus G501 features a chiclet keyboard with red backlight illumination, and has three intensity settings. However, even at full brightness, it is not bright enough to become a hinderance. The keys are flat and offer decent, smooth travel, and are quite precise. While typing experience on the laptop is good, we would a little more resistance. It suits gamers.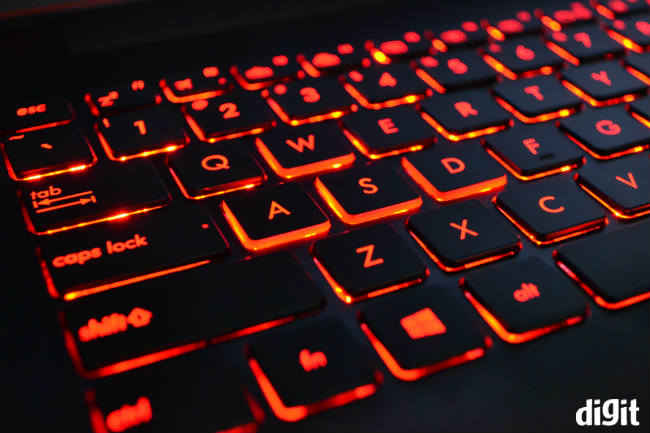 While gaming, the keyboard does a good enough job, but beware of the Windows key. Unlike the TouchPad that can be deactivated, the Windows key cannot, and you may end up pressing it by mistake.
The touchpad, on the other hand, works well and offers great gesture controls. The touch surface is smooth and the left and right clicks have a short but precise travel. Asus has provided touchpad deactivation key, which can toggle the touchpad on or off. The button for the same is located on the function key.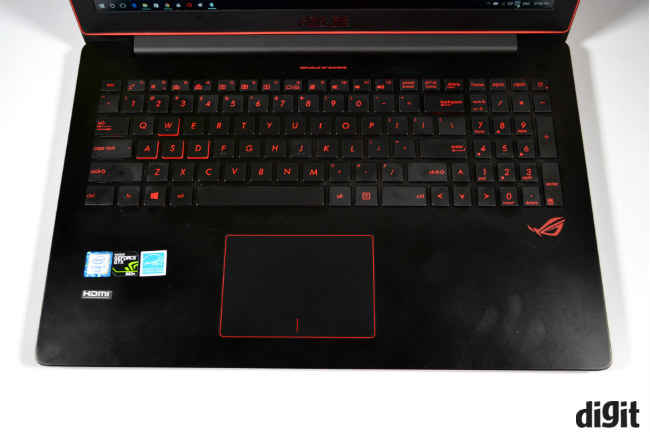 Performance
The NVIDIA GTX960M may keep serious gamers away, but for casual gamers, less interested in the frame rate counts of their games, this machine is perfect. Moreover, its lightweight construction means that the G501VW can double up as an office laptop in the daytime. Of course, gamers won't mind lugging around a laptop that weighs around 2kg.
Being a gaming machine, it flies through every office related task you might throw at it. This includes opening two dozen chrome tabs, or just watching a 4K video. There's 16GB of RAM, which makes video editing less time consuming as well. The Core i7 6700HQ processor is able to handle all tasks with equal ease and even at high loads, remains under permissible temperatures.
We tried a lot of games on this laptop, clocking almost 24 hours of gaming during the week. The Core i7 and the 960M combo can handle almost all titles at playable framerates, with less demanding games such as Dota 2 and Dying Light, going even beyond that. More demanding games such as Assassin's Creed Rogue and Tom Clancy's Division were offered at lower but playable frame rates. All of these games were played at 1080p.
Pushing the GPU beyond its comfort level, by playing games at 3840 x 2160p, the frame rate drop becomes too persistent to enjoy games. However, you can play less demanding games such as DOTA 2 at higher resolutions, but with a 15.6-inch display, that won't make much of a difference.
Beyond gaming performance, two things we'd like to point out — the 512GB PCIe x4-based NVMe drive is extremely fast while copying data. That said, it's just a 512GB drive, which will be easily filled up by games. On the audio front, the two stereo speakers are audible if you're in a very silent room, but for most other places you'll need headphones.
Battery
The battery life on the G501VW is surprising, for a gaming device. In our standard battery test, the laptop lasted for about five and half hours on a single charge. This is quite astounding, for a gaming laptop. Generally, these last for about two hours after being removed from charging. Gaming of course depletes the battery quickly, lasting just over 3 hours, which is still better than a majority of laptops out there.
Bottomline
The Asus ROG G501VW is a very good gaming laptop if your priorities include a slim and light device. The 512GB storage space is a hurdle, but, the G501VW is still one of the best portable gaming laptops in the market, with the right balance of work and play.
Asus ROG G501VW Key Specs, Price and Launch Date
| | |
| --- | --- |
| Price: | |
| Release Date: | 30 Apr 2016 |
| Market Status: | Launched |