VERDICT:
Excellence aside, Rs. 1,29,900 is a colossal chunk of dough to dish out for a notebook…any notebook. However, the Mac Book Pro 15 inch is not just any notebook. If you can afford the premium and must have an Apple notebook, look no further. It has a beast of a configuration, that will serve for anything except hardcore gaming. A great display and ergonomics are other pluses. That it can survive being used as a weapon is a fringe benefit!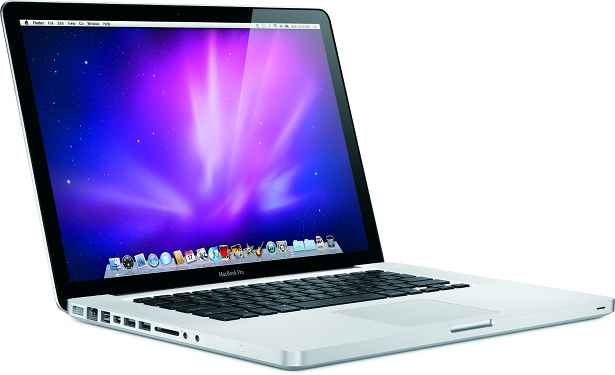 And this is part of the reason why we're so excited about this Mac Book Pro. The other part is, of course, the hardware. Apple has taken the same chassis and shoehorned in a Core i7 processor and a new NVIDIA GPU. A new charger is also part of the bundle, although the rest of the notebook is pretty much the same as earlier ones. The foolhardiness of tampering with a winning formula is, (evidently), not wasted on Apple. The inevitable pitfall to this approach is that this new Mac Book looks surprisingly (or not) familiar to the older ones, including the 2008 models that had a removable battery. For those who don't know, the 15-inch version is as thick as the 13-inch version, and the extra size makes it appear even slimmer. Obviously, the 17-inch version looks even trimmer, but it's noticeably heavier as well, and perhaps crossed the bounds of what we feel is "portable".
Features, look and feel
Anyone who has used a Mac Book made in 2008 or later can happily skip this section, for you'll learn nothing new. Apple's all aluminium construction with the base being constructed out of a single piece of the metal has received numerous design awards. It's revolutionary, and nobody has been brave, (or foolhardy – you decide), enough to try such a design. While the numerous design pluses remain, a couple of shortcomings are also carried over. Apple uses their metal body as a rather effective heat sink, and while the components usually behave thermally, in summers your hands will get warm. Another minus, and this is a major one is the sharp edge of the palm rest that it tends to hurt ones wrists. Over the months of using a unibody Mac Book, I have gotten somewhat accustomed to this, the key word being somewhat. In their quest for designing aesthetically appealing sharp edges and flowing curves, Apple has included the former in the most inappropriate of places.
[RELATED_ARTICLE]What Apple has got absolutely delightfully right is the track pad. This is one of the most important parts of a notebook and sadly 90 per cent of manufacturers get it wrong. The Mac Book with its large, multi-gesture-supporting track pad, is, perhaps the closest one can come to not missing a mouse when using a notebook. Tracking accuracy is excellent and acceleration is well controlled. There's a lot you can do with the track pad. The isolated keypad is also intuitive and very usable once you get used to the bevel-less keys and the extra spacing.
The display is another part of the 15-inch version that Apple gets right. And we're not forgiving the horrendous idea of using a glossy display – this is the only major goof up, display wise. The brightness level is good, but the contrast is mediocre – this is a 6-bit, Twisted Nematic panel, and it feels like one. But it's better than most other notebooks we've tested. The resolution is 1440×900 pixels – finally a 16:10 aspect ratio. The pixel pitch is just right, as is the ratio between the size and the resolution. This is where the smaller 13-inch Mac Book Pro loses out. At 1280×800 pixels, the display just looks worse, in every way. While on topic, check out the review of the 13-inch MBP here.
Compared to the older 15-inch Mac Book Pro, there are no steps noticeable in the gradients when changing brightness levels on this Mac Book Pro. The display also seems to dim more evenly on the newer model. Nothing radical, but it's good to know minor improvements are happening, and Apple hasn't harped about these. The speaker volume seems about the same, the newer model seems to have a slight edge to the treble. We're not sure if this is due to the lack of speaker burn-in, or Apple changed the speakers. The older model sounds sweet and neutral, sans bass of course.
Click next to see how it performed
In case the next button doesn't work, read up on the performance and conclusion here
Performance
Where Apple's Core 2 Duo based Mac Book 13-inch disappointed, its bigger brother somewhat redeems. Expected really, there's a steep price difference between the different screen sizes, and it's got more to do with the innards than the slice of glass you're staring at! Like the earlier Mac Book Pro 15-inch, this one supports dual graphic solutions that can be switched between. Instead of a GeForce 9400M and a GeForce 9600M GT, you now get an Intel integrated graphic solution and a GeForce 330M. One is an integrated solution and the other is a discrete graphic card. The latter in both cases, is more powerful, but is a bigger battery hog and adds to the heat generated. Despite the upgrade in GPU, the newer Mac Book Pro is not much faster, in fact there's barely a difference. But then the GT330 isn't too different from the 9600GT in terms of shader unit count or other parameters.
Now, the OS switches between both GPUs automatically, depending on the application being used. Previously, one had to manually switch between performance and power saving modes, for which the system would log you out and back again. There are caveats to both methods, but it's safe to say the newer method is preferable. After all, who wants to keep logging out just to play a game? That being said, the newer integrated graphic solution is weaker than the older 9400M that could be used for the odd game, which, in turn, generates slightly more heat.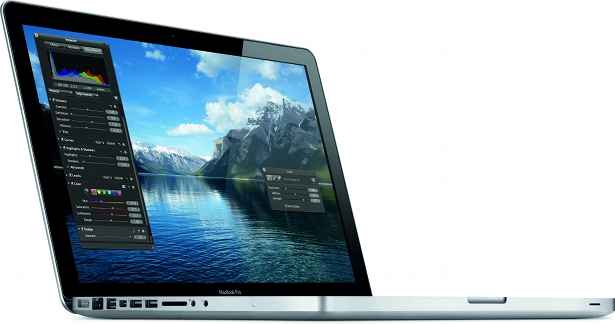 [RELATED_ARTICLE]When looking at scores, we notice that the inclusion of a 500 GB hard drive has led to a slight, but noticeable increase in performance, obviously on account of increased areal density. The biggest boost comes from the CPU, although the Core i7 620M is deceptively named, especially for someone used to desktops. It isn't a quad core part, rather a dual core with HT. Performance is nonetheless, much better, and clock-to-clock, this CPU is better than any Core 2 Duo around. Hyperthreading, no doubt, is a large part of the reason. We figure the Core i7 620M is at least 25 per cent faster in most benchmarks when compared to the similarly clocked Core 2 Duo T9550 (2.66 GHz) that was found on last years model.
The sound quality of the loudspeaker is pretty good with nice volume levels and multimedia performance in general is good. The display is good enough to enjoy HD movies, although, being glossy, any sort of ambient lighting wreaks havoc on legibility.
Conclusion
The MRP on the new Mac Book Pro 15-inch is quite staggering – Rs. 1,29,900. But it's not unexpected, Apple products are decidedly upmarket, and Apple is the first to make no bones about this. We fully expected it to be something on similar lines. In fact, it's slightly cheaper than the 2008 version that offered hardware that is finally out shadowed. This is not for you, if you're just looking to buy a laptop. Just buy an Acer, Sony or Dell and be happy – you're not missing a lot. On the other hand, if you're looking for a Mac Book, and have deep pockets, we recommend the 15-inch version over the (admittedly cheaper) 13-inch version, for a host of reasons – much better innards with better display with a more practical resolution. Sure it's expensive, even a bit overpriced for the hardware you get. But then, there are Audi's that perform on par with Ferrari's too; it doesn't affect the price gap, does it? What we'd really like to see is a 256 GB solid state drive for the same price – that would be killer.
Specifications: OS: Snow Leopard (OSX 10.6); CPU: Intel Core i7 620M (2.66 GHz); RAM: 4 GB DDR3; Graphic card: Intel IGP / NVIDIA GT330M; HDD: 500 GB (5400 rpm); Resolution: 1440×900 pixels
Rating:
Features: 7.5
Performance: 7
Build: 8.5
Value: 4.5
Overall: 7
| | |
| --- | --- |
| Brand | Apple |
| Model | Macbook Pro 15.4″ 2010 |
| Features | |
| Components | |
| Processor | Intel Core i7 M620 |
| Processor Speed | 2.66 GHz |
| RAM (memory / speed) | 4 GB / 1067 MHz (DDR3) |
| Graphics Solution | NVIDIA geForce GT330M |
| Hard disk space | 500 GB |
| Monitor size | 15.4 |
| Monitor resolution (pixels) | 1440 x 900 |
| Ports and expansion | |
| No of USB ports | 2 |
| No of eSATA ports | 0 |
| No of FireWire ports | 1 |
| No of DisplayPort / Mini DisplayPort | 0/1 |
| Memory Card reader (Y/N) | Y |
| Performance | |
| Speakers (out of 10) | 7.5 |
| Geekbench Overall Score) | 5371 |
| Xbench | 175.38 |
| Cinebench R11.5 | |
| OpenGL | 15.87 |
| CPU | 2.54 |
| Time taken 4 GB Sequential | 98 sec |
| Time taken 4 GB Assorted | 162 sec |
| Price (Rs) | 129900 |
Contact: Apple India
Phone: 080-4140-9000
Email: indiasales@mac.com
Website: http://www.apple.com/in/buy/shop/
Price: Rs. 1,29,900