VERDICT:
The 2011 Apple Mac mini is alive and kicking. What with the Cupertino-based company dazzling the tech world with iPhones, iPads and MacBook Airs, the Mac mini seems to be the forgotten child in Apple's product portfolio. Still with the latest revision of the most inexpensive Mac ever, the mini boasts of improved performance thanks to Intel's second-gen Sandy Bridge processor.
---
Design and Build:
The Apple Mac mini continues to be made out of a single block of aluminium, much like the MacBook Air. Its unibody single-block aluminium design is much the same as its predecessor, and the Mac mini looks so simple yet so elegant on the desk–not to forget its tiny, solid, and compact form factor. The greatest triumph in the Mac mini's design is its extremely anorexic dimensions — 7.75 x 7.75 x 1.41 inch. It is amazing to think Apple has crammed in so much in so little space with the Mac mini 2011.

All the connectivity ports on the Mac mini are relegated on its back panel, and its bottom panel can be easily turned anti-clockwise to gain access to the mini computer's RAM and Wi-Fi modules — servicing the hard drive requires screwdrivers and a lot of patience. But we have no complaints on the Apple Mac mini's constitution.
Features:
The Apple Mac mini comes with decent hardware: a second generation Sandy Bridge 2.3-GHz Intel Core i5 processor, 2 GB of DDR3 RAM (can be bumped up to 8 GB later), 500 GB 5,400 rpm hard drive, and for the first time an AMD GPU — the AMD Radeon HD 6630M, along with an onboard Intel HD 3000 graphics. It's the best hardware we've seen on the mini, and Apple sells another version of the mini that comes with even better hardware specs (head over to www.apple.com/in)
In terms of bundled features, there are two main talking points on the new Apple Mac mini. First, there's no optical drive on or bundled with the Mac mini — what with Apple now allowing OS X 10.7 Lion re-install through recovery partition and USB sticks. But yes, you'll need an external DVD writer to install an older program, which adds to the cost. Also the entry-level Mac mini comes with just 2 GB of RAM, which is adequate for the time being but doesn't really future-proof the product for a longer duration. We expect that sooner or later, you will have to bump up the RAM.

All its connectivity ports are accessible on one horizontal panel at the Mac mini's behind. The biggest talking point here is the inclusion of a Thunderbolt port, now standard across all Apple's Mac offerings, which helps connect an external display capable of 2560×1600 pixel resolution. You'll also find four USB ports, HDMI, SDXC card slot, microphone and headphone jacks. There's also a FireWire 800 port present on the Apple Mac mini, doubtless for legacy products. Wireless communication protocols like Wi-Fi 802.11n and Bluetooth are also included, so is an HDMI to DVI converter. Overall, we find the offering of connectivity ports and internal hardware on the Mac mini to be adequate for an HTPC or an average mini computer. Anything more, and you'll have to juice it up.
Visit page two for a look at the Apple Mac Mini 2011's performance, and our verdict…
Performance:
The Apple Mac mini's performance prowess is quite good, based on our usage of the machine. The present second-gen Sandy Bridge Intel Core i5 processor is instrumental in making day-to-day tasks like browsing the Web, working with office documents, listening to music and watching a movie a breeze on the Mac mini. Multitasking with several open apps at once becomes slightly difficult with only 2 GB of bundled RAM, though.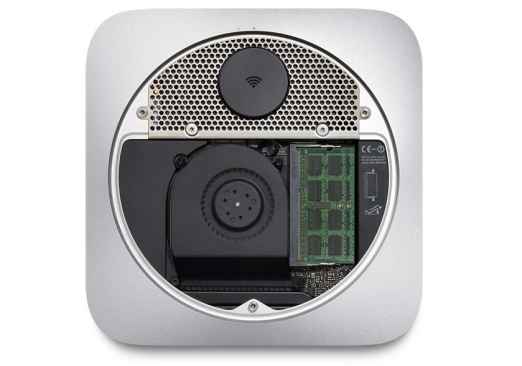 As you can see, the Apple Mac mini has the latest hardware building blocks, and promise of high performance. PC Mark 05 gave a score of 8720 on the Mac mini, showing it is a mid-to-high level performer. Gaming with latest 3D games is painful but there's hope for a casual gamer who's prepared to play 3 or 4 year old games at conservative settings. Watching HD 1080p movies or listening to audio from the Mac mini are the product's defining acts in terms of multimedia and entertainment potential. The experience is very good, and in certain scenarios the experience can be even better, had it not been for the entry-level Mac mini's decision to stick with only 2 GB of RAM.
During our benchmark testing, we found the Mac mini — like most unibody aluminium Apple products — did heat up considerably particularly around the area located near its heat vent. This wasn't at an uncomfortably high level to have any cause for concern, but yes its body is more than just mildly hot when the Apple Mac mini is in the thick of things.
Verdict: The Apple Mac mini retails for a price of Rs. 33,990 and Mac OS X 10.7 Lion operating system. At that price, mini PC offers advantages in terms of space, style and build quality over similar competing products. And although the current mini is a good step forward in terms of performance and features, it still falls short of being the best in class. The dropping of the optical drive is a step that's a little ahead of its time, we think. However, for first-time Mac aspirants, the Apple Mac mini remains the most inexpensive Mac on the market, and a great starting point.
Contact Information for Product Enquiry: 18004254646 / www.apple.com/in