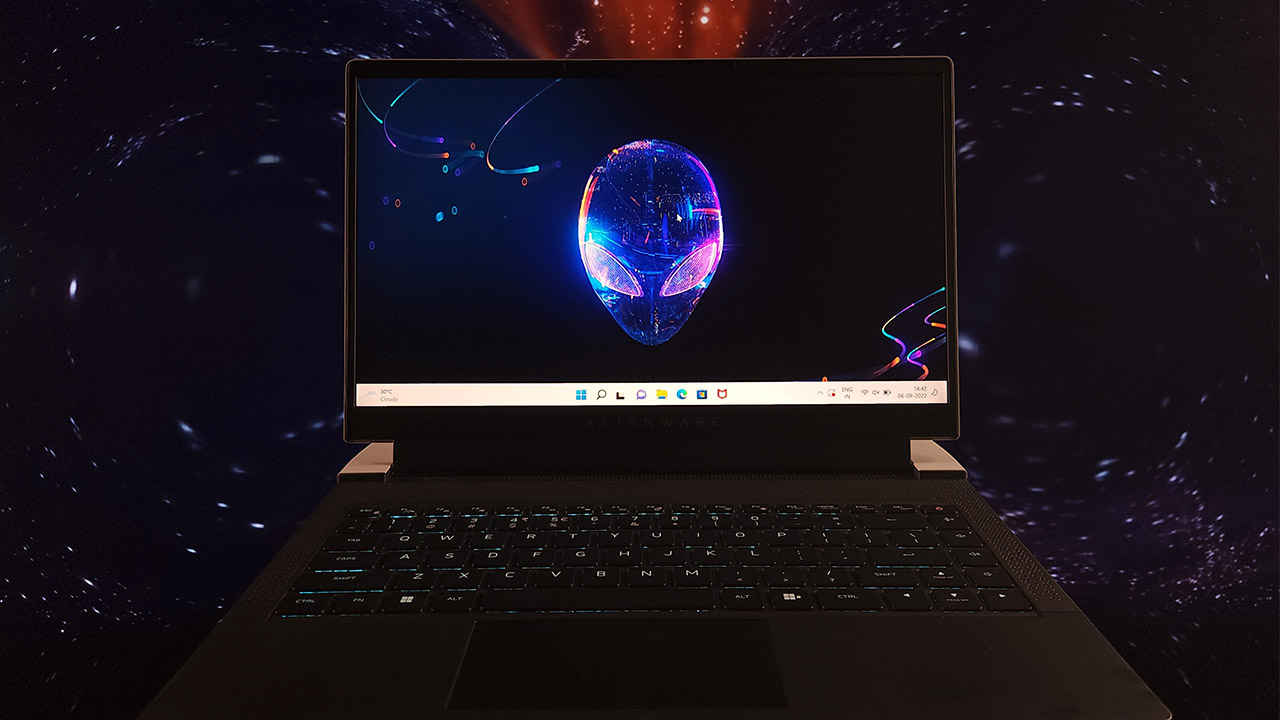 PROS:
Not many laptops look as good as this one does, Great overall build quality and design language; screams premium
CONS:
Quite pricey for the specs on offer, Runs hotter and louder than similarly specced laptops due to compact size
VERDICT:
The Alienware X14 is an impressive machine. It's compact, looks extremely stylish, and comes with some crazy specs. However, it could have done more in the specs department for the price, since you can get similar and in some cases even better gaming performance on cheaper laptops.
The Alienware X14 is Dell's self proclaimed "world's thinnest 14-inch gaming laptop", and at a glance, this is certainly a very compact device. Don't let that fool you though, because it still comes packed with beastly specs for all your gaming needs. The latest 12th gen Intel processor, an RTX NVIDIA GPU, a crisp and bright display with a high refresh rate and more. Of course, all of this does not come cheap, with a Rs. 1,74,990 price tag. Is the Alienware X14 worth the price? Read our review to find out.
Alienware X14 Build and Design
The Alienware X14 is a sight to behold. This is the kind of laptop that immediately draws all attention in the room. To say that it looks like a spaceship or a hypercar would be fairly accurate. This IS an Alienware laptop through and through, and you will recognise it from across the room.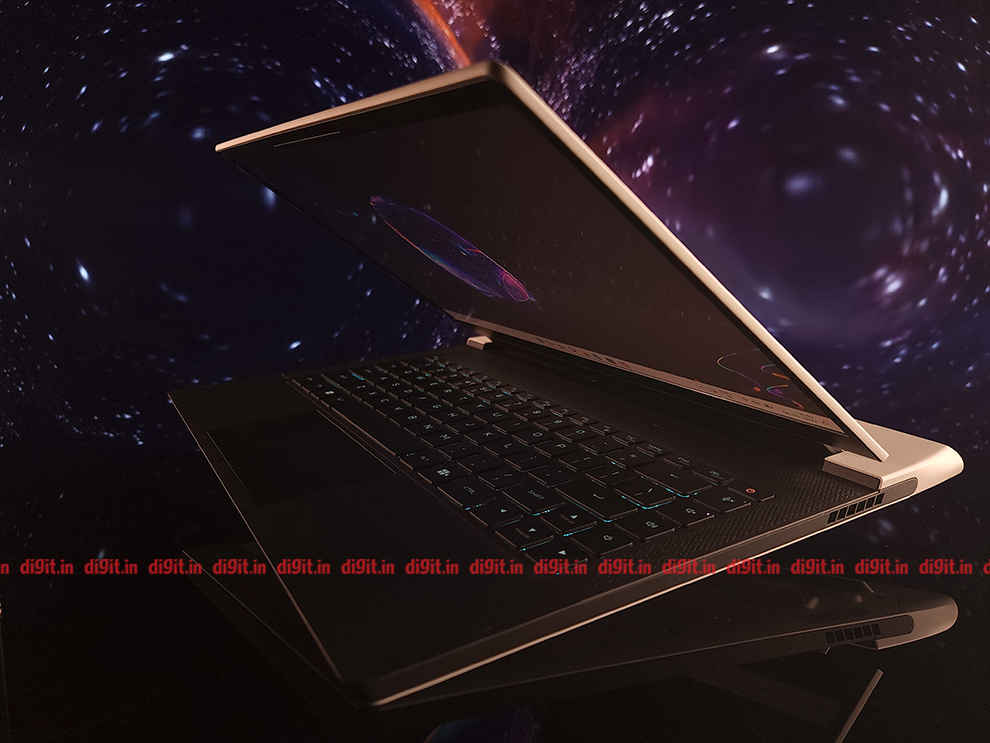 If it hasn't been established yet, this is a very cool looking laptop. Dell has put impressive attention to detail into this. Every aspect of the design, including the placement of the vents and hinges plays into the overall aesthetic of the laptop. It's well thought out, and feels secure and sturdy. The laptop's outer body is composed of magnesium alloy. The internal body makes use of aluminium and stainless steel. The vents and surfaces inside the laptop, such as the bezels and keyboard, use plastic. There's a good balance without compromising too much on weight. Plus, the outer frame is resistant to fingerprints, which is a nice touch.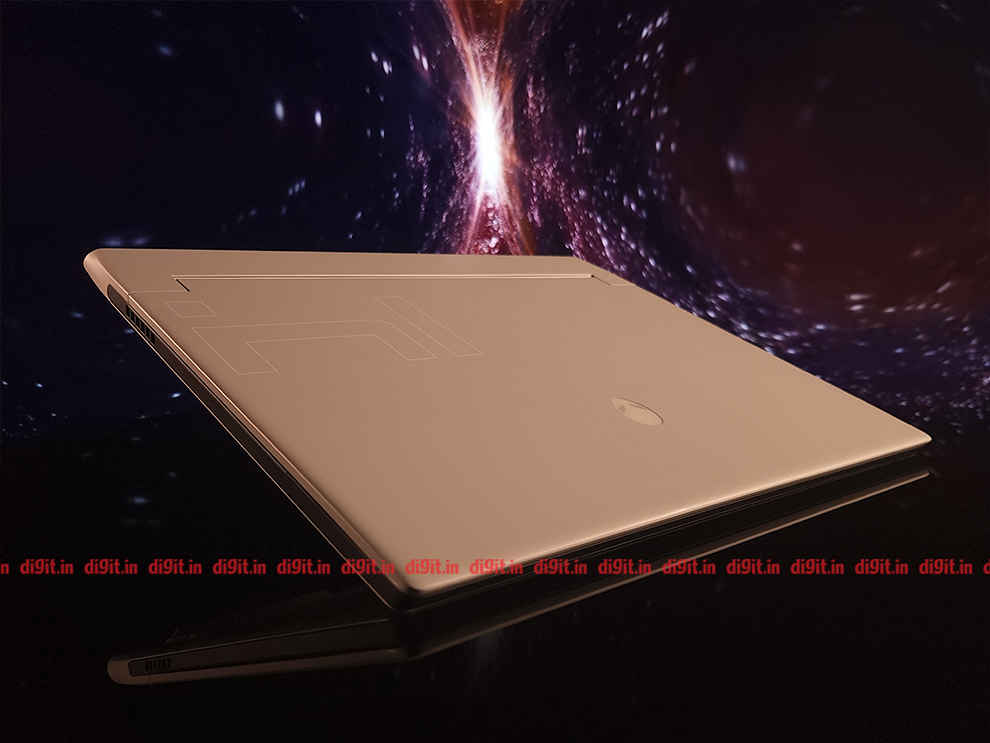 The X14 comes with a new, patent pending hinge system. The hinge moves back and forth along a track which results in a more stable experience while using the lid. Opening and closing the lid is smooth, and there's just enough tension with little to no flex or wobble. Additionally, the lid doesn't sit completely flat when closed, and is at a slight angle to make opening the laptop easier.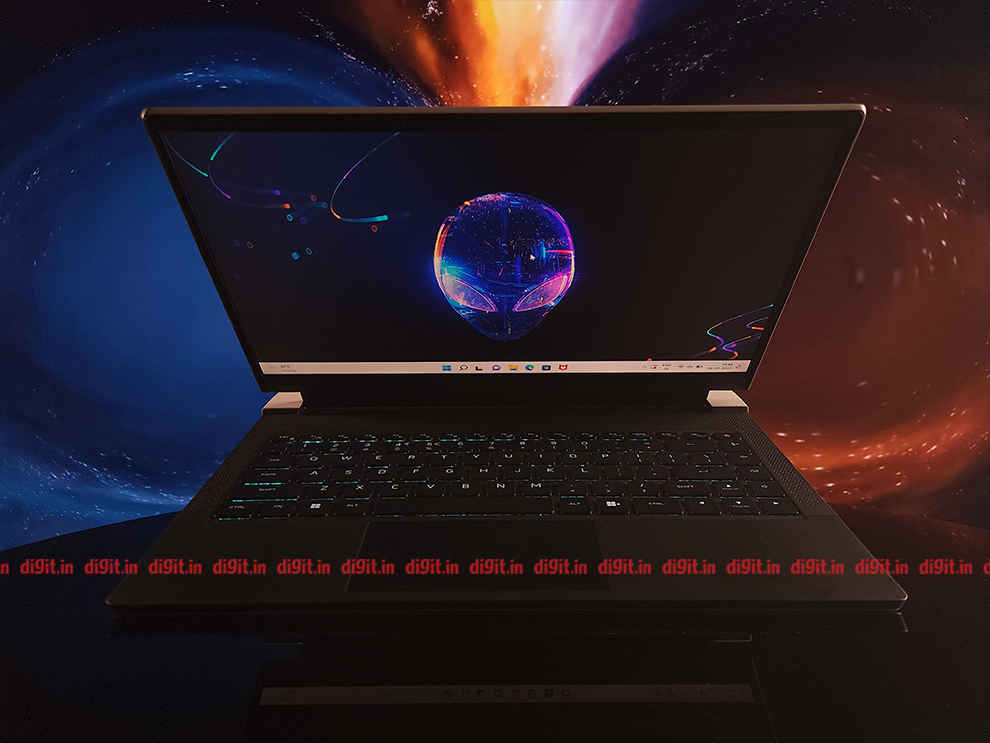 With such a small form factor, understandably you do not get a full-sized keyboard. Things are squished to ensure everything you need is present, including the function keys, and even the trackpad. However, the keys themselves are pleasant to type on, have tactile feedback and decent travel as far as laptop keyboards are concerned. They're also RGB backlit, but it's not per-key, so no custom lighting layouts.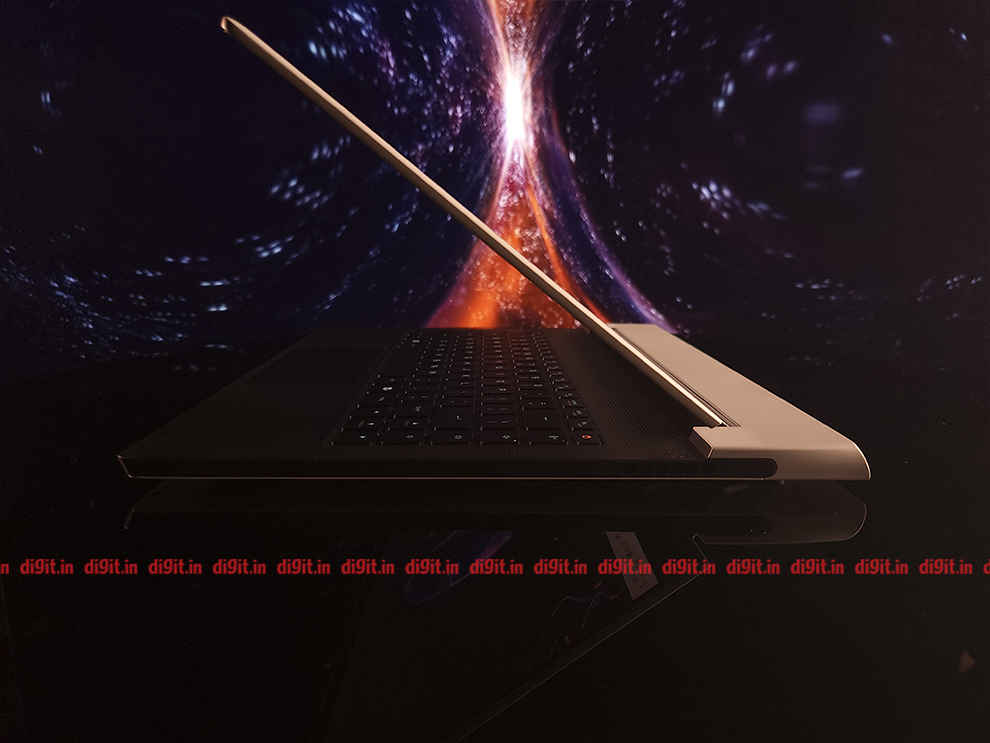 The "world's thinnest 14-inch gaming laptop" is only 1.4cm thick and at 1.8kg fairly light as well. You should have no trouble with portability when it comes to this laptop. It's even more impressive when you consider the specs on this laptop. There are two variants of the X14, the one we received has a 3050Ti, but there's a variant with an RTX 3060, more RAM, and storage capacity as well, which will set you back by Rs. 2,05,989.
Alienware X14 Specs at a glance
Display Resolution: 1920 x 1080, 144Hz
Processor: 12th Gen Intel Core i7-12700H
Graphics: Nvidia RTX 3050 Ti
Memory: 16GB LPDDR5, 5200 MHz
OS: Windows 11 Home
Storage: 512GB NVMe SSD
Ports: 1x USB 3.2 Gen 1 port, 1 x USB 3.2 Gen 2 Type-C with PD and DisplayPort, 2 x Thunderbolt 4 port with PD and DisplayPort, 1 x headset combo port, 1 x HDMI 2.1 port, 1 x MicroSD Port
Connectivity: Intel AX211, Wi-Fi 6E, Bluetooth 5.2
Battery: 80 wHr
Dimensions: 321.5mm x 262.77mm x 14.5mm (WxDxH)
Weight: 1.8kg
Price: Rs. 1,74,990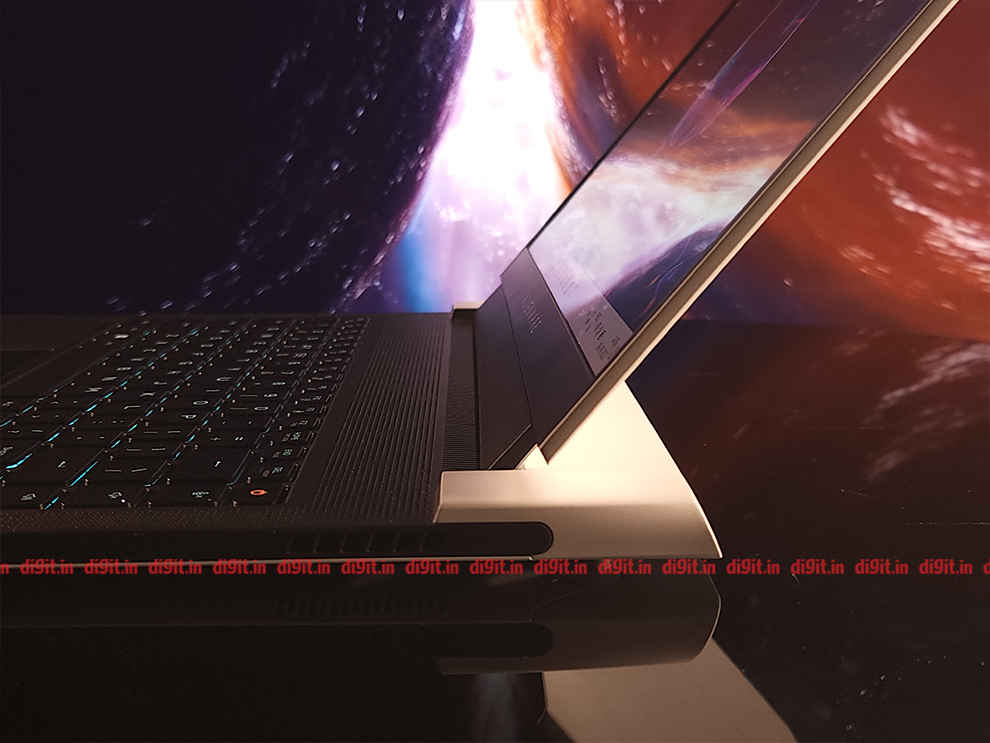 As you can see from the images, the laptop hinge is not at the very back, but slightly forward, which is why we said it kind of gave off a hypercar look. This rear section is where you will find all the laptop's IO ports.
Alienware X14 IO Ports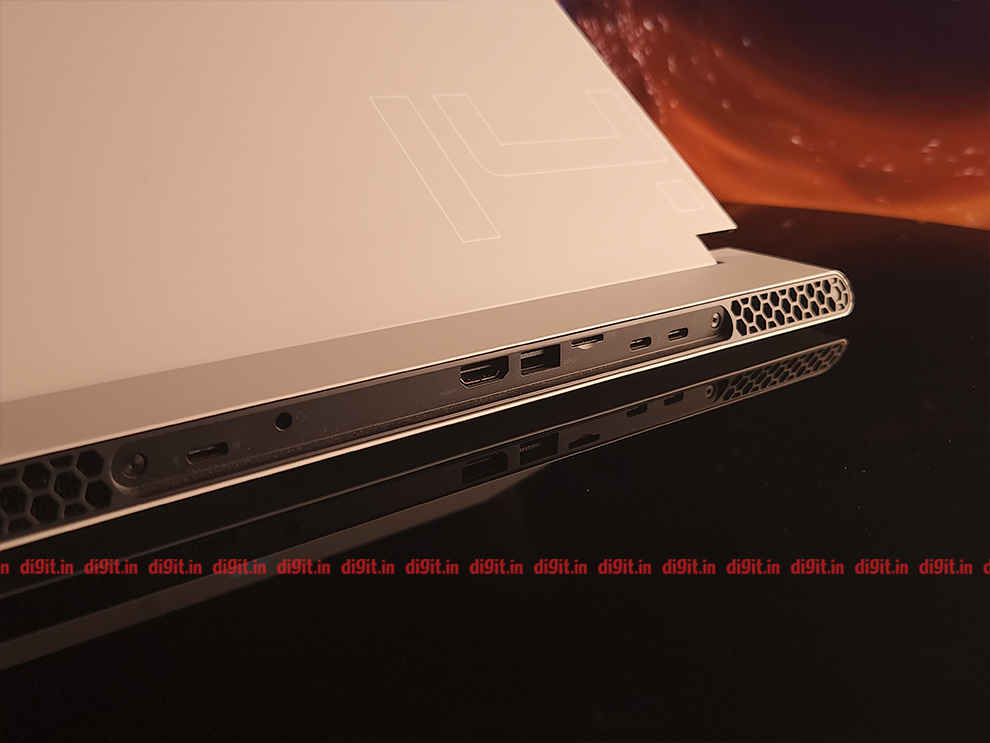 Speaking of IO ports, you've got plenty of options. A USB 3.2 Gen 1 port, a USB 3.2 Gen 2 Type-C port, and two Thunderbolt 4 ports. You've also got an audio combo jack, an HDMI 2.1 port and a MicroSD slot as well. While the laptop does not have an ethernet port, an adapter is provided along with it in the box.
Alienware X14 Display
A 14-inch display might be on the smaller side for a lot of people. However, it should more than suffice. During our time with the laptop, we didn't at any point think that the smaller display was hindering our enjoyment. The 1080p display is crisp, with vivid colours, which our benchmarks can attest to. It's also bright, reaching close to 400nits at peak brightness. The 144Hz refresh rate is also nice, especially for gaming. You should have no trouble hitting those frames as well, considering the hardware onboard.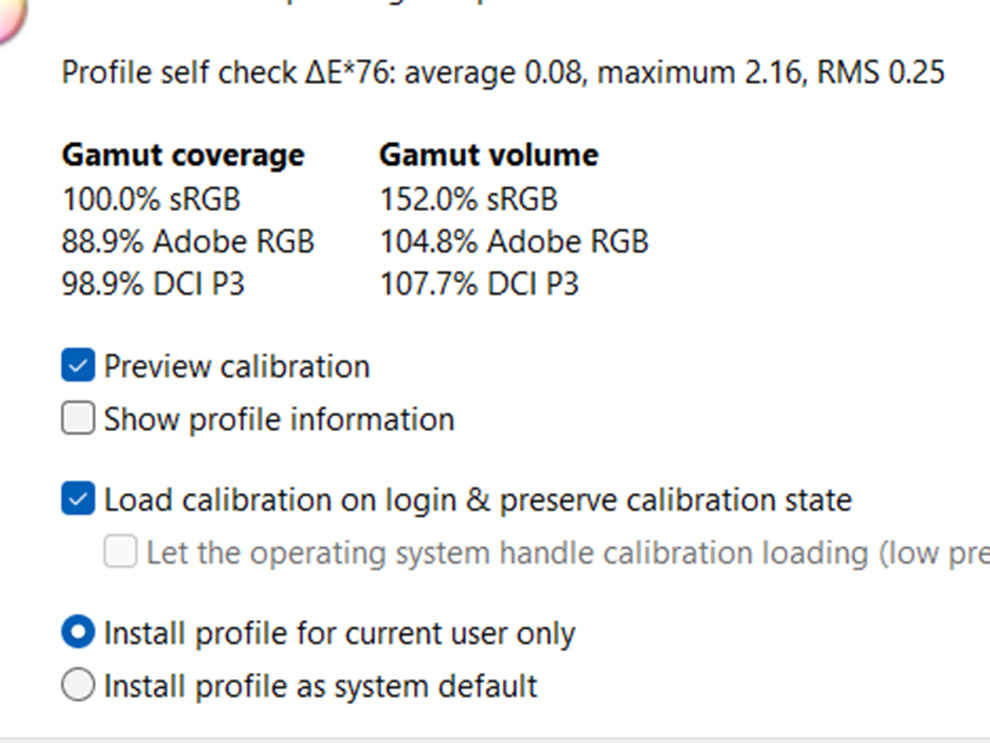 Alienware X14 performance
The X14 comes packed with the latest 12th gen Intel Core i7-12700H processor. The 14 cores and 20 threads should have no trouble meeting any and all of your multitasking needs, as can be seen on our Cinebench R20, R23 and PCMark10 benchmark results.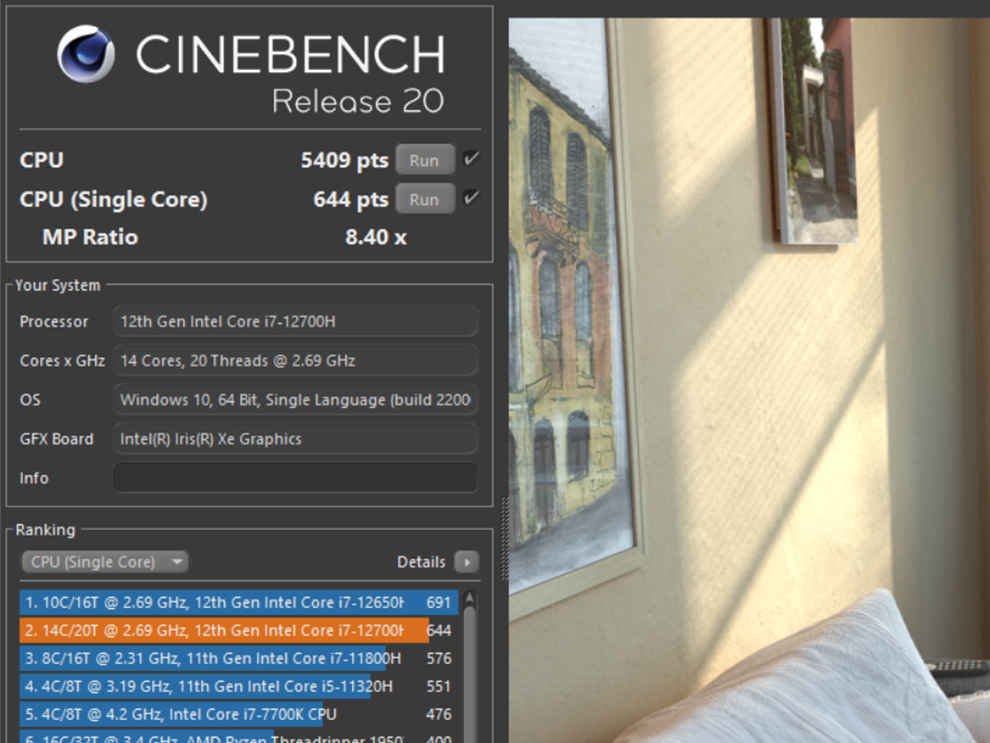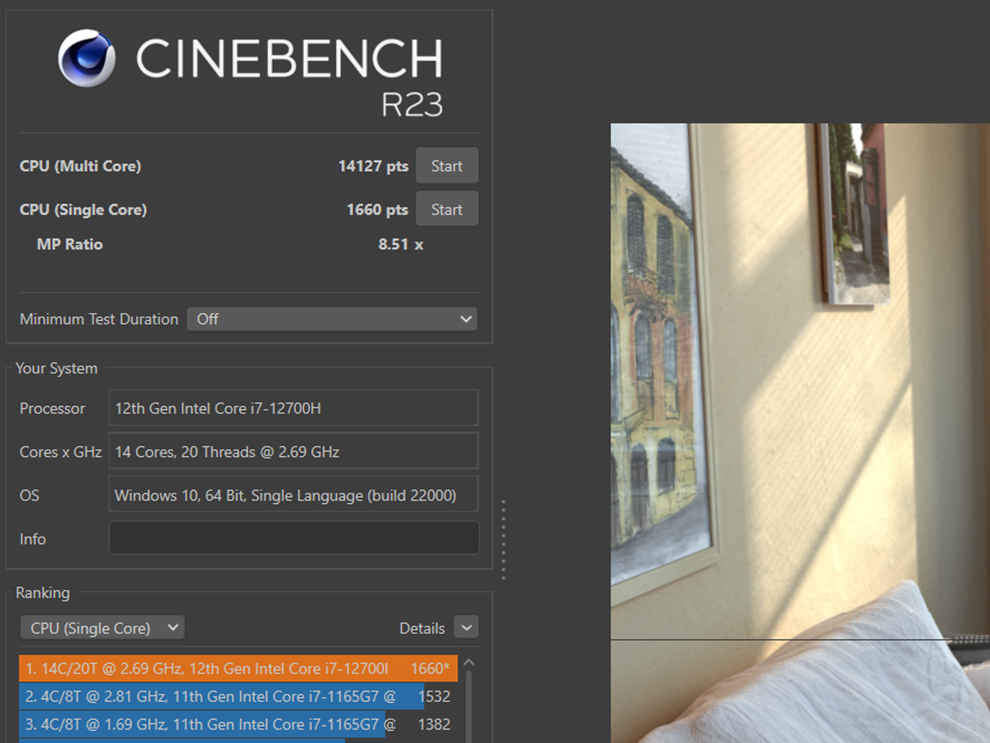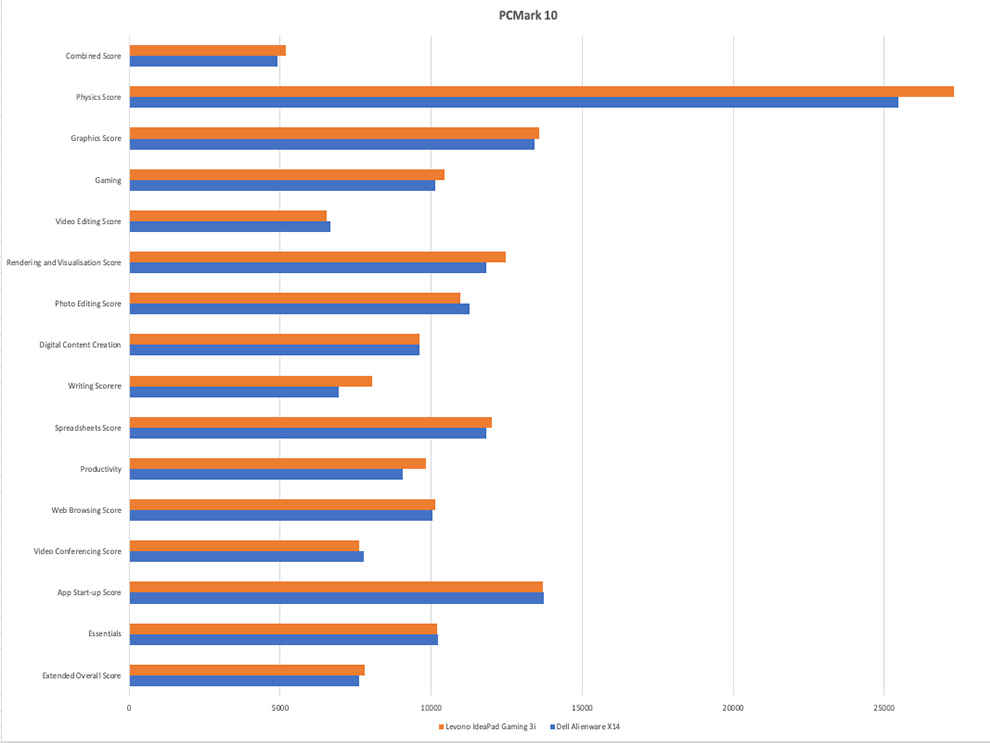 We tested the 16GB LPDDR5 memory several times on AIDA64; however we did come across an anomaly where the L1 read and write speeds were always far too low to be right. However, the memory read and write speed speaks for itself.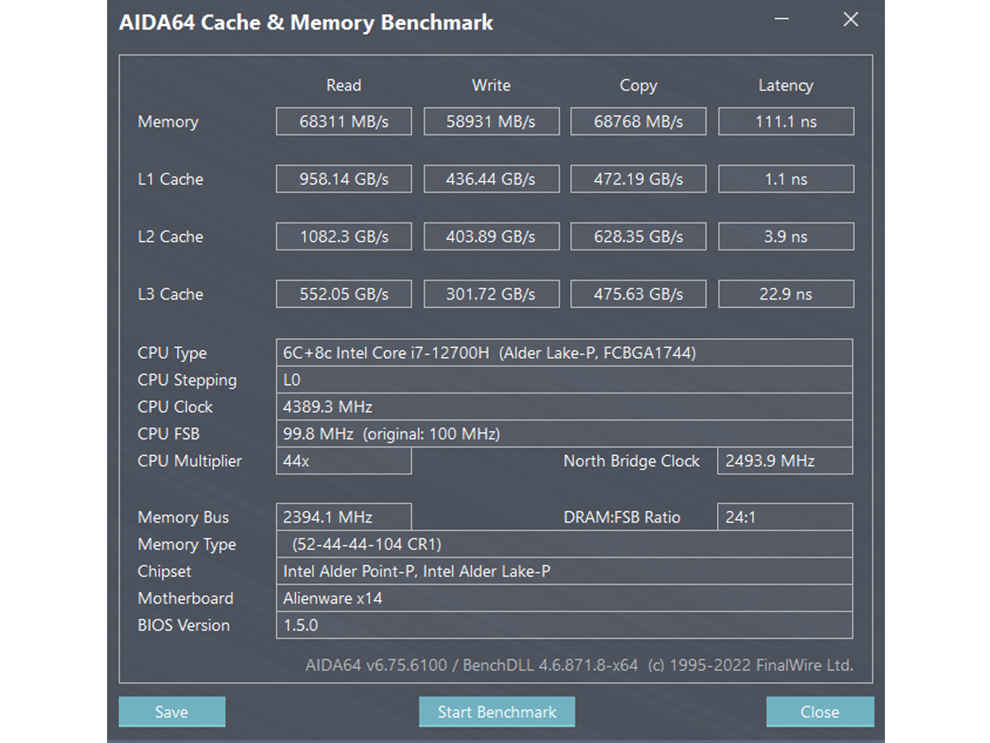 The X14 also has fast NVMe storage, with our variant having 512GB of storage. We were getting close to 6500 MB/s read speeds and 4000 MB/s write speeds in our tests, which are close to as advertised and fantastic.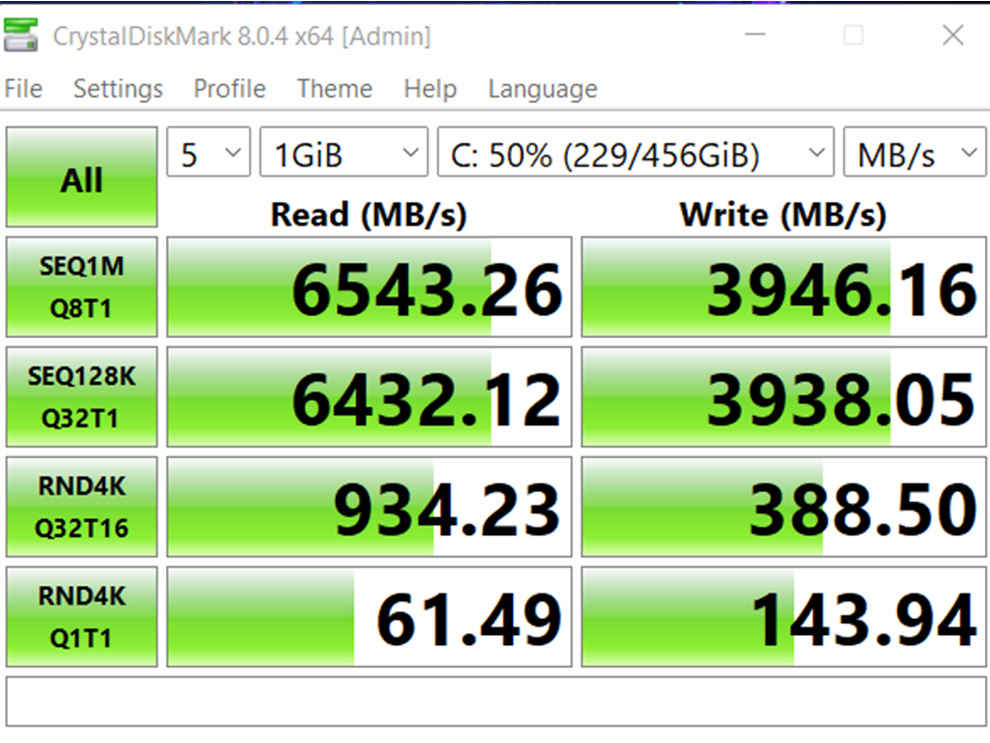 Next we come to the 3DMark performance. On paper, the Alienware X14 has great specs. For the most part, this reflects on our benchmark results as well. However, when compared to the similarly specced Lenovo IdeaPad Gaming 3i which has the same processor and GPU, the X14 just barely falls short in some benchmarks.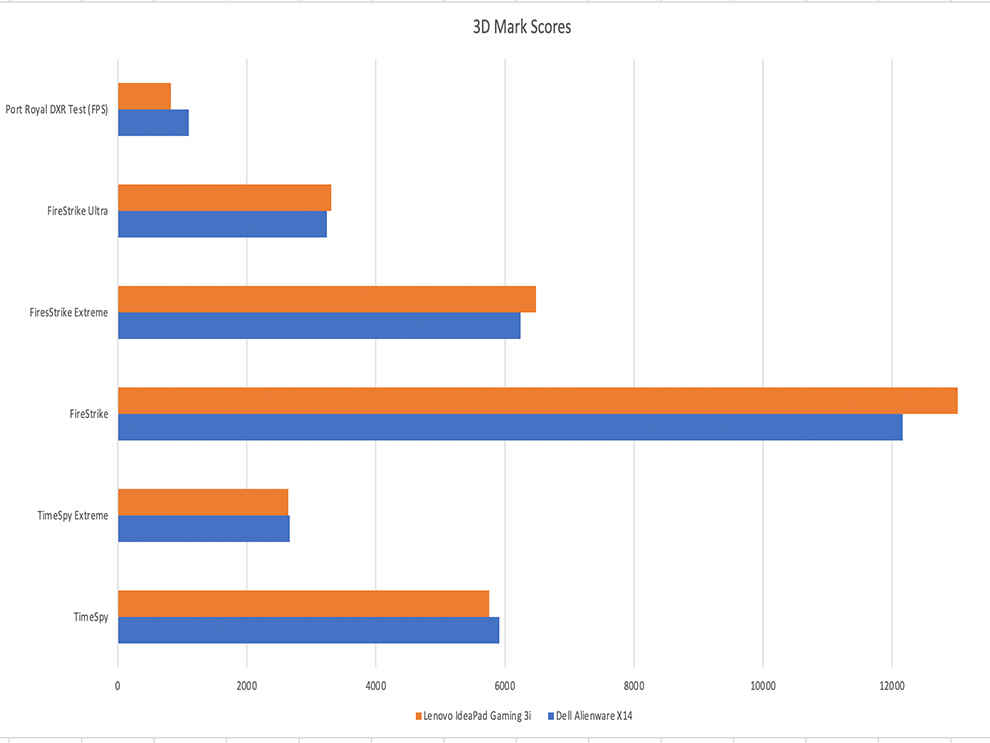 The same continues with real-world gaming benchmarks as well, with the X14 at par or slightly behind the Lenovo IdeaPad Gaming 3i. This may well have to do with the X14 running comparatively hotter due to its compact nature.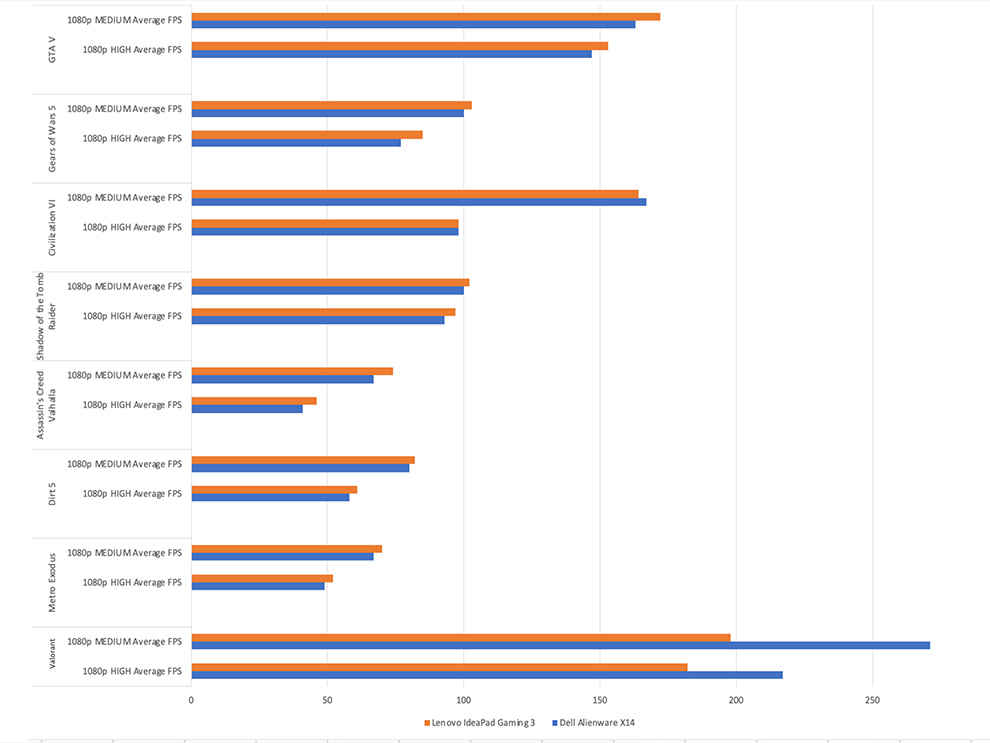 Alienware X14 Noise and Heat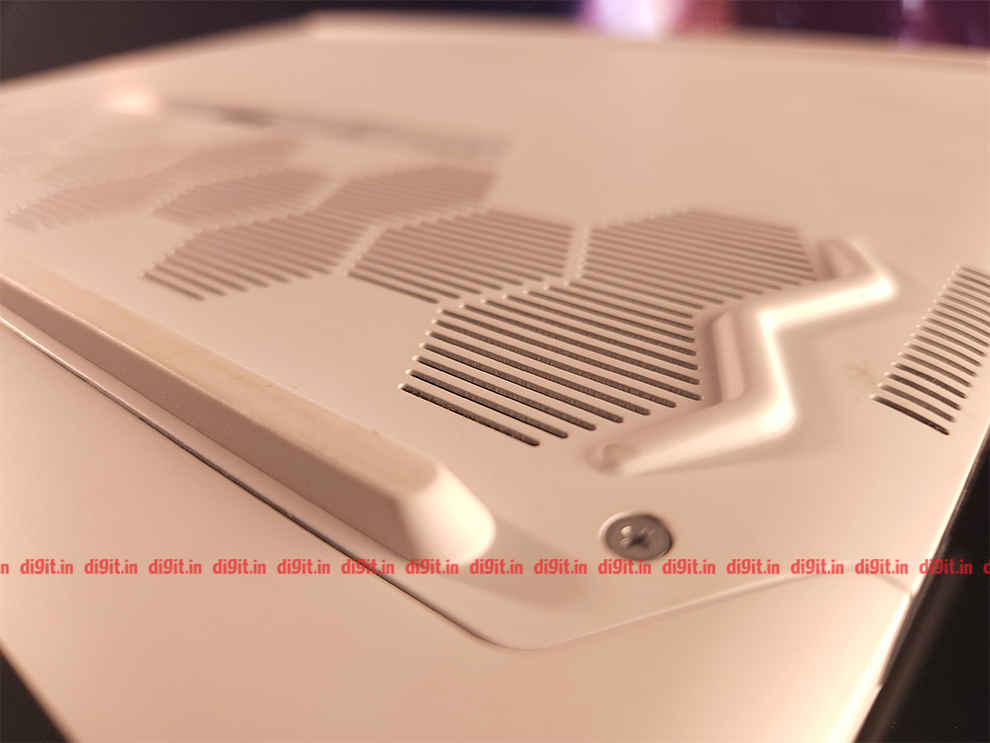 The X14 is no slouch when it comes to gaming. However, with a laptop so compact, it becomes hard to find a proper cooling solution while trying to keep the noise down. The X14 has two fans, each independently controlled to cool the CPU and GPU. While this certainly keeps the temps somewhat in check, you could be forgiven for thinking the X14 was about to take off of a runway. It does actually get that loud. But the tradeoff is worth it in our opinion, better to be loud than hot. At least in the case of a gaming laptop.
Alienware X14 Verdict
All things said and done, the Alienware X14 is an impressive machine. It's compact, looks extremely stylish, and comes with some crazy specs. However, it could have done more in the specs department for the price, since you can get similar and in some cases even better gaming performance on cheaper laptops, such as some of the ASUS TUF laptops, and even the Lenovo Gaming 3i we compared the X14 against in this review. That being said, we totally wouldn't fault you for going for this just for its looks if you have the moolah for it.
| | |
| --- | --- |
| Release Date: | |
| Market Status: | Launched |