Alienware M15x detailed review
Alienware is the high performance range of laptops and desktops by Dell, units that don't just come with great hardware but also come in a great design that is unlike anything that any other company has to offer. Its laptops, with sleek futuristic looks and features such as customizable lighting, face recognition software and a powerful dedicated graphics card, make it pretty clear they are targeted towards enthusiasts and gamers.
One look at the M15X laptop and you know it's meant to perform. It comes with an Intel Core i7 940XM processor that has 4 cores and 8 threads, with a native speed of 2.13 GHz that tops out at 3.33 GHz in Turbo mode. Couple that with the 1GB Nvidia GTX 260M graphics processor and you have a potent mix. The M15X has 6GB of DDR3 1333 MHz RAM, and a LED-backlit 15.6 inch display with full 1080p HD resolution. It truly is amazing to view HD movies and play games on this laptop, and overall, the gaming performance was pretty impressive. It would actually be unfair to call this Alienware a laptop, one could call it a mobile desktop, especially when you take into consideration a weight of close to 4 kg.
The test results were very impressive, good enough to stump a desktop of a medium to high end configuration. It gave an overall score of 12161 in 3D Mark 06 which is relatively high when you compare it to a desktop having the same GPU giving a result of 17200 in spite of having a 6 core CPU. Even real world tests impressed us with good processing performance in WinRAR compression/decompression and data transfers. It has a 7200 RPM 500GB drive for storage, but sadly no RAID. The onboard sound card is okay and the speakers are not all that impressive although they do look killer with customizable lighting.
The custom lighting allows the Alienware M15X to have different illumination for your keyboard, trackpad, speakers, the Alienware logo below the display (which also acts as the power button and hard drive activity light), the touchpad that has controls for volume, and pretty much everything else.. all controlled by the Alienware Command Center. You can also customize the lighting on the Alienware text that's written under the display and the logo on the back of the display. Another thing is that the keyboard is divided into 4 different illuminated sections so you can have 4 different colours on the keyboard merging into each other, which can also pulsate or morph. Alienware's personalization extends your very own personal tag on the base of the laptop in the form of a laser etched metal plate.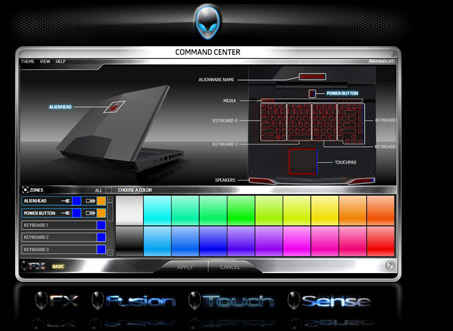 Ergonomically the laptop is very well designed, with two intake fans on both sides towards the rear on the bottom, and exhaust vents on the rear side - one for the CPU and one for the GPU. They do a good job at keeping the laptop cool, and thanks to the 9 cell battery it gets a little extra elevation towards the rear that aids airflow from the bottom. They keyboard's layout is very similar to that of regular Dell laptops and the bevelling is also very comfortable which is also exactly the same as any other Dell laptop.
It comes with enough ports, one of which includes a powered eSATA port that doubles up as a USB port as well. However it lacks a USB3.0 port – a big disappointment for such a modern laptop. Now this makes you think, how can one have all this in a laptop and not make it expensive, and well, you're right. The price of this laptop is a whopping Rs. 1,80,000 which makes it one of the most expensive laptops available in the market. It's scary to even imagine what the M15X would cost when you go to get a top configuration. One would have to think a lot about gaming mobility before investing so much into a laptop when a desktop can easily outperform it at half the price. So if you want to game, use a desktop, and if you want portability get a decent laptop. They both don't mix if you have to end up paying so much.
Great performance, great looks but a hefty price tag - that's what the Alienware M15X has to offer. Perhaps the most shocking letdowns at its price is the quality of speakers and the lack of DirectX 11 support.
Ratings:
Features: 8
Performance: 8
Build Quality: 9
Value for Money: 6
Overall: 8
Price: Rs. 1,80,000
Contact information
Website: www.dell.co.in
Phone: 1800-425-4026
Alienware M15x scores and specifications

| | |
| --- | --- |
| Brand | Alienware |
| Model | M 15x |
| Features | |
| Component Specifications | |
| Processor Model No | Core i7 940XM |
| Processor Speed (MHz) | 2.13 |
| RAM (MB) | 6144 |
| RAM Type | DDR3 |
| Memory Speed (MHz) | 1333 |
| Chipset | Intel PM 55 |
| Graphics Solution | Nvidia GTX 260M |
| Dedicated Video Memory (Y / N) | Y |
| Dedicated Video Memory Size (in MB) | 1GB |
| Audio Chipset | Intel Ibex Peak PCH |
| HDD Size (GB) | 500 |
| Optical Drive Type / Speed | DVDRW/52x |
| Bundled OS | |
| Characteristics | |
| Screen Size (Inches) | 15.6 |
| Type of LCD | LCD |
| Screen Resolution (Native) | 1920 x 1080 |
| Weight (Kg) | 4.08 |
| No of Ports (USB / FireWire) | 3, 1 |
| Connectivity (LAN / Bluetooth / WiFi) | Y / Y / Y |
| Memory Card Reader (Y/N) | Y |
| Type of Memory Cards Supported | MMC/SD/Mspro |
| Inbuilt Webcam (Y/N) | |
| Build (So 10) | |
| Body | 8 |
| Keypad | 9 |
| Lid, movables | 8 |
| Ergonomics | |
| Keypad Tactile Feedback (So 10) | 9 |
| Key Layout & Usability (So 10) | 8.5 |
| Shortcut Keys/Switches (So 10) | 8 |
| Biometrics Login (Y/N) | Y(face recognition) |
| WiFi On/Off Switch or Button (Y/N) | Y |
| Dedicated Bluetooth On/Off Switch or Button (Y/N) | N |
| Dedicated TouchPad On/Off Switch or Button (Y/N) | Y |
| Performance | |
| Synthetic Scores | |
| PC Mark Vantage | |
| Pc Mark Score | 7269 |
| Memories Score | 5206 |
| Tv and Movies Score | 4956 |
| Gaming Score | 8222 |
| Music Score | 7041 |
| Communications Score | 5617 |
| Productivity Score | 7468 |
| HDD score | 5169 |
| SiSoft Sandra 2010 Pro | |
| CPU Arithmetic (Dhrystone ALU) | 70.25 |
| CPU Arithmetic (Whetstone iSSE3) | 45.81 |
| CPU Multi-Media (Integer x8 iSSE3) | 96.68 |
| CPU Multi-Media (Floating x4 iSSE2) | 52.5 |
| HDD Index | 84.67 |
| Random Access Time | 14.48 |
| Memory bandwidth Integer | 16 |
| Memory bandwidth floating | 16.25 |
| 3D Mark 2006 | |
| CPU Score | 4144 |
| Overall Score | 12161 |
| Maxxon CineBench R10 (CPU Score) | 4.13 |
| Display Mate Tests | |
| Colour Accuracy Test (Avg) (So 10) | 8 |
| Battery Life Test (Minutes) | 180 |
| WiFi Signal Strength Test (Zone 1) | 8.5 |
| WiFi Signal Strength Test (Zone 2) | 7 |
| Real World Tests | |
| Speaker Quality (So 10) | 7 |
| HD Movie Viewing (So 10) | 9 |
| WinRAR 3.9 (Compression / Decompression) | 15/1.10 |
| File transfer Test (4 GB test file-sequential) (Sec) | 82 |
| File transfer Test (4 GB test file-assorted) (Sec) | 145 seconds |
| PassMark Wireless Mon 3.0 Signal Strength | 61% |
| PassMark Wireless Mon 3.0 bandwidth | 144 |
| WiFi Sequential transfer test (MBps) | |
| WiFi Assorted transfer test (MBps) | |
| Crysis (1280 x 1024) | 24 |
| STALKER Call Of Pripyat (1280 x 1024) | 68.45 |
| Price (Rupees) | 1,80,000 |