Alienware M11x R3 - A portable performer detailed review
Ever since Dell brought Alienware to India, it's been a mixture of equal parts of joy and anguish, for us gamers. No prizes for guessing at the cause of our merry making, but our chagrin owes itself to the juicy components we see listed for the same Alienware models on Dell's US website and the comparatively neutered innards of the Indian equivalents. However, this is not really a nit we can do anything about, and it's better to have cooler running components in 46-degree summers.
And more importantly, everything is not about raw performance is it? For laptops compactness and portability are far more important. And that's where the M11x comes in. Lets face it – an 11-inch notebook is never going to be a fire breather in benchmark terms. The M11x is the smallest gaming notebook in the Alienware range with a display size of a mere 11.6-inches, but more importantly it weighs a mere 2 kilograms and the much smaller display size means the M11x is also more portable than its 15 and 17 inch siblings. With notebook components, it is always about a compromise, for more power means more heat, and less battery life. Therefore, the M11x was intended as an option for someone who wants to play games, but also needs something that is small and portable. Throughout the time we spent with the M11x we realised one thing – this is a notebook that has a split personality. Not only is it appealing as a gaming notebook, it is also equally appealing for office users who find something equally portable to a 13.3-inch executive-class notebook, that has more processing power and more importantly a more stylish and upmarket look and feel. Style is important to most people, isn't it important for you?
Look and feel:
The M11x is a solid little thing. And while it is reasonably compact, it isn't really as small as an 11.1-inch notebook. It is comparable to a compact 12.1 or 13.3-inch laptop, but will be thicker than these, owing to the more powerful components used. Alienware has really built this thing to last. The body panels are solid and so is the notebook. Its smaller form factor makes it feel even more rigid. In typical Alienware fashion the front of the lid slant outwards and this aggressive slope combined with the headlight-shaped lights on the front of the notebook give the appearance of a sports car. Even closed the M11x looks special and makes other laptops look quite mundane. The surface has a rubberised finish that has a quality feel to it and in the 3 weeks that we used it, this finish didn't wear at all. We'd go as far as proclaiming this to be one of the best-built notebooks we've seen.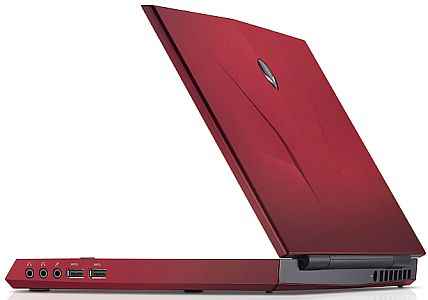 We received a russet brown piece, and this colour really gels well with the black, making for an extremely nice looking product. Flip the M11x over and you'll see a nice plate screwed into the body that can be engraved with your name when placing your order on Dell's site. A metal honeycomb grille through which a fan is visible is obviously for cooling, and from its location, this would coincide with the GPU – a component that needs the most cooling.
[RELATED_ARTICLE]The lid hinge mechanism feels solid and opens with a nice positive action but it isn't as solid feeling as the larger Alienware M11x. Open her up and you're greeted by a matte black body and a glossy black display bezel – everything looks appealing, and not overdone in the least. The palmrest is matte finished by not rough enough to be uncomfortable, quite the contrary it's not like some slick, glossy palmrests that become icky with sweat. The trackpad isn't glossy, but it's smooth and also feels quite nice to use. The mouse buttons are soft with a lot of travel when pressed but not unintuitive to use. Moving on the display, we got an RGB-LED unit, meaning it's probably quite slim, although the lid itself isn't. What we do have is a nit with is the glossy display. And another nit with the rather thick bezel that is really quite large and makes the notebook even bigger. Not big enough to become ungainly though, for the M11x is still quite portable.
Overall, quite a few people in office got attracted to the M11x, and we're not talking about gamers. It seems everyone likes the glowing alien head trademark, the funky design elements on the front of the notebook and its solid feel. The power button is also the same logo and lights up when powered on. These lights change colour automatically and cycle through some neat colours – purple, maroon, neon green and blue.
On the left side we have a single USB port, an HDMI port, a Display Port, and one RJ45 port. Above the LAN port are two memory card reader slots – one for SD cards, and the other for MS Pro cards. Beside this is a FireWire port. On the other side, there are 2 USB ports, and the audio ports – one input for a microphone and two stereo outputs for headphones/speakers. Shockingly, the M11x misses an optical drive and given the space on the right side, and the thickness, there certainly appears to be enough room on the outside. It could be components inside are very cramped owing to which the optical drive was dropped.
Unfortunately, the same compactness that made it the darling of so many intrudes when you sit down to type something on it. The keys are not very large, but they're decent enough. What isn't decent is the lap of spacing between the keys and this coupled with a lack of noticeable bevelling on each key makes the M11x quite unintuitive to type on, unless you spend time with it and get used to the cramped layout of the keys. You can get used to it however, and key feedback is good, so the keypad isn't bad – it's just a bit cramped – a function of the smaller display size. The keypad is backlit – a godsend for most people and not just gamers as many folk think. Just try to type in the wee hours in bed and you'll understand the significance of backlit keypad.
Continue reading about Alienware M11x R3, its features, and our verdict, on the next page...

Also read,
Features:
The M11x comes with a 64-bit version of Windows 7 Ultimate, and this is no surprise given it has 8 GB of RAM. Kudos to Dell for offering the highest version of Windows 7 available today. A retail copy retails for over Rs. 12,000. While Dell allows configuring on their website, one cannot configure any Alienware machines and while this isn't ideal, we did get a good configuration. The processor is an Intel Core i7 2720QM clocked at 2.2 GHz. This is a quad core part, and while a higher clocked dual core might have been much better for games, some games are becoming increasingly more "thread-aware". The M11x also has a very decent GPU – an NVIDIA GeForce GT540M – quite a potent part and one that is unseen in this screen-size segment.
With both HDMI and Display Port connects the M11x can double as your home entertainment system connected to a large flat screen TV. And here's where the lack of a Blu-Ray drive (or any sort of optical drive is felt). Also lacking is an E-SATA port, and one would think having missed an optical drive, at least E-SATA would be provided for fast installation of game ISOs – something this notebooks intended audience would certainly do. Moving on to the other bits, the webcamera is a 2-megapixel unit and quite nice, for it provides a reasonably higher resolution and is quite fast compared to some other webcameras we've seen that are laggy.
The hard drive is a 750 GB, 5,400-rpm affair. Being a gaming laptop there is a dearth of shortcut keys on the M11x although the usual gamut of shortcut functions is available via the Function key in conjunction with the F keys. Unlike Apple MacBooks that have the ability to change the intensity of the illumination of the keypad as well as the display, the M11x only allows changing the intensity of the display's backlighting. The display is WLED backlit.
Performance:
There are two ways to look at the M11x's performance. Compared to hardcore Rs. 80,000 gaming desktop, it is quite pedestrian, even horrible. But so is even a Rs. 1.6 Lakh laptop. Compared to other 11-inch notebooks it is a stupendous performer outpacing almost everything else in this size category on the market. Let's leave dramatics and such comparisons for another day.
First of all, the display is decent, and while it's glossy it performs quite well. The M11x definitely isn't up to critical colour work, but no laptop is. We found reasonably good colour rendition (for a notebook), and while the contrast is mediocre, it should suffice for gaming with a contrast ratio of 243:1, certainly at par with some of the TN panel LCD monitors that are being marketed as "gaming" monitors. We did notice some colours appear a bit washed out, particularly with brighter scenes such as sunlight. Specular highlights are also muted with less "pop".
[RELATED_ARTICLE]We used 3D Mark 11 – the latest graphic card benchmark from FutureMark Corp. and were quite surprised to see the graphics score was quite low – 805 points. A GT555M gives around 1100 points. In Far Cry 2 the M11x gives a score of 30.2 fps at maximum settings – quite playable. If you're willing to give up a bit of eye candy, you'll get around 54.24 fps at medium settings, all this at a resolution of 1366 x 768. S.T.A.L.K.E.R Call Of Pripyat gives 35.8 and 49.7 fps at max and medium settings. All this makes for a decent gaming experience, but really this is a far cry from what a Rs. 10,000 desktop graphic card will give. We ran Unigine Heaven 2.5 with DX11 and tessellation enabled and got an average fps score of 13.2 – not bad, but definitely not up to the mark meaning that on the latest games that utilise a lot of tessellation and DX11 effects, the GT540M on the M11x will struggle and you'll have to turn eye candy down to get playable frames.
Our take:
Dell India quoted us a price of Rs. 64,900 for the M11x. Unfortunately, this is the price of the base configuration, and we got a much higher configuration that would be priced higher. If we'd guess (and this is our estimate, the price would be around Rs. 80,000 – expensive, but then no notebook in this size category matches its performance.
The M11x is a very nice, well-rounded product. If you're looking for something powerful and small, and don't mind the cramped keypad that takes some getting used to, the M11x is definitely worth it. Upmarket and classy, this will suit even an executive who wants to make a somewhat unusual statement. For gamers, the waters aren't as clear, as the M11x falters with a GPU that is strictly decent. Shoehorning a GPU into such a small notebook is commendable, but the performance won't satisfy a hardcore gamer just as the lack of an optical drive will be felt by some. Still, it's a unique product, that straddles two different usage patterns, and for casual gamers and road warriors, the M11x is hard to beat.
Price: Rs 64,900
Specifications: OS: Windows 7 Ult 64-bit; CPU: Intel Core i7 2730QM (2.2 GHz); RAM: 2 x 4 GB DDR3 1333 MHz; GPU: NVIDIA GeForce GT540M; HDD: 750 GB, 5,400 rpm; display size: 11.6-inches; weight: 2 kgs
Test Scores Log sheet

| | |
| --- | --- |
| Brand | Alienware |
| Model | M11x |
| Price (Rupees) | 64900 |
| Warranty (Years) | 1 year |
| Features | |
| Component Specifications | |
| Processor Model No | Intel Core i7 2720QM |
| Processor Speed (MHz) | 2200 |
| RAM (MB) / Type / Speed (MHz) | 8192 / DDR3 / 1333 |
| Chipset | Mobile Intel QS57 Express Chipset |
| Graphics Solution | NVIDIA GeForce GT540M |
| Dedicated Video Memory (Y / N) | Y |
| Dedicated Video Memory Size (in MB) | 1536 |
| Audio Chipset | Maxx 5.1 audio |
| Storage size (in GB) | 750GB |
| Drive type (HDD/SSD/other) | HDD |
| Optical Drive Type / Speed | - |
| Bundled OS | Windows 7 Ultimate |
| 3D Stereovision support (Y / N) | N |
| Characteristics | |
| Screen Size (Inches) | 11.6-inch |
| Type of LCD | WLED Backlight |
| Screen Resolution (Native) | 1366 x 768 |
| Weight (Kg) | 2.0 Kg |
| No. of Ports (USB / FireWire) | 3 / None |
| USB 3.0 (Y/N) | N |
| Connectivity (LAN / Bluetooth / Wi-Fi) | Y/Y/Y |
| E-Sata (Y/N) | N |
| Display output (VGA/DVI/HDMI/Display Port) | N/N/Y/Y |
| Memory Card Reader (Y/N) | Y |
| Type of Memory Cards Supported | SD XC, SDHC, MMC, MS PRO, XD |
| Inbuilt Webcam (Y/N) | Y |
| Webcamera resolution (in megapixels) | 2MP |
| Battery Capacity | 4250mAh |
| Build (So 10) | |
| Body | 8.5 |
| Keypad | 7.5 |
| Lid, movables | 7.5 |
| Ergonomics and Usability | |
| Keypad Tactile Feedback (So 10) | 6.75 |
| Key Layout, bevelling, spacing & Usability (So 10) | 6 |
| Shortcut Keys/Switches (So 10) | 6 |
| Trackpad ergonomics, size, position (So 10) | 6.5 |
| Trackpad accuracy (So 10) | 6.5 |
| Biometrics (fingerprint/face) login (Y/N) | N |
| Dedicated Wi-Fi / Bluetooth / TouchPad On/Off control (Y/N) | N / N / N |
| Performance | |
| Synthetic Scores | |
| PC Mark Vantage | |
| PCMark Score | 6633 |
| Memory Score | 4148 |
| TV and Movies Score | 2182 |
| Gaming Score | 4795 |
| Music Score | 5944 |
| Communications Score | 8153 |
| Productivity Score | 5263 |
| HDD Score | 4157 |
| 3DMark 11 | |
| Graphics Score | 805 |
| Physics Score | 2861 |
| Combined Score | 777 |
| Unigine Heaven 2.5 avg / min / max (in fps) | 13.2 / 5.7 / 29.4 |
| Unigine Heaven 2.5 Score | 333 |
| Maxxon CineBench R11.5 CPU score / OpenGL | 2.21 / 36.59 |
| Real World Tests | |
| Battery Life Test (in minutes) | 156 |
| Speaker Quality (at 50% volume) (So 10) | 7.5 |
| HD Movie Viewing (using VLC) (So 10) | 7 |
| Sequential file transfer (MBps) | 44.38 |
| Non-sequential file transfer (MBps) | 27.23 |
| Games (frames per second) | |
| Far Cry 2 (1920 x 1080, max quality) | NA |
| Far Cry 2 (1366 x 768, max quality) | 30.3 |
| Far Cry 2 (1366 x 768, medium quality) | 54.24 |
| STALKER Call Of Pripyat (1920 x 1080, maximum) | NA |
| STALKER Call of Pripyat (1366 x 768, maximum) | 35.8 |
| STALKER Call of Pripyat (1366 x 768, medium) | 49.7 |
| Dirt 3 (1920 x 1080, maximum settings, 4x MSAA) | NA |
| Dirt 3 (1366 x 768, maximum settings, 4x MSAA) | 12.81 |
| Dirt 3 (1366 x 768, medium settings, MSAA off) | 48.35 |