VERDICT:
The Acer Nitro V AN515-51 offers the combination of an Intel Core i7 7700HQ with an NVIDIA GTX 1050 (4 GB) at a very attractive price point. It's this configuration and Acer's aggressive pricing that should see the Nitro V turning out to be one of the most popular gaming laptops under Rs.1 lakh.
We're glad to see more brands jump onto the gaming bandwagon in India, especially in the form of gaming laptops which have had just a few players so far. Late 2016 and early 2017 has been really good for the PC industry in terms of technological gains and the Acer Nitro V uses two of these innovations – Intel Kaby Lake 7700HQ CPU and the NVIDIA GTX 1050. Now, as we've mentioned earlier, there are multiple brands selling gaming laptops in India, so we now have see who offers the right balance of gaming performance and affordability without cutting corners.
Acer Nitro V AN515-51 Specifications
The Acer Nitro V AN515-51 (NH.Q2RSI.002) positions itself as more affordable compared to the competing brands. Let's explore that by checking out the specifications of the review unit that we've received. The exact configuration can be seen selling on Flipkart for Rs.89,990.
Acer Nitro V AN515-51 Specifications

Processor

7700HQ 2.8 GHz

Platform

HM175

RAM FSB

2400 MHz

RAM Capacity

16 GB

Screen Size

15.6–inches

Screen Size

1920×1080

GPU

1050 4 GB

SSD

Kingston SSDNow 128GB

HDD

WD Blue 1 TB 5400 RPM

Ethernet

Realtek RTL8168E

Wi-Fi

Qualcomm Atheros QCNFA344A

Audio

Realtek (4x 2W + 1x 3W Speakers)

Battery

3090mAh 46 Whr @17.2v

AC Adapter

135 W

Weight

2.7 Kg
These make for a fairly good feature set for the given pricing as most of the competition seems to charge a little extra, we need to have a look inside the Acer Nitro V AN515-51 to learn more about its build quality and to see if the reduced pricing has led to any corners cut.
Chassis Build
Let's start off with the bottom assembly of the Acer Nitro V AN515-51. We see that Acer has given provision for two hatches, the one on the right opens up to the RAM DIMMs and the one of the left is for the hard drive. This particular unit also comes with an M.2 SSD from Kingston and that is inaccessible via either of these hatches. So if you wanted more SSD storage capacity, to say, shift some of your more games with massive levels, then upgrading to a higher capacity SSD will require you to void the warranty and open the entire base panel.
There's no dearth of intake vents on the bottom as we can see in the image below and the exhaust is towards the rear. In either case, this is a better approach to some of the other configurations that we've seen wherein the exhaust flows out via the sides and smacks you on your hands. Towards the lower end of the image you can see two sets of vents for the speakers, so we're either looking at 2 or 4 speakers in total, we'll see the actual configuration in a while. And lastly, the rubber feet are quite large to provide ample amount of grip and seem to be glued pretty well to the base.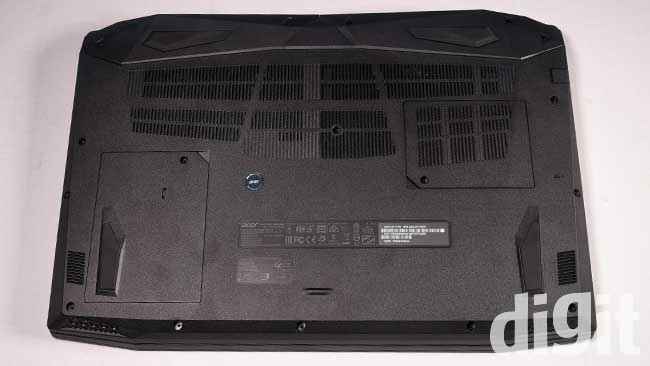 Once we've opened the chassis, things get a lot clearer. Let's begin with an overview. They Acer Nitro V AN515-51 uses a unified cooler consisting of two heatpipes to channel heat away from the GPU and the CPU. It's not ideal as we prefer individual cooling for both components to prevent one heating the other unnecessarily. However, we can see why Acer has gone for the unified design owing to the lower price point.
The mainboard doesn't take up much space and the positioning of the CPU and GPU towards the top i.e. away from your hands is ideal to have a lower touch temperature. The lower left corner is occupied by the HDD which has been removed in this image. We feel that the access hatch for the RAM could have been widened to accommodate the SSD as well since they're so close to each other.
Towards the top left, we see the daughterboard for the USB and audio I/O. Since we're operating off battery power, having the audio signal cables next to the power input seems fine. However, they could have been routed better in this case.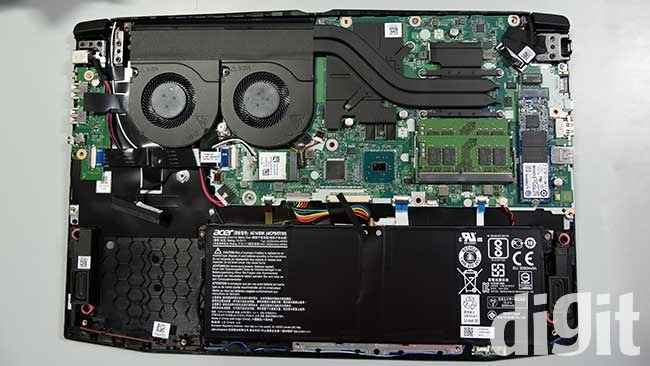 We see a fairly simple VRM circuitry on the laptop. With most of the heavy lifting taken care off by the voltage adapter and the lack of OC ability, a 3+1 phase VRM (OnSemi NCP81205) as we see here is sufficient. There's an ENE KB9022Q D for the SIO which seems to be an upgrade over the KB9012Q that has been really common thus far. Right beside it is the HM175 PCH which appears to be naked without any sort of protection. While there is no need for protection as long as the laptop chassis remains closed, gaming laptops appeal to the enthusiast crowd who're more likely to perform manual upgrades. With this in mind, a simple shield over the PCH would have been ideal.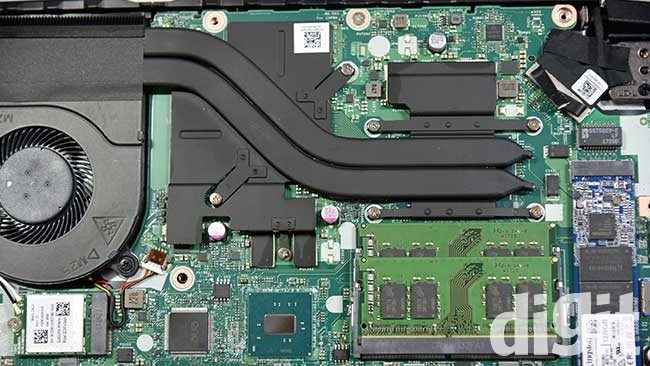 Moving on to the exhaust vents for the heatsink, we find a fairly common high-density fin structure. The two fan system will certainly help with faster heat dissipation.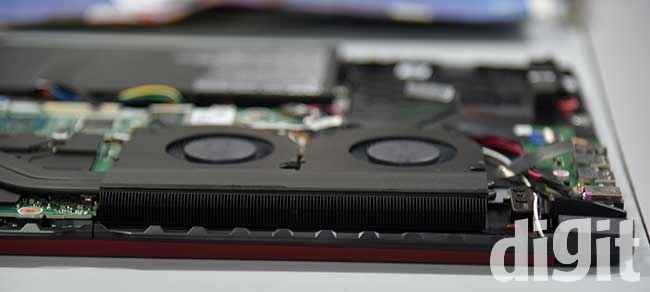 The hinge appears to be heavy duty with three screws to secure it on either end. The webcam I/O and display FRC cables are routed through either hinge with the FRC being rolled up to provide durability. Openly kept FRC often tends to crinkle and tear over years of usage and rolling it up and putting it within a sheath will certainly help. We noticed next to no wobbling of the display panel when opened up, so that speaks for the quality of the hinge. We can't say what will happen in the long run but this is one of the better ones we've seen.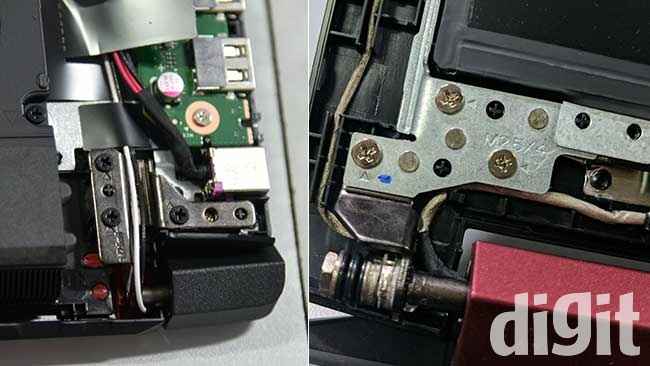 The speakers on the other hand, do disappoint a little in terms of audio quality. What we liked was the down firing setup is better for maintaining an audible output when used on hard surfaces but keep it on your lap and there's the obvious muffling that comes into play. To avoid this, we see grilles on the front which channel audio from the speakers should you place the laptop on your lap. Perhaps, adding an extra driver for the lower frequencies would have helped with the overall sound quality.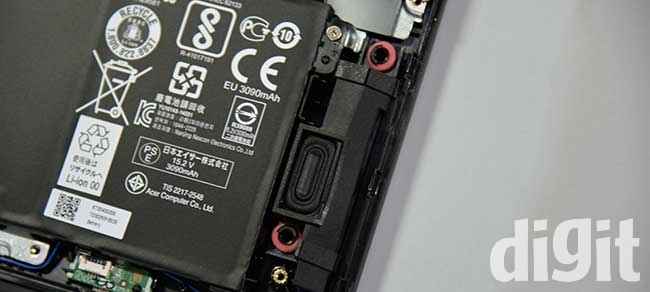 Lastly, we have the battery pack which is rated for 3090 mAh which makes it 46 watt-hour at 17.2 volts. This happens to be pretty standard for all the laptops in this segment. Overall, we've seen that the Acer Nitro V AN515-51 has a pretty standard design that most laptops in this segment feature.
Keyboard and Touchpad
The keys on the Acer Nitro V AN515-51 are chiclet with a convenient amount of spacing between them. This 19 mm standard is the optimal spacing that we look for as it results in a lot fewer mistakes creeping in while typing. The keys aren't RGB and we really couldn't care about RGB at this point. It brings a level of customisability that is appreaciated by quite a lot of people but a simple backlight like we see here is just fine.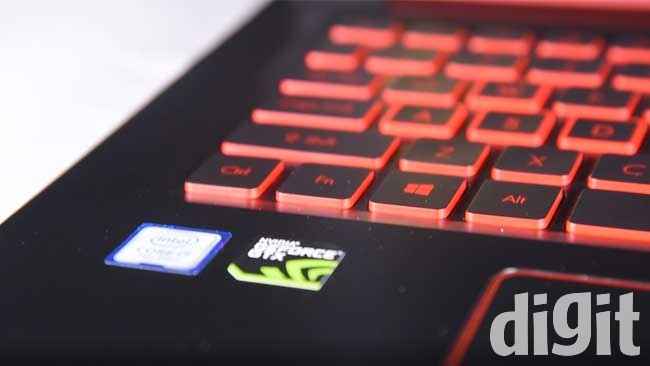 As for the TouchPad, it's 10.6 cms wide and 7.8 cms tall with no separate physical buttons. The texture is a smooth matte finish that doesn't catch your skin should your finger get a little sweaty. The entire assembly is quite rigid with very little flexing. We'd say it's just enough to ensure you don't end up with a cracked chassis after a minor tumble. We experienced no issues while using different gestures on the TrackPad during our everyday testing.
I/O ports
It's nice to see USB Type-C ports becoming more common on laptops these days regardless of the class or segment. On the left side of the Acer Nitro V AN515-51 we see a Gigabit Ethernet port with a spring hatch, the Type-C USB port, an HDMI port, USB 3.1 port and a card reader slot. On the other side are two USB ports, a 3.5 mm audio jack and the power input.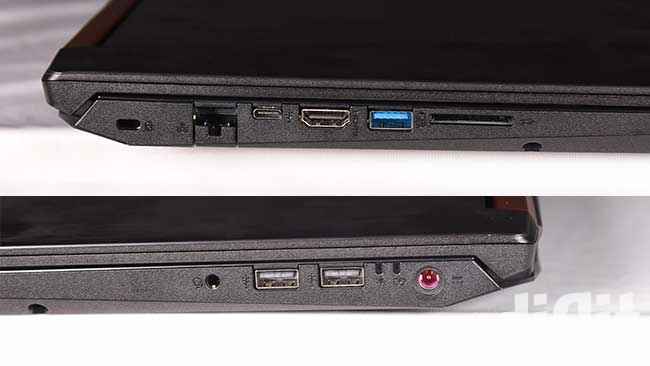 We prefer I/O ports to be gold plated to avoid corrosion and most of the ports on the Nitro V aren't, however, the audio jack is, which is a good thing to have since a corrosion on the audio jack becomes easily noticeable when you plug something in. Also, the SD card reader slot didn't come with a cover in our review unit. We're unaware if the retail unit comes with one.
Display
Like many Acer laptops, the Nitro V AN515-51 we have features a BOE Hydis panel (NV156FHM-N43). In this case, it's an a-Si panel so we're assuming it to be of similar calibre as we've seen earlier. Spec-wise, this means it'll have a 800:1 contrast ratio and a 30 ms (Tr+Td) response time. As for the backlight, this particular panel uses a WLED lamp. It should be noted that not all AN515-51 will come with the same panel, we've observed that Acer also uses Chi Mei panels in the same model.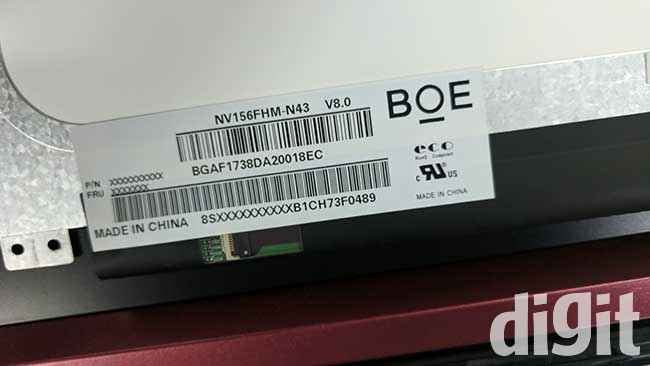 The viewing angles are pretty good and the contrast levels make six of the topmost of the blocks in Lagom.nl's Black Level test page appear the same. However, the White Saturation page had each and every block is clearly different from the others. It has a vertical stripe RGB sub-pixel layout and Acer's default rendering ensures a smooth and crisp text across the screen.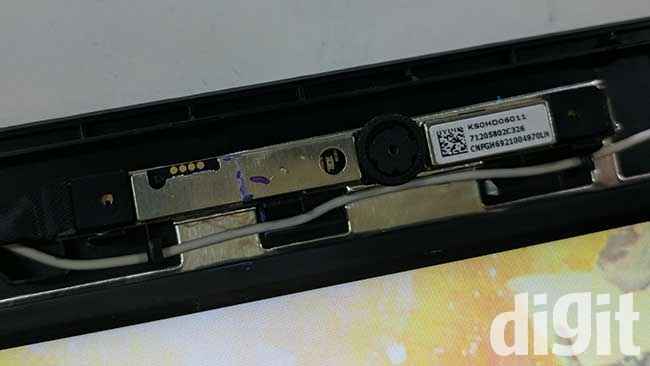 The OEM for the webcam is Chicony and we couldn't get any more details regarding the specific model since it isn't listed anywhere. All we can say is that it does capture 720p images and video with a 24-bit depth and a lot of noise as you can see from the image captured below.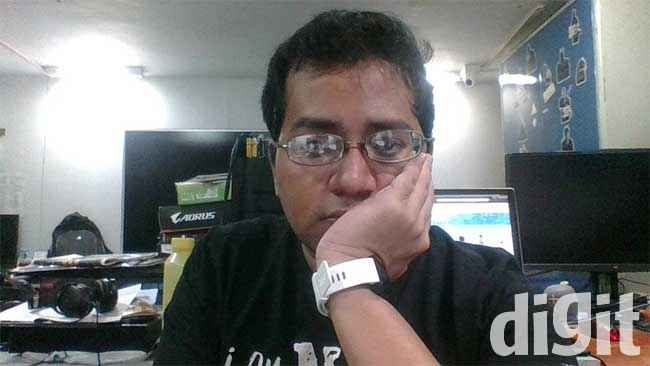 The display lid goes back quite a bit, we'd say it's about 140 degrees. This adds a level of flexibility with usage scenarios as you can pretty much lay down with the laptop on your lap and still have the display panel remain upright. Perfect for a few casual gaming sessions on a lazy sunday when getting out of bed is least optimal.

The backside of the panel is supported by a layer of thick foam which aside from being sturdy also allows for a just about enough flex. There is no fancy illuminated logo on the back so we don't see any extra wires running across the middle like we've seen with the Predator models.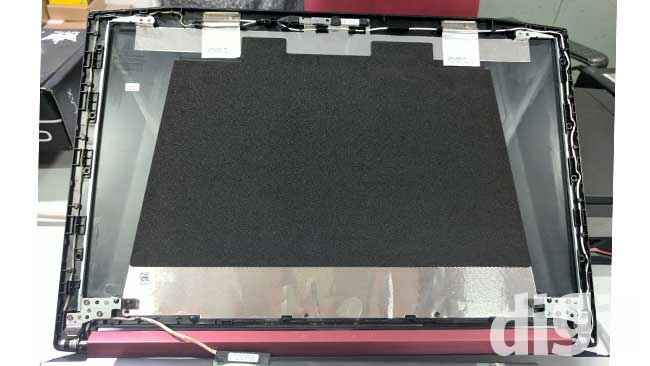 We didn't see any bleeding across the panel, be it spots or a huge crescent creeping in from one of the sides. However, colour accuracy isn't high enough that you'd end up using this for Adobe Photoshop or any other multimedia editing scenario. Overall, the panel is quite average for an IPS panel. It's anyday better than most TN and VA panels but some of the more expensive models tend to have lower refresh rates than this one.
Performance
We're looking at a very common configuration with the Acer Nitro V AN515-51. The Intel Core i7 7700HQ coupled with 16 GB of DDR4 RAM clocked at 2400 MHz ensure a pretty high headroom for most mundane tasks. Throw in an NVIDIA GTX 1050 (4 GB) and you have a gaming laptop that can crunch out upwards of 40 FPS at High settings in most AAA games. The more recent ones tend to bring the 1050 down to its knees but we always advise a little bit to tweaking to bring out the most of your hardware.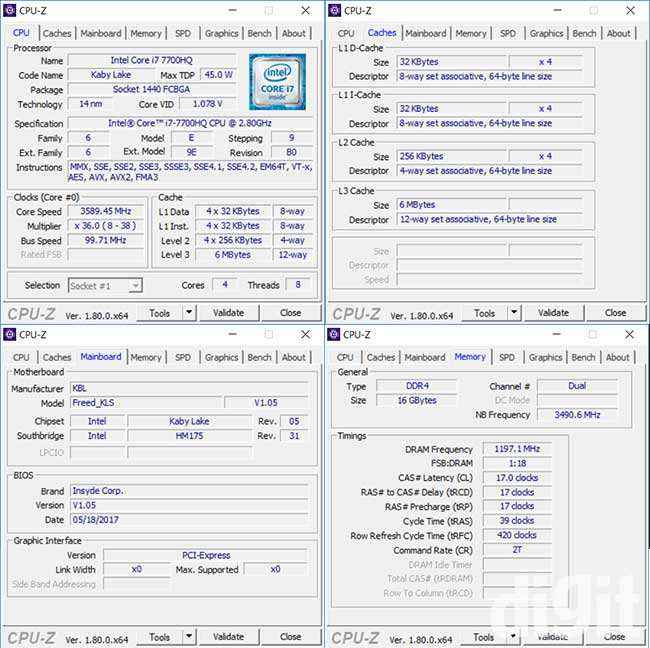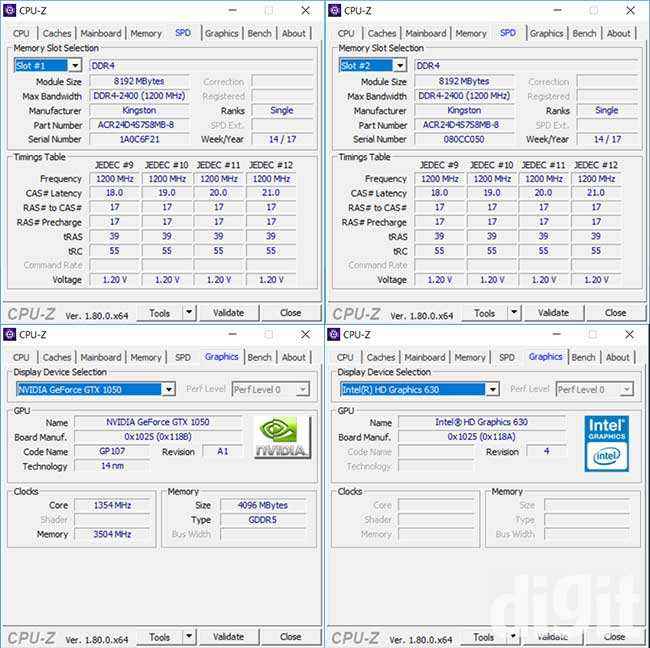 We started off with CineBench R11.5 and R15 and the Acer Nitro V AN515-51 scored 8.13 and 733 in those benchmarks, respectively. WinRAR's compression benchmark scored 7822 KB/s which is very similar to the MSI GE62 7RE that we've tested earlier. As for PCMark8, we used Accelerated to leverage the GPU and ended up with a score of 4985 on PCMark8 Creative (Acc.), 3988 in PCMark8 Home (Acc.) and 4917 in PCMark8 Work (Acc.). It should be noted that there was a validation issue with the drivers obtained from Acer's website but the scores lined up with similar configuration from competing models, so all's well.
Storage
The Kingston SSDNow 128 GB managed to get 445.9 MB/s for read speeds and 361.9 MB/s for write speeds. Notably, 4K speeds were pretty good for a normal SSD. It's nowhere close to NVMe speeds but in its class, you're not going to find any NVMe SSDs anyways. Overall, we'd say that the SSD performs at par with most in its speed class.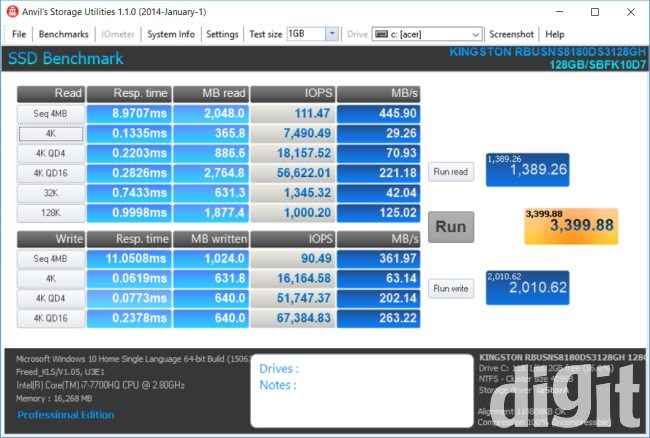 Also, 128 GB is enough for your OS and a few extra apps, but as we mentioned earlier, 256 GB is what we prefer as the minimum. The other drive is a 1 TB WD Blue rated for 5400 RPM and we aren't going to bother with it since there's hardly ever any difference in performance between 5400 RPM SKUs. Almost all of them feature a similar cache capacity and exhibit similar performance characteristics across different file sizes.
SD Card Reader
For the SD card reader, we use a 32 GB Lexar 1000x UHS-II SD card which easily gives 135 MB/s read speeds and 55 MB/s write speeds on USB 3.0 SD card readers and on the Acer Nitro V AN515-51 we managed to get about 32 MB/s. Though not exceptional, it's more than sufficient to get the job done.
Wi-Fi
For Wi-Fi and Bluetooth, the Acer Nitro V AN515-51 makes use of the Qualcom Atheros QCNFA344A. It's a dual band 802.11ac adapter that has a peak throughput of 300 Mb/s on the 'n' band and 867 Mb/s on the 'ac' band. We used iPerf to see how well the add-on card fared over the 'ac' band. We managed to get 514 Mbps on the throughput and about 76 Mbps via a single stream which is more than sufficient for gaming or otherwise.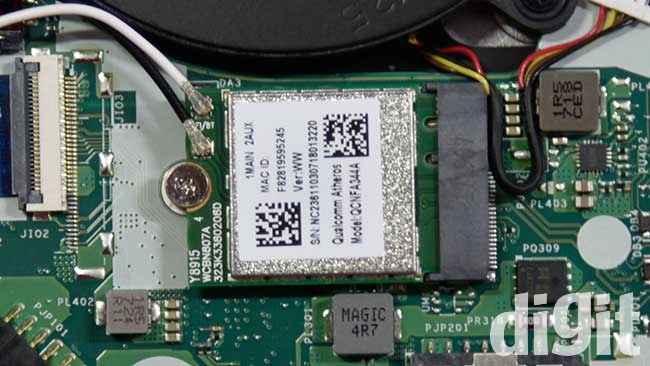 It doesn't feature a separate QoS solution to prioritise traffic, but you can always install one yourself and get the job done.
Gaming
A combination of the Intel Core i7 7700HQ with the NVIDIA GTX 1050 is quite powerful, however, a better configuration would be to have the Core i5 7300HQ with an NVIDIA GTX 1050 Ti. Surprisingly, Acer has that model available for Rs.74,999 which makes it the lowest priced laptop with an NVIDIA GTX 1050 Ti. Coming back to what we have on hand, we started with the trusty 3DMark with the latest NVIDIA drivers (384.94). We managed to get 5514 in Fire Strike 1.1, 2659 in Fire Strike Extreme and 1228 in Fire Strike Ultra. With the NVIDIA GTX 1050 set to 1354 MHz, these scores are at par and sometimes even higher by a few points.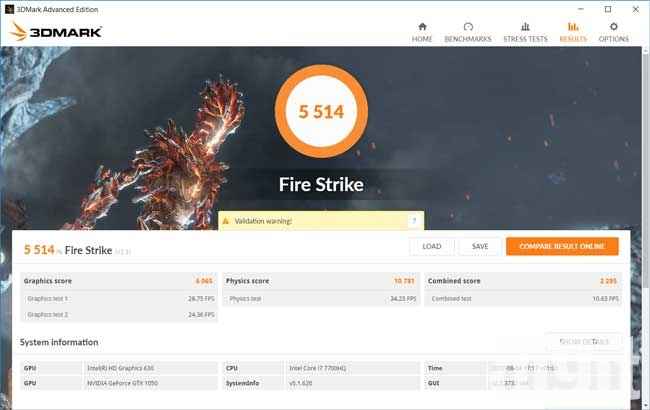 In TimeSpy, we scored 1790 and for the sake of reference, we also ran Ice Storm, Cloud Gate and Sky Diver. Our scores were 101023, 20261 and 17007, respectively.
Moving on to games, Rise of the Tomb Raider had a pretty decent on both, high and medium settings. On high, we got 46.68 and on medium it was 50.84 FPS. With DOOM, we got 45 FPS in Ultra and in GTA V on High, we managed to get 66 FPS.
Pricing
There are quite a few units in the market that provide a similar hardware configuration. There's the MSI GP62 7RDX for Rs.112,990, the Dell Inspiron 7567 for Rs.115,469, ASUS ROG GL553VD for Rs.87,299, Lenovo Legion Y520-15IKBN at Rs.92,490 and HP Omen 15 AX250TX for Rs.106,990. All of these feature the Intel Core i7 7700HQ, NVIDIA GTX 1050 4 GB, 128 GB SSD and a 1 TB hard drive. The ASUS GL553VD is the closest that comes to this configuration but it has only 8 GB of RAM against the 16 GB that the Acer Nitro V AN515-51 has. The Legion Y520 has the same configuration as the ASUS SKU but it costs a little extra and almost every other competing laptop costs Rs.17,000 or more. Essentially, we're hard pressed to find a better deal than the Acer Nitro V AN515-51 for its configuration. Moreover, the other Nitro V SKU has a 1050 Ti at 75K which was unbeatable in terms of pricing at the time of writing this review.
Verdict
The Acer Nitro V AN515-51 offers the combination of an Intel Core i7 7700HQ with an NVIDIA GTX 1050 (4 GB) at a very attractive price point. It's this configuration and Acer's aggressive pricing that should see the Nitro V turning out to be one of the most popular gaming laptops under Rs.1 lakh. Sure, most of the components perform at par with what the competition has, be it in terms of compute performance or gaming performance, and Acer could certainly have worked out on a few improvements to the build quality (such as widening the RAM access hatch and shielding the PCH) that we've mentioned throughout the review. But all those would be considered as nitpicking giving how low Acer is pricing the Nitro V AN515-51. In fact, we bid you the best of luck to find a better deal than the Acer Nitro V AN515-51 at Rs.89,990.