Philips Sports Earhook Headset (SHQ 3205) detailed review
Phillips sports earhook headset gets you engrossed in your workouts so deeply, that you can't afford to lose motivation even for a while. If not for that amazing sound would keep you going, you'd never feel that they aren't there. To analyze better, map out the manifestations down the mainstream.
If you are already sold on the product after reading our verdict, you can directly head to the store and buy it by clicking on this link- Amazon.in
Build & Design
From a patent adjustable earhook that gives a secure fit to the awesome-threesome provisions in the silicone ear cap sizes for an optimal fit, SHQ 3205 offers the best of both worlds. While, the skillfully designed silicone cap is so soft, that it fits comfortably in your ears. Moreover, the headsets come with a cable clip for easy use along with an additional pouch for good storage and ample protection. Also, the cable which facilitates a reflective stopper, is reinforced with Kevlar for ultimate durability. Possessing both, sweat resistant and rain-proof properties, the pair is ideal for any workout. Furthermore, the headphones are extremely light and comfortable, giving you a superb fit.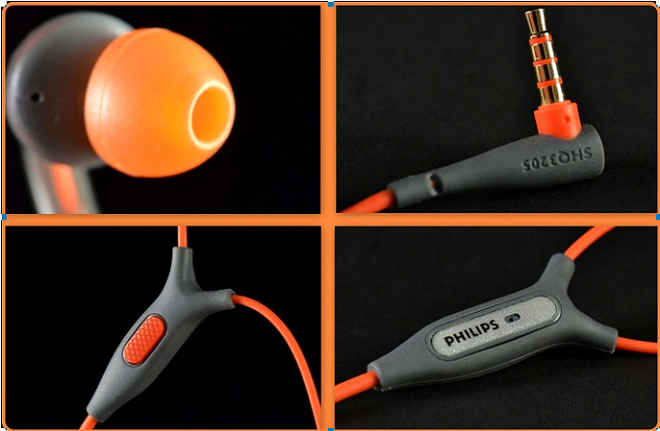 Performance
If you strive for the grandeur of audiophile accuracy and definition, you aren't likely to get hands on a headphone in this price range. The SHQ 3205 provides such a fly-by replica of the finer aspects, that you're deemed getting impressed by the sound signature. And if the instrumental freak in you seeks a warm and balanced approach to music, these headphones do their part with easy access to all genres.
Bass is thick and powerful, along with the upper register that is clear enough to keep that sharp sibilance at bay, which is significantly found in other cheaper models…the SHQ3205 seems to withstand the test of time with much ease. Moreover, the flat frontal plane of SHQ3205 ideally facilitates a good run or hike with an appealing background. However, the sound could break down instantly with a critical ear. Also, complex electronic music is likely to lose information from their swirling depths, with synthesizer patches and effects being indeterminate.
From simple rock numbers to the pop-tastic ones, SHQ3205 turns the best when there were fewer details to miss. Despite the roll-offs in the high end at the sparkle frequencies, there's all the more enough clarity in the midrange, portraying the guitar and vocals with nice presence, while bringing abundance of life to percussions. The lathed-over soothing sound is particularly proficient at furnishing smoky and rich electric instruments. Also, the SHQ3205 works equally well with hip-hops, conducting powerful force in the full and smooth bass. The bass isn't that tight or refined, but has volumes of punch. However, the only downfall is the midrange and treble that might tend to muddy soon in the light of 60Hz grooves.
So, if you're seeking extremely great value despite having to bang on your budget, Philips SHQ3205 has that sound pathway to get along!
You can buy the Philips Sports Earhook Headset (SHQ 3205) at Amazon.in