Fitbit Force Wireless Activity+Sleep Wristband detailed review
Force being the latest activity tracking device of Fitbit, seems to enhance the company's previous offerings by facilitating a host of sensors, onboard programs, information-dense screen and fabulous wireless connectivity into a phenomenal wearable package. To analyze better, map out the manifestations down the mainstream:-
If you are already sold on the product after reading our verdict, you can directly head to the store and buy it by clicking on this link-.Liveyoursport.com
Build & Design
A medium-sized activity monitor, Fitbit Force features a flat profile with rather squared edges than a curved surface. From bold black to subtle slate, it is available in the best of both worlds. No pod is enclosed in the rubberized strap, but rather an in-built high-quality OLED display with smoked lens that shows information with a mere tap on a single button at the side, which is also used to navigate between the screens. Unlike its brethren Flex, that was waterproof, Force fails to fend off water during your pool activities. It is not only very easy to slip on and off, but also feels quite light and comfortable to be worn day and night. Moreover, it's pretty convenient to adjust the band with it's clasp. Best part? It fits your wrist so superbly that it wouldn't fall off your wrist even during the most intense activities. Overall, the band fairly makes for a fine watch and a decent fitness tracker with intuitive buttons that give you a superb feel and touch.
Features
Akin to the various activity trackers that have been emerging in competition, Fitbit Force is no less either, in tracing the time, seeing your step count, calculating your calories burned, figuring out your flight of stairs climbed and distance travelled and analyzing your sleep sessions or 'active minutes' for that matter. In addition to that, Fitbit Force facilitates a stopwatch along with a Caller ID support for iOS 7-running iPhones, for when you receive a call, Force vibrates, displaying the name of the caller. Using the very same accelerometer that tracks your movements, an in built vibration motor alerts you when alarms go off. Moreover, wireless syncing for data is possible in real-time through the Fitbit app via Bluetooth 4.0 with your iPhone or some selected Android smartphones like the Samsung Galaxy S3, S4 and Note 2, that currently support the feature. Akin to the earlier Fitbits, Force comes with a USB dongle in the box to sync data with a Mac or PC.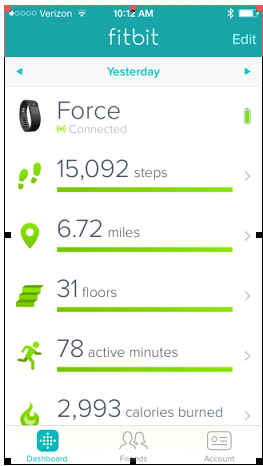 The Apple Of Apps
From the software perspective, Fitbit has to offer through Force, a comprehensive platform that not only reviews data and information feeds from the other apps, but also corresponds to a fast growing community of users. Pressing that single button on the side of the display, shall trigger an animation that reveals your all workout times. After six seconds of elapse, the animation gets reverses and the display turns blank. The Fitbit site presents an attractive dashboard through which you can not only track the entire information that is monitored by the Force, but also that isn't – for instance, your weight could be added as well your calorie intake could be tracked. Else, if you have a Fitbit Aria scale that utilizes Wi-Fi, your weight is to be auto logged each time you step on.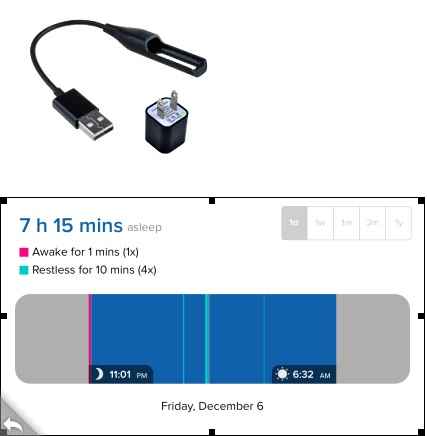 And akin to the Jawbone Up, Fitbit Force does adequate justice in tracking your sleep. It even shows for, how long you were awake or restless and sleeping. However, it doesn't break your sleep down into light and deep cycles as in the manner Jawbone does. Nor can it set up vibrating alarms to let you wake automatically at optimal moments in your sleep cycle like Up.
Best Battery 'but' Charging Challenges
With an ability to sustain for around 10-12 days after a full charge, Fitbit Force calls for a stunning battery life. Since it makes use of Fibit's proprietary cradle for charging, so you're deemed to take hold of the charger as for tit-bits are quite easy to misplace. Also, from a design sensibility point of view, the proprietary charging cable should seem offensive. It doesn't look good and even plugging into the band would give you a rigid feeling. Indeed, a let back to the nice charging experience associated with it's brethren Fitbit One.
So if you're seeking a motivating activity tracker before being forced to swap your choicest pair of denims, Fitbit Force is undoubtedly the perfect partner for your active wrists to slip on!
Where to buy: Liveyoursport.com