DataTraveller microDuo 3C detailed review
Features
The Kingston DataTraveler microDuo 3C sports dual connectors. A USB 3.1 Gen 1 for PC's or Laptop's Universal Serial Bus connectivity and a USB Type C to connect to your handheld devices for USB on the go. It comes in 16GB, 32GB and 64GB capacities. For the purpose of this review, we got our hands on the 32GB variant.
Build and Design
The form factor of this flash drive is compact and same as seen in the microDuo 3.0 with the dimensions of 29.94mm x 16.60mm x 8.44mm, which is nearly the size of any average adult human toe. The Type C connector is protected by a white translucent plastic hardcover.The cover folds up 90 degrees to expose the Type C connector, with a tiny locking notch to keep the cover closed when not in use.
Usability
The flash drive is very user-friendly owing to its miniature (Pico) form factor. The drive when plugged into the USB slot is very difficult to remove, firstly due to its small size. And secondly due to its very fitting USB Type A. The size maybe an advantage or a liability depending on your usage, like if you sometimes mess up desk or if you put it inside your pant pockets, then it might be very difficult to find the drive.
How we tested?
Before talking about any performance indexes, let us shed some light on our testing procedures. We use both benchmarking softwares as well as manual file transfer. The benchmarking software like ATTO disk benchmark, Crystal Disk, Sandra Soft or HD Tune Pro, however good they maybe, can provide with an indicative score only, as they just show the drives capability to achieve its published speed or not. So we use manual transfer of files to get a little more real world data. However, this method too can't yield concrete data. For manual file transfer we use two data types - assorted and sequential data. Assorted data is a folder containing various files types like songs, documents, videos etc., and are of different sizes too. While sequential data is just a single large file of a predecided format and it cannot be a zip folder. So we use two data packets of assorted data a 4GB one and an 8GB one. The time taken to transfer each data packet is noted and the transfer rate is calculated from there. This process of transfer is repeated at least two times and an approximate transfer rate is calculated. The same is done for the sequential data transfer rate and the maximum speed of transfer is noted.
Performance
While testing we couldn't help noticing the absence of an USB 3.1 Gen 2 which could have increased the bandwidth to twice the standard 5Gbps in the Gen 1 type. But the USB 3.1 even though a Gen 1 didn't do much for the transfer rate as the average write speed for 4GB of assorted data, was 2.64Mbps against the Kingston DataTraveler 3.0 G3 Ultimate which had a speed of 3.62Mbps. Also for manual sequential data transfer on the microDuo 3C the maximum read/write speeds were 115.70/23.81Mbps (that can translated to 1 min 26 secs for transferring a 2GB video file into the flash drive) against 118.51/25.61mbps (that can translated to 1 min 19 secs for transferring a 2GB video file into the flash drive) of G3 Ultimate. The transfer rate at such less transfer volume may not matter much, but for transferring a large volume of files it is very significant. But the good news is that the drive is one of the fastest formatting one which took only 6.9 seconds, with data filled up to 21GB.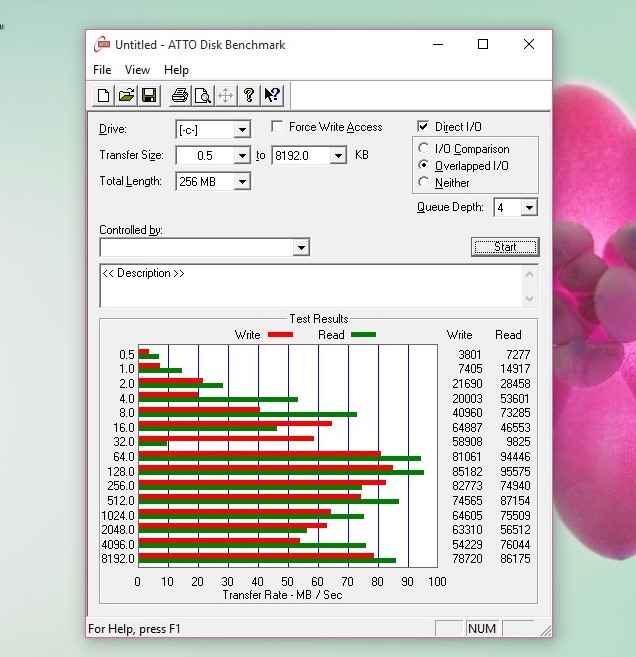 Atto Benchmark Results - Kingston 32 GB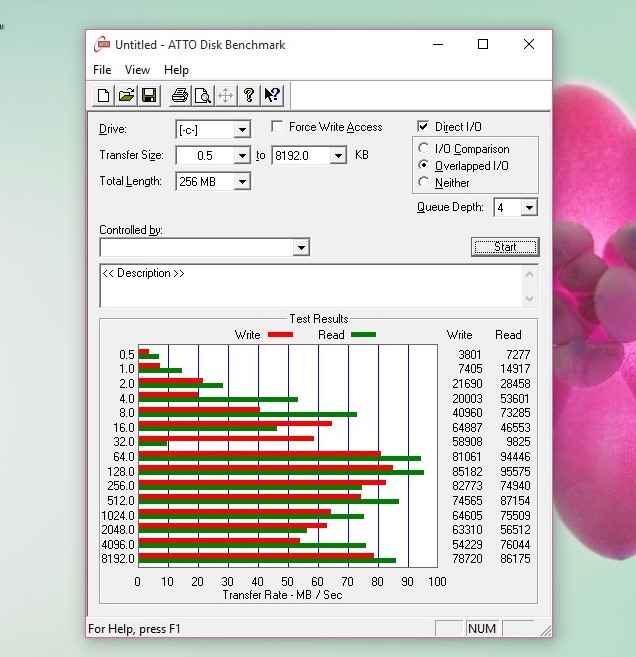 Atto Benchmark Results - Kingston DT Ultimate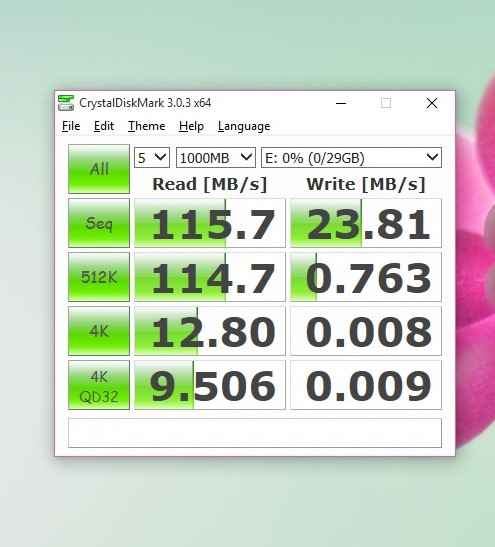 Crystal Disk Mark Results - Kingston 32 GB
Crystal Disk Mark - Kingston DT Ultimate
Conclusion
The microDuo 3C couldn't keep up with its predecessor like the G3 Ultimate even though it has an generation update from USB 3.0 of the G3 to a USB 3.1. So all in all apart from the compact, Pico form factor which is very handy and the USB Type C, the flash drive doesn't impress us with its data transfer capabilities, even if it is an USB 3.1. The flash drive is roughly priced around ₹1126, which is far less compared to the other competitors available in the market.