Ultimate Ears Wonderboom detailed review
Ultimate Ears (UE) has always possessed a penchant for designing very able speakers in playful avatars. Take the Boom and Roll line of speakers, for instance, and you immediately associate the brand with bright colours, quirky designs, a go-anywhere approach and reliable audio quality.
Joining the UE Boom and Roll in India now is the UE Wonderboom – a rather tiny speaker with an unassuming stance upon first sight. Over the course of one week, we found a lot of reasons to like it, and maybe a thing or two that we hoped it wouldn't have missed out on.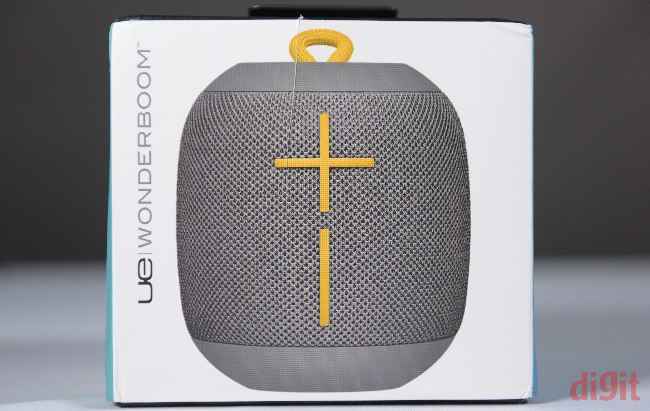 DESIGN
The UE Wonderboom continues on the company's philosophy of designing delightful speakers that bring a dash of colour to austere desks. As with all of UE's products, the Wonderboom is also available in a wide range of colours, and although many may find it dull, I quite like the muted statement that the grey-yellow colour combination makes. It is sporty, and still doesn't look out of place on a work desk.
In terms of the design and layout, the UE Wonderboom feels like a stubby version of the taller UE Boom. Understandably, it is aimed at customers looking for a shorter alternative to the Boom that still plays loud. The speaker is designed to be water resistant, but you cannot play music when in water. It is meant to survive the accidental drop, and to rinse dirt off its fabric mesh without any fear of damaging it.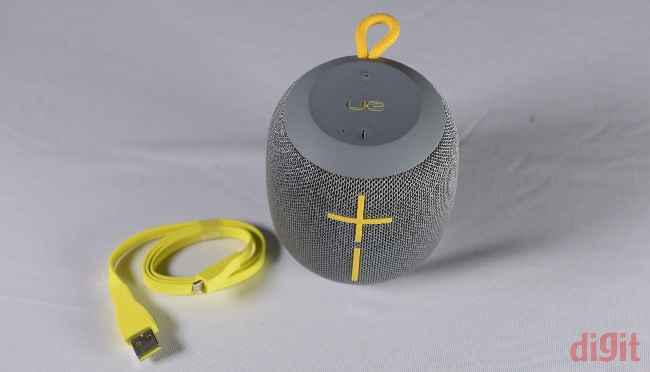 The cylindrical body is quite fat, and includes the signature Ultimate Ears fabric mesh that now comes in six colours. The two volume buttons are stitched out in contrasting colours and large symbols, with the power and pairing buttons to the top, and a flap to the edge strip of the bottom panel including a microUSB charging port. Everything is very typically UE here, and the only glaring absence here is a 3.5mm aux port for wired connectivity.
The Wonderboom feels very solidly built, and its body weight of 425 grams reaffirm the sturdiness. You also get a loop that serves a similar purpose as the bungee on the UE Roll, and you can put it on a hook or a clip at the back of your backpack. On overall terms, the UE Wonderboom is an aesthetically pleasing speaker in the way that all of UE's speakers have been. It is cheerful, young and sturdy, which is what we'd expected it to be.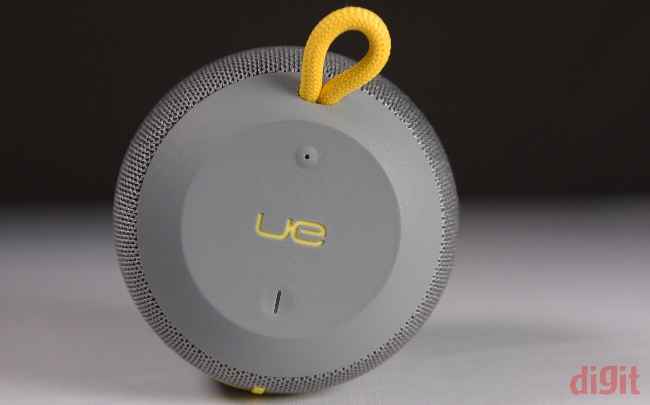 AUDIO PERFORMANCE
The UE Wonderboom is a fairly solid performer for its pricing, and notably provides better low-frequency performance than the UE Roll 2. The lows produced here is strong, reasonably well detailed and clean, with slight audible distortions in the higher end of the bass frequencies. It manages to hold composure for most bass-laden tracks, which can be a potentially deciding factor in terms of how it performs in sales numbers.
The mid-range is where the UE Wonderboom seems a bit weak. The range of vocal intricacies are not very elaborate, although it is still among the best in its class. It holds its composure fairly well in terms of the pitch, but misses out on finer details, and the fact that the mid frequencies here are slightly attenuated in comparison to the highs and lows.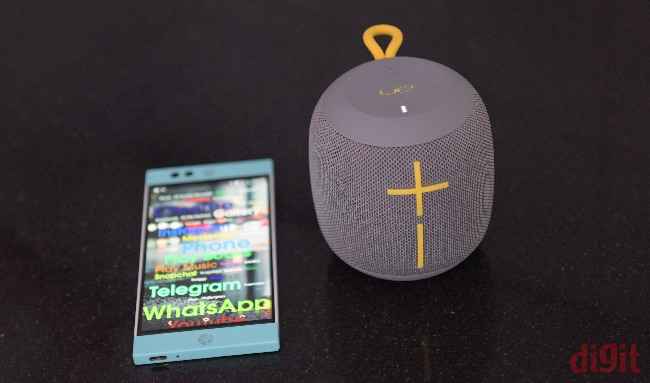 The highs, meanwhile, are bright, crisp and accurate. The gain for the highs is well controlled, and fine hi-hat rolls do not sound shrill or imbalanced. The overall range of instruments are well expressed, and the Wonderboom does well to churn out omnidirectional audio, thanks to its speaker design.
The overall sound is quite clean, and the Wonderboom is also impressively loud. It is this that makes the Wonderboom a great mini Bluetooth speaker for house parties. It plays louder and clearer than the UE Roll 2, along with focusing on delivering deep bass and enjoyable highs. All of these combine to make the Wonderboom quite a commendable proposition based on its size and price.
CONNECTIVITY and BATTERY LIFE
The UE Wonderboom can only connect to sources via Bluetooth and there are no options for wired connectivity, which hampers its versatility quite a bit. Bluetooth connectivity is rated at 100 feet, and in the 40 feet of connectivity that we tested it, there were no aberrations.
You can also pair two Wonderbooms with each other to get wireless stereo audio – a feature that has been uniformly present in most of UE's speakers. We didn't get to test it, but there's no reason for it to not work well.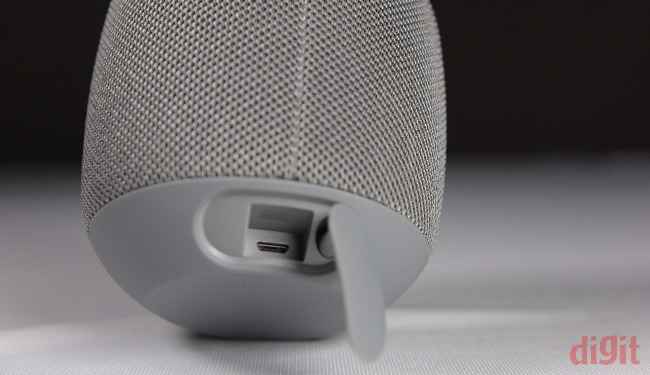 The UE Wonderboom lasted for a little over 10 hours of music playback. Idle discharge is minimal, which is another positive nod to its overall performance. Charging it fully takes about 50 minutes, which is more than acceptable.
BOTTOMLINE
The UE Wonderboom is a highly recommendable speaker for its price. At Rs. 7,995, the Wonderboom produces good audio clarity, and the slight bias for low frequencies add a touch of depth to how it sounds. It is a bit heavy for its size, but the only real thing we missed here is a speakerphone, which would have made it a complete package.