Steelseries Siberia V2 Frost Blue/Diablo III Headset detailed review
We've always been a bit ambivalent towards Steelseries products. They're good, always good, but always expensive and at a price point where there maybe cooler products that offer almost the same performance. These Steelseries V2 sets unfortunately fall into the same category. Spending Rs.10,000 on a gaming headset is not something that one takes lightly, especially when many audiophile-grade sets can be had for the same price. So why would you want one of these?
That's a question that's a little hard to explain, but we'll do our best. What a real gamer needs is the best tools at his disposal. Hardcore gamers are of a type who'll dial down graphical settings just to ensure optimal speed for example, and the Steelseries V2 based sets are for exactly that type of gamer. They're for a type of gamer for whom audio is just one more form of feedback, feedback that will assist the gamer rather than bog him down with useless tinsel.
Now that you've got an idea as to who these sets are for, let's move on to the review. We received two headsets from Steelseries, both based on the V2. One is the "Frost Blue" and the other is a "Diablo III" edition. The one you pick depends on which one has more visual appeal because they're essentially the same headset.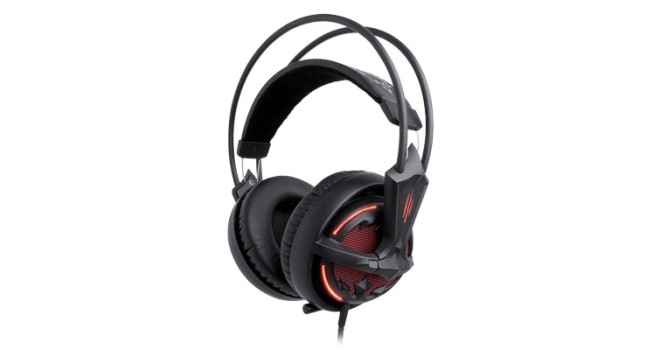 Siberia Diablo III Edition Gaming Headset
Design and build
Both the sets are well-packaged. The Diablo III edition especially bears mentions for its surprisingly cool design. The headsets interface via USB, so these are exclusively PC headsets and there's no way you can even dream of hooking them up to a PMP or phone. The cables feel nice and sturdy and the default cable is exceptionally short. Steelseries does provides an extension cord with the bundle so you should be fine.
Both headsets are very light and do look a bit flimsy, but they're actually not that badly built and feel as if they'll last a while. The ear-cups are very comfortable as well. The retractable mic is a nice touch and the comparatively stiff sheathing means that you won't be damaging the cable in a hurry. The stiff-sheathing also means that you can position the mic comfortably. Overall, we're very happy with the build quality and would like to see more such headsets.
Both sets are well-designed, with the Frost Blue being the more understated of the two with its white colour-scheme and blue accents. The reactive lighting was especially fun because it's designed to react to the in-game action rather than randomly pulsating in a shade of blue or red as applicable. The sets are designed for gamers, but they're definitely not as over-the-top as some of the more ridiculous sets we've seen. They have an understated elegance that we particularly appreciated. Even the Diablo III set has a certain style to it. It's a mixture of red and black shades and Diablo-esque artwork that somehow worked very well for us.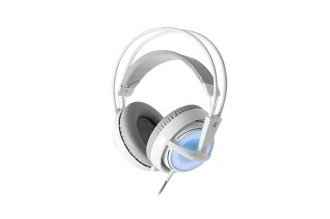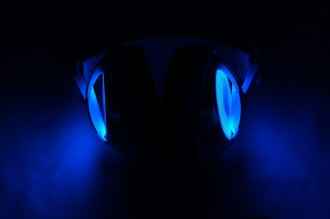 Siberia V2 Frost Blue Headset Reactive Lighting responds to in-game action


Sound quality
The most important factor when purchasing a set, this is the one aspect, other than the price, that defines your purchase. The USB interface for these sets means that if you've invested in a heavy duty sound card just for gaming headsets, it will go to waste. That said, the in-built sound card does its job and you can be assured of consistent performance that doesn't depend on the system.
The overall sound signature of these sets can be summarized in one word, precise. These sets are not meant for music, they're gaming sets and they've only got one job to do and that is to provide the gamer with the most accurate aural feedback that it is possible to provide and these sets do exactly that. The audio is not as tonally accurate as some of the more "audiophile" grade sets that we've tested in the same price range and the bass is distinctly lacking. That said, the in-game positioning of audio sources is spot on and way better than many of the pseudo-5.1 and 7.1 sets that keep sprouting up from time to time.
These sets are not meant to give you great ambiance and neither are they meant for watching movies or listening to music; they do a decent job of playing back music and movie audio but the distinct lack of bass will severely hamper your listening experience. It's not that music playback is bad– on the contrary, this might be the best gaming headset that you can use for music– it's just that it's not great. If it's really music and movies that you want, and games with awesome sound effects (supposing it's the single-player campaign that you're most interested in) then don't get these sets. For Rs.10,000 there are any number of other excellent sets that will do a better job.
Coming to the mic, there isn't much to say really. It's a good mic and picks up your voice really well. It's not exceptional, but it does its job.
Conclusion
What you get when you buy these sets is precise positioning of the audio and accurate aural feedback. That's what a pro-gamer really needs and that's what these sets provide. Be sure to bear that in mind when you go headset hunting. For a gamer, these are possibly the best headsets that you can buy; an audiophile had better look elsewhere. These are quality headsets and if you can afford them, you won't regret purchasing them.