Sony has convincingly built a steadfast name for itself in the audio industry, especially with products featuring the company's superior ANC (Active Noise Cancellation) technology and Sony's signature warm, pleasing sound. The Sony WI-1000XM2 meets all of the lofty expectations one has come to expect from the eminent company. The Sony WI-1000XM2 is a neckband-style pair of earphones that is minimalist on the surface but comes equipped with all the flair, one would expect on premium earphones, on the inside. Packing the highly-acclaimed HD Noise Cancelling QN1 chip and Dual Noise Sensor Technology, the Sony WI-1000XM2 looks to exert its superiority in the wireless earphones segment after dominating the wireless headphone category with the Sony WH-1000XM3. However, users will have to pay a premium for this piece of tech and the company has priced the earphones at an exorbitant Rs 24,990. We put these premium wireless earphones through their paces in our review.
Build and design
Significantly improving upon the design of the Sony WI-1000X Wireless earphones, the Sony WI-1000XM2 looks and feels much more premium primarily due to the flexible, matte-black silicone neckband. The silicone neckband extends on both sides to meet the plastic modules which house the batteries. In addition to the batteries, the right module features the NFC-enabled surface while the left one houses the main power button, a 3.5mm audio jack and a plastic flap under which the USB Type-C port resides.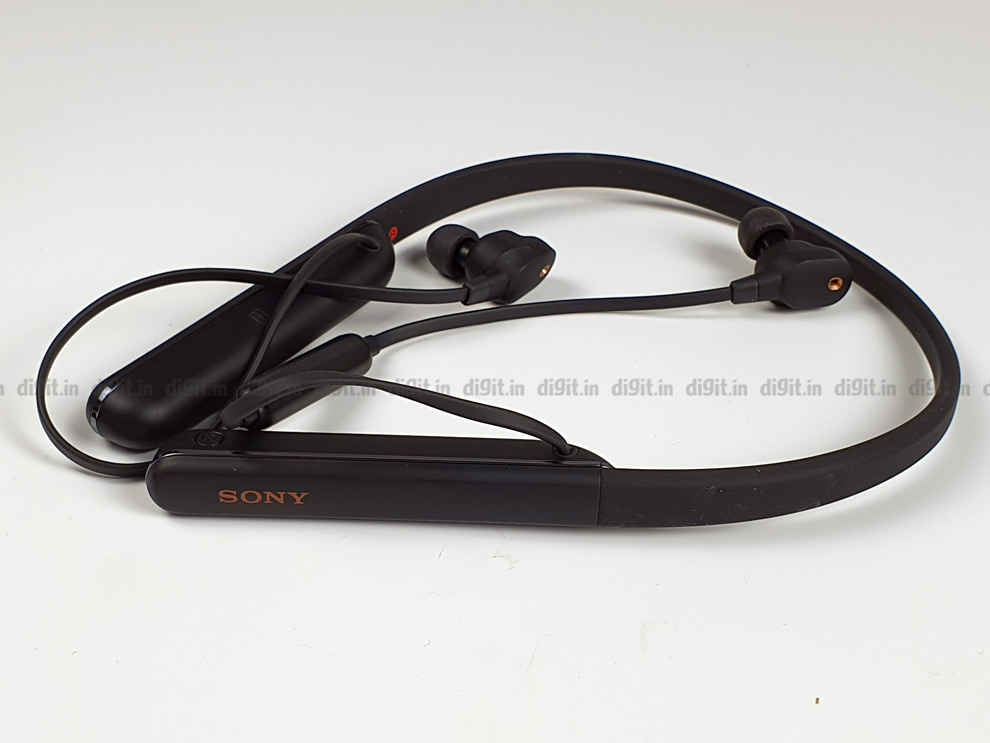 The modules largely follow the same matte-black colour scheme as the silicone neckband, with slight pops of colour and contrast being the copper-coloured Sony logos on both sides, and the glossy metallic strip running between the upper side and the underside of the modules. The design is extremely understated and minimalistic, however, the copper Sony logos do pop out aesthetically, giving the earphones a business-y and premium look.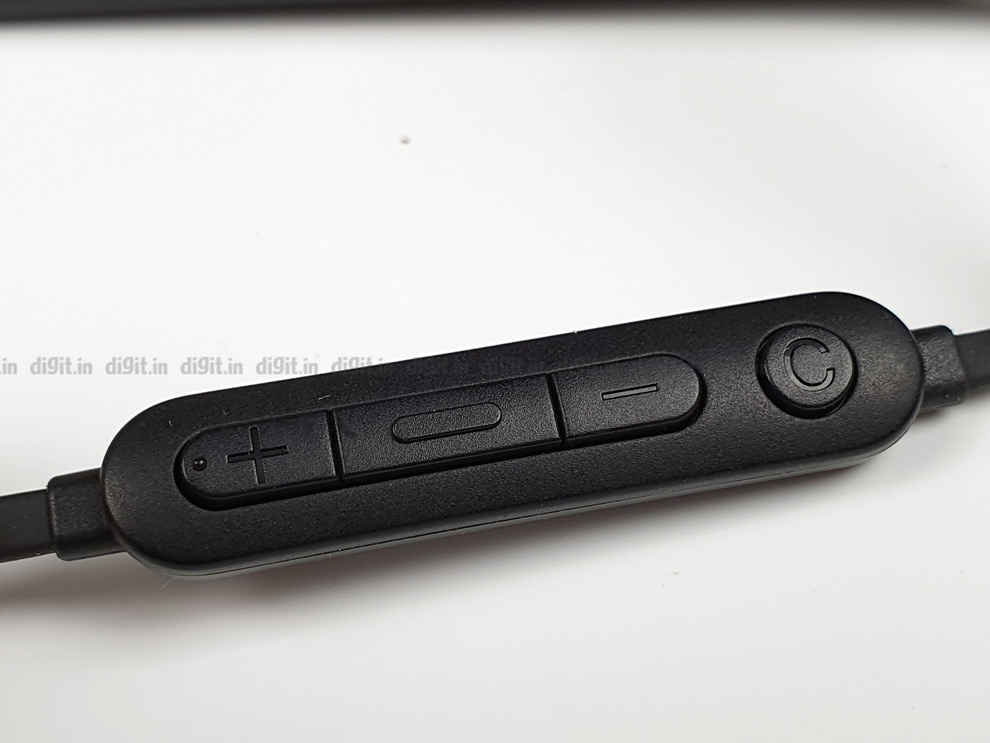 Flat, black wires connect the modules to the earbuds. The wires are tangle-resistant and feel quite robust. The left wire features an in-line remote which consists of the microphone, volume up and down controls, a multi-function button and a customisable action button, which can be set to control Ambient Mode, Noise Cancelling or even invoke your voice assistant. The buttons' tactility is superb and they click quite satisfyingly. They can be used to pause/play music, answer/decline phone calls, seek tracks, control the volume and summon your voice assistant.
Coming to the earbuds, they are slightly angled to ensure a secure fit within the ear canal. The matte-black buds are on the larger side and do stick out considerably from the ear, however, the fit and comfort achieved are almost unparalleled, when it comes to in-ears. This is partly due to the wide selection of eartips Sony has provided within the box, seven to be precise.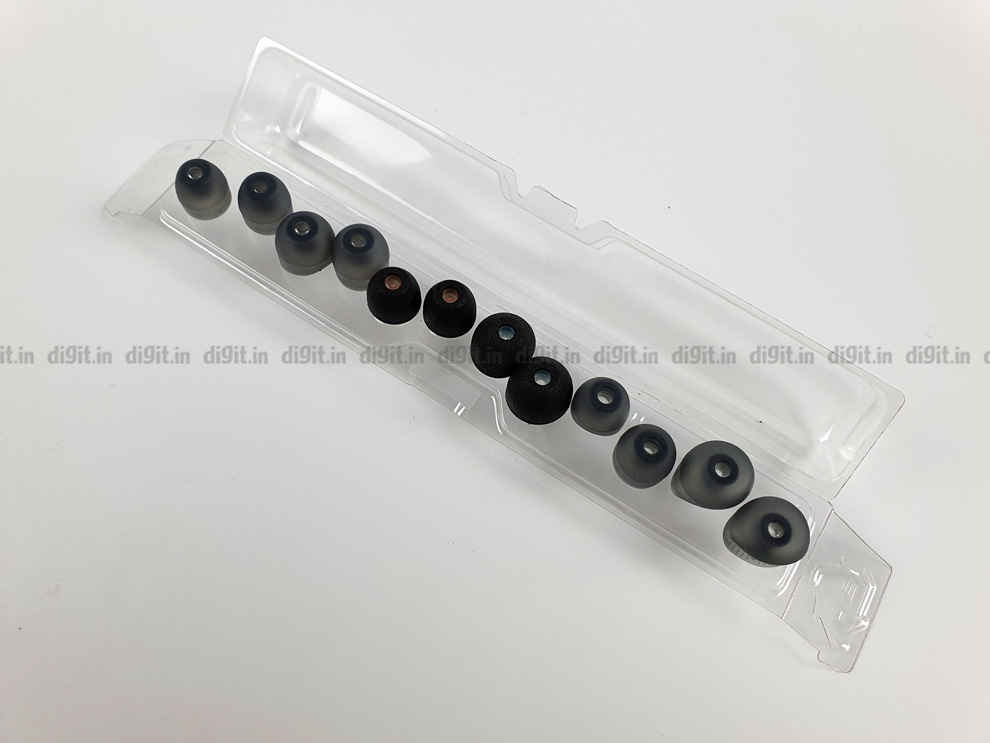 There are four generic silicone tips ranging from XS to L and three additional foam tips (S, M and L) which attempt to conform to the shape of your ear. We found the Small-sized foam tip to provide us with the best comfort and isolation, however, if a silicone one does the best job for you, ensure that you use those even though it may seem counterintuitive in the presence of foam tips. Sony even snuck in a nifty 'Finding the right tip' exercise in the Sony Headphones Connect app which snaps a shot of both your ears and calculates what size ear tip should be perfect for your ear.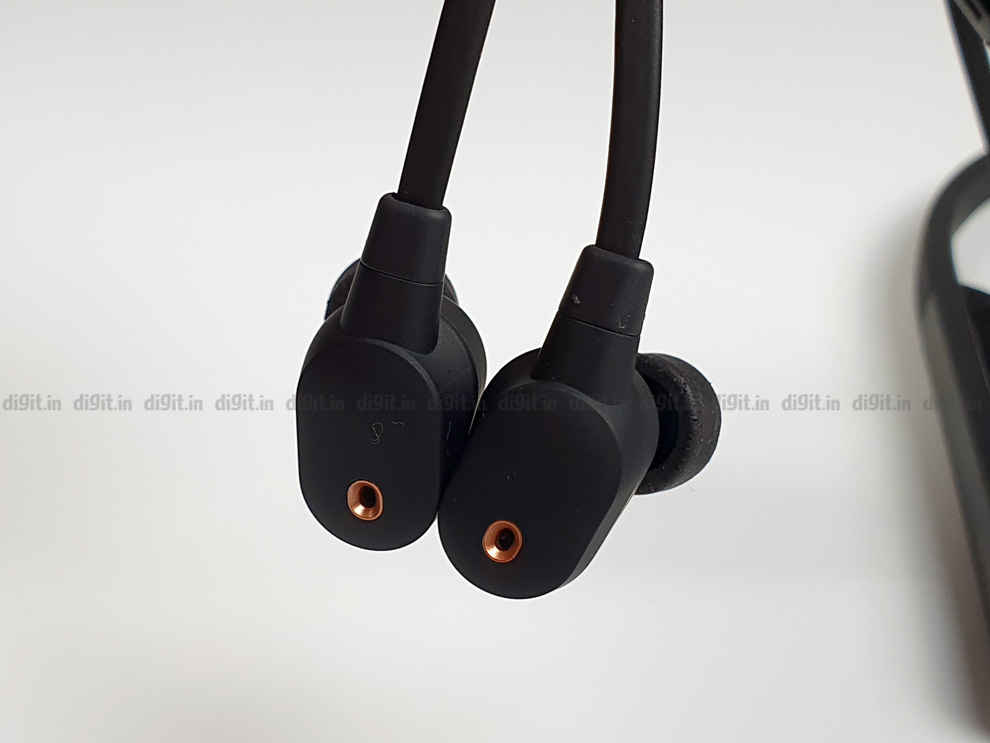 The earphones also feature magnetic housings which attach them together while idle. The magnets, surprisingly, hold the earbuds together on their sides instead of back-to-back. Also, the magnets seem to be extremely weak and flimsy. So much so, that a slight tug pulls them apart in different directions and there's absolutely no magnetic pull between the buds unless you bring them within centimetres of each other.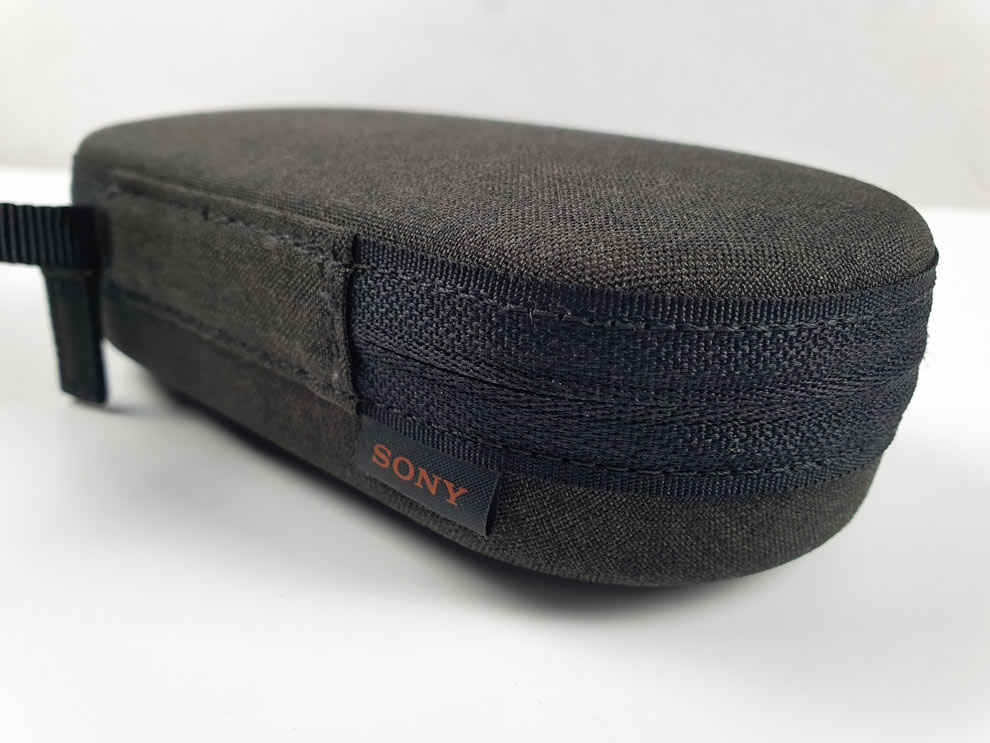 To add to this, Sony also throws in an airplane adapter, a 3.5mm audio cable, a USB Type-C charging wire and an exceptional carrying case in the box. It is a fabric-clad hard case with a copper chain. The case doesn't take up too much real estate on your desk or within your bag and is also extremely robust. When opened, the case even has an elastic mesh housing where you can stow the 3.5mm and USB Type-C cables.
Overall, the earphones are secure within the ear and do not fatigue the user easily (as long as you find the right ear tip size). We were able to listen to music and stream Netflix for hours on end without feeling any overwhelming discomfort. The earphones are also quite lightweight, coming in at 58g, and the weight of the two modules is balanced immaculately. We used them in the gym as well and buds stayed put in our ears even through intense workouts and runs. Unfortunately, the earphones are not rated as sweatproof, however, we did use them in the gym without encountering any issues due to sweat.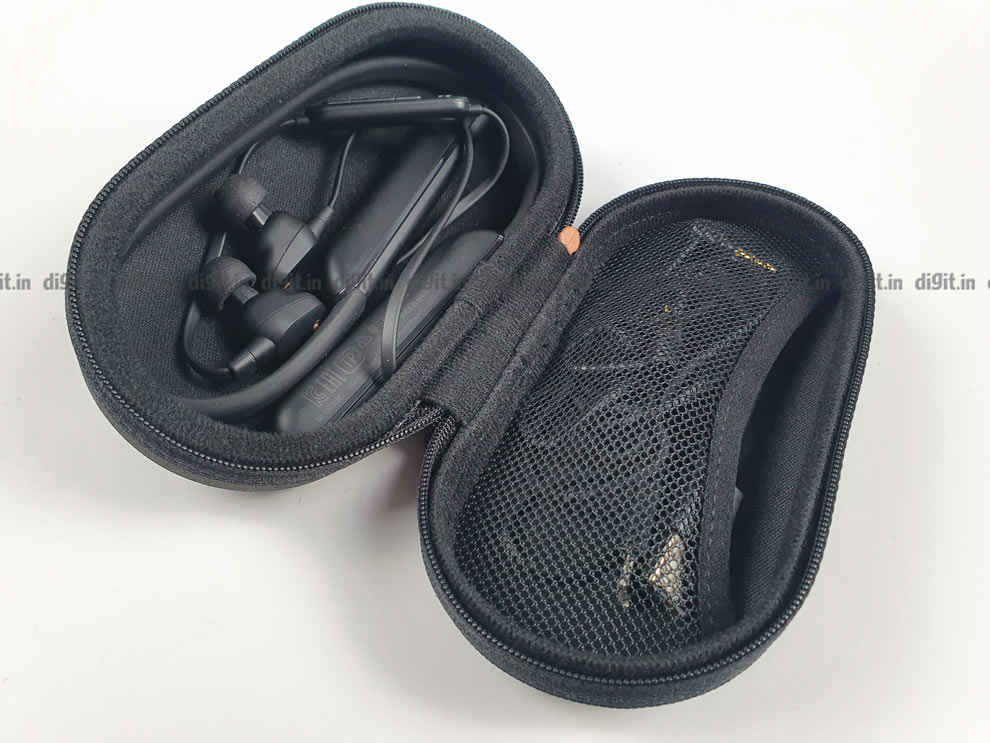 While the comfort and fit are quite exceptional, Sony hasn't revamped the earphones majorly when it comes to aesthetics. The design is largely minimalist, simple and streamlined with the copper colour accents in a select few places adding some pop. Nevertheless, while the design is strictly simplistic, the actual flair of the Sony WI-1000XM2 lies in its features and audio performance.
Features
Sony packs a plethora of their premium audio tech into this inconspicuous-looking premium pair of earphones. This includes the company's famed QN1 Noise Cancelling processor along with dual microphones to enhance the ANC performance. Both feedforward and feedback methods are utilised to catch more environmental sounds and consequently eliminate them. The earphones also come packing Sony's Atmospheric Pressure Optimising feature which optimises the Noise Cancelling for high altitudes (when you're on an airplane). Of course, they also come with Sony's competent Ambient Sound Mode which enhances background sounds, relaying to users important sound cues from their surroundings.
Then there's everything (almost) you'd expect from a pair of earphones costing over Rs 20,000, such as Bluetooth v.5.0, a capable accompanying app with an equaliser, support for extra codecs such as LDAC, AAC and the standard SBC, USB Type C charging and more. However, some misses include the absence of an IP (sweat or water-resistance) rating and no auto-pause/play functionality.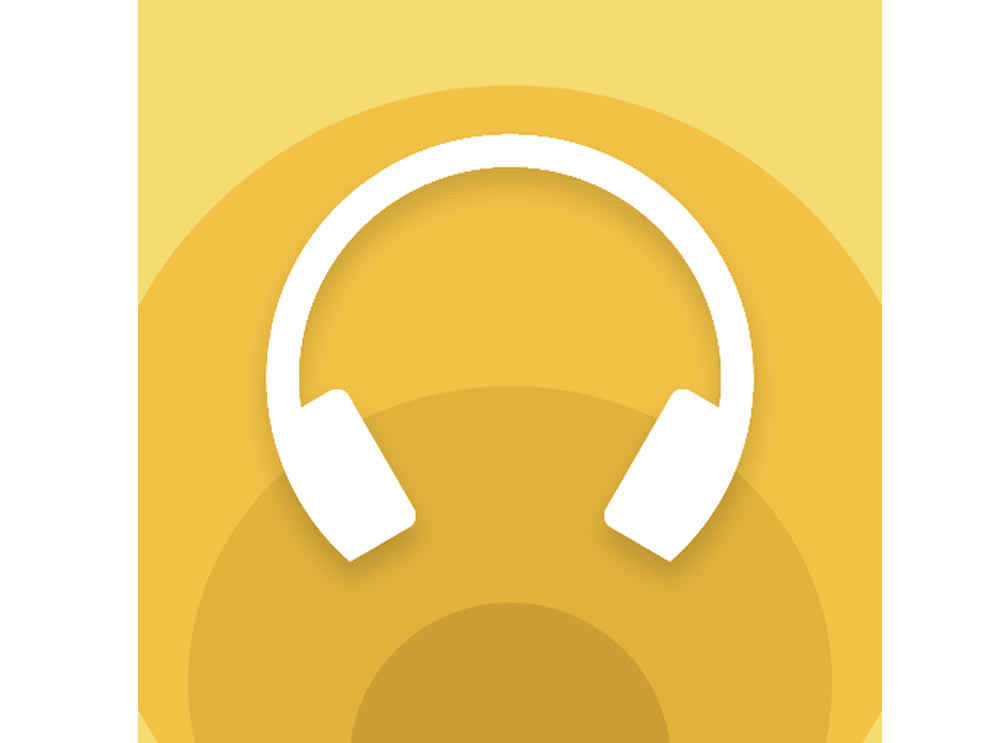 A wide array of features present on the Sony WI-1000XM2 are accessible via the Sony Headphones Connect app which is available on the App Store and Play Store. You can set up 'smart' sound modes which Sony has dubbed 'Adaptive Sound Control'. Utilising Sony's Sense Engine, the earphones can detect your current activity (Staying, Walking, Running, Commute) and apply the appropriate Ambient Sound or Noise Cancelling settings for that particular mode. For instance, when it detects you're walking, Ambient Sound will be turned up to ensure you can hear your surroundings such as car honks, train station announcements and the works. You can also tweak these modes as per your liking in the app.
In our tests, we found that the time interval between detecting states (walking, running, etc) is minimal and more often than not, accurate. In our journey from home to work, the app first detected Walking Mode in the train station, where we could easily hear the train station announcements over the music, thanks to Sony's excellent implementation of Ambient Mode. It then shifted to Commute within a few seconds of us getting onto the train and turned on ANC. Here, we could hear the train tracks faintly in the background, but overall the passive isolation from the eartips and ANC worked well in conjunction to provide us with an adequate level of quietness in our journey.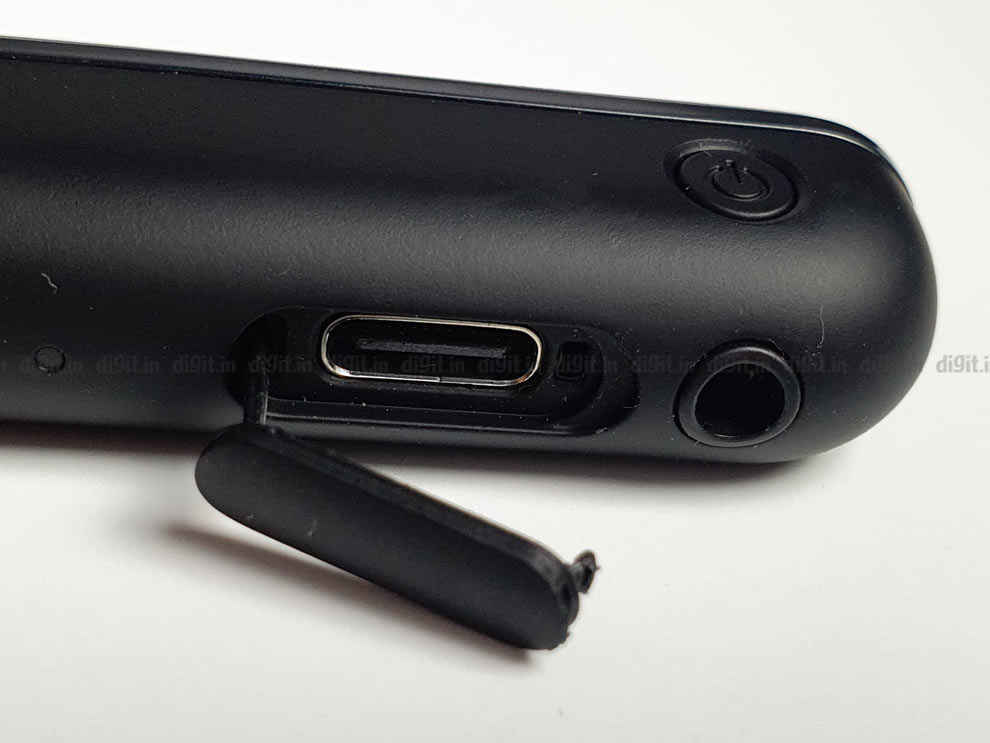 Speaking of ANC, this is the first time Sony has implemented this feature in a pair of wireless earphones. As mentioned above, the dual microphone technology combined with the QN1 processor digitally cancel out the environmental noise. Sony has seen massive success with this formulation in their over-ear headphones, the Sony WH-1000XM3. The Sony WI-1000XM2 is not a slouch either when it comes to ANC. It manages to successfully eliminate most low rumbles and constant sounds. It also does a commendable job minimising voices and the loud hum of ACs, which makes it great for office settings. The highs are a bit harder to eliminate for these earphones, however, it didn't distract us too much at around 60-65 per cent volume.
Another aspect we love of Sony's rendition of ANC is how natural it sounds. The sounds are reduced realistically and at no point do you feel an overwhelming pressure within your ears due to aggressive ANC like we do see on some ANC-enabled headphones. It's plausible and pleasing at the same time. Also, there's barely any hiss in the background when ANC is turned on, which is a major plus in our books.
On the app, in addition to Adaptive Sound Control, you also get features such as an adjustable EQ, Atmospheric Pressure Optimiser, and 360-degree Reality Audio (requires a paid subscription to a third-party app that supports 360-degree audio, unfortunately). You can also change the function of the Customisable (C) button on the in-line remote. You can choose between Ambient Sound Mode, Google Assistant/Siri or Amazon Alexa as the main function of this button.
Lastly, the battery life is quite decent, but nothing to write home about. The company claims a battery life of 10 hours, along with Fast Charge which provides 80 minutes of listening with merely 10 minutes of charging. While the latter claim proved to be accurate in our testing, we managed to squeeze out around 9-9.5 hours without ANC on and approximately 7.5 hours with ANC turned on. This will largely depend, in your case, on your particular volume levels and if ANC is turned on or off. We also managed to charge the device back in 3 hours, which is pretty decent.
One thing we would have loved to see Sony incorporate is an auto on/off functionality when the buds magnetically attach to each other. It would preserve quite a significant amount of battery life since the buds don't automatically turn off after a particular period of lying idle if it's connected to a device. However, the magnets would have to be made markedly stronger to implement such a feature. OnePlus Wireless Bullets 2 have actually implemented this feature quite well and it isn't unfeasible to ask for an intuitive feature like this one on the Sony WI-1000XM2 given the exorbitant price.
Performance
Powered by a powerful HD Hybrid Driver System setup hosting one 9mm dynamic driver and one matched Balanced Armature driver, the Sony WI-1000XM2 really shows its worth when it comes to audio performance. The overall sound quality is applause-worthy since it is quite detailed and accurate across frequencies. In addition to this, the ANC performance, as mentioned above, is quite impressive as well.
Additionally, the Sony WI-1000XM2 also comes with DSEE HX (Digital Sound Enhancement Engine HX) which upscales compressed digital files to bring them close to the quality of Hi-Res audio. The capable hybrid driver setup, DSEE HX and the presence of superior audio codecs such as LDAC and AAC really uplift the sound quality of these premium earphones, making the lofty price tag more digestible, since you mostly get a sonically accurate performance.
The sound profile, however, lacks a bit of rumble and thump when it comes to bass response. It lacks drive, even though the bass is actually extremely accurate and doesn't distort even at high volumes. In some predominantly bass-y tracks, such as Another One Bites the Dust by Queen, the bass response sounds timid in comparison to the mids and highs, especially Freddie's powerful (mid-high) vocals.
In tracks such as In The Dark by Ludens, the bass guitar, which is prominent on studio headphones and other premium headsets, is relegated to the background, especially getting lost almost entirely during the chorus. Nevertheless, if this seemingly meek bass response does bother you, the Sony app allows you to tweak in via the adjustable EQ.
The accuracy of the mids is superb. Instruments in this range sound dynamic and lively while still keeping every bit of detail possible. Vocals, both male and female, sound superb as this product thrives in vocal-centric tracks, pushing them prominently in the spotlight. In Hysteria by Muse, the vocals manage to stand out despite the cacophony of instruments in the background.
The highs are splendid, for the most part as well, with a seamless roll-off and minimal distortion. Sometimes though, sibilants (S and T sound) can lack detail, however, this is not too noticeable or jarring. Nevertheless, the mids and highs possess the ability to reproduce the details and nuances in tracks which very few earphones/headphones can do. The best part is that the dynamic driver plus a balanced armature driver combination goes a long way in keeping frequencies separate and distinct, in most cases.
The soundstage is a bit wider than you'd expect from in-ears, however, it still cannot compare to a good pair of over-ear headphones, especially open-back ones. It manages to create a decent sense of space when it comes to width but barely features any height, which is totally acceptable for in-ears. Imaging, unfortunately, was a bit lacking in quality for us. We found that in crowded tracks such as Selkies by BTBAM, the plethora of instruments often overlapped each other.
The connectivity through Bluetooth v5.0 is solid and there are no noticeable lags and skips in music playback. The connection stays strong even when you put a considerable number of feet between you and your device and can also permeate through a wall or two without dropping out. However, we did notice some latency when watching Netflix, which is slightly disappointing. You can use the headset passively to avoid this issue since they have provided an audio cable, however, this could have been completely avoided by adding support for Qualcomm aptX LL (Low Latency). Sadly, the earphones don't even support regular aptX.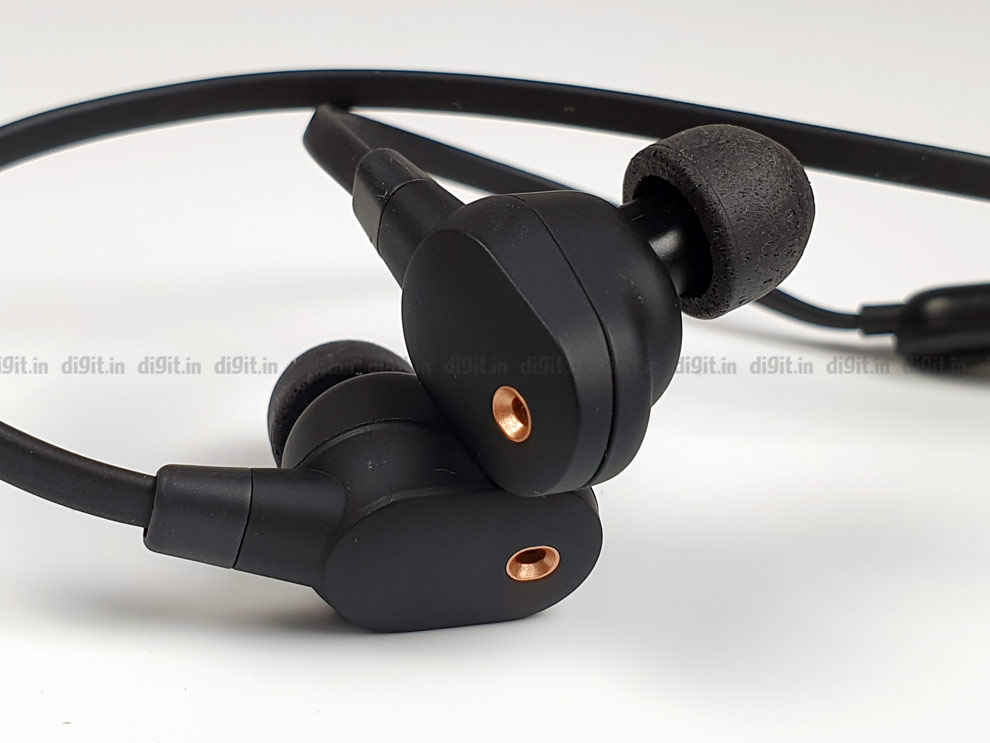 The battery life, as stated above, is decent and can last you a long-ish road trip provided you don't push the volume levels too high (which we don't recommend for your ears, at all). Also, the microphone quality is quite commendable as well. Calls that are taken on the headset are clear and easily audible while the receiver on the other end also picked up our voice well, without it sounding muffled or distant. While transcribing a recording we took on the headset, Google Translate could recognise most of the words since they were relayed back clearly.
Overall, the Sony WI-1000XM2 combines a plethora of premium tech such as their Q1 processor, Dual Noise Sensors, HD Hybrid Driver System, DSEE HX, and Sense Engine to get a final result which most definitely justifies the rather exorbitant price tag, in most cases. The sound quality is sonically accurate and detailed, users get access to an adjustable EQ, the microphone quality is commendable and the ANC performance is refined, as you'd expect from Sony. If you're someone who puts audio performance above anything else, other than the slightly meek bass, you would be hard-pressed to find too many flaws with the Sony WI-1000XM2's performance.
Bottomline
Paying more than Rs 20,000 for a pair of earphones can seem unnatural, however, if you do loosen your purse strings for the Sony WI-1000XM2, you will possess a great-sounding pair of earphones which will give you little to complain about. Apart from the strictly mediocre battery life of 10 hours and the absence of aptX support, you get enough bang for your buck with premium offerings from Sony such as Adaptive Sound Control, ANC, foam tips, a customisable EQ, and most importantly, accurate and detailed sound. Priced at Rs 21,990 on Amazon, Sony had little room for inconsistencies and mess-ups, and thankfully, there are barely any. This is one of the best wireless earphones money can buy in the audio market right now, however, we would still advise you to get the Sony WH-1000XM3. They cost just Rs 2,000 more on Amazon and are stacked with even more features, have better battery life and also a more well-rounded sound quality due to their over-ear form factor. Nevertheless, if you are specifically looking for in-ears, for their smaller form factor and portability, the Sony WI-1000XM2 wireless earphones are certainly a wise choice for audio enthusiasts and even some audiophiles.