Skullcandy Method Wireless detailed review
Inexpensive wireless audio is the obvious future for the average consumer, and in-ear headphones are arguably the most popular segment of products in personal audio. Introduced in a steadily growing category of products, Skullcandy has attempted to fuse the best of wireless advantages and popular sound signature into the Method Wireless in-ear headphones.
The headphones look decent, and true to Skullcandy's ever-quirky looks, uses multi-coloured eartips that do look out of place at first, but is certain to draw eyeballs. While it does have its own flaws, it also has a lot going for it. Here's everything you need to know about the Skullcandy Method Wireless.
Audio Performance
Despite reasonably clean audio playback, the Method Wireless sounds rather shrill. There's too much focus on highs, which in turn compromises bass performance. Despite being high in volume, highs sound piercing, and slightly edgy, making the predominant sound signature somewhat dry, shrill and piercing.
Adding to this are slightly dull mids. Mid-range frequencies are reasonably well represented in the audio, but exhibit lacklustre tonality. This, in turn, makes the Method Wireless sound a bit dim, even in high tempo, sharp and enthusiastic vocals of the likes of Brian Johnson, Roger Daltrey and Sharon den Adel.
Vocals sound clean, but somewhat subdued in comparison to the rest of any song's composition. This also makes listening to funk and hip-hop slightly difficult, especially for those who prefer more composed, tighter audio delivery with a hint of added bass.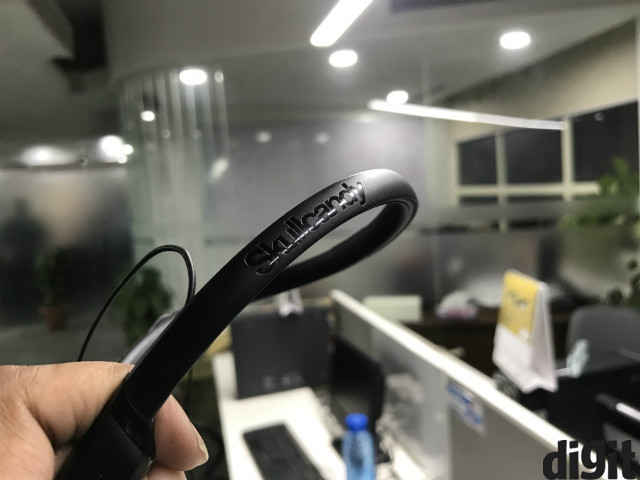 In essence, the Method Wireless holds its ground well when you play instrumentals, or acoustic jazz and R&B. Cleaner tracks sound much better, and bass-heavy tracks sound amply mellow. There is distinct attenuation of low frequencies, and cutting off the upper gain levels in higher frequencies makes the overall audio sound much better.
There is audible distortion of sound at volume levels above 85%, below which the Skullcandy Method Wireless does well to keep its sound impressively clean. Unfortunately, there is a considerable amount of colouring over original audio textures, and wholesome compositions like Pink Floyd's Hey You, Led Zeppelin's Battle of Evermore and Queen's Bohemian Rhapsody sound quite distinctly off the mark. The low frequencies sound diminished and rather hollow, mids are a bit too subdued, and the shrill highs lead to distortion in cymbal rolls, ukulele strums and the soaring guitar riffs.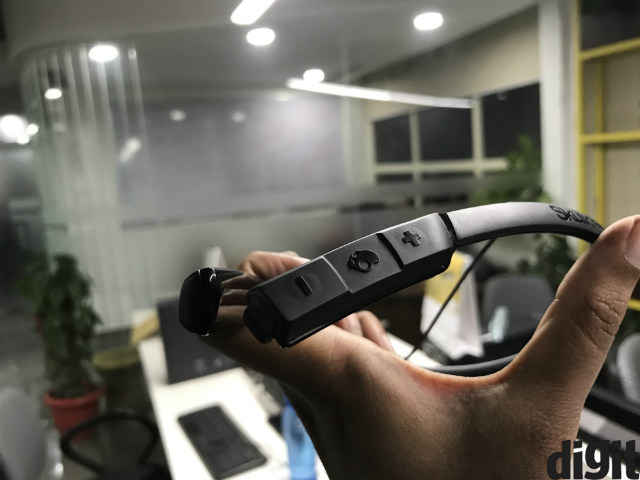 The audio itself sounds somewhat flat, and there is a distinct lack of peppy undertones that we had previously heard in the Skullcandy Grind Wireless. The Method Wireless also lacks in terms of warmth and the overall pleasant sound signatures that are pleasing to the ear. However, for those who prefer more prominent highs, the Method Wireless is actually quite competent. The overall sound is reasonably clean, although there is a slight lack of cohesiveness that we miss here. The sweet spot lies at around 60% volume, where the lows perform better than at any other. Skullcandy seems to have used a weaker bass driver, which leads to this anomaly. While the 60% volume level is good enough when you are indoors, outdoor activities will require you to play at higher volumes, which is where the highs really take over.
The Skullcandy Method Wireless also gets calling features, with the central button, with a skull inlay working as the call receive/end button. In-call audio is clear, loud and prominent, and there are no aberrations in terms of retaining connectivity.
Build, Design and Comfort
The Skullcandy Method Wireless is based on the popular neckband style, with channels to reinsert the wires when not in use. The multi-colour eartips are debatable, ranging from over-adventurous styling to uniqueness. While we leave the styling opinion up to you, the fit is reasonably convenient, and you get two extra pairs of eartips to suit your ear size.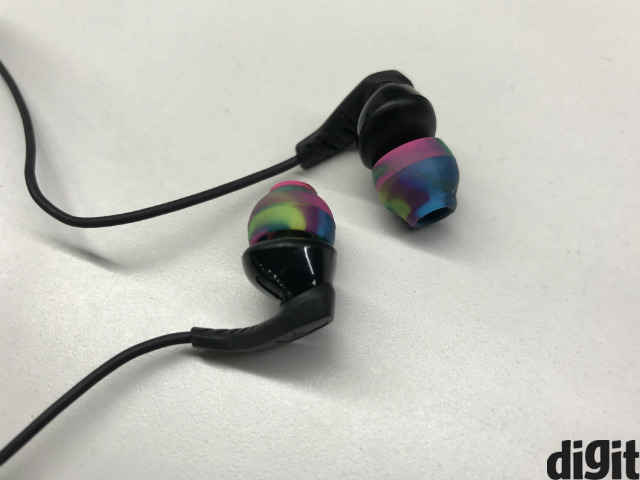 The neckband, in a welcome change from most similar headphones at this price point, looks suave and upmarket. There is a glossy plastic finish to the rear edges of the neckband, and matte, rubberised finish on the rest that make it good to hold and not stick out like a thorn against your all-black winter attire. On overall terms, the unit looks quite decent and does justice to its pricing.
The three buttons are placed to the left end of the neckband, with two volume buttons doubling up as fast-forward/rewind, and the central button multi-functioning as power, pairing, call receive/reject, audio pause and play. Thanks to large, rubberised panels, button feedback is impressive and operating the Skullcandy Method Wireless is a breeze. The microUSB charging port is also located here, and the rest of the neckband remains smooth and slick, with the Skullcandy logo embossed on it to the rear.
Connectivity and Battery Life
The Method Wireless impresses here as well, with connectivity range of 48 feet from source without obstacles in between, and sustaining over 35 feet even through walls. This is more than enough to retain Bluetooth connectivity with your smartphone in most cases.
The Method Wireless has a singular LED to the left end of the neckband that glows red when charging, and blue when charged. From nil to 100%, the Skullcandy Method Wireless takes about 45 minutes to charge, and offered us an average of 8 hours and 42 minutes of playback time. This is fairly decent, and is among the better ones in this category.
Bottomline
The Skullcandy Method Wireless produces steep focus on highs, subdues mids by a margin, and considerably attenuates bass at peak volume. The sound signature changes considerably if you play it at about 70% of its peak volume, which may be a tad too low for outdoor listening. The audio is clean, but is not as tight and warm as the best products in this segment produce.
However, it delivers good connectivity range and battery, and even looks quite fancy, per se. While most of the best-sounding headphones in this range offer wired connectivity, the likes of Brainwavz BLU-200 are better-sounding alternatives to this. In terms of comfort, fit and looks, the Method Wireless is the better alternative.