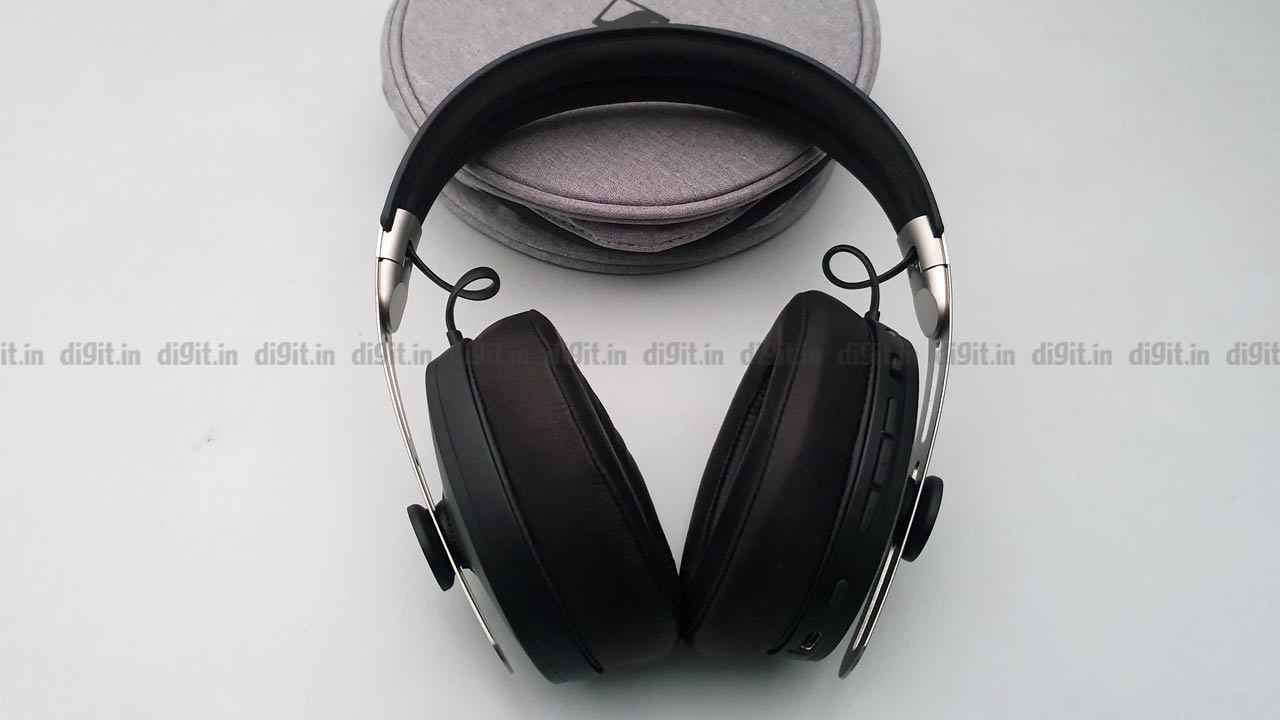 VERDICT:
Sennheiser's third iteration of their wireless headphones lineup – the Sennheiser Momentum Wireless 3 are quite feature-laden. Users are treated with features such as Active Noise Cancellation, USB Type-C charging, adjustable EQ, high-end codec support and Bluetooth 5.0. However, some features including an IP rating and touch controls are missing, which are present in cans costing significantly less. Here, at the Digit test labs, we've always been fans of Sennheiser's audiophile-grade sound profile, however, with the Momentum Wireless 3, the overall sound profile is much weightier in the lows which hampers the mids and the overall balance of sound. Fortunately, this can be tweaked to quite a degree on the adjustable EQ. The Sennheiser Momentum Wireless 3 are priced exorbitantly at Rs 34,990 and unfortunately, there are more than a couple misses that makes these cans hard to recommend for us.
Something that the Sennheiser Momentum Wireless 3 makes abundantly evident is that they are, without a doubt, a luxurious pair of wireless headphones. The opulence is obvious since they are priced at Rs 34,990 which is considerably higher than the wireless headphones offerings from Jabra and Sony, and cost a tad bit more than the Bose NC 700. At first glance, the Sennheiser Momentum Wireless 3 look robust and classy, maybe a bit too bulky. If you're familiar with Sennheiser's offerings and their well-defined sound profile, you will expect the same greatness from these as you slip them on. Let's see if they matched up to those lofty expectations.
Build and design
The Sennheiser Momentum Wireless 3 comes bundled in a stout, cylindrical case with a coarse cloth material that looks and feels sufficiently premium. However, most other brands, at this price point, include a hard case which provides a greater sense of security, more than a cloth carrying case can ever offer. However, the top and bottom of the carrying case do have some sturdy reinforcements that reestablish some confidence in its robustness.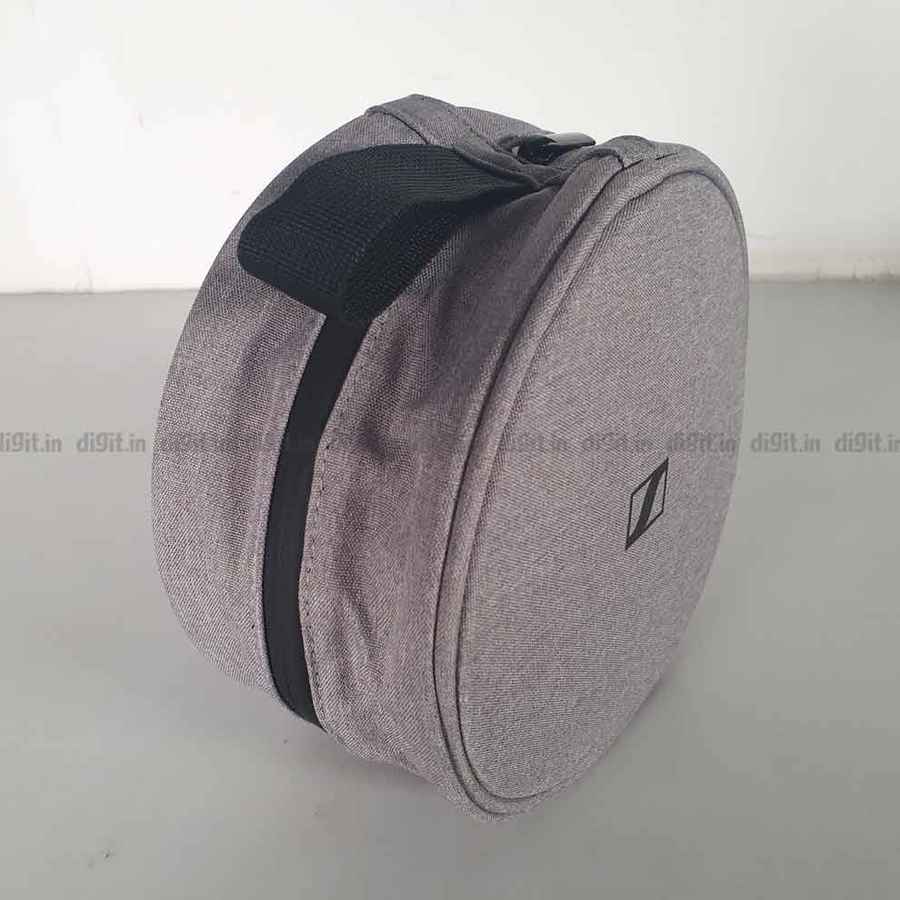 Within the box, you get a USB-C charging cable, a Type-C to USB A converter and a cable for passive usage. There's a little elastic enclosure for users to neatly tuck away these cables.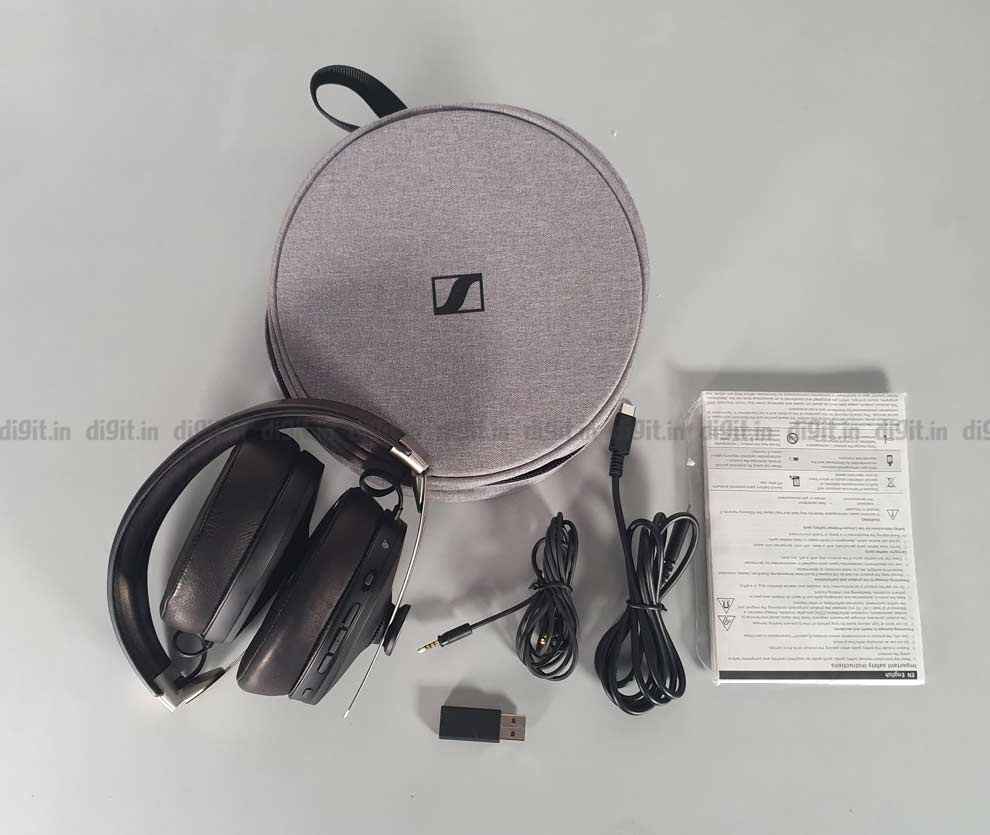 Now coming to the headphones itself, Sennheiser has sourced genuine leather for the headband and memory foam entrapped in sheepskin leather for the ear cups. Long, matte stainless steel arms extend down the ear cups from the headband which possess a slick sliding mechanism to get the right fit. Sennheiser has allowed enough customisation in terms of fit, so these should fit even larger than usual heads. The cups fold inwards which aids in portability and ensures that the carrying case can be as compact as possible. However, they do not fold down flat, so if you're accustomed to dangling your headphones around your neck, the absence of earcups that rotate full 90-degrees may hamper your neck movement and let's be frank – it ends up looking ridiculous.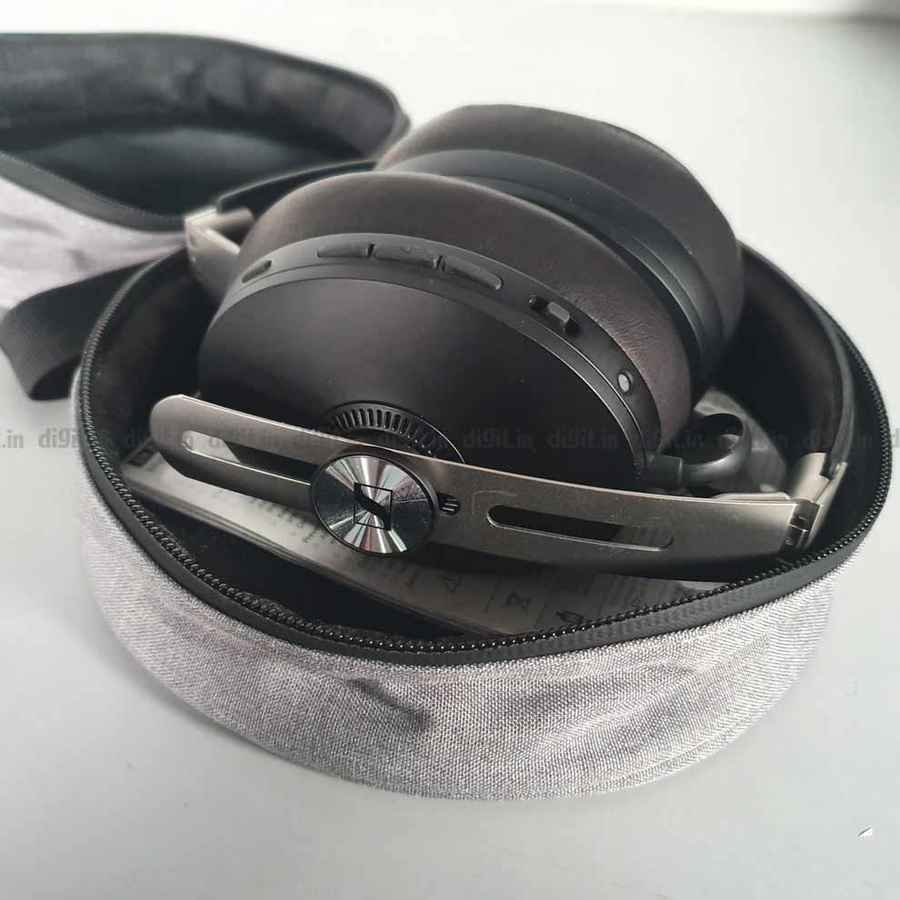 At first glance, the leather padding on the headband seemed like it may be lacking and may cause a hotspot on the top of our head after a few hours of listening. However, the padding was more than ample and no discomfort was felt, even during extended listening sessions. The cans are rather robust too. We tugged the ear cups apart pretty hard but there were no signs of creeks or squeaks. The clamping force is adequate but not restrictive. Sennheiser really struck the perfect balance in this regard. The cushiony memory foam envelops the ears organically and even at 303 gms, these cans feel rather lightweight, which is a testament to the design engineering at Sennheiser.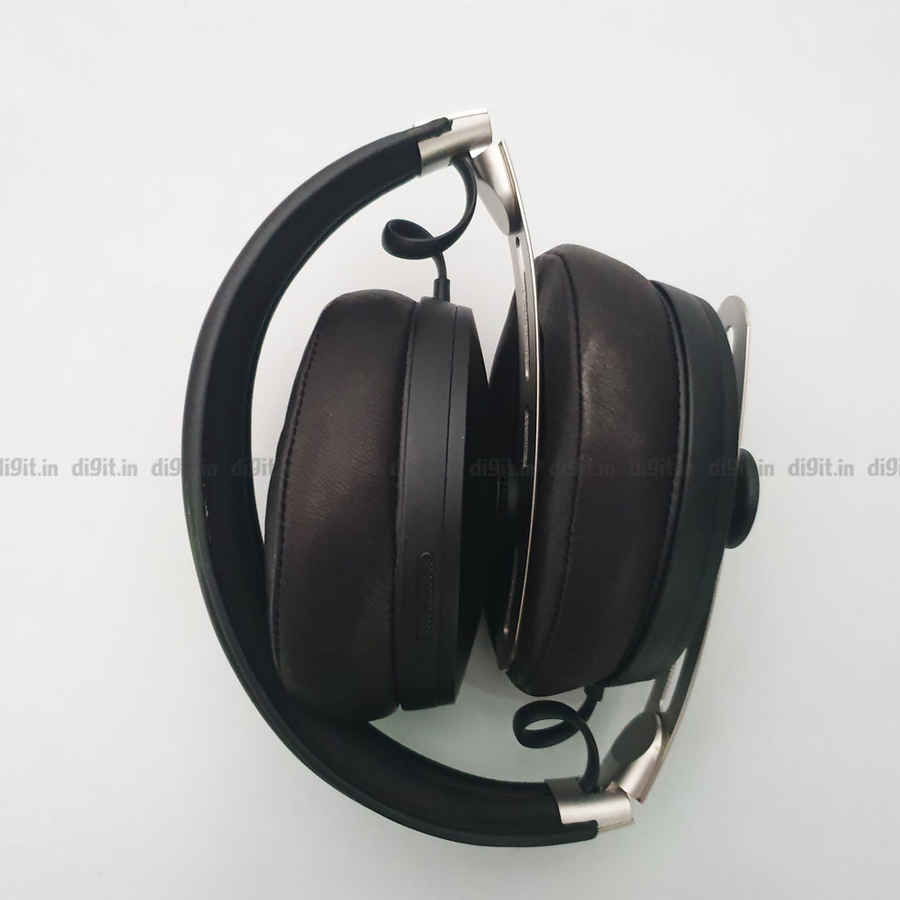 The cans are extremely similar to the previous two iterations in terms of design, however, what has been overhauled in the button layout on the right ear cup. Rubberised, matte material has been utilised, thereby ditching the plastic material used in the previous versions. The Momentum Wireless 3 also entirely does away with the power button and opts for a more seamless approach (more on that later). The right ear cup also features the USB-C port, an LED light for battery indications and a 3.5mm jack for wired listening sessions.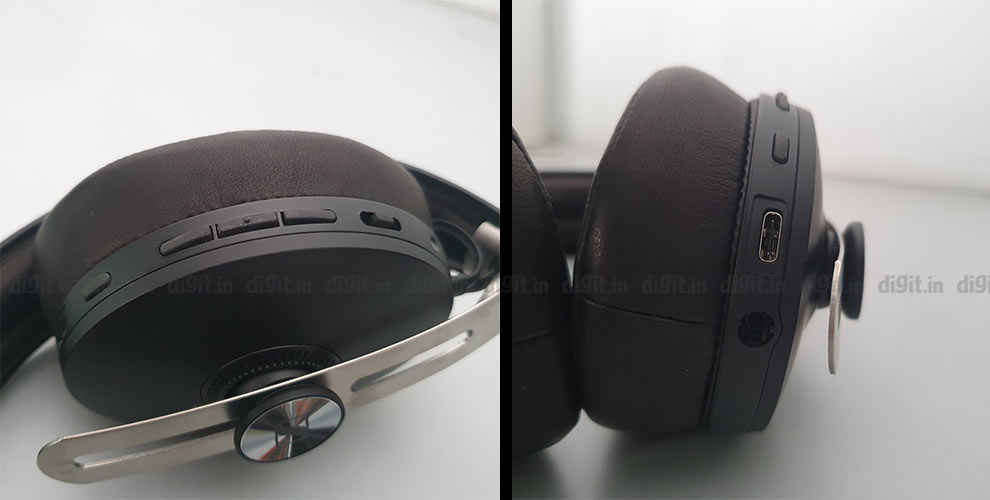 Overall, we quite liked the retro-inspired design of these over-ear, closed back headphones. We got the all-black version for our review but a new 'sandy white' finish will be available soon. However, we'd prefer it if Sennheiser attempted to make them less bulky and more elegant-looking much like Bose's newest offering – the NC 700. Also note, these aren't the most stable headphones. While the weight is certainly not felt due to the streamlined design during normal usage, if you wear these cans while gymming or running, they may feel slightly clumsy and prone to easily slipping off. You'd be better off using these headphones at the desk or during commute – be it trains, cabs or airplanes.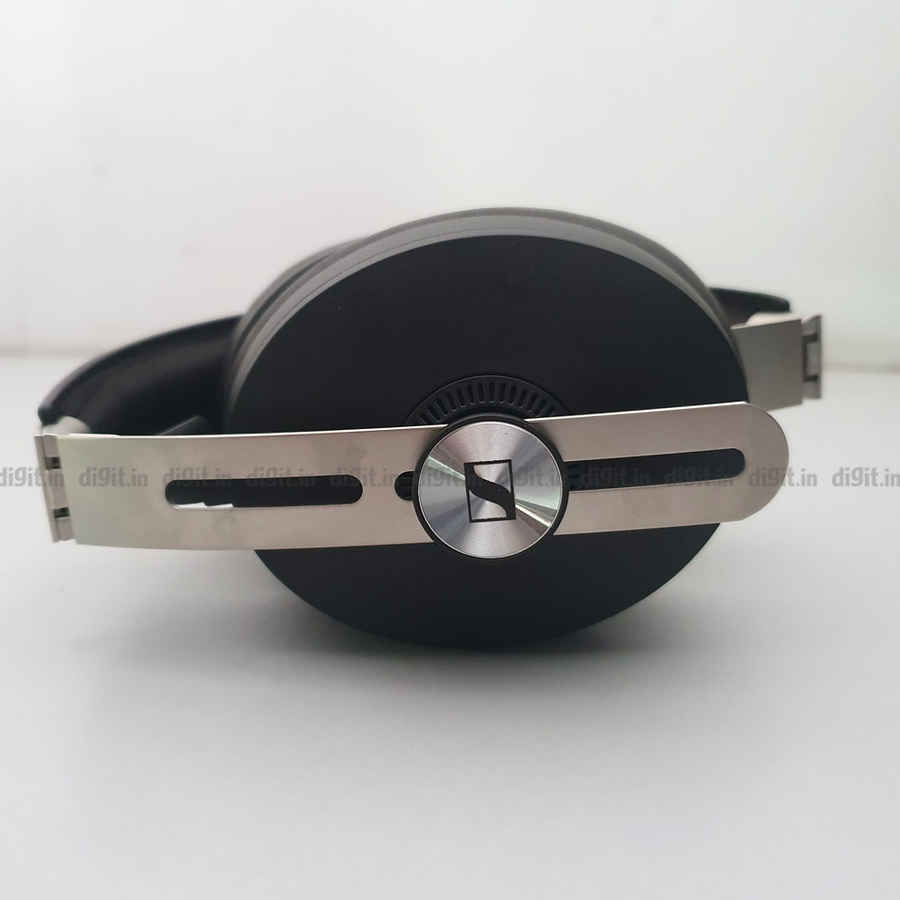 Features
Let's first mention the features we sorely missed in these exorbitant pair of wireless headphones. Namely, an IP rating for sweat/ water resistance and touch controls. These are quite commonplace in wireless headphones sporting a price tag similar or lesser than these and we were slightly miffed that they were cast aside. Alright, now let's get into the features the Sennheiser Momentum Wireless 3 do offer. And, they're quite a few, some of which we possibly value more than water resistance and touch controls.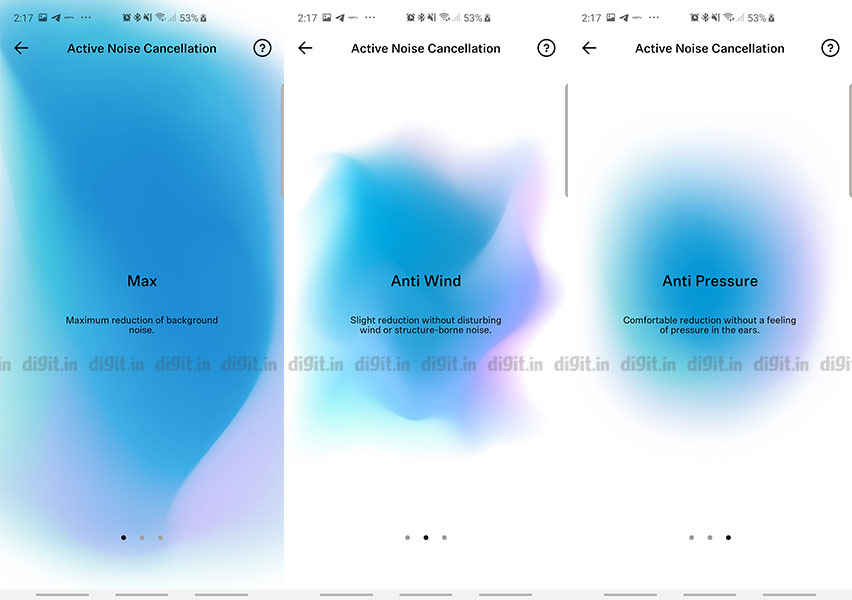 Firstly, following the noise cancellation trend, the Sennheiser Momentum Wireless 3 sports Active Noise Cancellation with three different modes – Max, Anti Wind, and Anti Pressure. Now, you can choose to see these as Maximum noise cancellation, medium noise cancellation and minimum noise cancellation respectively. While it is fundamentally this, there are some additional nuances which can be gauged by the names of these modes. Max is quite iterative – the maximum level of ANC is applied to block as much as these cans are capable of. Anti Wind tones down the level of noise cancellation while still paying attention to cancelling out distractions such as wind and rail tracks. Lastly, Anti Pressure is the least intensive mode which attempts to provide a decent level of noise cancellation but without the restrictive feeling usually associated with ANC headphones. This is the most breathable and less-congested mode, which many might prefer, especially if they work in quiet environments and aren't fans of the pressure ANC headphones exert on the ears and auditory canal.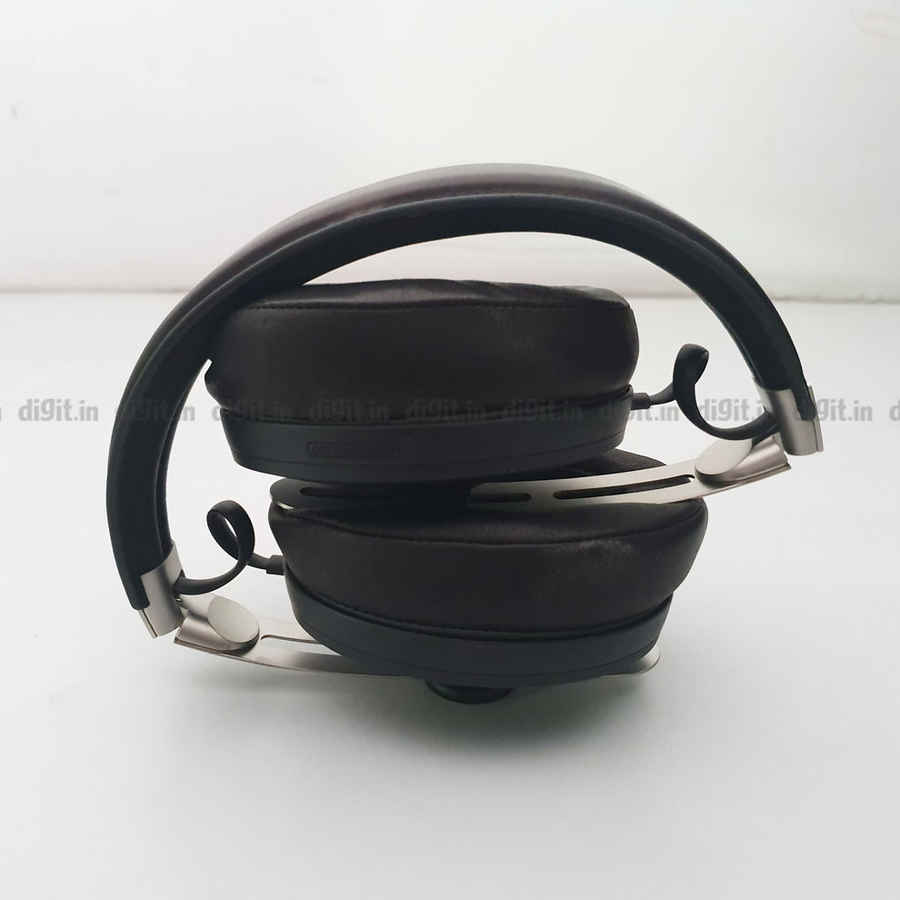 The Momentum Wireless 3 features Bluetooth 5.0 which provides seamless connectivity. While there are zero lags and skips in tracks and the wireless range is quite expansive, the cans go a step further by instantaneously connecting to paired devices. The headphones, as mentioned above, have ditched the power button. These employ the simple action of folding in the ear cups to turn off and unfolding the cups to power on. This worked every single time we tried it. Additionally, once you have completed the simple pairing process, merely opening the headphones and putting them on results in the headphones connecting to an already-paired device (with Bluetooth on) and resuming music in a matter of seconds. Pushing a button to power on headphones, waiting for them to pair and playing music manually feels archaic after experiencing these. The cans are also capable of connecting to two devices at the same time with Bluetooth 5.0.
The cans also incorporate an auto pause/play feature where taking the headphones off or simply pulling one earcup away from your ear will pause the music/content until you put them back again. This feature was a tad finicky in our experience and worked well about 70 per cent of the time. However, sometimes it failed to register that the headphones were taken off, while other times it false-registered them being put on even when they were on the table.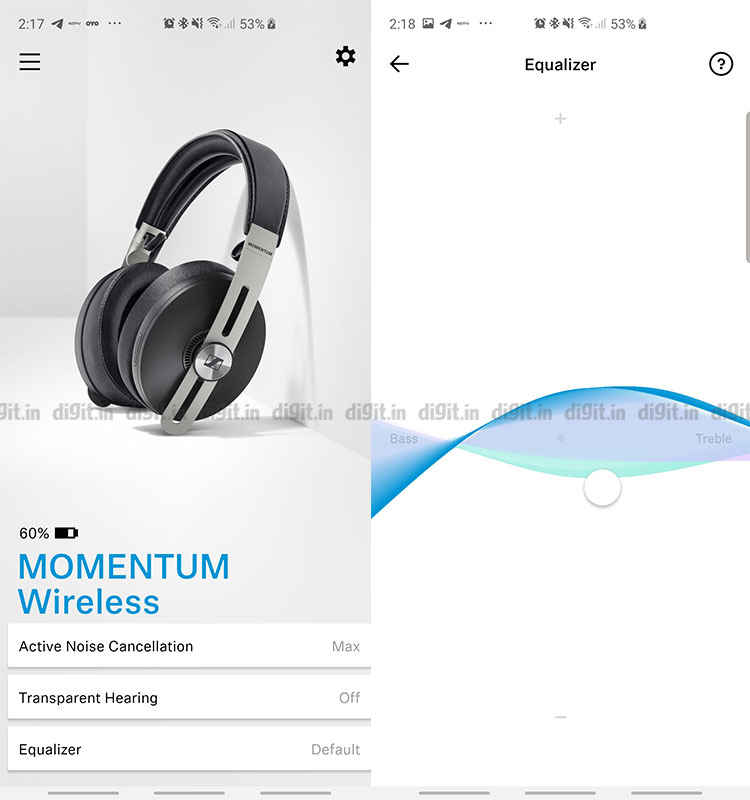 The Sennheiser accompanying app – Smart Control – features an adjustable EQ which allows users to customise the sound profile as per their liking. The presence of this is a plus in our books since many brands have given this feature the miss, which is disappointing. The app also lets you control ANC manually as well as Transparent Hearing which lets you listening to your surroundings by amplifying the sounds around you using the mics present in the cans. Transparent Hearing works well but can sometimes fail to amplify the sounds enough. We often had to reduce the volume to about 40 per cent from our usual 60 per cent in order to actually hear our surroundings with Transparent Hearing turned on. Seems quite counterintuitive.
We were glad to see that the Momentum Wireless 3 offers support for codecs such as aptX and AAC. They even have aptX LL (Low Latency) which is a blessing during gaming and streaming content online. The latency is extremely low due to the codec and there's absolutely no noticeable delay below the picture and sound. Other features include Voice Assistant access, hands-free Alexa support, Tile Bluetooth tracker integration and a 17-hour long battery life. The 17-hour battery life is quite disappointing since competitors such as the Sony WH-1000XM3 offer as much as 34 hours, which is double the battery life at more than 10K price cut.
Controls
A total of four rubberised buttons are present on the right ear cup as well as an additional toggleable button. Firstly, the toggleable button can be pushed up to turn ANC off, pushed down once to switch ANC on and pushed down again to turn on Transparent Hearing mode. The second push doesn't lock the button into position but is simply a spring-loaded switch. Due to this, pushing the button upwards, counterintuitively, turns OFF ANC instead of turning it on. We'd much prefer a three-level toggleable button without the spring mechanism that allowed us to quickly go back to ANC mode from Transparent Hearing mode by simply pushing upwards. In this complicated setup, we often ended up pushing the toggle upwards which turns ANC off and then nudge it down again, which seems to add a few seconds to operations instead of ideally shaving them off. The actual way to quickly go to ANC on mode from Transparent Hearing is bu pushing the button down, which frankly makes no sense, but if you can grudgingly learn this counterintuitive action, it should work fine for you.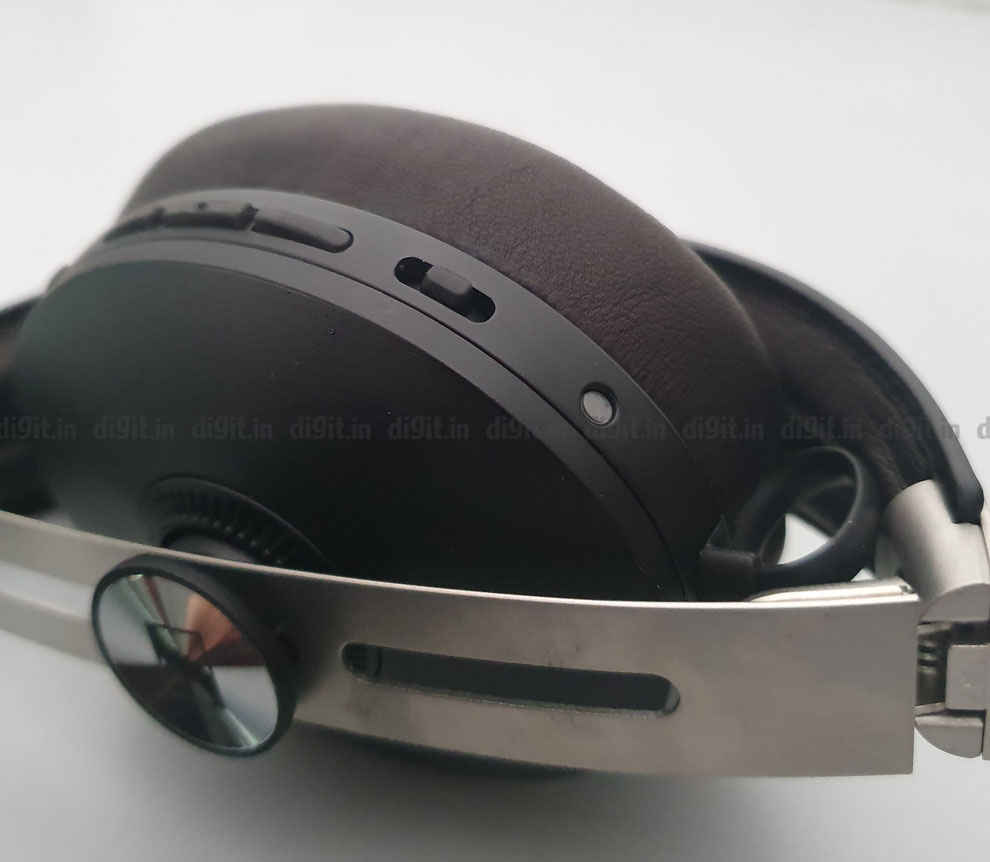 The three buttons in the middle control playback of music or any content you're watching. The middle button can pause or play music with one push. Pressing the middle button twice takes you to the previous track while tapping it thrice consecutively brings you back to the previous track. All the playback controls worked pretty seamlessly, however, the buttons need to be more distinct, especially from each other, since we often had to feel around the back of the right ear cup for quite a while before realising which button we had our thumb on.
For calls, pressing the button in the centre once answers the call, pressing it again ends the call and holding the button for a second rejects the call. When in a call, holding down the Volume – (volume minus) button for two seconds mutes the call, while holding either volume button unmutes it. The button on the very bottom activates your phone's voice assistant with one tap and holding it down for 5 seconds puts the cans into pairing mode. Lastly, pressing the middle button for two seconds relays how much battery is remaining in the headphones.
Performance
Sennheiser audio products are customarily lauded for their balanced sound profile that delight audiophiles, even the consumer-grade ones. This is apparent since our Zero1 award winner for the best true wireless IEM in 2019 went to the Sennheiser Momentum True Wireless whose sound profile managed to capture the intricacies and nuances across frequencies. However, the Sennheiser Momentum Wireless 3 surprised, no, disappointed us with its warm sound profile that was brought down due to the overbearing weightiness in the lows. The bass response is also slightly above what we would have preferred and have come to expect from Sennheiser products.
In Another One Bites the Dust by Queen, the bass response is punchy and accurate, however, its heaviness disrupted the overall clarity of Mercury's piercing vocals. If you're someone who enjoys heavy bass response, you will not find this jarring in any manner, however, for us these were a bit above our target mark for what we read as pleasant bass response. The low frequencies are extremely weighted on the headphones and tracks such as I'll Keep Coming by Low Roar clearly enunciate that the heavy-weighted lows can end up sounding quite muddled, thereby disrupting the overall balance of the track.
The mids, on the other hand, are well-balanced and almost neutral which leads to accurate reproduction of lead instruments and vocals. Unfortunately, the hefty lows cause some auditory masking in the mids leading to vocals sounding a tiny bit veiled and pushed back into the mix. Popular Monster by Falling in Reverse falls prey to auditory masking quite discernibly. The vocals, which are somewhere along the lines of upper mids, stay clear and crisp, however, the lead guitar tends to be pushed to the background and the fine details are eaten up by the overindulgent weighty lows.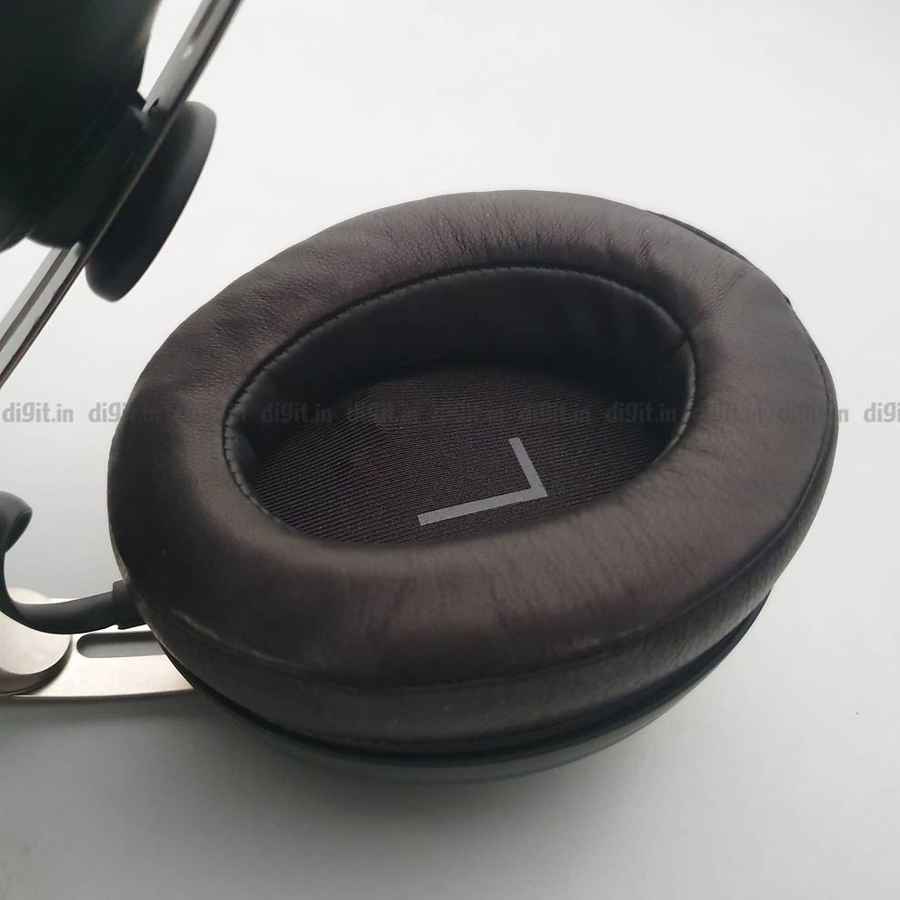 Where these cans truly shine is upper mids and the highs which balanced and accurate reproduction. They have the signature Sennheiser drop off in part of the highs which can be jarring to human ears. So without sounding sharp at all, the detail and brightness is kept intact in high frequency vocals and instruments. To get an idea of this detailed representation, you can listen to Josh Kiszka's striking high-frequency vocals in Safari Song by Greta Van Fleet.
Imaging on these cans is stellar. All the instruments are positioned accurately and the left and right channel separation is precise as well. Soundstage, however, was a bit of a miss for us. It is expansive enough to be satisfactory, but for the price you're paying and also owing to these being large over-ear headphones, it feels a bit too cramped in comparison. Immersiveness takes a hit because of this in tracks such as Hotel California by The Eagles. The soundstage is decently wide but barely has any height at all.
The Momentum Wireless 3 are an extremely loud pair of headphones with enough drive and enthusiasm even at a baffling 30 per cent volume. We usually listen to headphones at 60 per cent since that's where we often find enough drive to get us swaying with the music, but with these 40 per cent was more than sufficient to have us tapping along to the boomy beats.
Coming to Active Noise Cancellation performance, we found the Sennheiser Momentum Wireless 3 to be lacklustre, especially when compared to ANC monsters at similar or lower price point such as the Bose NC 700 and Sony WH-1000XM3. Even the Jabra Elite 85H surpasses the Momentum Wireless 3 when it comes to ANC performance, which is disappointing. Nevertheless, the performance isn't what you'd call bad per se, it's just that there are other options on the market which are much more capable in this regard.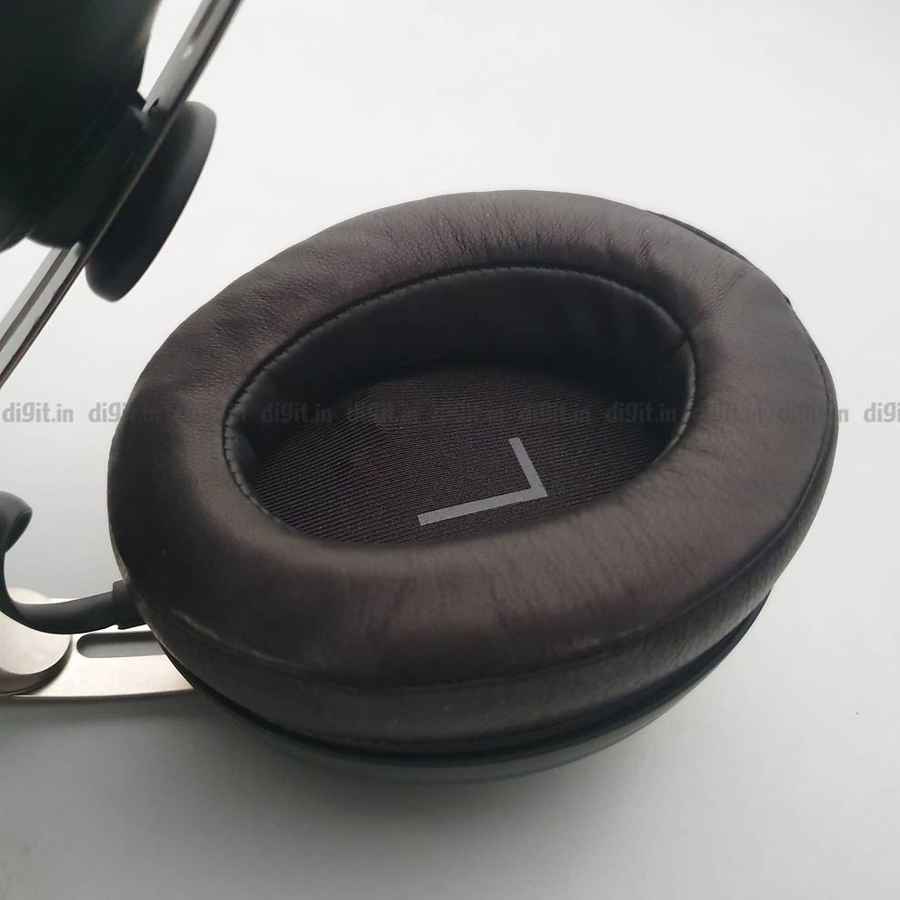 The ANC does relatively well when it comes to drowning out constant sounds, especially in the mids and highs – such as office chatter, train tracks and more. However, its performance at muting low-frequency sounds such as the AC rumble, airplane background sounds and even typing of mechanical keyboards is not as competent as other contenders. Occasionally, even train track sounds made it through when we were listening to music at 50 per cent volume or below. There's an ANC mode for 'Anti Pressure'. Pressure is commonly felt is multiple ANC-enabled headsets, however, we could feel very slight pressure even on Max ANC mode.
Battery life is another gripe we have with these headphones. It is substantially underwhelming at a mere 17 hours when some competitors are capable of over 30 hours! Additionally, we also struggled to get the quoted 17 hours of juice out of these headphones. With ANC on and volume levels at about 40-50 per cent, we managed to squeeze out about 15 and a quarter hours from the Momentum Wireless 3. Fortunately, they have bundled a wire for passive usage should these cans die out on you during long, international flights or train/bus commute across cities.
Overall, the ANC performance and battery life left us wanting much more from these exorbitantly-priced wireless headphones. The microphone quality, however, is exceptional, as is usually the case with Sennheiser products, and we're glad it's still the same with the Momentum Wireless 3. The warm-sound profile is suited for pop, hip hop, EDM and rap. But rock, metal, classical genres and vocal-centric tracks suffer due to the heavy lows and muddled bass response, which makes these not-so-balanced Sennheisers hard to recommend for us, when it comes to sound quality.
Bottomline
The Sennheiser Momentum Wireless 3 are a decent pair of headphones which stand out due to their retro design, comfortable fit and intuitive features such as auto on/off and auto pause/play. The sound profile leans towards being warm and the lows are quite weighted. The bass response is also a bit too boomy for us which veils some details in the mids and vocals. The highs, however, are reproduced quite exquisitely. The premium price tag calls for perfection and while the ANC is certainly decent, it doesn't compare to competitors from Bose and Sony in the slightest. Battery life is also lacklustre at merely 17 hours, according to the company. Therefore, if you take calls on your wireless headphones frequently and prefer a pronounced bass response, these headphones will suit you well. If you like a more balanced sound profile, you might want to give the Sennheiser Momentum Wireless 3 a skip.