Sennheiser CX 3.00 detailed review
Introduction
In-ear monitor headphones make for a massively popular segment in the gadget industry, and even among audio equipment. Right from the amateur music lover, almost everyone looks for an upgrade to the standard packaged earphones that mobile devices pack in, and some recent smartphones actually do not even provide a pair. The intent behind inexpensive in-ear headphones is to please the auditory demands of the masses, and as a result, you may not find the most refined audio experience that more expensive audiophile-oriented products deliver. With the Sennheiser CX 3.00, the intent is to provide a wholesome audio experience better than the average – something that sounds right up Sennheiser's alley. Does it succeed? Here's finding out.
Build, Design and Durability
To begin with, the Sennheiser CX 3.00 is priced around what can be called the mid range of smartphone-oriented in-ears. At a price of Rs. 3,490, coupled with Sennheiser's legacy and prowess in audio equipment, you would expect a pair of earphones that would sound decently well, along with looking its part.
The Sennheiser CX 3.00 is incredibly light, and you can keep the pair of in-ears plugged in all day long, without ever feeling stress or sweat breaking your playlist into interruptions and pauses. Featuring a plastic build with a chrome Sennheiser logo, four pairs of ear adapters in different sizes and a standard cable, the Sennheiser CX 3.00 does feel well built, but not necessarily premium. The plastic used in the build of the earbuds is decent and sturdy, and if you'd be looking to buy these, I suggest you to go for either the black or the red variants, as the white one is prone to sustaining more dirt and stains. The chrome Sennheiser logo is finely textured, and if you happen to handle these a little roughly, you will often find unwarranted scratches on the only point of bling on this. Maybe the chrome could have been finished better, but then again, this does not hinder the headphones' functioning in any way, and you will probably not notice it blatantly.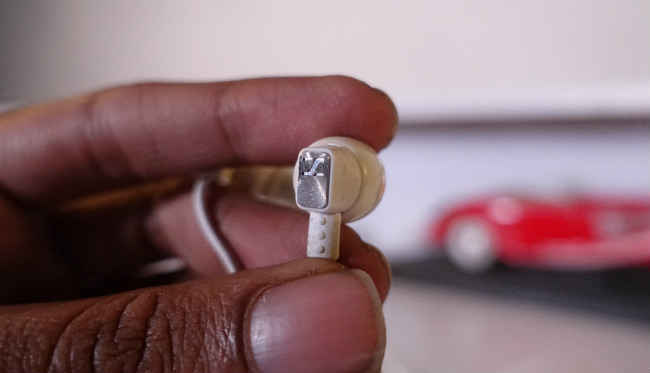 The chrome branding gets scratched rather easily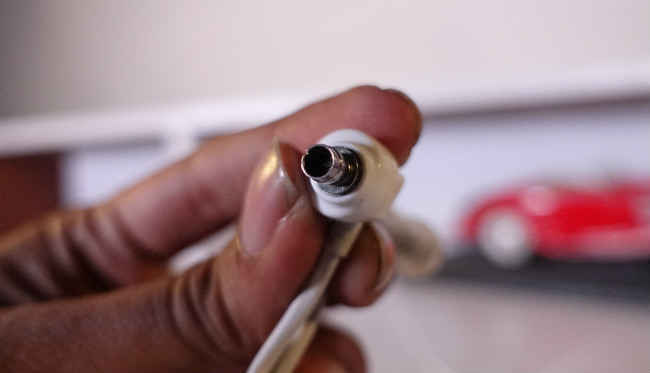 The build quality is nice, and the earbuds are light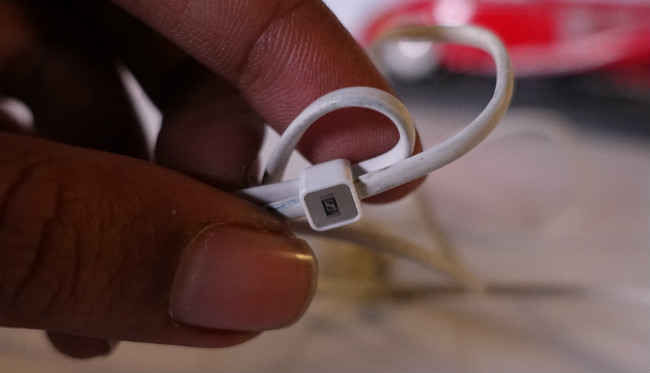 The connecting wire gets entangled – a rather messy affair
The Sennheiser CX 3.00 does not attempt anything extraordinary in terms of design, and looks inconspicuous, which is to say that you will not find your friends asking you about it when you put them on until they notice the Sennheiser logo, and that is where the eccentric asymmetry of Skullcandy in-ears attract attention (audio performance kept aside). The packaging is also kept practical – just the ear adapters and the headphones. The wire seemed durable enough to withstand two constant weeks of near torture that it went through – random tugs and getting crushed at the bottom of my backpack by all the other gadgets, and survived without a blemish. Good job to Sennheiser for that, although it does get tangled when kept in pockets, and in an era of tangle-free wires (read: OnePlus Icons), that is possibly the only notable qualm that I had with the Sennheiser CX 3.00. Otherwise, it looks fine, and has a durable build with decent quality of materials used.
Audio performance
The Sennheiser CX 3.00 is not meant for you if you wish to distinguish every single bass drum beat of Moby Dick, it should be the one for you if you wish to see your public transit troubles through. General ambience listening is what the Sennheiser CX 3.00 aims to do, and it serves that purpose well. There is minimal audio leakage even at higher volume levels on the smartphone, which makes it ideal to listen to. Coupled with its light build, the Sennheiser CX 3.00 feels excellent to listen to, initially.
However, things do not sound so good in the long run. Listening to higher bitrate audio files via the CX 3.00 is not the best experience, seeing that the output audio quality does not sound as good as it should. There is discernible distortion at higher volume levels, and the trebles are too overpowering, often resulting in a number of tracks sounding more chaotic than clear. The CX 3.00 has a Total Harmonic Distortion (THD) rating of <0.5%, while most good-sounding and 'clean' headphones have a rating of <0.1%. Bass frequencies, in turn, are practically absent or weak, and the broader bass-loving music audience will not enjoy the audio output here.
While it does cover the entire sonic range in terms of its frequency response of 17Hz to 21000Hz, contemporary rock tracks mostly sound laden with high frequencies on the shriller side, while the bass line is often too weak to form the backbone of tracks. The mid frequencies are rather bleak, and fine audio texture is what goes amiss here. This leads to finer details of numerous tracks going completely amiss. For instance, listening to the Great Gig in the Sky will be entirely vocal-ridden, heavily masking Wright's synthesiser providing backbone to the song. The Sennheiser CX 3.00 is ideal for casual, light listening to tracks that favour highs – something like Incubus' Drive. It's not that the CX 3.00 is not good, it's just too biased towards the higher end of the frequency spectrum, thereby missing out on large chunks of details in tracks.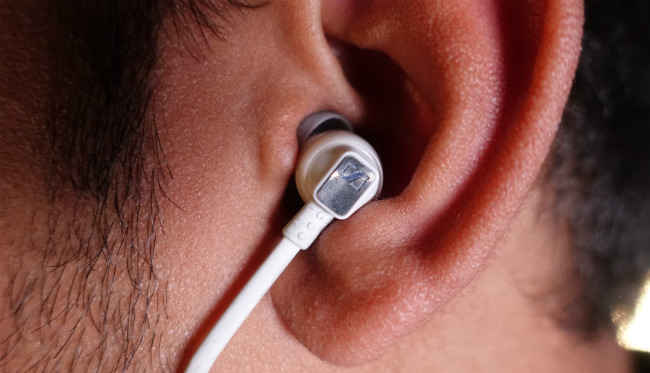 The in-ears make for a snug fit, and audio leakage is minimal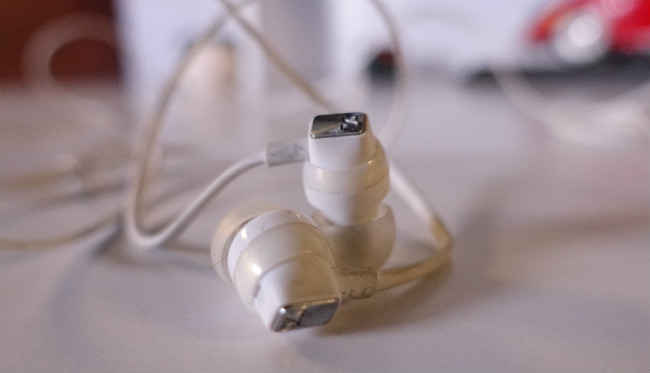 Audio quality is average, there is distortion at high volume, and the mids are garbled
Soundstaging is limited, and audio feels more constricted and unidirectional, than spreading out a musical ensemble. As a result, listening to live performances with the Sennheiser CX 3.00 is not the best experience. The CX 3.00 has passive noise attenuation, and being an IEM, it is not the best at noise cancellation. At medium audio levels, you can hear ambient noise, and seeing that the intention of the Sennheiser CX 3.00 is casual listening, this is one of its flaws. Where the CX 3.00 works is casual music streaming, and listening to the radio. Being the lightweight pair of earphones that it is, it serves its purpose. At medium volume levels, the audio quality is good, and this is where the Sennheiser CX 3.00 feels like a typical Sennheiser product, succeeding in achieving what its price point deserves.
There is no issue with its loudness, and for mainstream listening, it is quite good. The CX 3.00 has an impedance of 18 ohms, and the low resistance is ideal for mobile audio listening, which is a low power source. The timbre is good, and although at highest volume, a number of tracks sound rather shrill, there is a certain warmth that medium volume levels churn out. To sum it all up, the Sennheiser CX 3.00 is not the best in terms of audio quality and overall soundstage, but serves the purpose of a regular, casual audio driver for the regular listener.
Bottomline
The Sennheiser CX 3.00 is a pair of well-built headphones that could have been the best entry-level replacement for in-box mobile earphones. While it is still a massive upgrade over most of them, it is not the best outright performer, and loses out to a few others in competition. For a price of Rs. 3,490, you have the SoundMAGIC E80 and the OnePlus Icons which offer better audio clarity and much better overall experience, along with better build and design. The Sennheiser CX 3.00 is decent to give it the highest possible praise, but, unfortunately, it could have been much, much better.