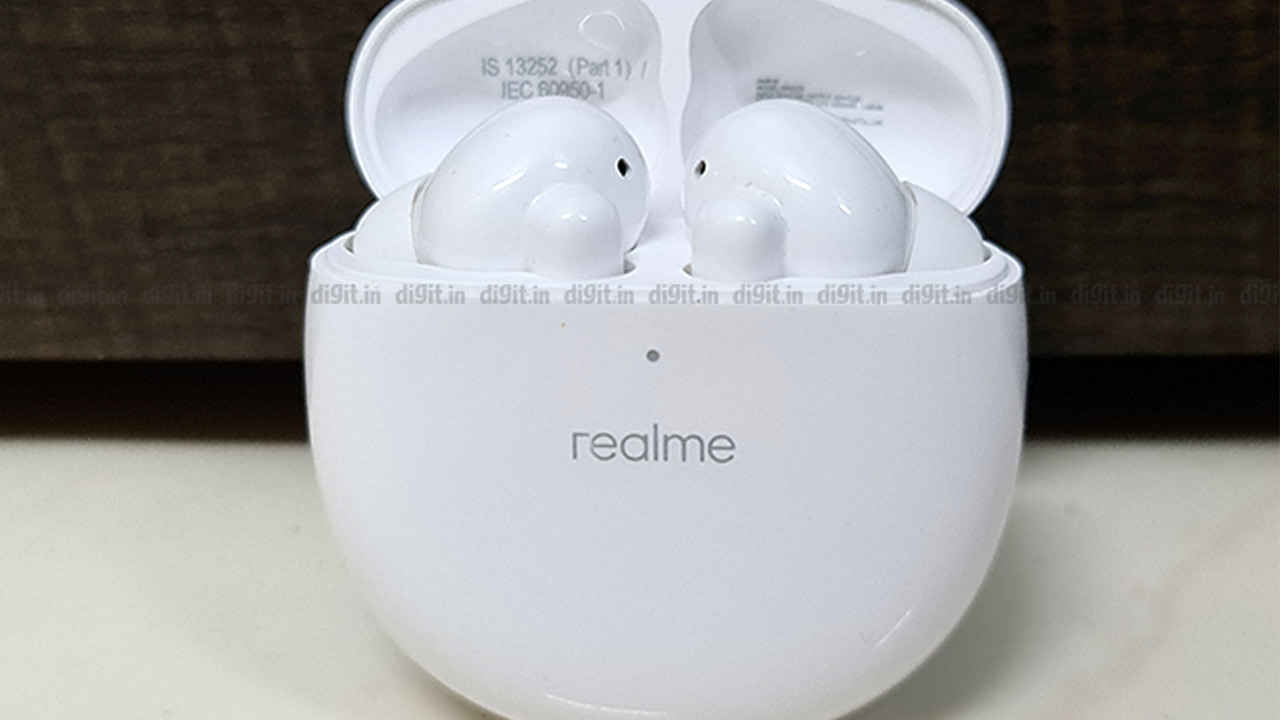 VERDICT:
The Realme Buds Air Pro are enticing, no doubt. Equipped with features such as ANC, Transparency Mode, gaming mode, customisable controls, Google Fast Pair, and others, all packaged neatly at a competitive price of Rs 4,999, it's easy to recommend these earphones to most users that are looking for a value for money true wireless purchase under 5K.
True wireless earphones took the world by storm in 2016 when Apple released its very first AirPods that cut all cords, allowing for a more liberating music listening experience. Since then, the category has only grown manifold with manufacturers now offering plenty of options in the budget and mid-range price points as well. Realme, with the launch of the Realme Buds Air Pro, has taken it a notch higher with this product by including ANC on these earphones, that makes it an extremely enticing purchase at this price point. The Oppo ENCO W51 is another TWS earphone under 5K that offers the same. With such affordable ANC offerings, users no longer have to shell out tens of thousands of their hard-earned rupees to get an ANC-enabled pair of earphones. In addition to ANC, the Realme Buds Air Pro also comes packing an array of other features such as Transparency Mode, Gaming mode, custom controls, and others. The Realme Buds Air Pro will be available to purchase at Rs 4,999, alongside Realme's new ANC neckband-style earphones, the Realme Buds Wireless Pro, from October 16 onwards. Let's see how these feature-laden earphones fared in our tests.
Build and comfort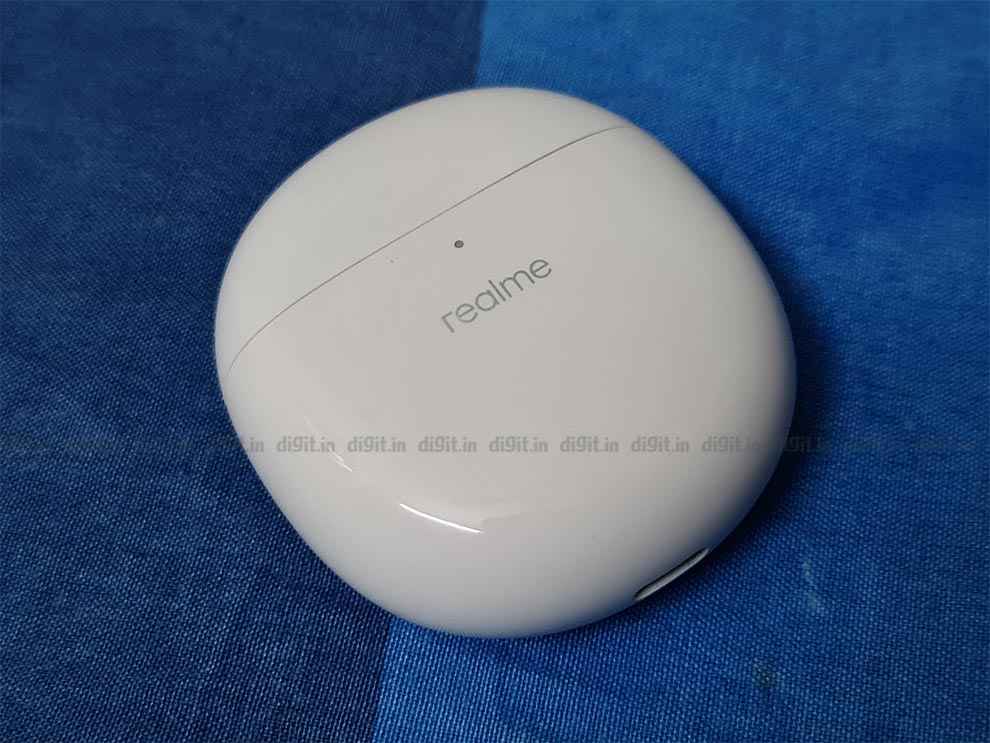 Inspired by the shape of a cobble (a small round stone), the Realme Buds Air Pro's charging case inspires awe due to how flat and pocketable it is. The smooth glossy texture feels good to the touch and the case barely bulges out of even tight-fitted jeans pockets. The design is quite reminiscent of the OnePlus Buds' case, down to the position of the LED light, the charging port and the overall structure. However, the Buds Air Pro's case is considerably flatter, making it more pocketable. The Realme Buds Air Pro is available in two colour options – Rock Black and Soul White.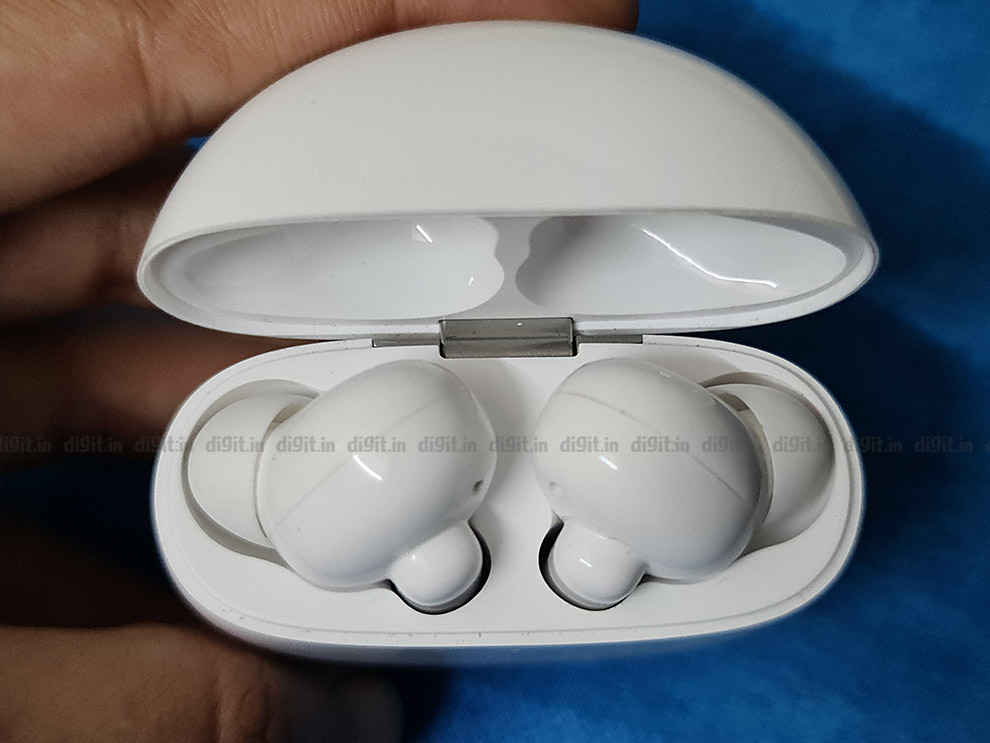 The front of the case houses an LED light which indicates the battery status of the case and the Realme logo, which is pretty subtle. On the bottom, there's the USB Type-C charging port, and the right side has the pairing button. The lid is extremely easy to open one-handed and it also shuts with an audible and satisfying snap. The earbuds, however, are hard to remove from the case, especially if you have bigger or sweaty digits. Due to the flat design, there's not enough room for fingers to easily wiggle between the lid and the case and remove the earpieces seamlessly. Although, if you have thinner fingers, you possibly won't face this issue.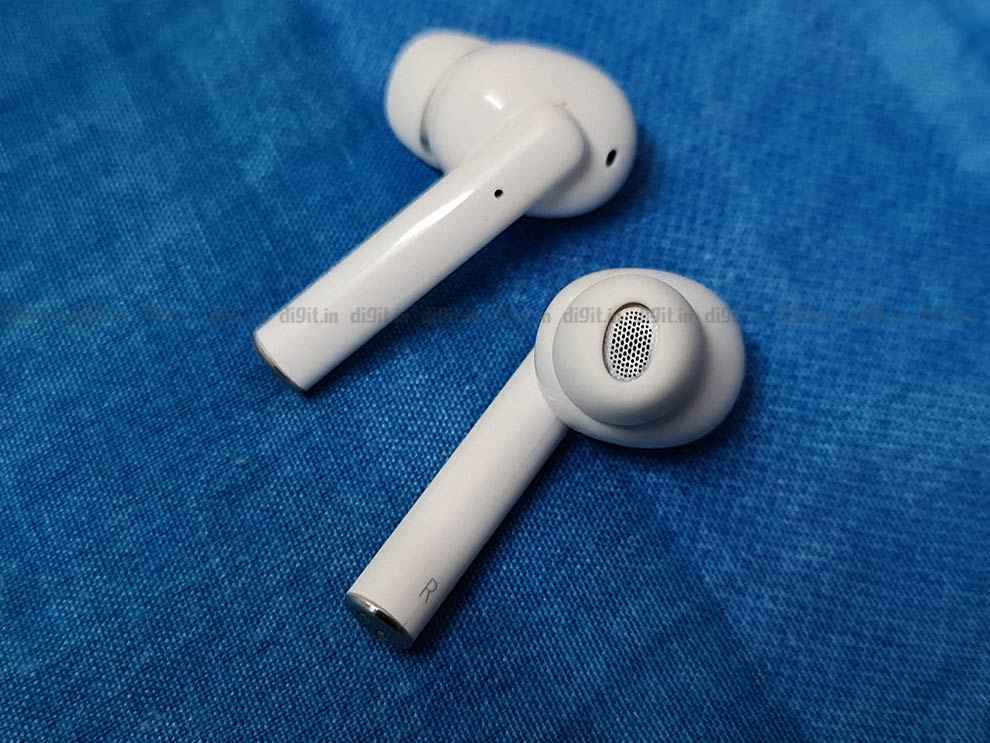 Moving on to the earbuds, they're pretty lightweight, each bud weighing merely 5g and carry over the same glossy texture as on the charging case. They have considerably long stems protruding out and have an oval shape with angled nozzles. The top part of the stem that connects to the buds also doubles as a touch sensor for music and call controls. The touch controls are pretty responsive and worked accurately for the most part, with very few mistaps registered in our testing period.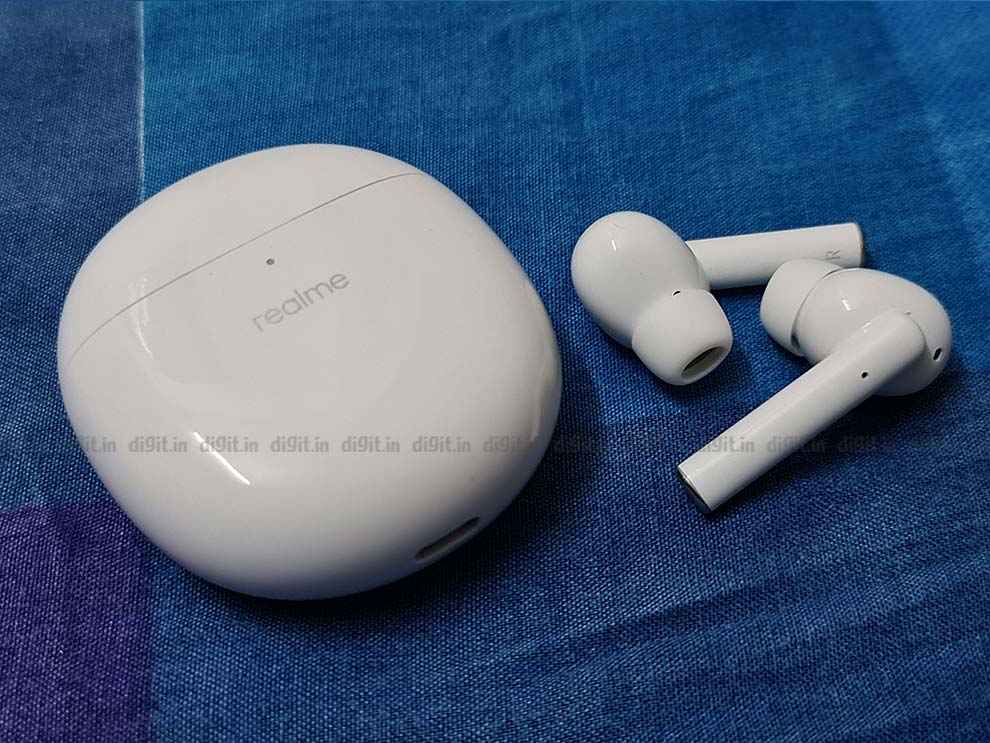 While the earphones are lightweight, the fit isn't quite as secure as we'd hope, despite trying all three sets of silicone buds the company provides in the box. We often had to struggle to get them deep enough inside the ear canals to feel secure, and we even faced some ear fatigue after an hour or so of listening to music. Additionally, we also needed to constantly readjust the buds during more intensive activities such as jogging or running errands at home. This is especially bothersome for people with smaller-sized ears.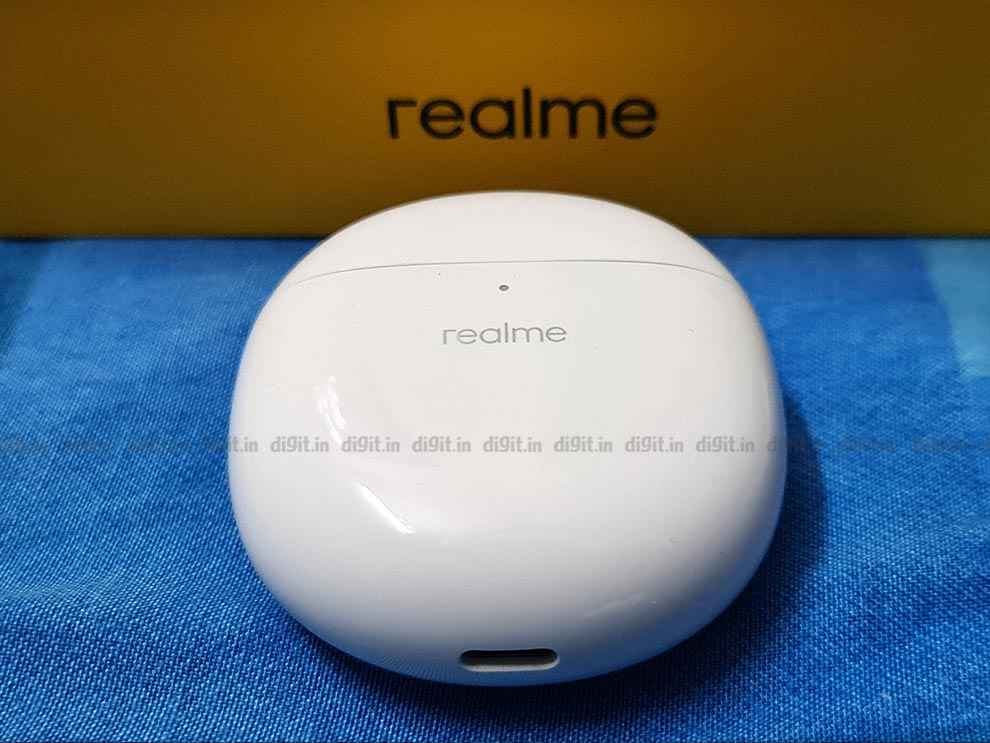 Naturally, due to the inadequate fit, passive isolation was less effective than desired. However, if the earbuds do fit you well, you can choose to use these while gymming or running since they come with an IPX4 water-resistant rating, which should be able to withstand some sweat. Additionally, the buds also come equipped with a sensor that allows for wearing detection. Simply removing a bud from your ear will cause the music or media to pause, and putting it back on will resume the playback. Having wearing detection at this price point is pretty rare and we were glad to see Realme include this relatively uncommon feature. The wearing detection worked about 80 per cent of the time we used it, which is quite good.
Features
In addition to the aforementioned Wearing Detection (auto-pause or play) and IPX4 rating, the Realme Buds Air Pro also comes packing other appealing features, the most eye-catching of which are Active Noise Cancellation and Transparency Mode. The Realme Buds Air Pro utilises the company's custom S1 noise cancellation chip to cancel up to 35dB of noise. This is accomplished by employing two microphones – one feedback and one feed-forward microphone that collect ambient noise information and create opposite sound waves to cancel them out. The Transparency Mode, on the other hand, enhances ambient sounds so you can be aware of your surroundings in situations where you have to listen to announcements, traffic sounds, or others.
The earbuds also come equipped with a dedicated Gaming Mode and as per Realme, the latency in this mode is merely 94ms, which is on the lower side in Bluetooth earphones. The gaming mode can be activated by pressing and holding the touch sensors on both buds for about 2-3 seconds. We tried playing Call Of Duty: Mobile with gaming mode on and found the latency to be unnoticeable. The sound of gunshots were synced with the visuals. Even when we watched videos on YouTube and Netflix videos, the lip movement and speech was pretty much perfectly in-sync. The difference between Low Latency Gaming Mode and Normal Mode, even though very small, was noticeable at times, especially when watching YouTube videos.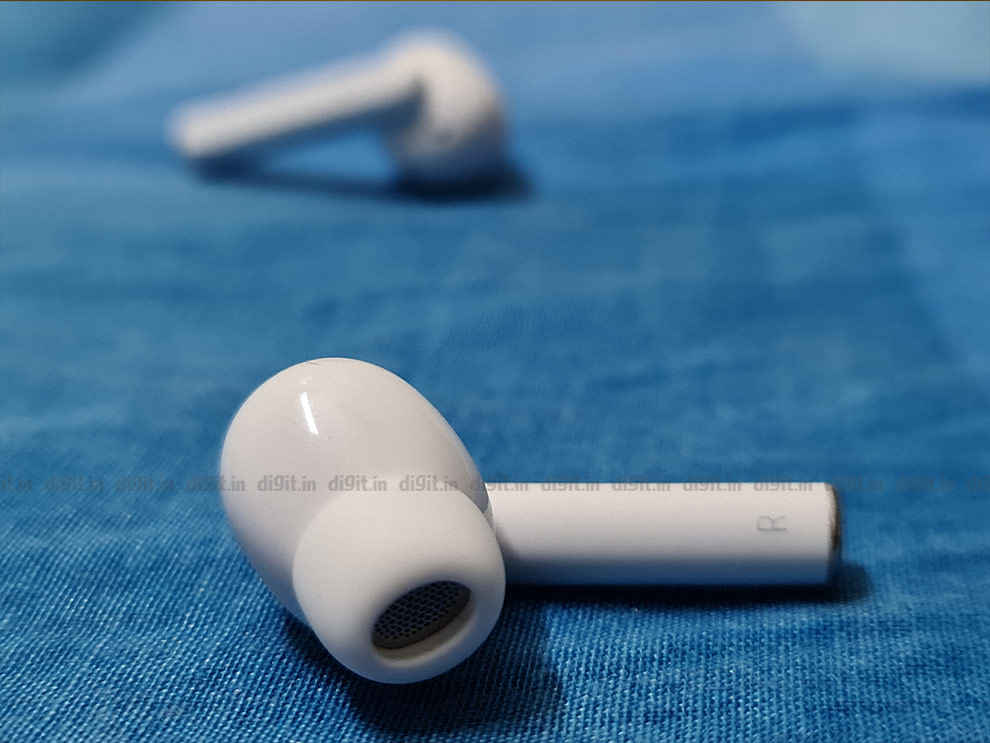 The earphones can also be used in mono mode since both buds act as the master buds. So, if you want to just use the right earbud by itself while the other one stays in the case or vice versa, you can choose to do so. The earphones are powered by Bluetooth v5.0 and the connection was pretty reliable in our test period. We did, however, have them randomly disconnect on us, but that was just once in a week's worth of testing. Additionally, they come with SBC and AAC codec support, but they're missing aptX support, which we see on some affordable and mid-range true wireless earphones such as the Mivi Duopods M80, Creative Outlier Air, and Lypertek Tevi.
For connection, you can either pair the earphones conventionally via Bluetooth settings or with Google's Fast Pair technology which is available on Android phones. Fast Pair is extremely convenient, and before we even had the chance to activate Bluetooth to pair the device, Fast Pair kicked in when we opened the case and prompted us to connect to the Realme Buds Air Pro. Subsequent connections to the paired device were pretty much instantaneous as well. Additionally, there's also a little prompt that is shown on your phone every time the buds connect that relay the battery percentage of both the buds and the charging case. However, this wasn't very consistent and sometimes the prompt would just fail to show up.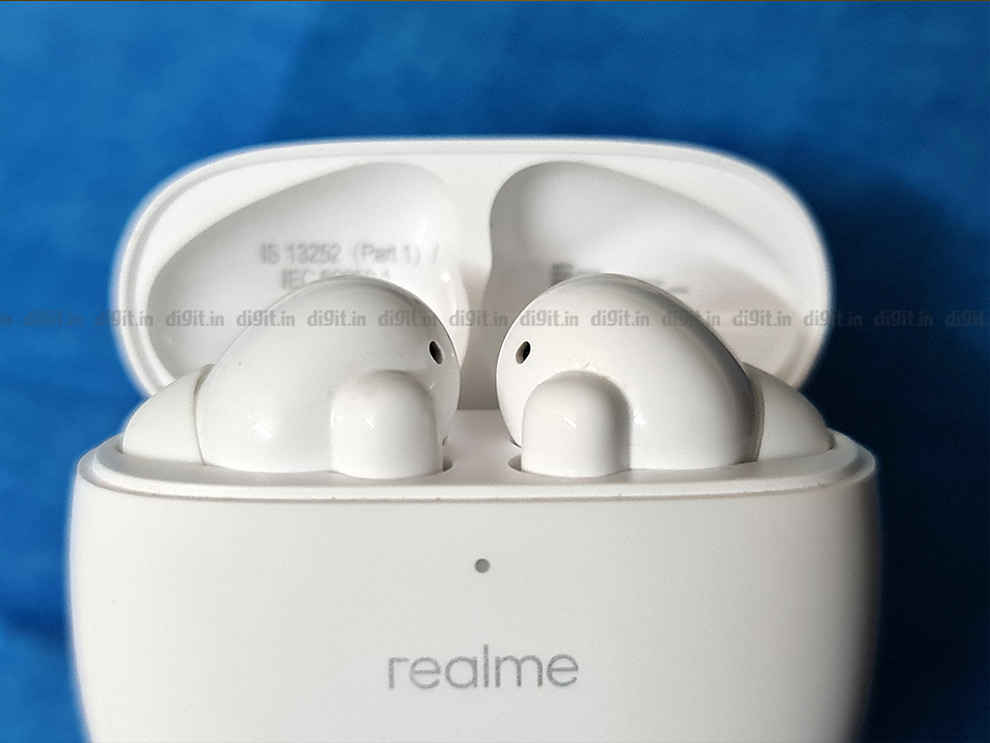 We missed Qi wireless charging for the case on these buds and were rather disappointed that Realme chose to get rid of this nifty feature that was actually available on the predecessor of these earphones, the Realme Buds Air. However, we do get USB Type-C charging and fast charging support. Additionally, the buds also support voice assistants such as Siri and Google Assistant, however, you will need to download the Realme Link app to customise the controls and activate the voice assistant control, which is turned off by default.
Realme Link: Accompanying app features
The Realme Buds Air Pro can be connected to the Realme Link app, which unfortunately doesn't house an adjustable equaliser, but it does come with some other useful features. You can quickly switch between Active Noise Cancellation, Transparency and General Modes. There's also an option for you to choose which modes (ANC, Transparency and General) you want your touch controls to switch between. So, if you only use ANC and General mode, and don't use Transparency much, you can choose to stop the earphones from cycling to them via the touch controls.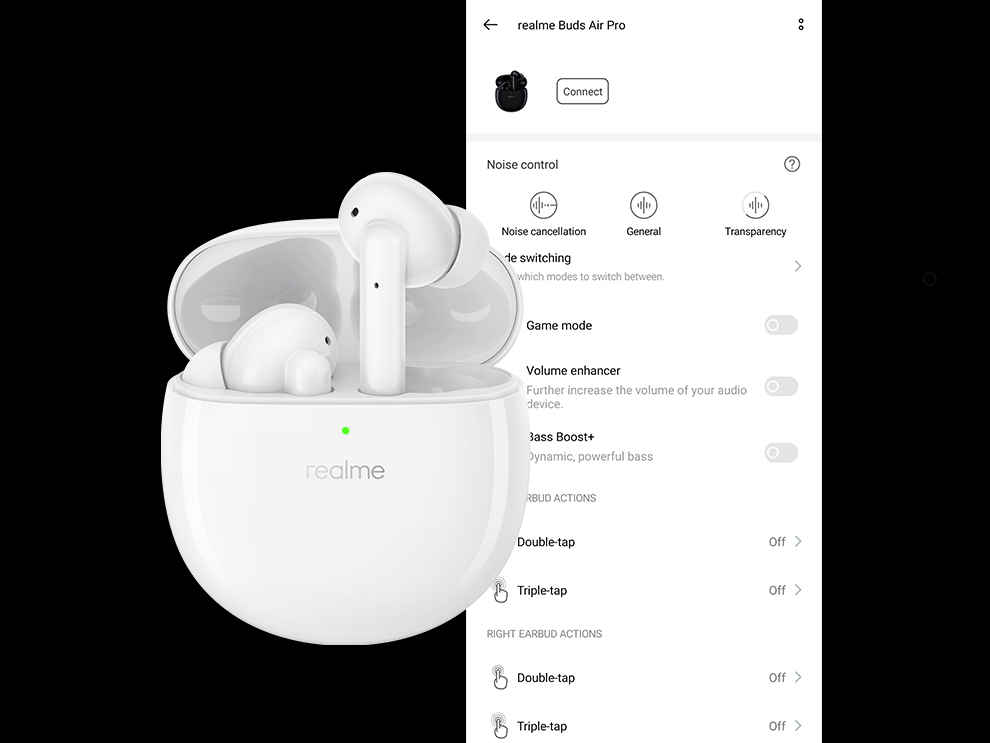 You can also turn on/off Game Mode, Volume Enhancer (which boosts the volume of the earphones), and Bass Boost+ (which increases the bass response). In our tests, we found that the Bass Boost+ mode didn't particularly amplify the bass response too much. Additionally, you can also see the battery percentages of both the left and right earbuds, as well as the charging case. Firmware updates can also be done within the app.
Lastly, you can also customise some controls on your earbuds. By default, a double-tap on either side pauses/plays music while a triple-tap on either side takes you to the next track. Additionally, tapping and holding either the right or left earbud switches between ANC, Transparency and General modes while tapping and holding both earbuds at the same time cycles between Gaming mode and Music mode.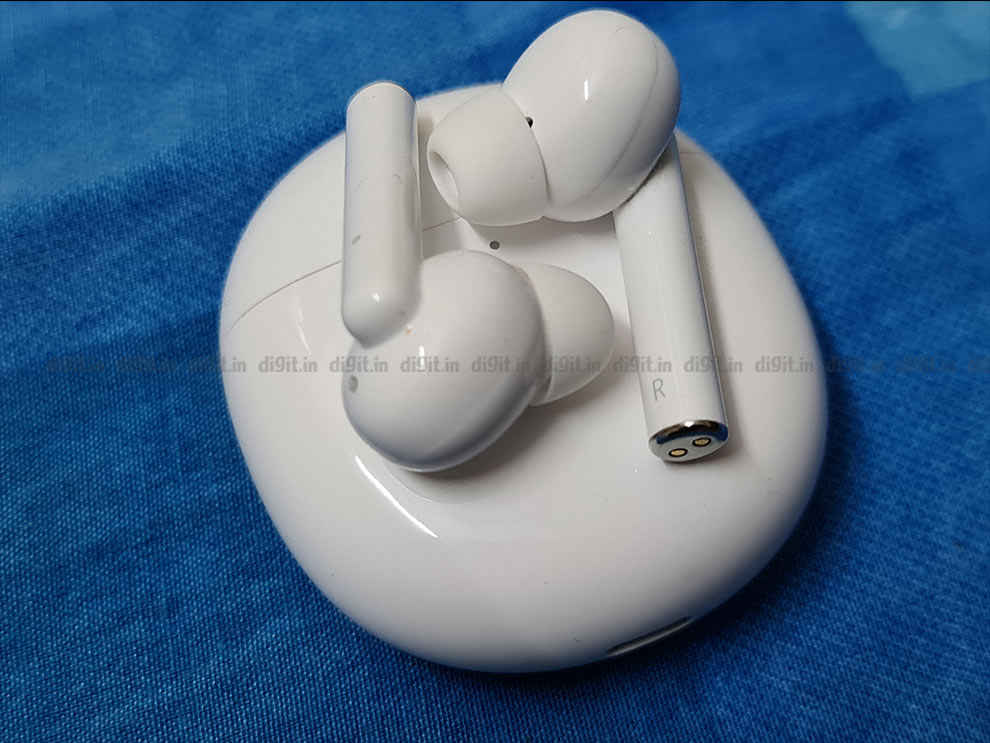 You can customise double-taps and triple-taps within the app and add functionalities such as summoning your device's voice assistant, going to the previous track, switching between noise control modes, and even completely turn off the control. There's no option, unfortunately, to control the volume of the media via touch controls, which we missed sorely, since having to pull out your phone every time to do so can get bothersome.
ANC and Transparency Mode performance
Unlike the ANC on the Realme Buds Wireless Pro, thankfully, the ANC on these earphones do not cause distortion or alter the sound profile drastically. We found the noise cancellation on these earphones to be pretty decent, especially for the price. While you don't get the insane levels of ANC on-ear headphones provide, or the substantial noise reduction the Sony WF-1000XM3 provides, what you do get is acceptable levels of ambient noise suppression especially lower, constant sounds such as an AC drone, the whirring of a ceiling fan, and others of the sort. However, mid to high-pitched sounds such as car honks, the clacking of a mechanical keyboard, and human voices aren't suppressed.
Nevertheless, for a pair of earphones under 5K, the ANC performance is acceptable and you can hear the difference in comparison to just regular passive isolation, which is pretty lacklustre on this device. Transparency Mode also works pretty well and does as advertised. Ambient sounds are sufficiently heightened, to a point where you can listen to your surroundings even if you're listening to music at moderate volume levels. However, if you want to have conversations, there isn't a real need to shift to Transparent mode since general and even ANC mode doesn't inhibit human voices to a great degree.
Sound quality
Equipped with 10mm Bass Boost drivers, the Realme Buds Air Pro exhibits a rather common V-shaped sound signature, where the bass and treble frequencies are boosted and the mids are suppressed. The sonic signature leans more towards the bass and lower-frequencies though, with a bass response that comes with significant heft and thump which can be felt in tracks such as Blinding Lights by The Weeknd or all the good girls go to hell by Billie Eilish. The bass also doesn't bleed into the mids and shows good restraint in that regard which is rare in affordable earphones.
However, the mids and mid-highs themselves are slightly suppressed which makes some tracks sound hollow since the instruments and vocals aren't reproduced with adequate drive. In Pull Me Under by Dream Theatre, the lead guitar lacks punch which makes the entire track fall kind of flat. However, higher-frequency female voices sound more lively in comparison to the sometimes listless male voices.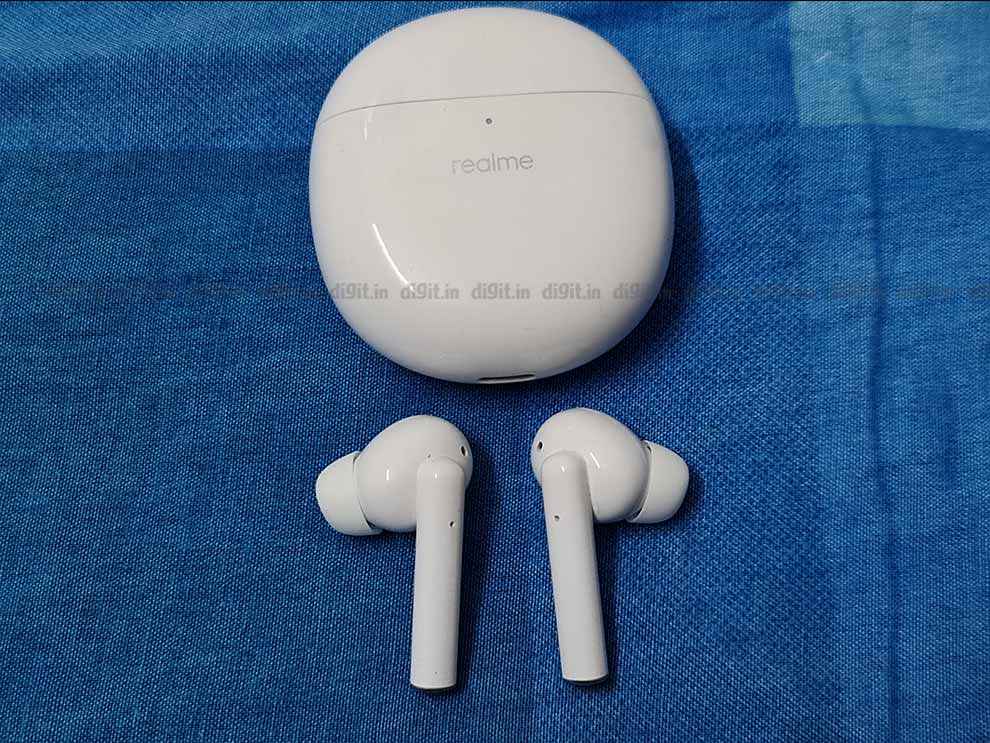 The highs are reproduced decently, with a tinge of distortion at times, especially at higher volumes. Also, in instrumentally crowded tracks such as Popular Monster by Falling in Reverse, the slightly weightier bass response causes the drums in the song to overshadow the cymbals and hi-hats. The soundstage is decent but the imaging could be slightly better. However, for most popular genres, this sound signature is pretty decent. We wish the mids weren't quite as suppressed but it's something that only staunch audiophiles will be completely thrown off by. For most others, it's an acceptable sound signature that doesn't cause listening fatigue over long sessions.
Battery life and microphone
The Realme Buds Air Pro doesn't stand out when it comes to battery life and neither does it disappoint. It stands somewhere in the middle of the mix when it comes to true wireless earphones' battery life with a respectable 20 hours of total battery life with ANC on, and 25 hours with ANC off, as per the company. According to Realme, the earphones are capable of 5 hours of playtime with ANC on with three additional charges from the case, and 6 hours without ANC with 3 additional charges as well.
In our tests, with mixed active noise cancellation and general mode usage and with the volume at 50 per cent, we were able to get 4 hours and 45 minutes of playtime from the buds themselves, while the case charged the buds to full twice and to 80 per cent the third time before hitting 0 per cent, which is pretty decent for ANC-enabled earphones.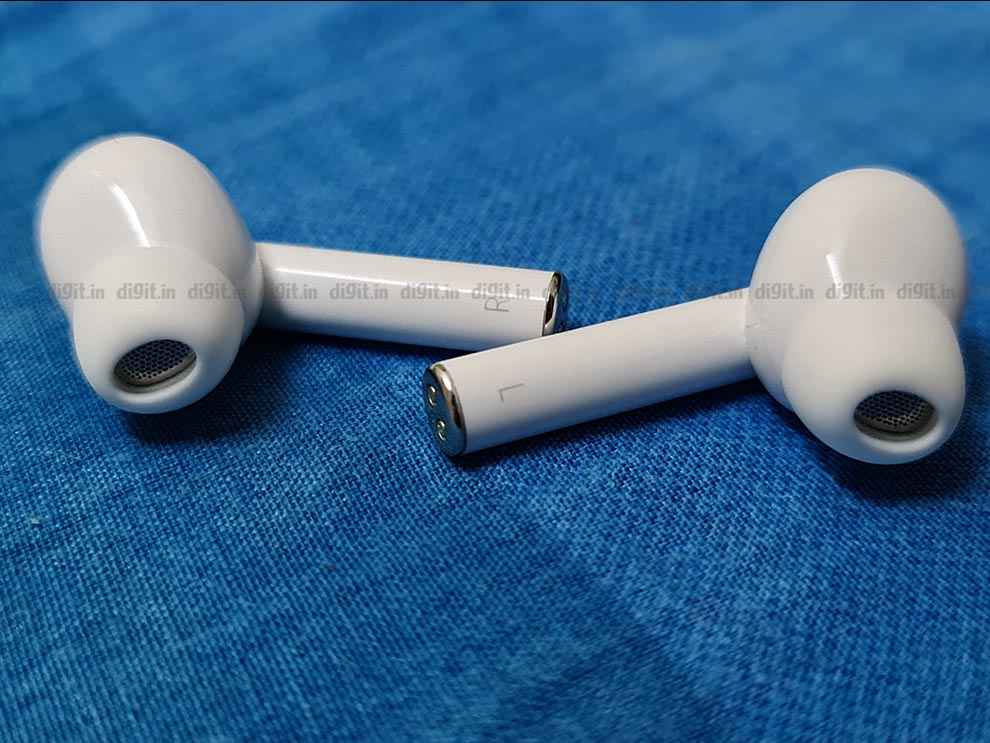 The microphone quality was strictly mediocre on the Realme Buds Air Pro. Microphone intelligibility was decent. We dictated a paragraph into the Google Notes app and the mic picked up about 70 per cent of the words accurately. However, on calls, the earphones had a rough time filtering out ambient sounds and the listener on the other end of the call complained of excessive disturbance which was due to a high-speed ceiling fan. So, if you're going to be making a lot of calls with these earphones, ensure that you do it in quiet environments.
Bottomline
The Realme Buds Air Pro are an enticing pair of true wireless earphones, no doubt. Equipped with features such as ANC, Transparency Mode, gaming mode, customisable controls, Google Fast Pair, and others, all packaged neatly at a competitive price of Rs 4,999, it's easy to recommend these earphones to most users that are looking for a value for money true wireless purchase under 5K. The slightly inadequate fit, lack of volume controls and the mediocre microphone quality aren't big enough red flags to stop us from recommending these earphones. Overall, we think that Realme hit it out of the park with these earphones, offering decent sound quality and host of features at a very appealing price point