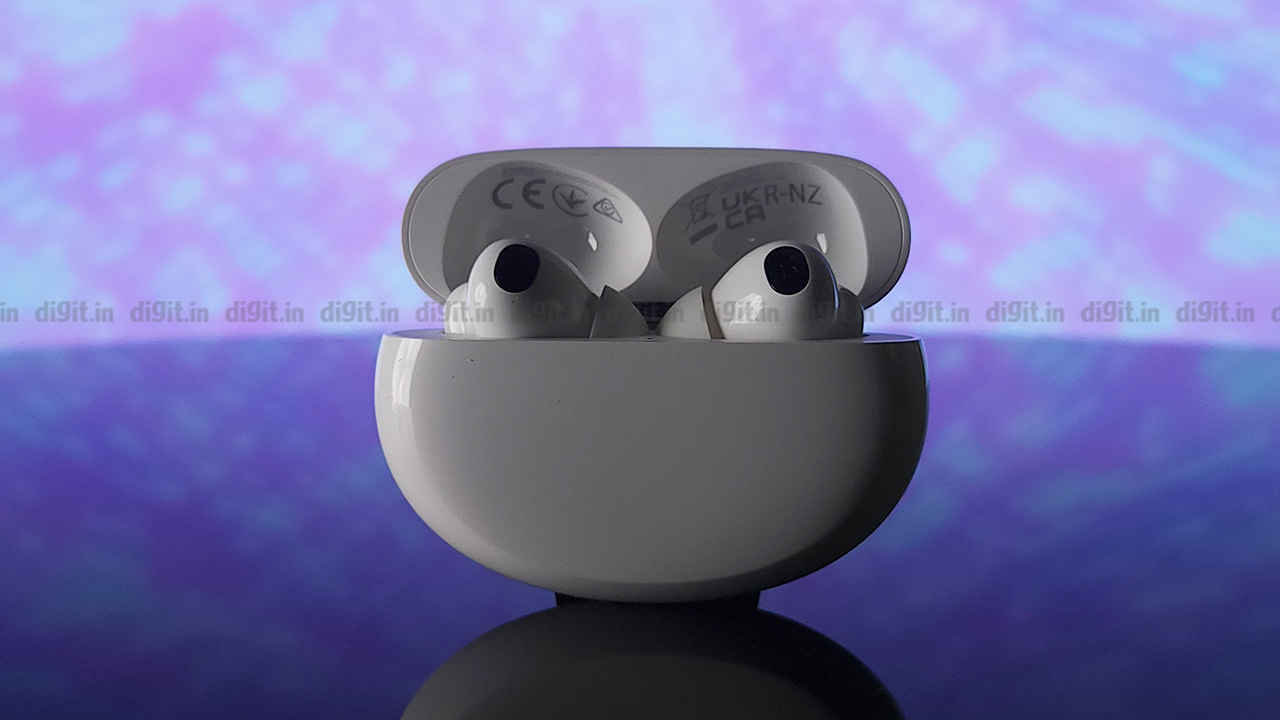 PROS:
Pristine sound quality, Improved ANC performance, Feature-rich HeyMelody app, Multipoint connectivity, LDAC codec support
CONS:
Pressure controls aren't well-positioned, No customisable EQ
VERDICT:
The Oppo Enco X2 follows the footsteps of its predecessor and even goes above and beyond what the Enco X achieved. It punches away above its weight with exceptional audio quality and an array of nifty features on offer at ₹10,999.
It isn't often that a value-for-money product outclasses its more expensive counterparts in more ways than one and the Oppo Enco X truly wireless earphones from 2019 did just that. In fact, even close to three years since, the Oppo Enco X has consistently topped our list of the absolute best TWS earbuds under ₹10,000. But something tells us that's about to change, with the launch of the successor – the Oppo Enco X2. On paper, the Oppo Enco X2 takes the successful formula applied by its predecessor and pushes it to the extreme. The Enco X2 ups the ante with improved ANC, LDAC codec support, added features, multipoint connectivity, and more. All this, and the price remains almost the same as the Oppo Enco X from 2019. It's safe to assume that our excitement has been stirred up, since all signs point toward the Oppo Enco X2 becoming the new "flagship killers" for months, or even years, to come. Is the excitement warranted though or is it all just hype? Let's find out.
Oppo Enco X2 Review: Build, design, and comfort
The base design of the Oppo Enco X2 has been altered only slightly in comparison to the Enco X. A few design flourishes that graced the Enco X are missing here, with Oppo having opted for a more muted look. The silver brushed metal band that ran look the edges of the Enco X's case is missing here. Additionally, the slight iridescent glow of the Enco X's earbud stem also doesn't make its way to the Enco X2. The design is more muted and commonplace, and honestly, we did miss some of the design flair that was present on the Enco X here.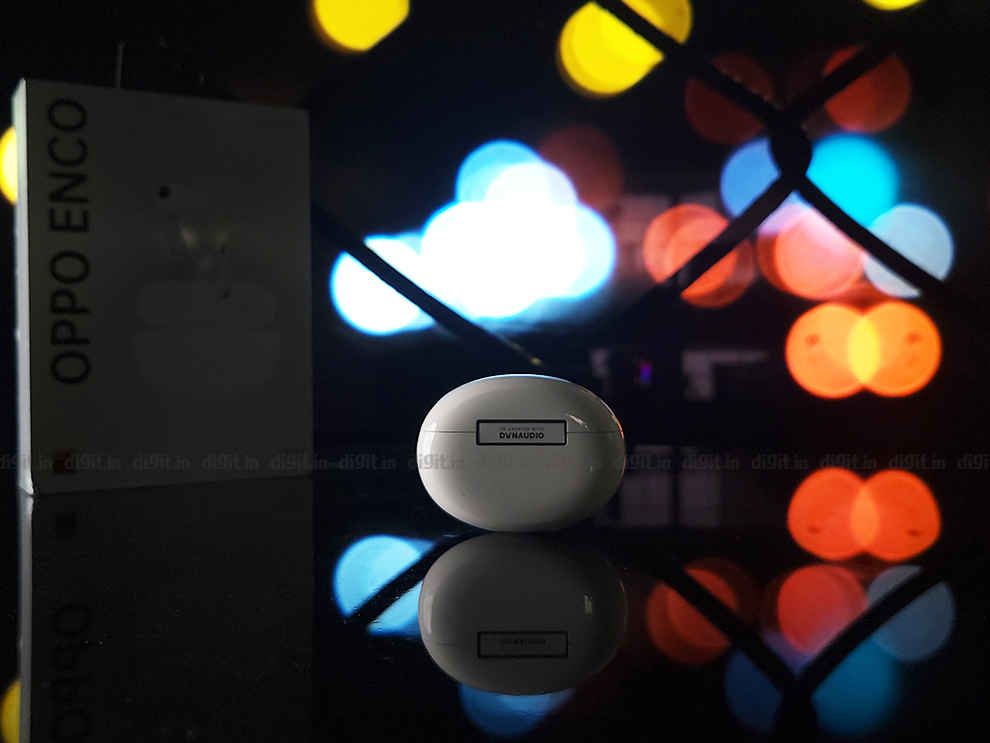 The case and earbuds are glossy white with black coloured R and L indicators added on the buds for easy identification – a touch we quite appreciated. The earbuds have an in-ear design with silicone ear tips. Oppo has bundled multiple ear tips in the box, so most users should find a snug-fitting pair with ease. To aid that, there's even an ear tip fit test feature integrated into the HeyMelody app. The company also claims that these ear tips come with an antibacterial design with earwax prevention, meaning that earwax is prevented from entering the speaker outlets. The earbuds, reportedly, also have an inorganic ion coating to prevent bacterial growth.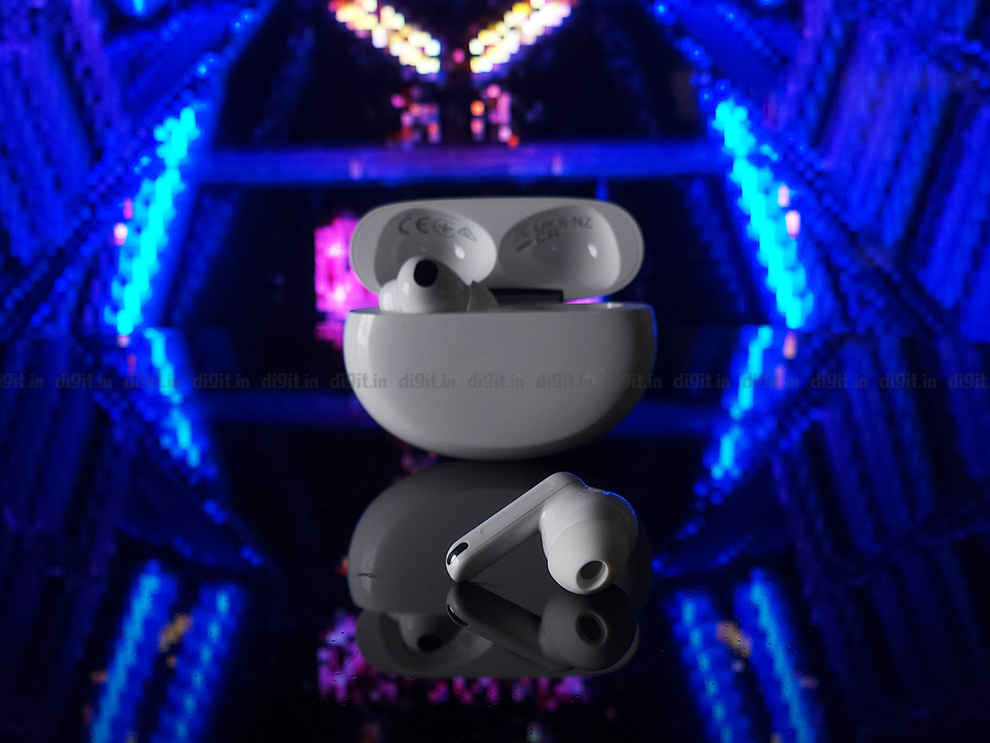 While the case and earbuds are primarily made of plastic, the quality is pretty good and it doesn't feel cheap. The charging case has a small footprint with an OPPO branding on the top and a Dynaudio logo at the back to highlight the continued collaboration. There's also a USB C port and a charging indicator LED at the bottom. The case's hinge is reinforced with metal, making it robust and sturdy – something that's not very common at this price.
As for the earbuds, each one weighs merely 4.7g, so they're lightweight and comfortable to wear over long periods. The stems feature pressure-sensitive controls – something that worked wonders on earphones such as the AirPods 3 and the OnePlus Buds Pro. Unfortunately, our experience with these controls wasn't all that pleasant. The pressure-sensitive zone is in the middle of the stem, making them difficult to access accurately every time. On other earbuds with pressure controls, they are usually placed at the end of the stem, which is much more intuitive.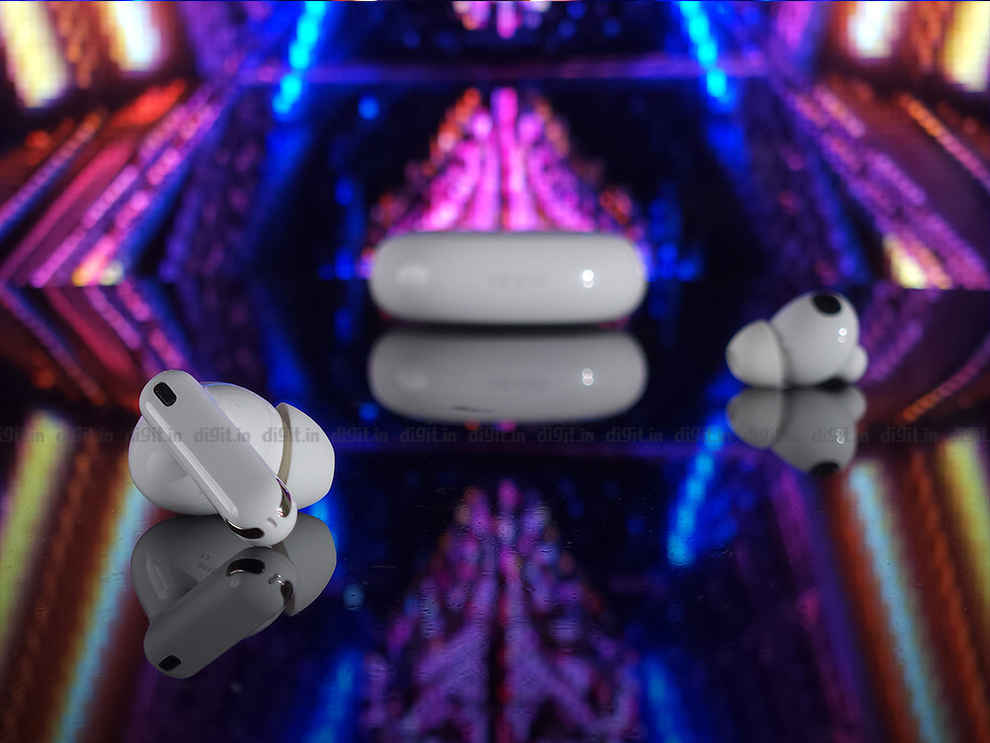 Additionally, volume can be controlled by sliding down or up on the stem, but the placement of this zone is towards the inner side of the ear, which doesn't lend itself well to comfortable operation. For the next iteration of the Enco X series, we hope Oppo takes a page out of Apple or OnePlus' book to implement pressure-sensitive controls in a more effective manner.
Despite this nitpick, the earbuds and case are well-built. The earbuds are also comfortable and snug enough to be used in the gym. Add to that, the IP54 dust and water resistance rating, and you've got a pair of earphones that are well equipped to handle the outdoors.
Oppo Enco X2 Review: HeyMelody app and other features
We've seen truly wireless earbuds with exceptional sonic presence under ₹10-11K, but when that's coupled with a solid array of utilitarian features, the combination is something special. With the Oppo Enco X2, you get practically every feature you could think of at ₹10,999. Some of these features are even absent on flagship TWS earphones.
First, let's delve into the accompanying app, which is the HeyMelody app. Oppo phone users don't need a dedicated app since the features can be accessed via the Bluetooth menu. For those with non-Oppo devices, the app is available on both Android and iOS. It delivers fantastic user experience and a wide array of features. You get toggles for ANC intensity, five EQ presets, personalised ANC and sound (according to your ear shape and hearing), game mode, ear tip fit test, and customisable controls. Game Mode brings down the latency to 94ms, so latency when playing games and watching videos is barely noticeable with this mode turned on.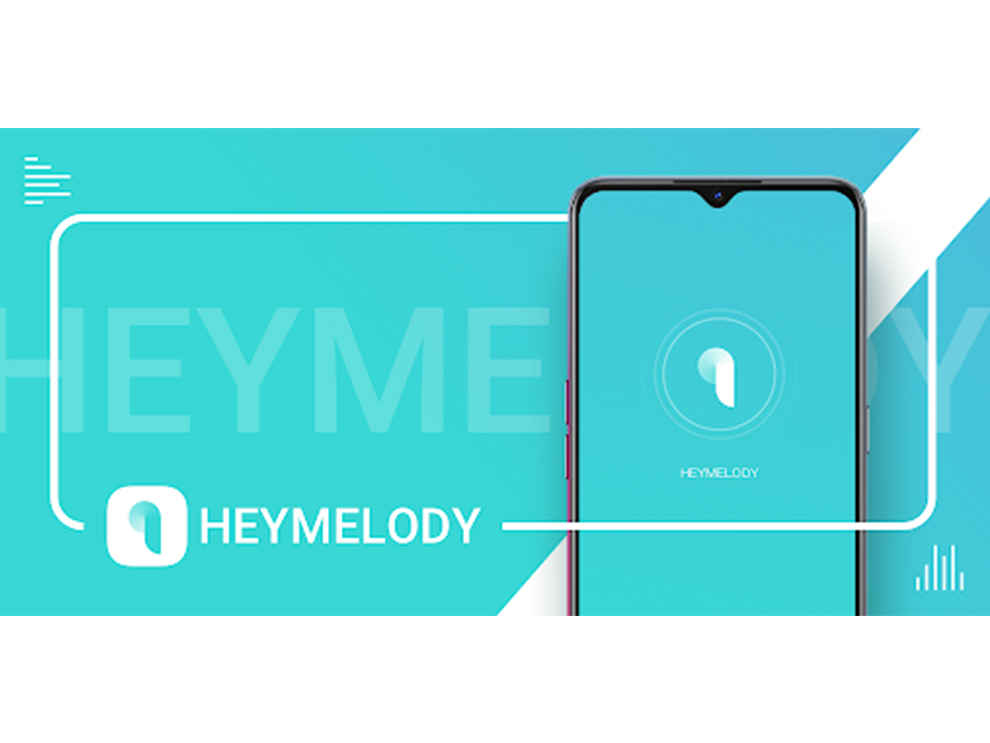 The app also allows you to turn on dual connection or multipoint connectivity – a nifty feature that allows you to connect to two devices simultaneously and switch seamlessly between them. It's fantastic to have this feature on a mid-range truly wireless pair of earbuds since some premium ones such as the Sony WF-1000XM4 have skimped out on this.
The Oppo Enco X2 brings with it several other features such as Hi-Res certified audio with high audio transmission rate. It supports an array of codecs including high-quality ones such as LHDC and LDAC, alongside the legacy AAC and SBC codecs. LHDC and LDAC can be toggled on within the app itself, so you don't need to mess with the Bluetooth settings or Developer Options. Additionally, it is powered by Bluetooth v5.2 with support for binaural low-latency Bluetooth transmission. All of this equates to fantastic connectivity with no audio drops or jitters.
Oppo Enco X2 Review: Performance
If you had any qualms about the Oppo Enco X2's sound quality, let me put your mind at ease. These are the most sonically-advanced, consumer-grade TWS earphones available under ₹11K. The proof lies in the pudding, and the pudding is the exceptional hardware coupled with fantastic tuning. Once again, the tuning has been done in collaboration with the Danish company, Dynaudio, which has an imposing reputation in Hi-Fi circles.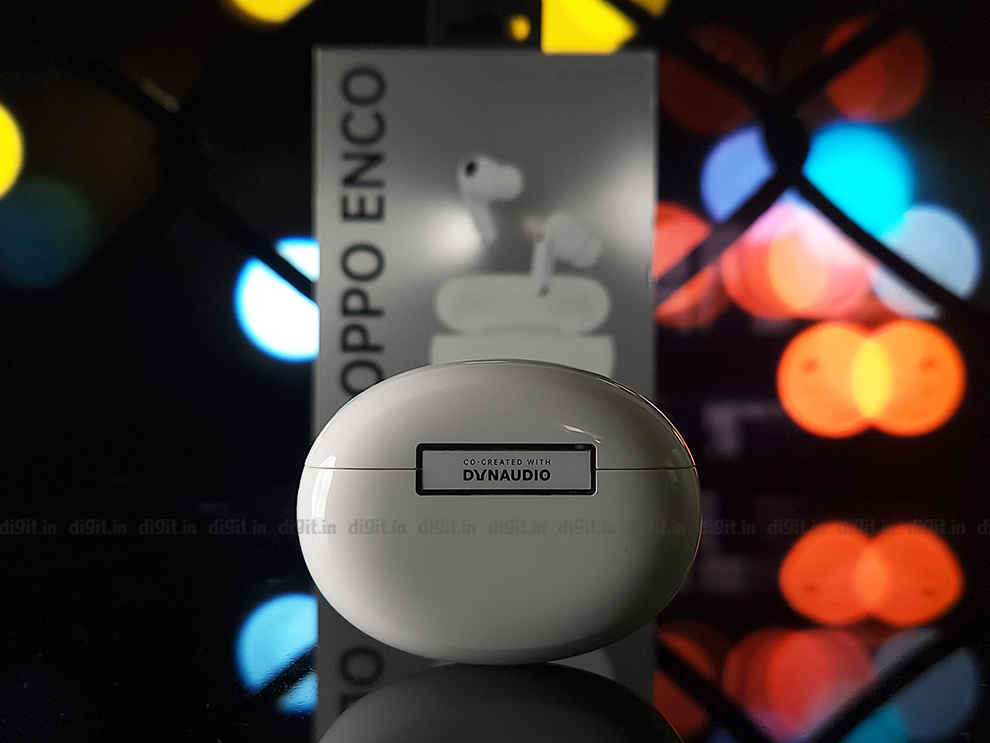 The Enco X2, like the Enco X, brings dual coaxial drivers, which is unheard of at this price point in the TWS earphones category. You get 11mm dynamic drivers paired with 6mm planar diaphragm drivers – each taking care of a different part of the frequency range. The earphones are equipped with a triple-core chipset which includes a standalone DAC.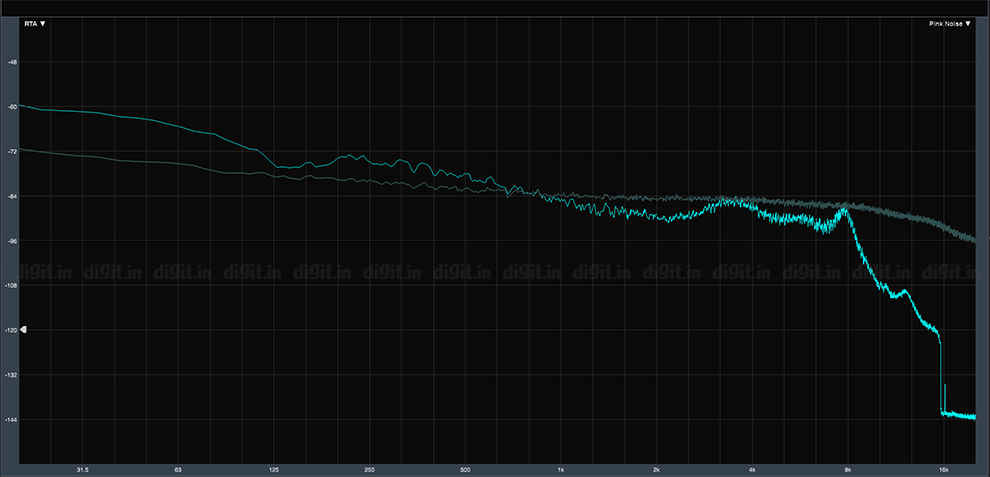 Uncompensated frequency response graph of Oppo Enco X2 (Blue) vs Neutral (Dark Green)
All of this wizardry brings out a balanced sound signature with exquisite amounts of detail and character in the bass and mids. The audio pops a little more in comparison to the Oppo Enco X since the bass region of the frequency response range sees a slight boost. However, this boost leads to no muddiness whatsoever. What you get is punchy, fast-attacking bass response with very short decay. Mids are detailed and unhindered by the bass.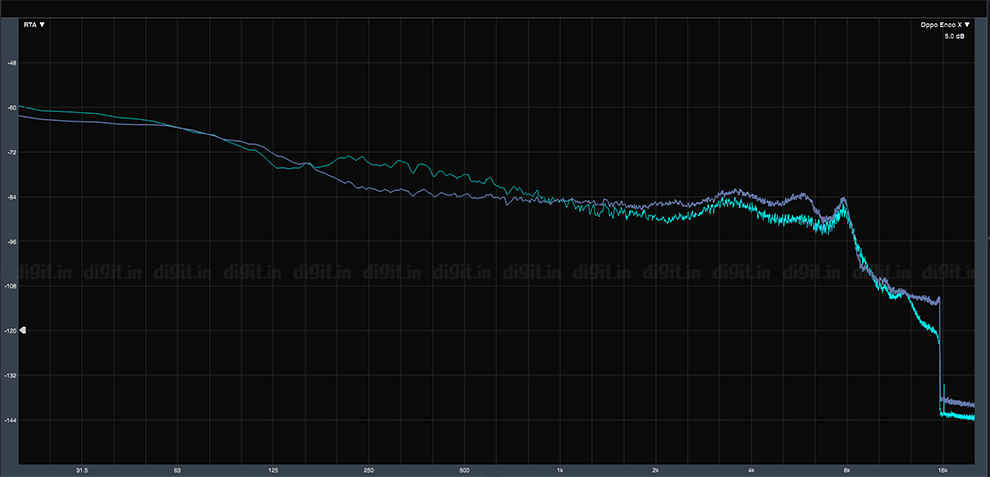 Uncompensated frequency response graph of Oppo Enco X2 (Blue) vs Oppo Enco X (Purple)
Vocals in tracks are articulate, clear and don't sound sibilant, which is sometimes an issue at this price range. The highs are sparkly and the drop-off is not too harsh as well. Due to the slightly pumped-up bass, the issue we faced with the Enco X where the treble could end up sounding a bit too harsh at times is solved. So, what you get here is incredibly balanced and detailed sound with little to complain about.
The soundstage is excellent as well and has improved in comparison to the Enco X, although it doesn't match the Sennheiser MTW 3's vast stage. Imaging is great too with instruments' location being easily discernible in the mix. Overall, these are incredibly versatile earphones that sound divine for their price when listening to almost any genre of music. The Oppo Enco X2 swings way above its price range and can definitely take on even some premium TWS earphones in the market in 2022.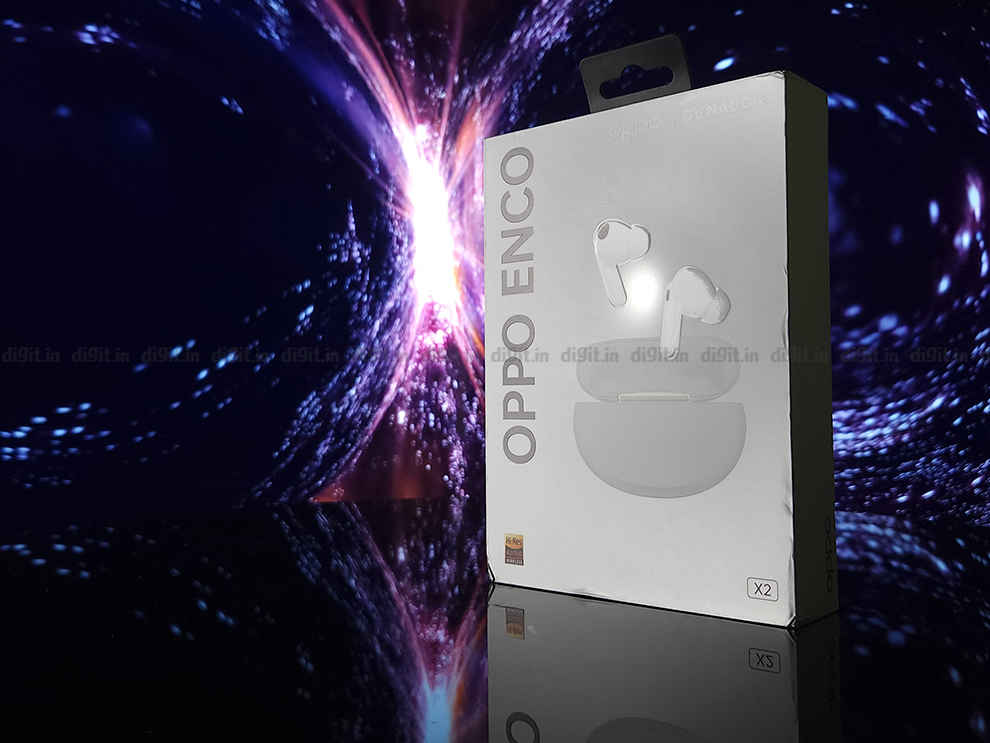 Let's move on to Active Noise Cancellation, one of the most sought-after features on headphones in 2022. The company claims 45 dB of noise cancellation with the new Enco X2s – an improvement over the originals. The difference is actually pretty palpable with the Enco X2 being able to drown out quite a lot of ambient chatter. The earphones can easily diminish sounds such as an AC's hum or an airplane's drone, and can also do a pretty commendable job reducing human voices and high-speed fans. Noise cancellation is available in four modes – Mild, Moderate, Max, and Smart. The Smart Mode picks one of the three based on your current environment and ambient sound levels.
The Oppo Enco X2 comes equipped with AI noise cancellation for calls with bone conduction technology that extrapolates your voice and relays it in a clear manner. The earbuds have a triple microphone setup with each side sporting three high-sensitivity mics. The calls and voice recordings are much clearer than they were on the Oppo Enco X. They even do a much better job in noisy environments with the buds picking up minimal surrounding noises.
Oppo Enco X2 Review: Battery life
While the Oppo Enco X didn't blow us away with its battery performance chops, the Enco X2 does enough for us to sit up and take notice. The earphones come with a whopping 40 hours of total playtime and 9 hours of playtime on a single charge. These figures are with AAC codec on and ANC turned off, but it is still impressive and on the higher side of the spectrum. With LHDC and ANC turned on, you're looking at 5 hours of playtime on a single charge and 20 hours in total. While these aren't fantastic numbers, the battery life has certainly improved over its predecessor.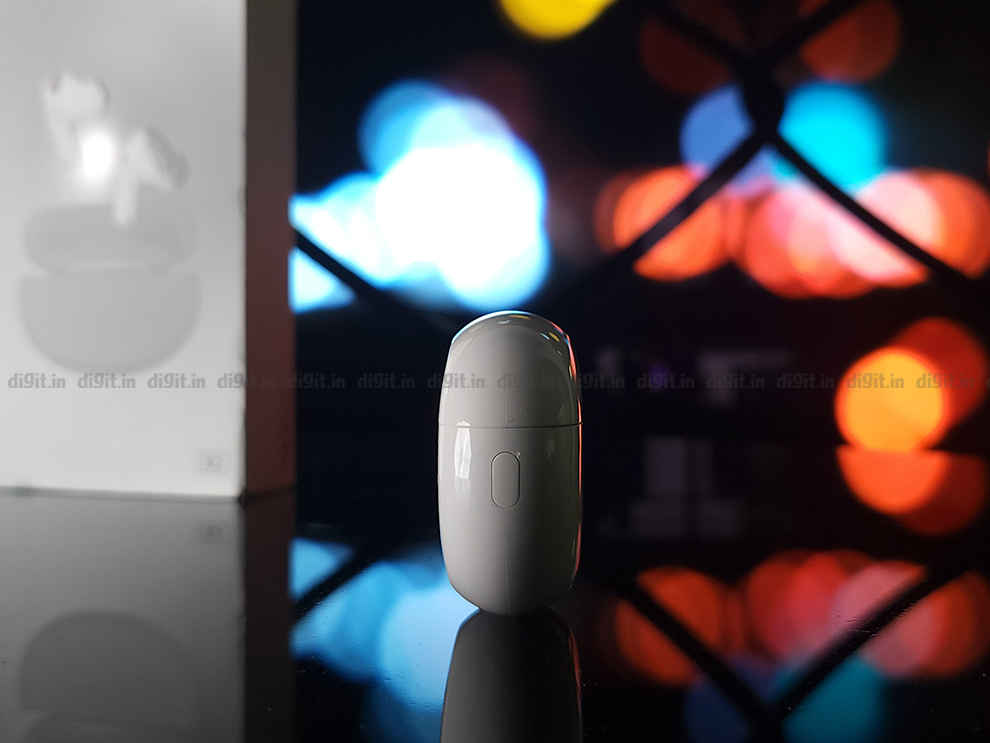 In our tests, the Oppo Enco X2 earbuds lasted a little over 5 hours on a single charge with ANC turned on and LDAC codec active. The earbuds also support fast charging, which was absent on the Enco X. A quick 5-minute charge will net you 2 hours of playback time and the earbuds take about an hour to charge to full. There have been many instances where we've simply plugged the earphones in for a few minutes and enjoyed an hour of playtime before having to charge them again. The earbuds also come with Qi wireless charging support, which is super convenient.
Oppo Enco X2 Review: Verdict
The Oppo Enco X2 follows the footsteps of its predecessor and even goes above and beyond what the Enco X achieved. It punches away above its weight with exceptional audio quality and an array of nifty features on offer at ₹10,999. Oppo has taken numerous steps to improve the user experience with the addition of features such as personalised sound and ANC, LDAC codec support, great battery life, and improved ANC. These will be our go-to pair of TWS earphones to recommend to those who want to experience every feature a 2022 TWS can offer without paying a hefty premium.
Oppo Enco X2 Key Specs, Price and Launch Date
| | |
| --- | --- |
| Release Date: | |
| Market Status: | Launched |
Key Specifications
Dimensions

‎6.6 x 4.9 x 2.2

Frequency rangev

20Hz ~ 40kHz