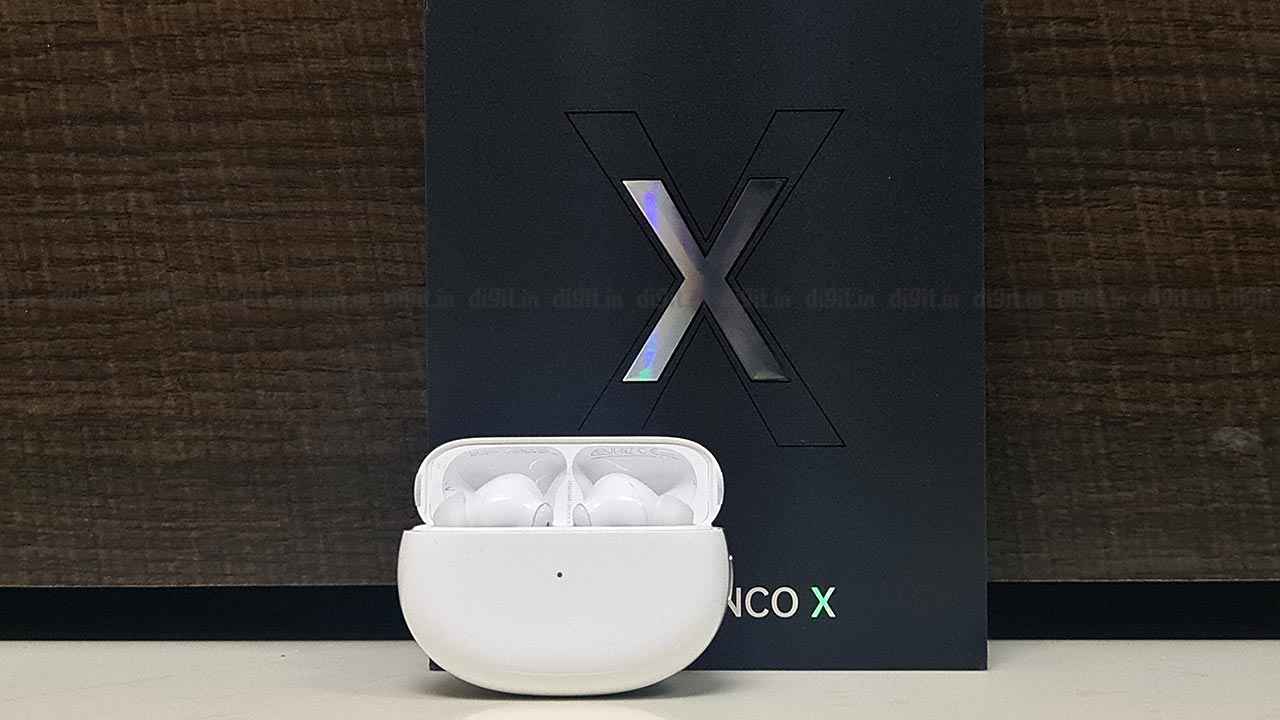 VERDICT:
We wouldn't be remiss to suggest that the Oppo Enco X earbuds are undoubtedly flagship killers in the TWS segment, bringing premium features and sound to the sub-10K price range. The earphones offer good ANC, excellent sound and a plethora of features making them a value for money purchase that most people won't regret.
The true wireless earphones market is bustling with activity and there's no dearth of options for consumers to pick from. Oppo, a company well-known for its lineup of smartphones, has been slowly but surely growing its selection of audio products, especially TWS earphones. We reviewed the Oppo Enco W51 not too long ago and were impressed with the features provided at the competitive price point under 5K. Now, the company is extending its reach and tapping into the mid-range segment of TWS earphones with the Oppo Enco X. Priced at Rs 9,990, the Oppo Enco X comes with an eye-catching spec sheet and has partnered with high-end Danish audio brand, Dynaudio, to bring compelling sound quality to this price segment. Equipped with Active Noise Cancellation, wireless charging, and other premium features, the Oppo Enco X are well-positioned to become 'flagship killers', giving premium competitors from Sony, Bose, Jabra, Sennheiser, and Apple a serious run for their money. Let's delve into our full review to see how they fare.
Design and comfort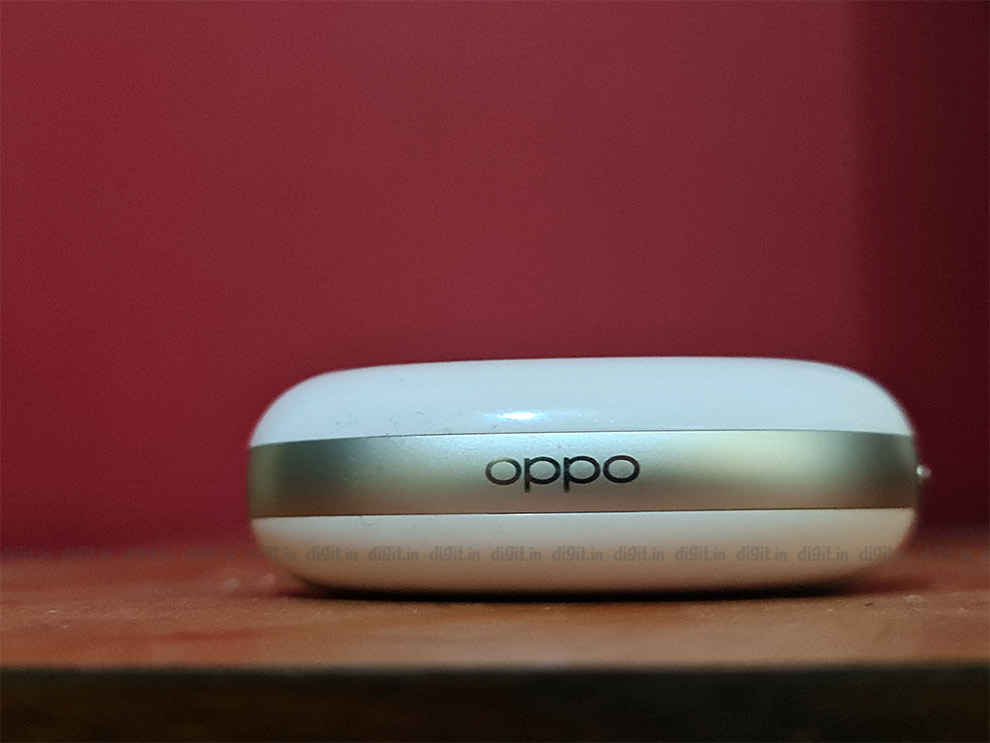 Featuring the familiar in-ear design with protruding stems, popularized by Apple's AirPods Pro, the Oppo Enco X is pretty aesthetically pleasing. This design has been emulated by multiple audio companies in their true wireless offerings due to the sheer popularity of the AirPods. However, Oppo has included some slight variations in the design of the Enco X. The presence of the glossy glass-like finish on the stems of the earbuds as well as the silver metallic band that runs around the charging case sets the Enco X slightly apart when it comes to looks. The Oppo Enco X's earbuds have an in-canal fit and the company has packaged two extra sets of silicone ear tips in the box to choose from.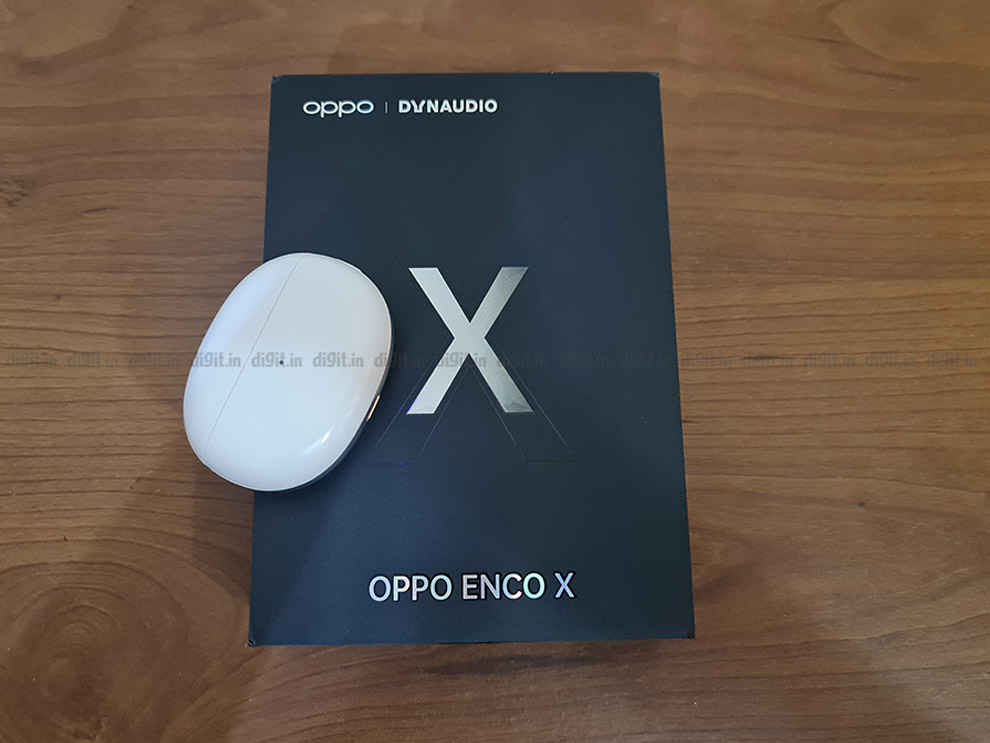 We'd also like to mention the care that went into packaging the Enco X. The packaging looks splendid with a glossy X adorning the black box. Inside the box, the manuals are packaged in a holder that has a velvety texture and feels amazing and premium to the touch. It is these intricate details that made the unboxing experience a winner for us.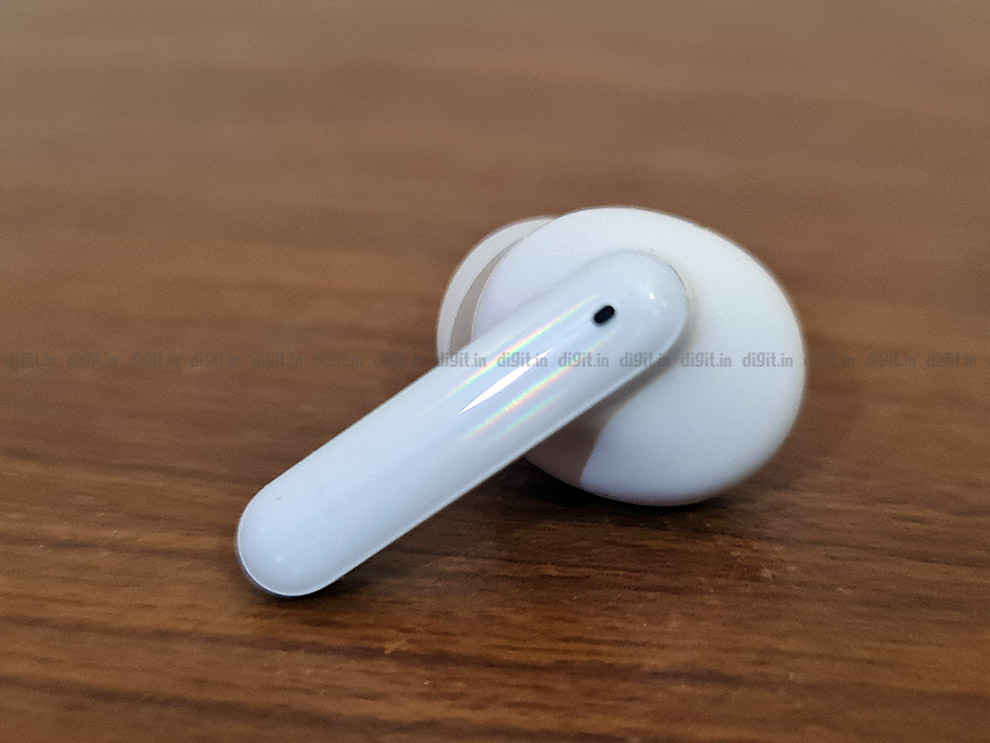 Now, coming back to the earphones, each one comes with a touch-sensitive panel at the back that allows users to control media playback. We'll get to the specific controls later in the review. The earbuds also have large silver charging contact points at the bottom that give the aesthetic some more variation. Each earbud is extremely lightweight, weighing merely 4.8g which makes them pretty comfortable to wear even over long listening sessions.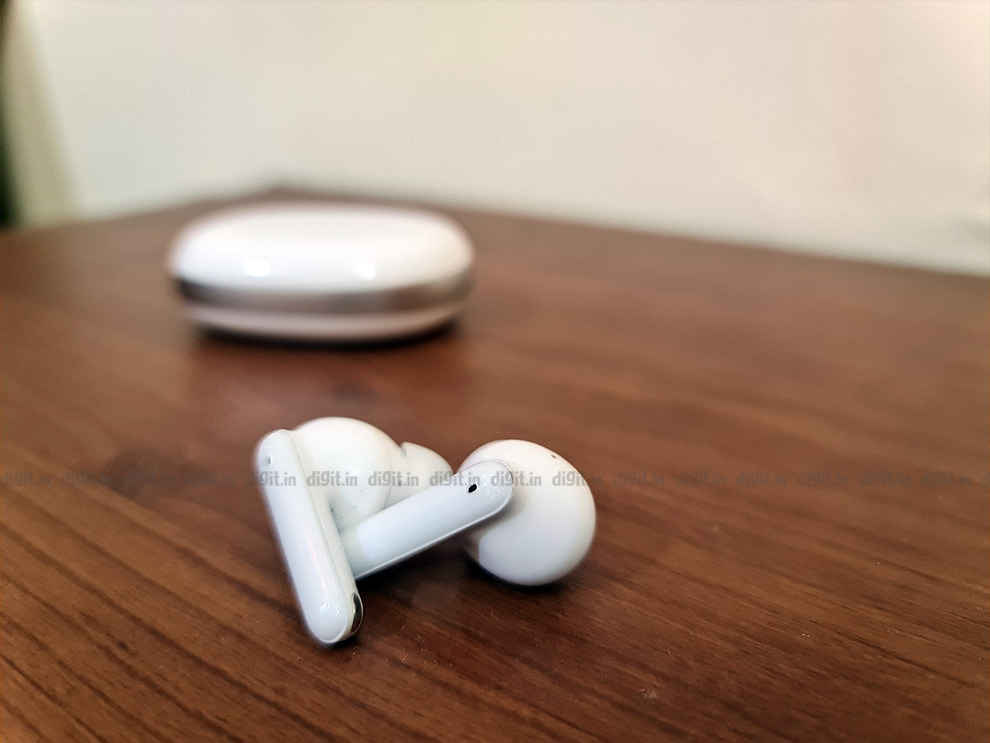 The angled nozzles coupled with the silicone tips create a fairly secure and noise-isolating fit, for most ears. The accompanying app, HeyMelody, comes with a nifty earbud fit test which tells you if your earbuds have created a good seal within your ear canals. With this test, we found that the reviewer needed to use the Large-sized tip in the left ear while a Medium one in the right. Ordinarily one wouldn't think of experimenting with different combinations of ear tips but the earbud test made us do that and boy, were we thankful! The fit was exquisite once we used what was suggested. The buds stayed put during light movement and exercises as well. However, they aren't as secure as say, the Jabra Elite Active 75t or the Lypertek Tevi. The earbuds are rated IP54 for dust and water resistance as well, which is a plus.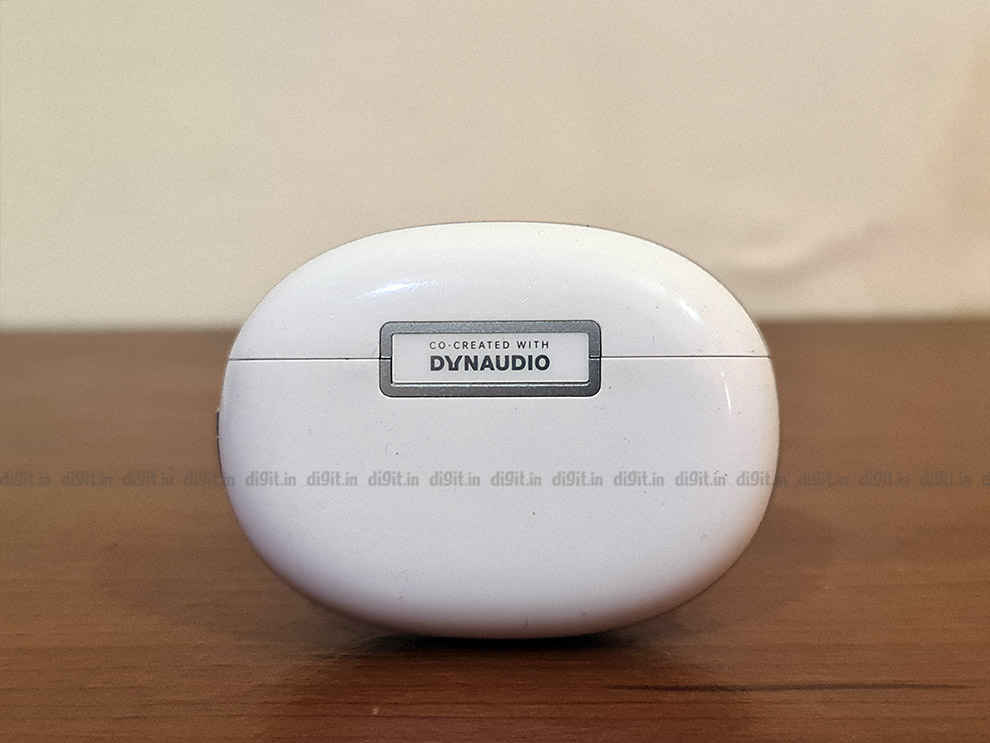 Moving on to the charging case, it has a pebble-like shape that feels smooth to the touch, albeit a tad slippery. Oppo states that the design of the charging case is based on the Oppo MP3 X3 music player that was released years ago. On the back, it says, "Co-created with Dynaudio" and at the bottom, there's a USB-C charging port. There's one physical button on the right side of the case and an LED light at the front that indicates the battery status. The case is pretty flat, therefore can slip into pockets easily without bulging out too much. It is also extremely easy to open the case one-handed, which we always appreciate. The hinge of the charging case feels solid like it can take a fair amount of wear and tear.
Overall, the Oppo Enco X features a pretty good build and a familiar design with a few variations. The fit is relatively secure and is comfortable over long periods of time. One gripe we had was that the touch controls are hard to find. We would have appreciated it if Oppo placed a small bump on the stem to indicate the position of the touch panel like the LG Tone Free FN7 has.
HeyMelody app and other features
The Oppo Enco X comes with an accompanying app called HeyMelody where users can customise controls, check the earbuds' fit, and update the firmware. It's a fairly basic app that is lacking a customisable EQ that allows users to change the sound profile as per their preference. Oddly enough, this app can only be used on Android smartphones and is not available on the App Store for iOS so far. This is a bummer since iOS users will be unable to customise the controls of the earbuds. Also, the control to summon voice assistants can only be employed via the app, therefore iOS users won't be able to use Siri with these earbuds, for now.
Even with the app, users are limited to the number of controls they can assign to the buds. You have to choose from predefined sets of controls and don't have the liberty of mixing and matching as you see fit. What was most bothersome was the inability to have pause/play, next/previous track and volume controls activated at the same time. You will essentially be forced to forgo one of these options. We chose to forgo pause/play since the earbuds come with auto-pause/play. The earphones detect when they are removed from the ears and automatically pause the music and similarly, play the music when the buds are inserted back into the ears. Problem solved right? Wrong.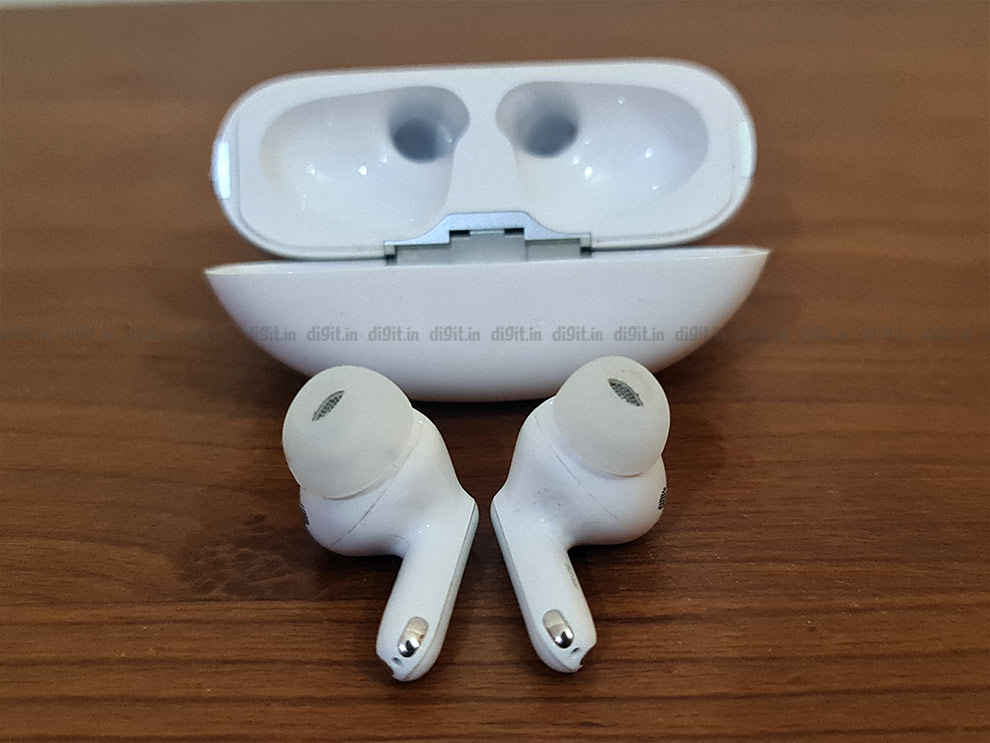 The auto pause and play feature worked extremely sparingly. In our tests, the feature worked about 30 per cent of the time and chose to just ignore the cue and continue playing music most times we tried. Baffled and irritated, we resorted to using our phone to pause the music henceforth. Oppo really needs to work on this feature in future iterations of the product.
In the app, you can choose to assign the following controls to the corresponding gestures –
Double-tap (left and right) – Play/Pause OR Previous Track OR Next Track OR None
Triple-tap (left and right) – Voice assistant OR None
Slide control (left and right) – Volume control OR Switch Track OR None
Touch and hold for 1 second (left and right) – Noise cancellation off, Transparency, Noise cancellation, Max Noise Cancellation
Touch and hold for 3 seconds (left and right) – Switch between paired devices OR None
For the touch and hold control, you can choose any two NC modes to cycle through. This is oddly limiting and was slightly frustrating for us since we usually prefer switching between Noise Cancellation on, Noise cancellation off and Transparency. Pressing and holding either side for more than 3 seconds will switch between paired devices, which is pretty nifty. It's the second-best thing to having multipoint connectivity where two devices can be connected simultaneously.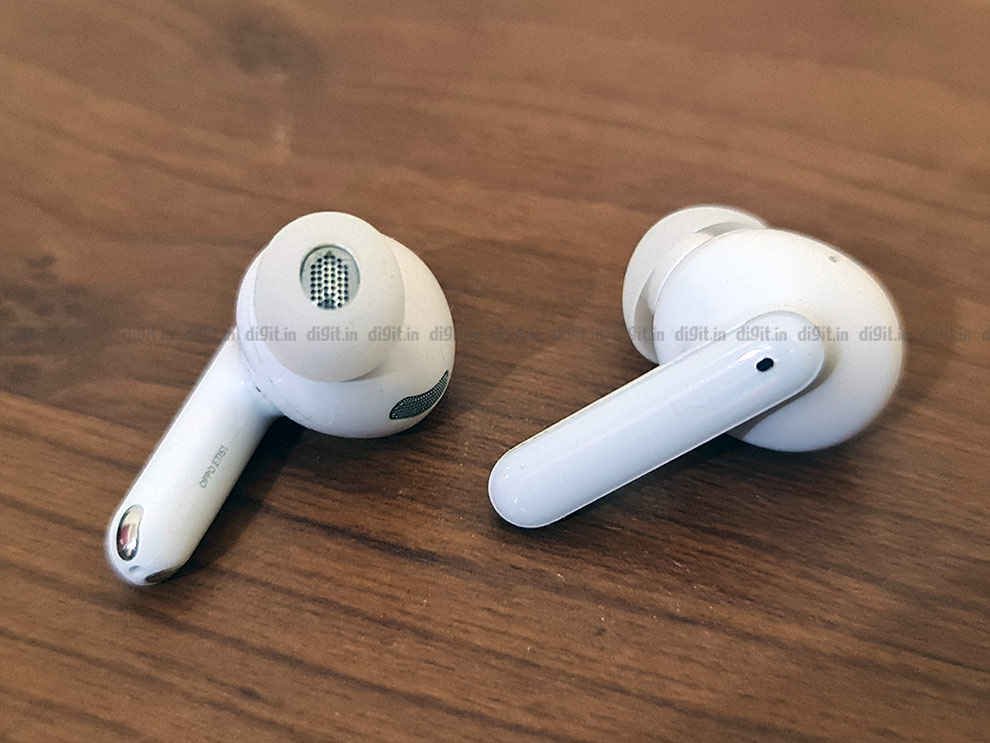 The touch controls, apart from being slightly limiting and non-customisable for iOS users, are also slightly finicky. They don't always work well and often times register the wrong command. Plus, it's hard to find them easily for the first few days you use the device. Overall, we really think Oppo needs to work on its touch controls and allow some more freedom in the customisability.
Other features present on the Oppo Enco X include a pretty good Transparency Mode which sounds quite natural, an IP54 dust and water resistance rating, USB-C charging, Qi wireless charging support, and Mono mode (each earbud can be used independently). It is an extremely feature-laden pair of TWS earphones, that need some refinement to the touch controls and auto-pause/play feature.
Performance
The Oppo Enco X has been created in collaboration with Dynaudio. The Danish company has a pretty imposing reputation in the Hi-Fi circles and having their expertise obviously helped with achieving the tuning and sound quality of these earbuds. The earbuds also use the new DBEE 3.0 Acoustic System which helps improve audio across frequencies. It comes with a coaxial dual-driver design which comprises of one 6mm balanced membrane driver that handles all the high frequencies, and one 11mm triple-layer dynamic driver which takes care of the rest of the frequency range. This is extremely unusual at this price point and is a solution that is usually prevalent in high-end Hi-Fi audio devices. It's great to see Oppo bring it to the mid-range TWS market.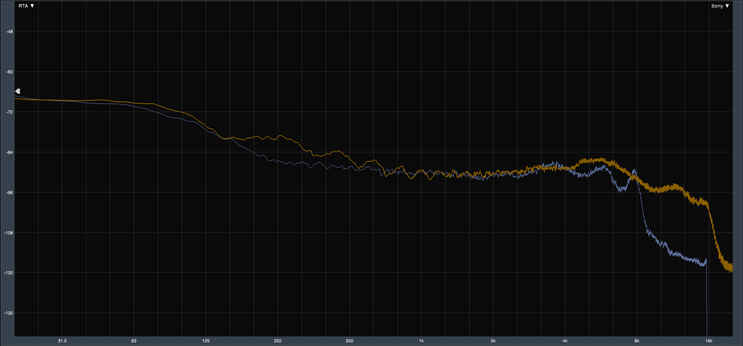 Uncompensated frequency response graph – Oppo Enco X (blue) vs Reference IEM (orange)
These earphones are not afraid to swing way above their price range. They're one of the best-sounding pair of true wireless earphones we've tested under 10K. The only other TWS that came close in terms of sound quality was the Lypertek Tevi but you'd be missing out on a bunch of features that come along with the Enco X that aren't present in the Tevi. Using high-resolution 24bit/44.1kHz music files, the earbuds delivered excellent sound quality with textured and well-defined bass response, detailed midrange, articulate vocals and sparkly highs. The treble can be a bit too bright at times, but that's on a rare occasion. One example of this is listening to the track Hunter by Bjork, where the high-frequency instruments were slightly overpowering the rest of the mix. Still, this was a rare occurrence.
Throughout most tracks and genres of music, the Oppo Enco X delivered solid sound with tons of dynamism and energy. The soundstage was surprisingly wide too when listening to high-quality music, however, it did become slightly more restrictive when we switched over to YouTube Music or Spotify. Also, something to note was that we listened to everything with the AAC codec active since our testing device didn't support LHDC. Nevertheless, the sound quality was still engaging, clean and detailed. Rock tracks such as Popular Monster by Falling in Reverse were as energetic and dynamic as pop ones such as Blinding Lights by The Weeknd. Overall, these are an incredibly versatile pair of true wireless earphones with a clean, detailed and dynamic representation of sound.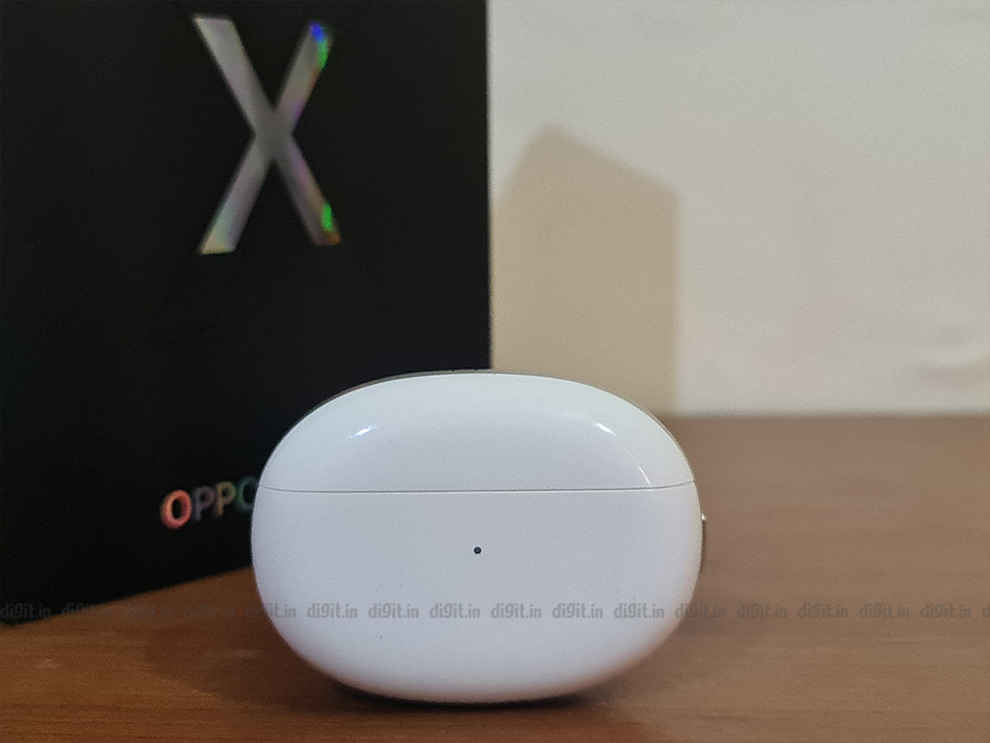 Moving on to Active Noise Cancellation performance, the Oppo Enco X proved to be pretty competent in this area as well. The ANC tech is a Hybrid one which uses feed-forward and feed-back noise control. While they aren't as effective as the Sony WF-1000XM3 or the AirPods Pro at cancelling out ambient noise, they do a pretty good job, especially at this price range. They're definitely better than the Oppo Enco W51 which had mediocre ANC, at best. The Enco X can diminish sounds such as AC drones, car engines, and low-speed fans. It doesn't do as well with human voices, high-speed fans, and mechanical keyboards.
There are two levels of noise cancellation you can choose from if you can access the app – Regular and Max. We preferred Max Noise Cancellation since the Regular mode barely diminished any ambient noise.
The Enco X is also decent for voice calls, with the voice sounding clear on both ends of phone calls. We tried calling on both mobile network and on Meet, and the results were similar. The earbuds also prevent a lot of background noise from being relayed over to the listener. Take this with a pinch of salt though, since we haven't tried them out in extremely noisy environments.
Battery life and connectivity
The battery life of the Oppo Enco X earbuds is strictly mediocre. With ANC turned on, the company has rated the battery life at 4 hours (single charge) and 20 hours total with the charging case. If you don't use ANC, the numbers are bumped up to 5.5 hours on a single charge and 25 hours in total. The Lypertek Tevi, a few thousand bucks cheaper than the Enco X, features a massive 10 hours of playtime on a single charge and a whopping 70 hours of total battery life with the charging case.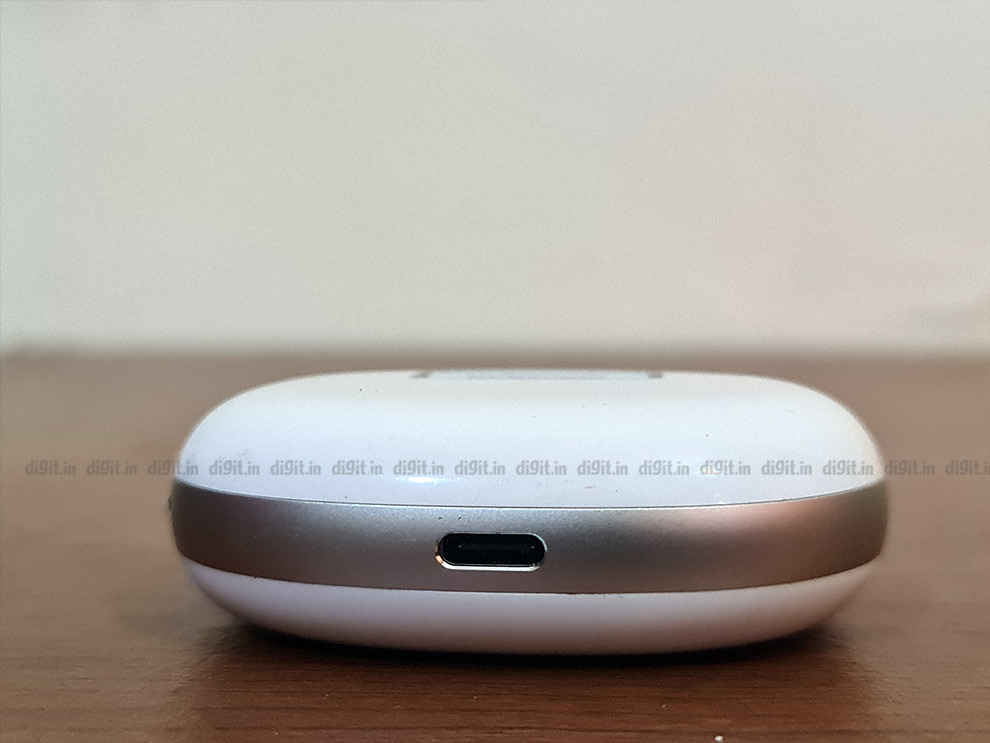 In our tests, the Oppo Enco X earbuds lasted about 3.5 hours on a single charge with Max Noise Cancellation turned on and the volume set at around 70 percent. The earphones can be topped back up to full charge in about 80 minutes while the charging case takes a little less than 2 hours to be charged back up to full from zero. There's no Fast Charging support, however, you do get Qi wireless charging support, which is pretty convenient.
The earphones use the new Bluetooth 5.2 standard. This is the first pair of earphones we've tested that has employed this standard. The earphones support SBC, AAC and the niche LHDC codec which is supported by a few high-end Oppo smartphones, and even some Xiaomi ones, if we're not mistaken. Smartphones that don't support LHDC will default to AAC or SBC. The new Bluetooth standard offers solid connectivity, however, we did face an issue where the left bud started screeching and turned off. We had to put the buds back in the case and pull them out a couple of times until both earbuds finally began functioning again. It could be a fault with our review unit, but it's something to keep note of.
Verdict
We wouldn't be remiss to suggest that the Oppo Enco X earbuds are undoubtedly flagship killers in the TWS segment, bringing premium features and sound to the sub-10K price range. The earphones offer good ANC, excellent sound and a plethora of features making them a value for money purchase that most people won't regret. The earphones are not perfect, with issues such as finicky touch controls, average battery life and unreliable auto-pause and play functionality. However, the audio experience you get from the coaxial dual-drivers created in collaboration with Dynaudio is excellent for this price range. If you have a budget under 10K, the Oppo Enco X are one of the easiest earbuds to recommend.