OnePlus Bullets Wireless detailed review
Priced at Rs 3,390, the wireless version of OnePlus Bullets enter a segment which is littered with options like the Jabra Elite 25e, SoundMagic E10BT and others. To ensure that its new earphone doesn't get lost in the crowd, OnePlus has added some new features, made some interesting choices for tuning the drivers, and has also thrown in Dash Charging in the mix. But, will all these features help the device stand out? Let's take a look.
Specifications:
Impedance: 32 Ohms
Sound Pressure Level: 97dB
Rated power: 3mW
Frequency range: 20Hz ~ 20KHz
Bluetooth: 4.1 with Qualcomm aptX support
Build and design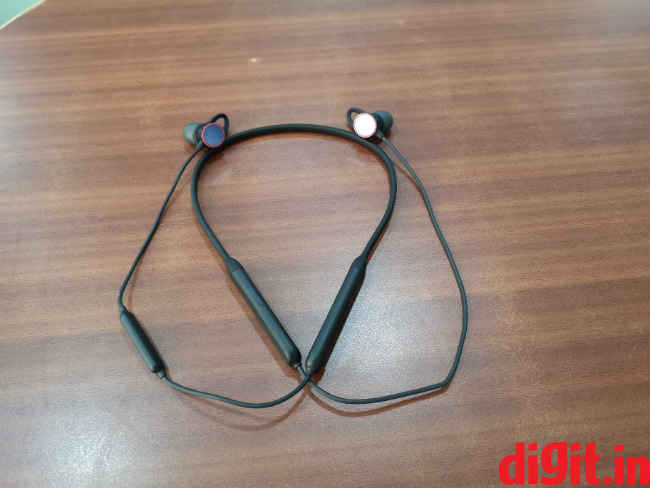 OnePlus is primarily a smartphone manufacturer, but it has been making audio accessories from some time now. However, the company's "Never Settle" motto somewhat falls short when it comes to the build quality of the OnePlus Bullets Wireless. The device is made using memory alloy material, which is covered in liquid silicone. Now, there's no premium feel to the device per se, but I like the choice of construction material as it ensures that the device will not break under applied pressure or when bent. This is great for travellers and fitness enthusiasts who can simply cram it into the accompanying silicone pouch and forget about it.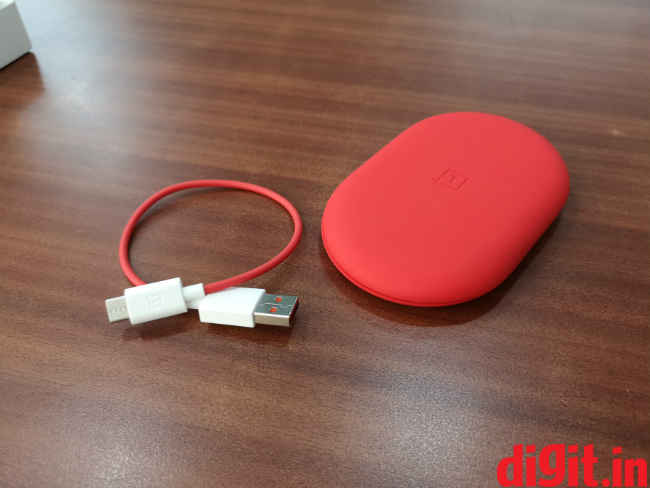 The over-the-neck or neckband design of the earphone ensures that it stays put while the user is exercising. However, I personally don't like wireless neckband earphones that sport long, loose wires as it results in unwanted slack. The Bullets Wireless suffer from the same issue. The wires connecting the two earpieces with the main body hang limp when the device is in use and this mars its aesthetics. These wires feel tacky and give an impression that there's been some compromise in quality here. I feel that OnePlus could have made a better material decision here.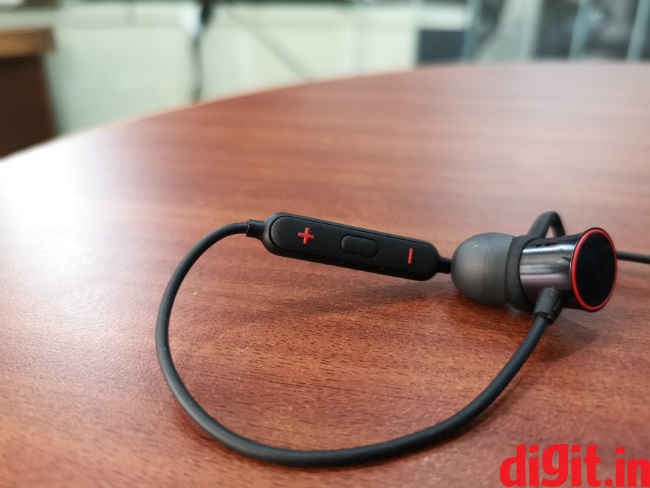 Keeping things simple, OnePlus has placed everything on the left section of the earphone. You will find a USB Type-C port and a single button on the left segment of the neckband, which turns the device on and off, and also takes care of pairing. The in-line controls cling to the left earpieces' wire that connects to the neckband and they are placed such that you will reach for them intuitively after using the earphones for a couple of hours. The in-line controls feature three buttons, where one in the middle handles three tasks. It can play/pause the music, connect/disconnect calls and on a long press, activate the Google Assistant. Double pressing it will skip the current audio track but sadly it doesn't allow jumping to the previous track with a triple press. On either side of it are the volume rockers and long pressing them will drive the volume levels all the way up or down.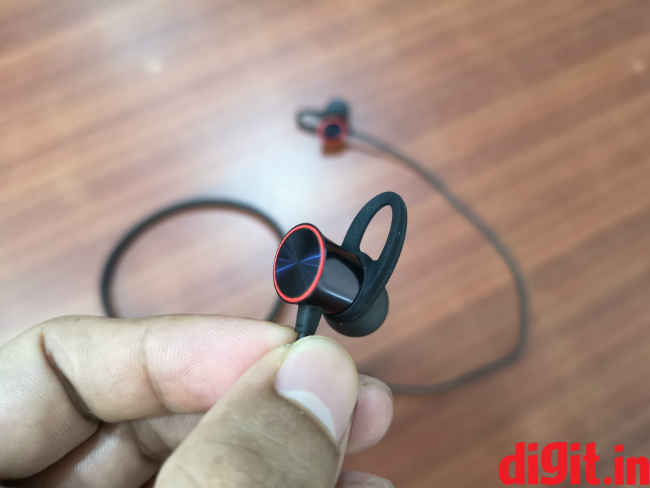 For the earpieces, OnePlus has tried something fresh in terms of design. The cans feature a glossy finish and a sporty look with an obtuse-angled sharp cut design, along with a bright red circular accentuation. As mentioned before, the earpieces are also magnetic and the company has associated a neat logic with the feature, which I will explain in detail in the next section. There is also a rubber fin behind the silicon earbuds which is tasked with keeping the cans in place in case the user wants to exercise without worrying about them falling out of the ear. The fins can also be removed if not needed. You will receive three pairs of earbuds and fin tips of varying sizes in-the-box.
Features and battery life
The OnePlus Bullets Wireless are equipped with some standard features which one can expect at this price point. It comes with HFP/ A2DP/ HSP/ AVRCP Bluetooth profiles and connects quickly with a previously paired device after being switched on. While on calls, the audio is clear as well and the other person didn't have any trouble in hearing my voice. As mentioned above, the earpieces of the device are magnetic and the company has made a clever decision of correlating the play/pause functionality with it. Clipping the earpieces together when audio or video playback is in progress will pause it, while separating them will resume the media. Do note that the un-clip to resume feature works only with the OnePlus 5, OnePlus 5T, and the OnePlus 6, and with the latest software update.
The central button on the in-line control also acts as a dedicated smart assistant button for firing up the Google Assistant. This is quite convenient and helpful with tasks that I would rather offload to my Assistant such as sending a text, making a call or looking something up on the web. I tried some of the aforementioned features of the Google Assistant and except for sending text messages, it was able to accomplish all of the other tasks. I did note one thing that you will need to again press down on the middle button for using the Assistant, even when it is taking up the screen, instead of recognising the "Hey Google" or "Ok Google" voice command.
The Bluetooth range of the earphones is around 9 meters after which the audio is delivered intermittently, indicating a loss in signal quality. The earphones are splash and sweat resistant as well but there's no mention of an IP rating. They easily survived some splashes of water but as OnePlus says,"Take them for a run yes, but not for a swim!," I would advise that you refrain from dunking them in water or taking them in the shower with you as the warranty doesn't cover water damage.
Battery life is one aspect where the Bullets Wireless pulls no punches. It delivers about 7.5 hours of continuous audio playback after a full charge, which turns out to be roughly one and a half day of heavy usage on 60 percent volume. The magnetic clipping also disconnects them from a paired device for saving power and they automatically turn off after five minutes of inactivity. If OnePlus could have squeezed in an additional backup of a couple of hours more, the earphones would be at par with rivals like the SoundMagic E10BT, Jabra Halo Smart and some others in terms of battery life.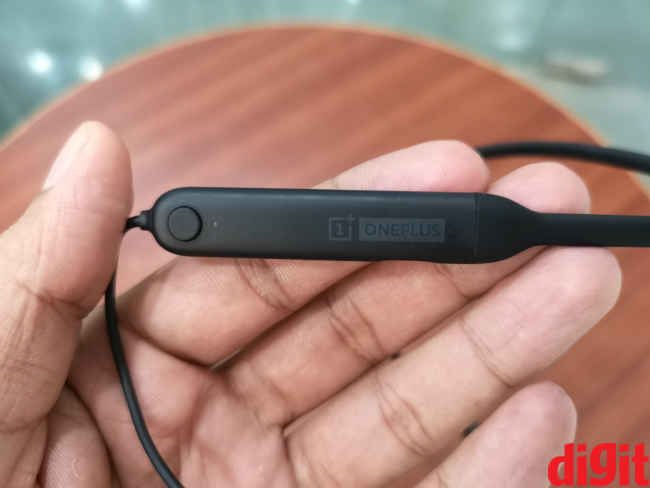 However, to resolve the slight annoyance of charging the device nearly every other day, OnePlus has equipped it with the splendid Dash Charge feature, which tops up around four hours of continuous audio playback in around ten minutes. Also, the earphones are completely charged in under 30 minutes while using any Type-C cable with a 2A fast charging adapter. A tiny yet visible LED indicator, next to the power button, glows red when the device is charging and turns white when it is charged. There is also an auditory notification when the earphones are connected or disconnected from a device or are running out of juice.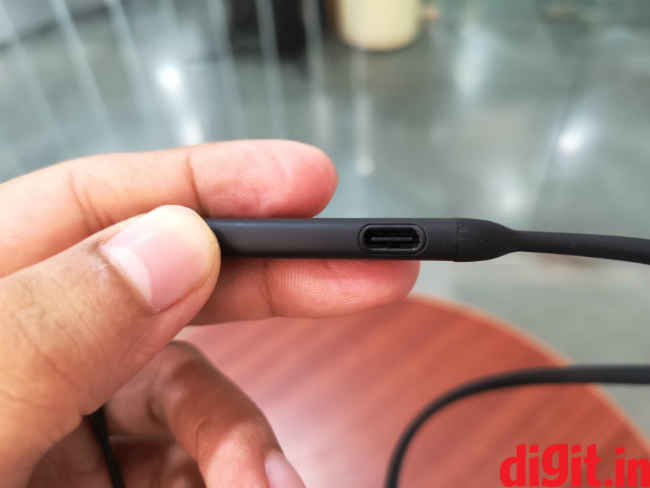 The Bullets Wireless is a jack of all trades and comes loaded with features. However, I missed the presence of a dual pairing option that has become more of a necessity for me since my daily drivers, the Jabra Halo Smart earphones, come with the feature. As the name implies, dual pairing enables you to connect an earphone with two devices at once, and it's super convenient if you don't want to disconnect from your laptop and then connect to your phone for placing/receiving a call. Addition of this feature would have definitely boosted the ease-of-use factor for the Bullets Wireless earphones.
Audio performance
I would say that the OnePlus Bullets Wireless earphones are simply fun to listen to. Their sound signature is ever so slightly bright, mids are crisp and vocals are pronounced. However, I was most surprised by the acute frequency response for instruments falling in the lower range of the audio spectrum, which I was honestly not expecting. I did notice slight bass spread while listening to Limit your love by James Blake and subtle blending of bass guitar with kick drums in Black Tambourine by Beck. I don't really listen to much of EDM and house music but those who do will notice the cut-off when the bass drops in tracks like Get Low by Dillon Francis & Dj Snake and Turn Down for What by DJ Snake and LIL JON.
Bjork's Hunter made me realise the remarkably expansive soundstage on the earphones, along with the decent instrument separation. I will remark here that even it has wide soundstaging for an earphone, in no way can it be compared with a pair of headphones. The Bullets Wireless are vaguely tiring after listening to music continuously for a couple of hours, and I noticed smooth roll-off while listening to Get Lucky by Daft Punk. There is also minor distortion when one cranks up the volume above 75 percent. As I am used to earphones with a warm sound signature, it took me some time to get acclimated to the aural experience of the Bullets Wireless but it is safe to say that they grew on me.