Building upon OnePlus' relatively impressive range of audio products including the OnePlus Bullets Wireless Z and OnePlus Bullets Wireless 2, OnePlus' first entrant into the burgeoning true wireless segment is the OnePlus Buds. Priced pretty competitively at Rs 4,990, the earphones are reminiscent of AirPods due to its half in-ear design that casts away silicone tips. The OnePlus Buds are best utilised with a OnePlus device itself for users to make the most out the features made available. Nevertheless, they can still be utilised with pretty much all other smartphones available on the market. The OnePlus Buds are available in three colours - white, grey and a colourful Nord Blue variant that pairs perfectly with its namesake OnePlus Nord phone. Let's delve into our review to see how the OnePlus Buds fare.
Build and comfort
The half in-ear design was pioneered and popularised by the Apple AirPods and since then numerous companies have incorporated this relatively polarising design into their true wireless offerings. The OnePlus Buds have also adopted this one-size-fits-most approach, and while a large number of people do find this fit adequately secure and comfortable, some folks with odd-shaped ear canals or smaller ones are out of luck. The reviewer, who has smaller than usual ears, faced a fair amount of discomfort and the fit was extremely unstable as well.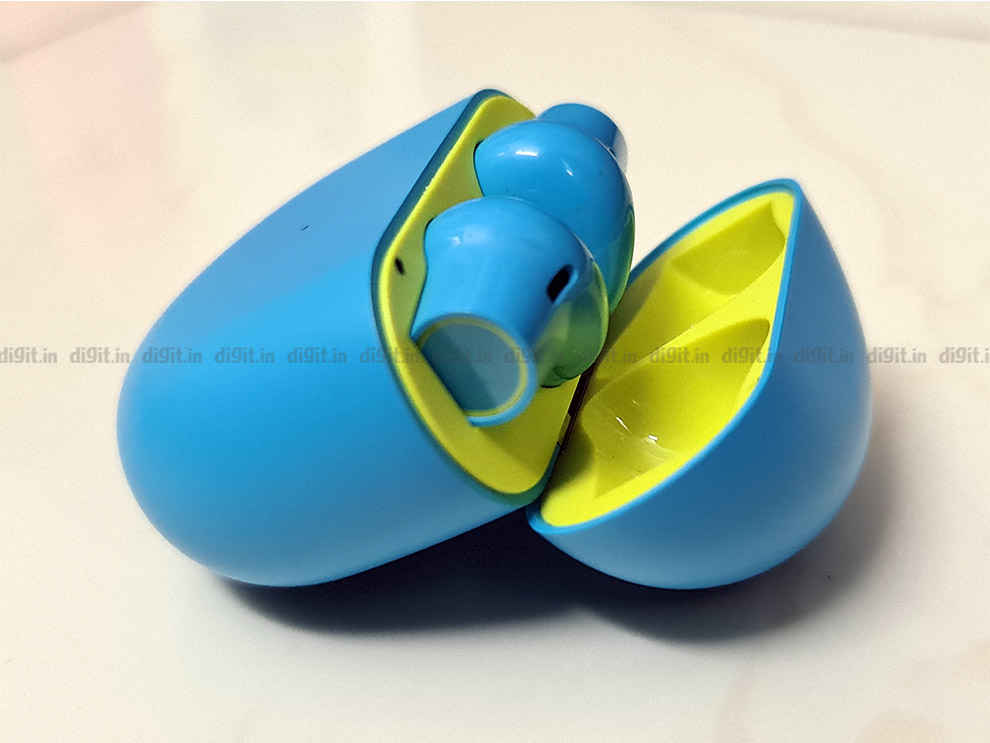 The fit is often unstable for a considerable number of users that doesn't inspire confidence in using these earphones in the gym or when running, even though they do come with an IPX4 sweat resistant rating. Additionally, OnePlus' own website has issued this warning at the bottom of the OnePlus Buds page - "Please avoid using the earphones during strenuous exercise or while in humid environment." However, this design does allow companies to fit larger drivers into their earphones, with the OnePlus Buds employing sizable 13.4mm dynamic drivers.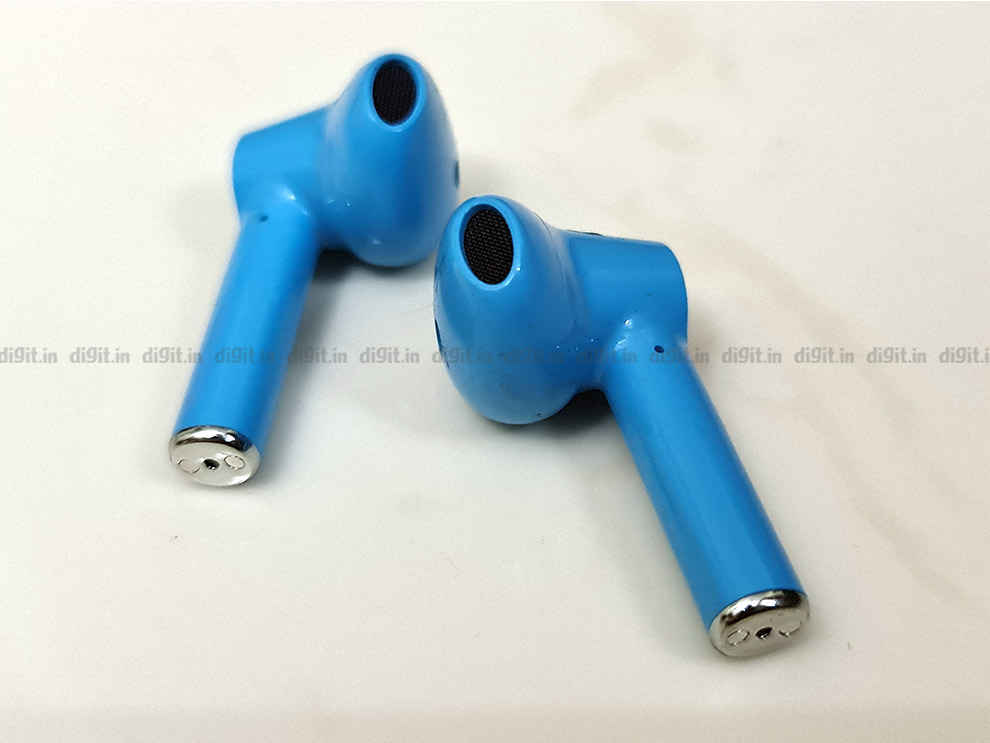 Another negative of the half in-ear design is that passive isolation, more often than not, takes a considerable hit. A ton of background noise easily makes its way in and this can be distracting if you listen to your music at lower levels. However, the 13.4mm drivers do push the volume and bass considerably which sort of makes up for the ridiculous amounts of ambient noise that is let in due to the design.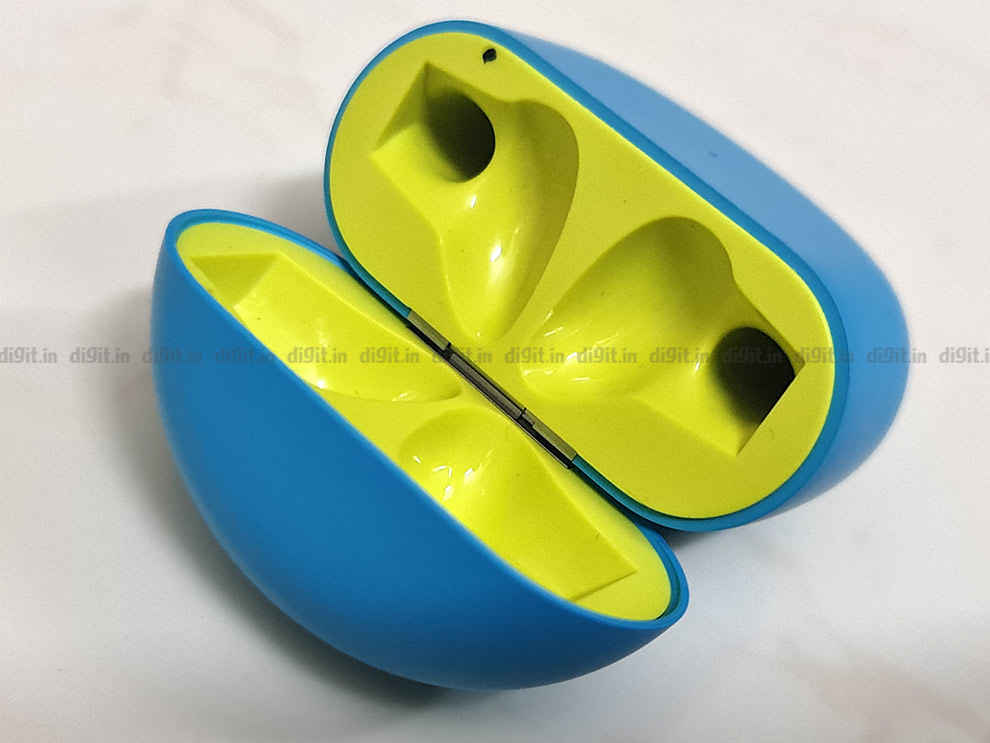 Going past the half in-ear design, the charging case of the OnePlus Buds is diminutive and pocketable. The matte texture feels great to the touch and the lid features a solid metal-reinforced hinge and strong magnets that inspire confidence to an extent where you can just throw the case into your bag without worrying about the contents spilling out accidentally. The Buds are available in three colours - White, Gray and Nord Blue. We got the Nord Blue variant for review and the Blue and Lime dual-tone is certainly eye-catching, however, some may find it a bit too cartoonish or garish even.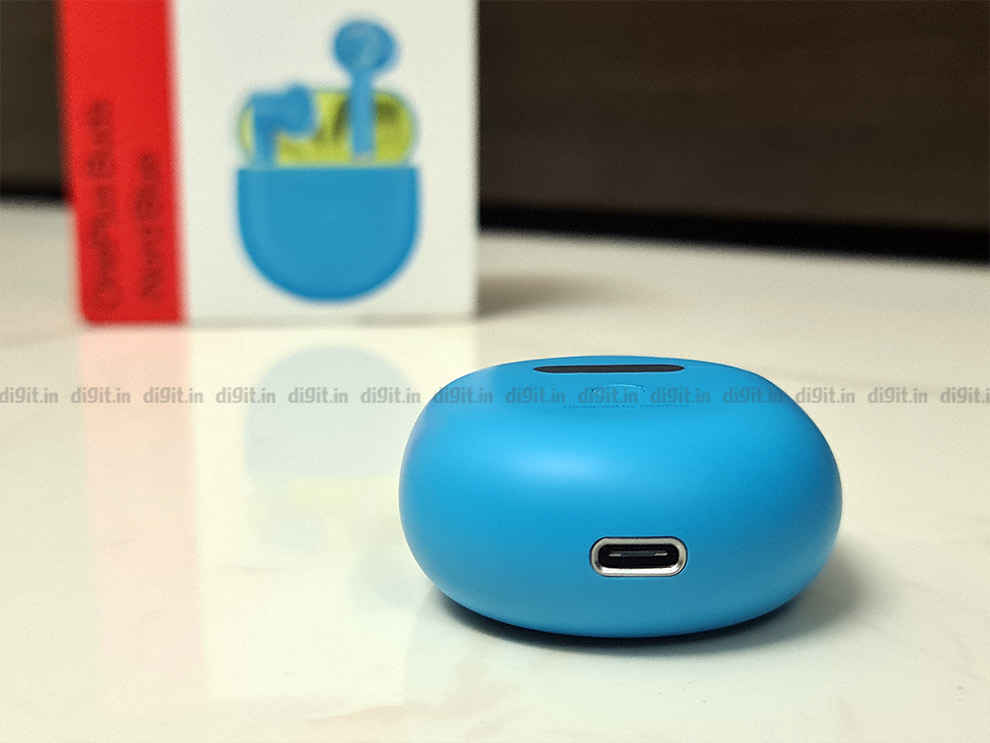 The front of the case houses a tiny LED which indicates the battery status of the case, there's a USB-C port at the bottom and a pairing button at the back side of the oval, relatively flat case. The earphones come equipped with wear-detection which works pretty well and auto pauses the music when the buds are removed from the ear and plays it back again when they are reinserted. The rear housings of the Buds feature a CD-like pattern which also doubles as a touch sensor. However, non OnePlus users can only use this touch control to move to the next track by double-tapping, which is alarmingly limiting.
On OnePlus devices, the double-tap can be customised go to the previous track, play/pause, or wake up the voice assistant. You can also apply firmware updates and check battery levels via a OnePlus smartphone's settings menu. This is again missing on non OnePlus devices, you are stuck with the version you get and cannot update the Buds further. However, there's a nifty control (for all devices) where press and holding either touch panel for 3 seconds will switch between paired Bluetooth devices, which is pretty useful. Overall though, we were extremely disappointed by the lack of controls and the absence of firmware updates for non OnePlus users since even AirPods allow non-Apple users to make use of most basic controls.
Features
In addition to the touch controls, wear detection and IPX4 rating we mentioned in the previous section, the OnePlus Buds also come equipped with features such as Bluetooth 5.0 connectivity, SBC and AAC codec support (no aptX sadly), USB-C charging, Fast Charging, Google Fast Pair and Mono mode (both earbuds can be used individually while the other is in the case). It is disappointing to see OnePlus ditch aptX support on these Buds despite their models such as the OnePlus Bullets Wireless 2 and Bullets Wireless supporting the high-quality codec. With OnePlus devices, you get access to a wider array of features such as Dolby Atmos support with supported OnePlus devices (7/ 7 Pro/ 7T/ 7T Pro/ 8/ 8 Pro), and Dirac Audio Tuner support on OnePlus Nord devices.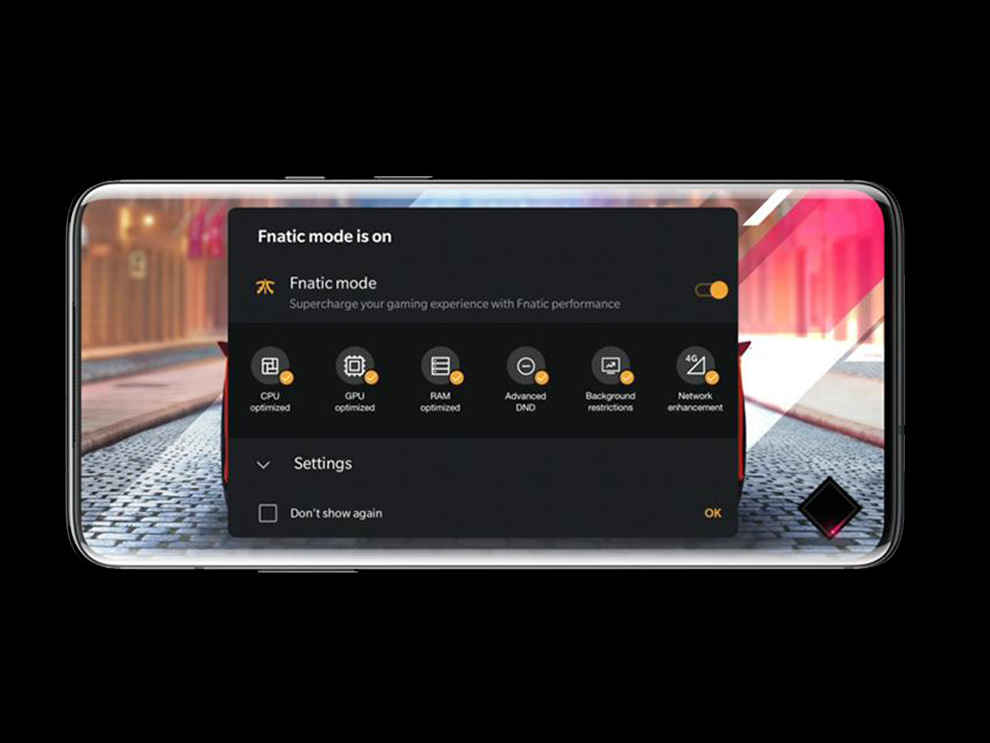 You also get to experience super low-latency mode of 103ms in Fnatic Mode on OnePlus devices (OnePlus 6 onwards). We didn't get to test these features since our test device is a Samsung Galaxy S20 Ultra, however, the latency was pretty acceptable when watching YouTube and Netflix videos even without the low latency support. Still, it is slightly disappointing that other smartphone users cannot make use of a wide array of alluring features on these Buds seeing that ones such as the Realme Buds Air Pro allow features such as low-latency support and customisable controls on all devices, and they naturally become the more value for money purchase for users since these devices cost about the same.
Performance
The OnePlus Buds' sound quality is nothing to write home about, but it is pretty consumer-friendly. The 13.4mm dynamic drivers aggressively push bass notes to compensate for the sometimes flimsy half in-ear fit and the resulting isolation. However, this bias, which is clearly heard in tracks such as Uptown Funk by Bruno Mars, can veil the mids and vocals at times. There isn't too much detail in any range of the frequencies but there's certainly a thumping drive in the bass and lows that may appease bassheads. More stringent audiophiles would be better off with the Lypertek Tevi, which costs a couple of thousands more, but has a much more neutral sound profile.
The vocals are decently reproduced, but some tracks such as Sour Candy by Melt shows a lack of clarity in some parts of the vocals, especially at the 1.33 mark. In Pull Me Under by Dream Theatre, vocals sound slightly listless and are relegated to the background due to the heft of the drums in the track. Even in softer tracks, the lows and bass are definitely more prominent than the other frequencies. Nevertheless, the bass isn't muddy or distorted which makes for an overall decent listening experience. High-resolution FLAC music files, however, bring out some of the missing detail that would otherwise be present in streaming services such as Spotify and Google Play Music.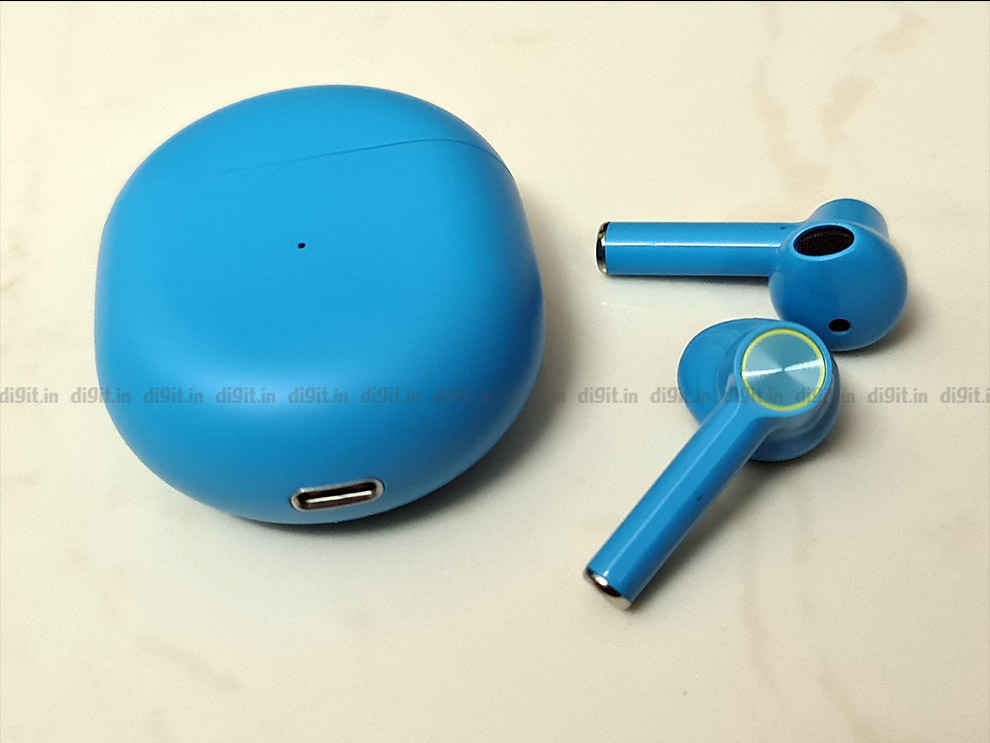 Now coming to the connectivity, Bluetooth 5.0 offers pretty solid connectivity, however, the Buds did disconnect randomly once but it connected back to the paired device almost instantly after the disconnection. The wireless range is also pretty good, with the Buds keeping connectivity even if there was a wall between the source device and the earphones. Microphone quality was excellent on these earphones and they relayed clear, accurate audio and combated background noises pretty decently.
Battery life
OnePlus claims that the OnePlus Buds are capable of a whopping 30 hours of battery life with the charging case and buds combined, while the buds themselves have a playtime of about 7 hours. In our tests, at about 50 percent volume and AAC codec active, we achieved a playtime of about 6 and a half hours, which is pretty close to the estimate. The charging case allowed for 3 additional full charges and still had a bit of juice remaining. Do note that calls will substantially decrease the playtime of the earbuds, and you will get about 4-5 hours of continuous playtime on calls in a single charge.
The charging case of the OnePlus Buds comes equipped with OnePlus' famed Warp Charging technology. The Buds are capable of Fast Charging where 10 minutes of charging will top up the earphones enough to amount to 100 minutes of playtime. The case also Fast Charges, where 10 minutes of charging yields 10 hours of battery life. The buds also work well with Fast Chargers from other companies, and in our tests, we could top up the earphones to last for about 2 hours with merely 20 minutes of charging.
Bottomline
Priced at Rs 4,990, the OnePlus Buds are certainly attractive on paper featuring a gamut of features such as low latency mode, customisable controls, Fast Charging, IPX4 rating, and others. However, a number of these alluring features are reserved for OnePlus users only, making these buds fairly limiting for non OnePlus users. However, if you can make do with the limiting controls, the inability to update the firmware, and the lack of aptX support, these earphones do provide you with decent sound, good battery life, and Fast Charging abilities. But, if you are a OnePlus user, go right ahead if you don't mind the bass-boosted sound profile. However, it's hard to not recommend earphones such as the Realme Buds Air Pro instead that cost the same and are not limiting to any user when it comes to utilising the available features.