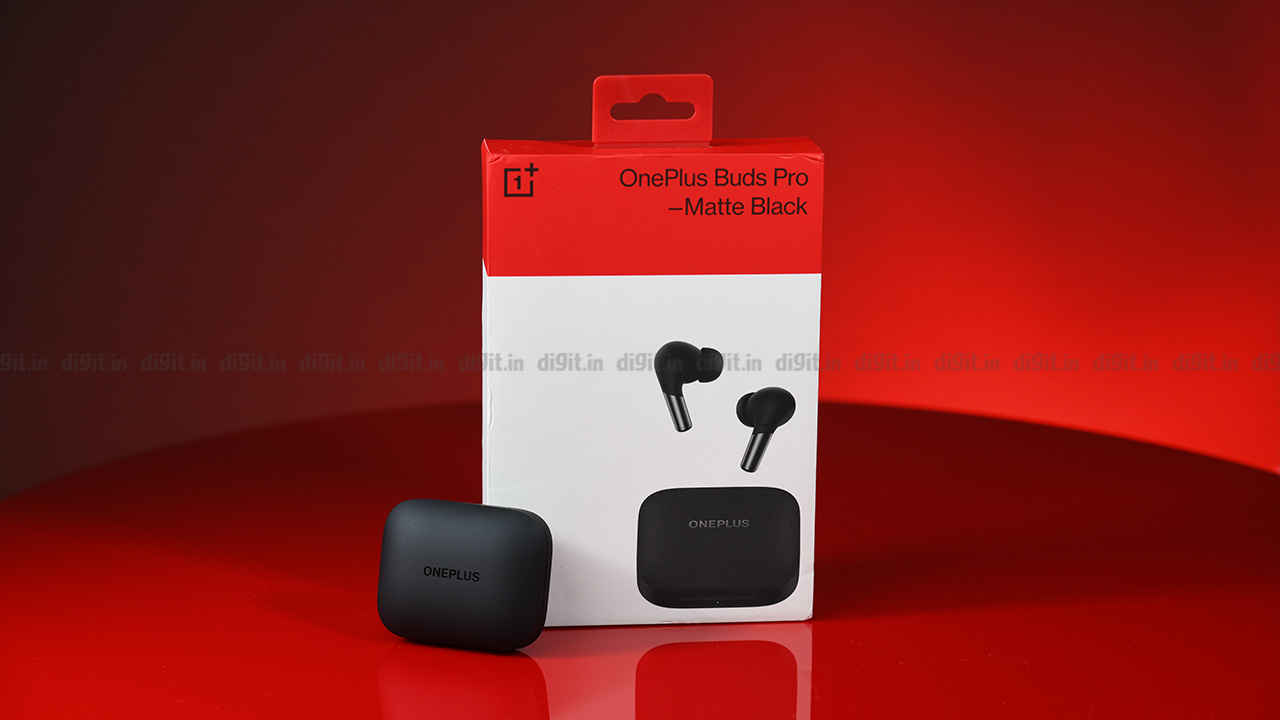 VERDICT:
The OnePlus Buds Pro are, no doubt, a solid pair of mid-range truly wireless earphones complete with features such as Active Noise Cancellation, app support, Qi wireless charging, long battery life, and much more. Priced at Rs 9,990, they're possibly one of the most feature-rich pairs of TWS earphones we've come across, especially at this price range. However, the OnePlus Buds Pro is overshadowed by some of its competitors in the mid-range segment.
A short while after Ex-OnePlus co-founder Carl Pei debuted the Nothing Ear 1 true wireless earphones, OnePlus has come out with its latest true wireless offering, the OnePlus Buds Pro. Sporting the 'Pro' moniker, the OnePlus Buds Pro is a feature-packed pair of TWS earphones complete with Active Noise Cancellation, pressure-sensitive controls, Qi wireless charging, app support, and much more. The OnePlus Buds Pro is a mid-range truly wireless earphone that competes with the likes of the Oppo Enco X, Samsung Galaxy Buds Pro, and even the newly launched Google Pixel Buds A-Series, to some extent, when it comes to price and features. On paper, at least, it looks like an extremely appealing product jam-packed with features that are more commonly found on premium or flagship TWS earphones. So, let's see how OnePlus' newest TWS offering fares in our full review.
OnePlus Buds Pro: Performance
Let's get right into the performance of the OnePlus Buds Pro without beating around the bush. The OnePlus Buds Pro houses two 11mm dynamic drivers and have a frequency response range of 20Hz – 20kHz. The earbuds support SBC, AAC and LHDC codecs. LHDC supports hi-res, low-latency audio with a sample rate of up to 96kHz and a maximum data transfer rate of 900Kbps, which is nearly three times that of the conventional SBC codec. Now, not all phones are capable of using this codec, so keep that in mind. We tested the OnePlus Buds Pro with a Samsung Galaxy S20 Ultra and were only able to use the SBC and AAC codecs.
Coming to the sound signature of the OnePlus Buds Pro, these earbuds have a pleasing sound signature for the most part, that not only highlights the bass, but also the mids. For objective testing, we use a measurement microphone from iSEMcon paired with an adapter from SLS audio that is made to test IEMs. For our audio interface device, we use the Focusrite Scarlett 2i2. All of this is hooked up to a PC running the SMAART-Di v2 software that allows us to generate frequency response graphs for headphones, indicating their sound signature.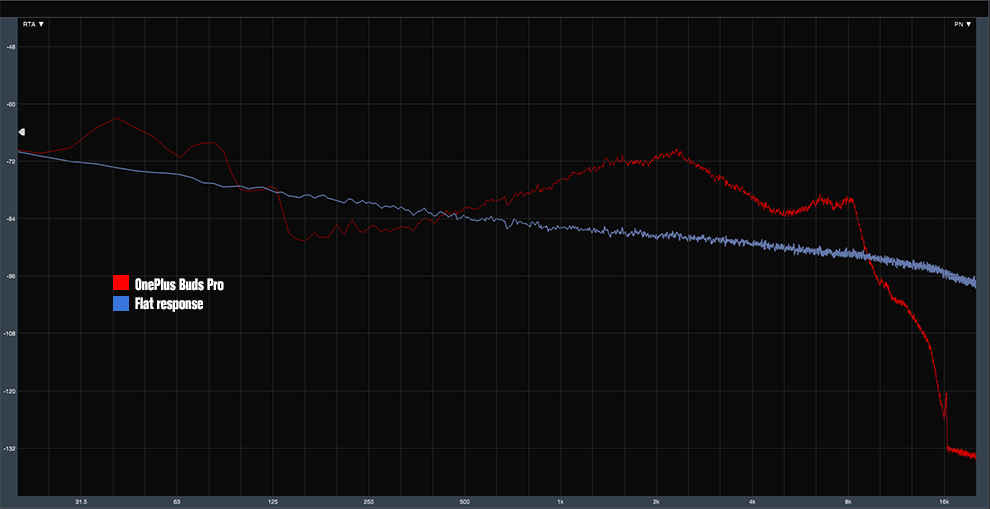 In the uncompensated frequency graph of the OnePlus Buds Pro that was generated, we found that the buds have a V-shaped sound signature, but not a traditional one. These buds have emphasised sub bass, underemphasised upper bass and lower mids, and emphasised upper mids and highs. You can see in the graph that the lower bass frequency range from 20Hz to 80Hz is exaggerated. This equates to a bass-rich experience with punchy and impactful low bass response. In the song Bad Habits by Ed Sheeran, at the 40 seconds mark where the bass beats come in, you can feel the punchiness and the heft behind them.
The bass is pretty exaggerated in this range in comparison to the ideal range, so there can be slight boominess at times in some tracks. The frequency range from 100Hz to 500Hz is underexaggerated, on the other hand. This is the range where a portion of the bass and some of the mids lie, so some of the detail in this part gets shrouded due to auditory masking, both in part due to the exaggerated sub bass and the underexaggerated upper bass and mids.
The area from 500Hz to around 9kHz sees a huge spike on the frequency response graph, meaning the mids and highs in this area are very prominent in the mix. This is excellent in tracks such as Heat Waves by Glass Animals, where the bass is extremely thumpy but the vocals are also extremely clear due to the bump in that part of the frequency range.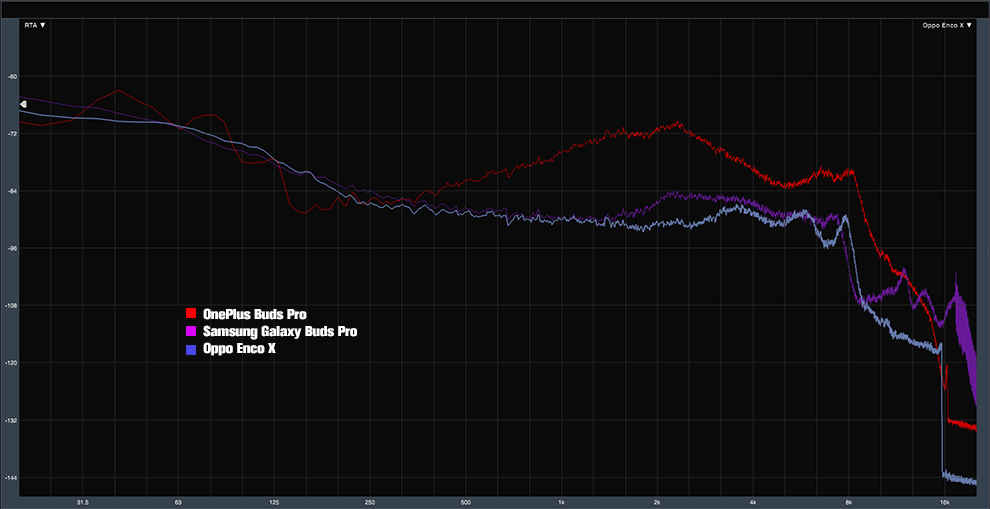 However, there is some sibilance and shrillness in the mix due to this, especially at higher volumes. We also noticed that the bass and highs can sometimes be plagued by some distortion at higher volumes.
The OnePlus Buds Pro has a pleasing sound profile, especially for those who like their audio to have an extra kick when it comes to bass response. The vocals and instruments are mostly clear in the mix, but there is some loss in detail due to the significant dip in audio reproduction in the 100Hz to 500Hz range. It is not very noticeable for the uninitiated, but keen listeners and audiophiles will definitely understand that flaw right away.
Either way, these earphones are definitely not for purists or audiophiles since they vary a lot from the ideal flat response. Nevertheless, if you're an average consumer, you will probably enjoy the dynamic nature of the OnePlus Buds pro's sound profile. Additionally, the buds also have a pretty wide soundstage for the price, with quite a bit of width and some vertical height. The imaging is impressive as well, and instrument separation was pretty decent too.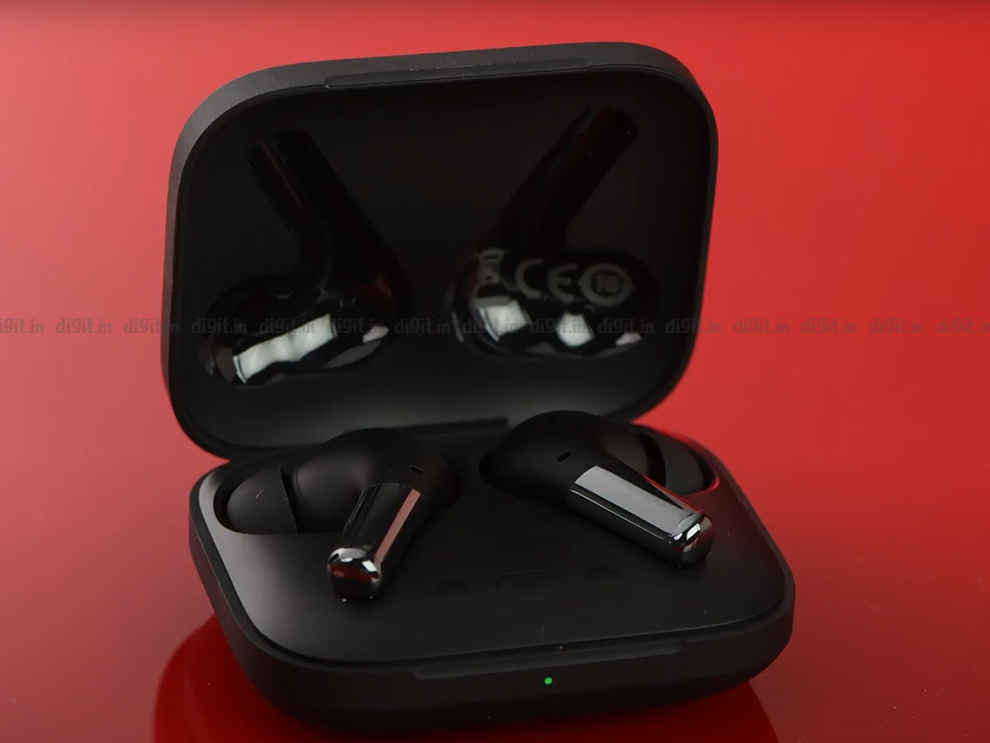 Overall, these buds are enjoyable to listen to and bass-lovers will really love the sound signature, however, at a similar price, the Oppo Enco X definitely provides a more balanced sound signature with its coaxial dual driver setup. With the OnePlus Buds Pro, we had a good experience listening to genres such as pop, rap, EDM, Bollywood, and even rock, to some extent.
The earbuds are also pretty decent for listening to podcasts and watching TV series or movies. The sounds are impactful and dialogues are decent and clear enough, for the most part. The earbuds come with Dolby Atmos support only for OnePlus devices that allow users to experience immersive sound similar to spatial audio.
Now, let's move on to microphone performance. The OnePlus Buds Pro houses a triple microphone setup with a wind noise-reducing mechanical design and a noise reduction algorithm for calls. During our testing process, we found the microphone to be pretty mediocre. In an indoor setting, the voice sounds a bit muffled and garbled in voice recordings and calls. Our voice was audible, but it wasn't the most pristine experience we've had with TWS mics at this range.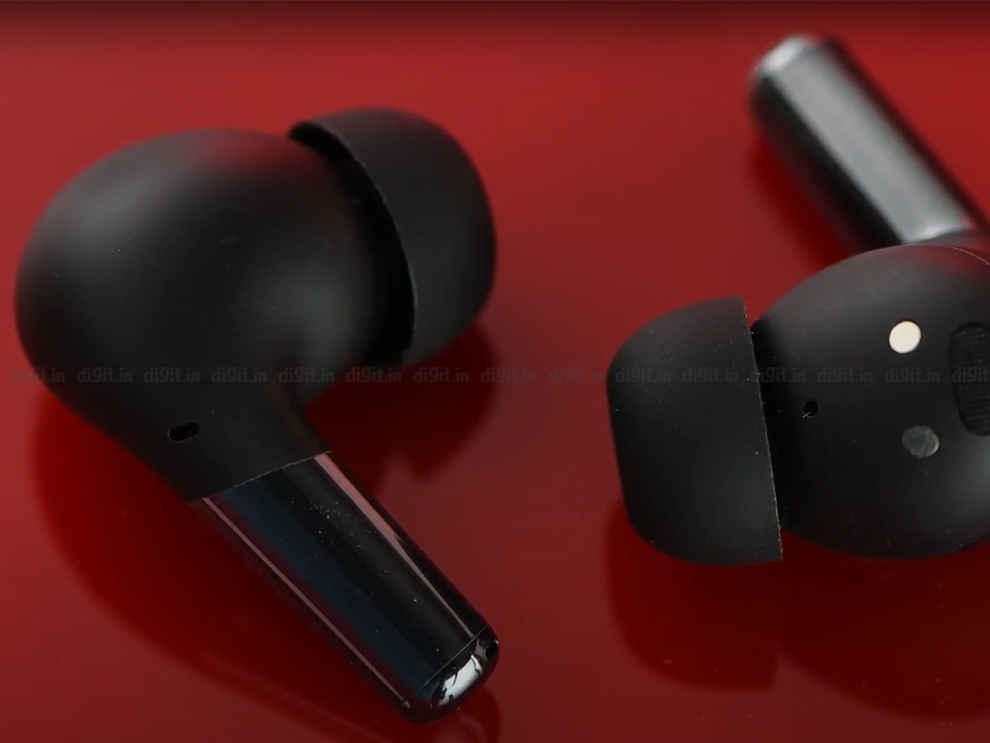 Moving on to wireless connectivity, the OnePlus Buds Pro is powered by the latest Bluetooth 5.2. During our testing process, the wireless connectivity was rock solid with absolutely no connection drops or lag. You can go pretty far away from the source device before the connection drops. When watching content or playing games, there's very little noticeable latency as well, so the buds are really solid in the wireless connectivity front.
For OnePlus users, a bonus is the ability to fast pair with a OnePlus device. Simply opening up the case will bring up a window prompt on your OnePlus phone to connect the buds to it. For other phones, you have to go through a slightly longer pairing process for the first time, but after that the connection is instantaneous as soon as you open the case.
OnePlus Buds Pro: Active Noise Cancellation, App support, and other features
The OnePlus Buds Pro are what you would call feature-packed TWS earphones. It really seems as though OnePlus has left almost no stone unturned with these buds on the features front. You have almost every modern-day feature that is present on TWS earbuds present on these mid-rangers, which is seriously impressive. The headlining feature is Active Noise Cancellation that is increasingly being seen in the mid-range and even budget segment of TWS earbuds.
The OnePlus Buds Pro comes with hybrid ANC in three modes. Users can choose between Extreme, Faint and Smart mode. The Extreme mode allegedly offers noise cancellation up to 40dB while the Faint mode offers 25dB of noise cancellation. There was a discernible difference between the two. Smart mode makes use of the Smart Adaptive Noise Cancellation tech that automatically responds to your environment and adjusts the noise cancelling level accordingly. The smart mode was something we used sparingly since we mostly used Extreme level ANC, but in the few tests we did outdoors, the earbuds did automatically switch between levels of noise cancellation.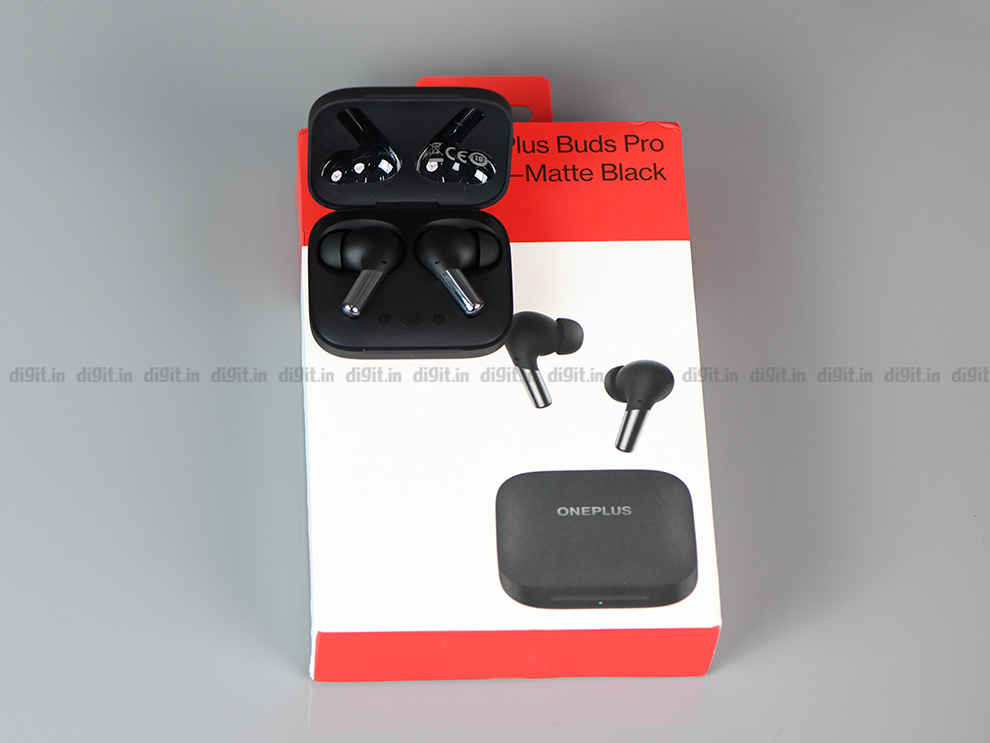 As for the quality of Active Noise Cancellation, we were supremely impressed by the ANC on the OnePlus Buds Pro. Not only did it suppress low and constant sounds, as most TWS earbuds do well, it also did well at suppressing some human voices and even some high frequency sounds such as a high speed fan and a mechanical keyboard. These high frequency sounds weren't completely blocked out but they were suppressed to an impressive degree.
Low, constant sounds such as an AC's hum was suppressed to a level where we almost couldn't hear it at all. So, the noise cancellation is right up there with the Oppo Enco X, and it even comes somewhat close to the Samsung Galaxy Buds Pro. This is extremely impressive for the price. The earbuds also have a Transparency Mode feature that worked as expected. It didn't sound unnatural and the ambient sounds were amplified effectively.
In order to toggle the ANC on and off, one can use the pressure-sensitive controls on the stems of the earbuds. A long squeeze for one second on either side will cycle between ANC and Transparent modes. The pressure sensitive controls can also be used to pause/play music, skip through tracks or go to the previous one, activate voice assistant, and activate Zen mode.
The controls took us some getting used to at first, since we are more acclimated to traditional touch controls, but once we got used to them, we realised that we prefer these over the traditional ones because of how responsive the pressure-sensitive area is and also because accidental presses are a rare occurrence in comparison to traditional touch controls.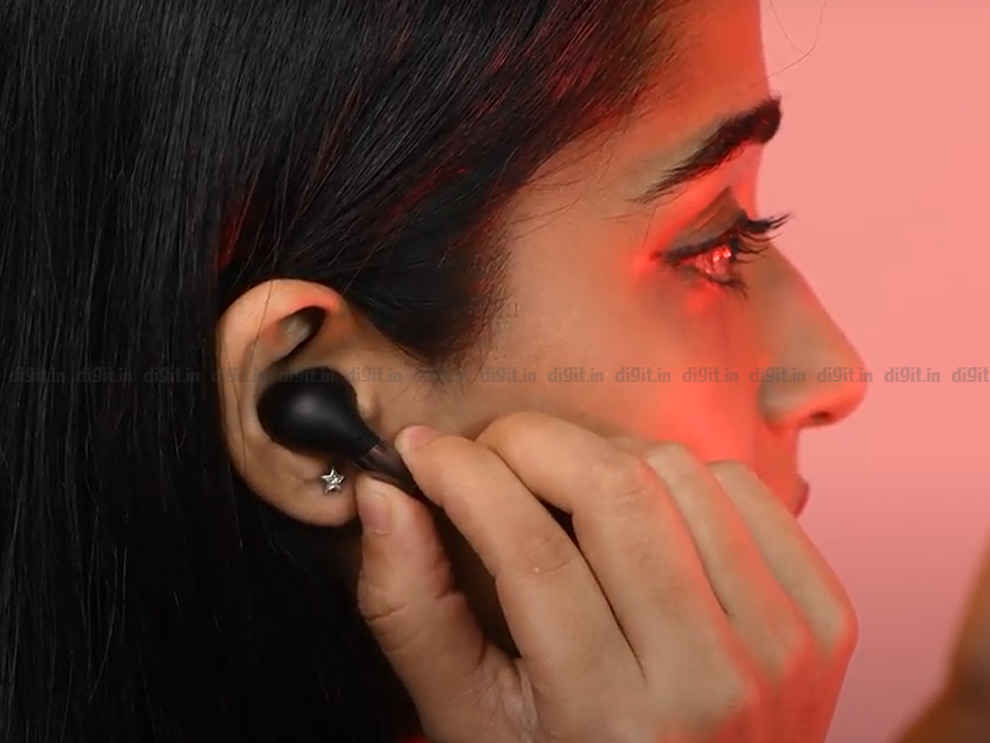 Speaking of touch controls, you can customise some of these controls via the HeyMelody app for Android and iOS devices, or via the native Bluetooth settings on OnePlus devices. We used these buds with a non-OnePlus device, so we downloaded the HeyMelody app to avail these features. Within the app, users can customise the triple squeeze control and the squeeze and hold control. Triple squeeze by default goes to the previous track but you can choose to change it to activate voice assistant on one or both ears. The press and hold function by default only cycles through ANC and Transparency mode, but you can choose a third option which is ANC off within the app. You cannot customise other controls such as Quick Squeeze and Double Squeeze which is disappointing. What's even more disappointing is the lack of volume controls. There's no way to incorporate volume controls on these buds even via the app. So, while the OnePlus Buds Pro may have customisable controls, there's not a lot of tweaks you can actually make.
Apart from touch controls, users can only toggle between ANC on, ANC off and Transparency mode within the app. To choose between Faint, Extreme and Smart modes of ANC, you will need to use your app. You can also activate something called Zen Mode within the app or by long pressing the pressure sensitive area for 3 seconds. Zen mode plays calming nature sounds and white noise to help users relax or sleep. You can choose between five different types of White Noise within the app.
The app also has the OnePlus Audio ID feature that is essentially a hearing test that intimates your specific hearing abilities and tunes the earbuds' sound accordingly. We tested the earphones on default setting, for the most part. But we did try out this Audio ID feature for a bit and didn't notice too much of a difference. However, for people with significant hearing disabilities, this feature could be an excellent inclusion. There's also an earbud fit test that plays a sound to check if the ear tips you've used have provided you with an adequate seal. Another nifty feature which we appreciate.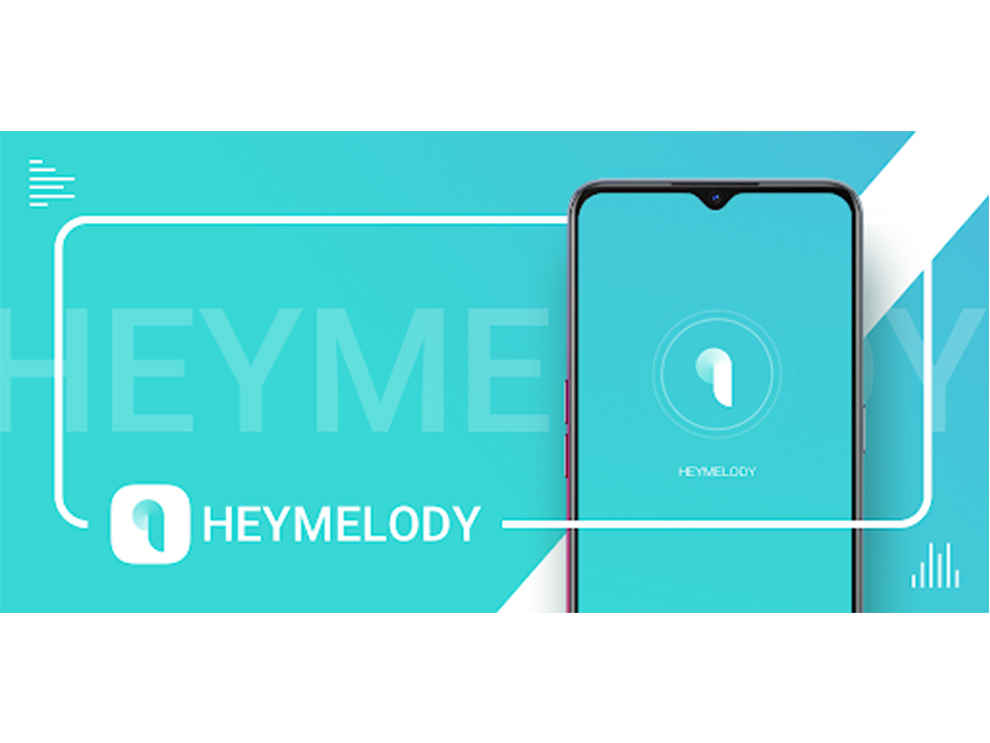 Apart from these, you can also use the app to perform firmware updates or check the battery percentage on your earbuds and case. It's a pretty decent app with a fair number of features but it doesn't have an adjustable EQ or any preset EQ profiles, which is disappointing since cheaper devices like the Nothing Ear 1 and Realme Buds Air 2 come with preset EQ profiles at least.
This isn't it when it comes to features on the OnePlus Buds Pro. Staying true to the Pro moniker, the OnePlus Buds Pro has an array of additional features as well. Let's list them out. The buds not only come with IP55 dust and water resistant rating on the earbuds themselves, but also have an IPX4 water resistance rating for the charging case as well. This isn't common at all, and most of the time isn't even seen in premium TWS. So, you needn't worry about sweat or light splashes of water causing any damage to both the earphones and the charging case.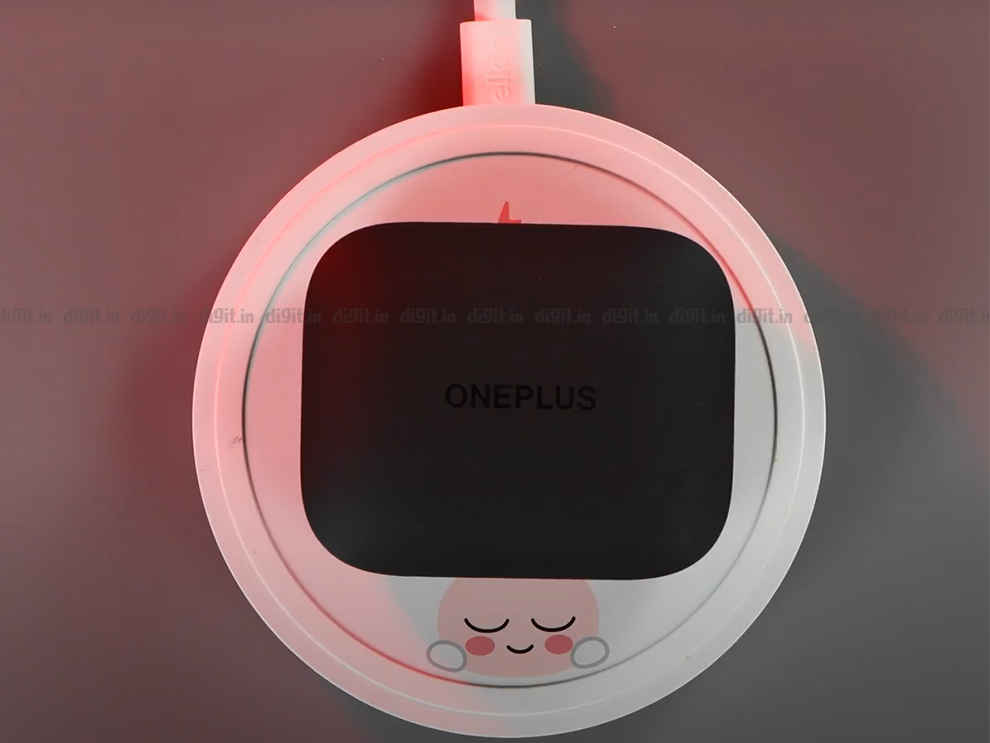 The buds even come with Qi wireless charging for the case, so you can charge the case at 2W speed on a Qi compatible wireless charger, or even the back of some phones. Users with OnePlus devices with OxygenOS 11 and above can even enjoy 94ms low latency Pro Gaming Mode. This is not available for users with other devices, which did bug us a bit, but we'll make do.
You also have Type-C charging with support for OnePlus' Warp charge and Wear detection that can auto pause or play music depending on if you have the buds in your ear. Additionally, each earbud can be used independently of each other, so you can listen to music even if one earbud is still in the case. The only thing that's absent that we can think of is multipoint connection where you can connect the buds to two devices simultaneously. Nevertheless, we can't really complain about that given the sheer number of features that OnePlus has provided at this price. It is one of, if not the most, feature-rich TWS in the mid-range segment, no doubt.
OnePlus Buds Pro: Battery Life
Battery life is extremely important on wireless earphones and truly wireless earphones have definitely gotten better in this regard as the years have gone by. The OnePlus Buds have an impressive battery of 38 hours, earbuds and charging case combined, as per the company's claims. The buds themselves have a playtime of up to 7 hours with ANC turned off with 31 additional hours from the charging case. If you do turn the ANC on at all times, you're looking at a battery life of an impressive 28 hours in total with 5 hours on the buds and 23 hours via the charging case, according to OnePlus.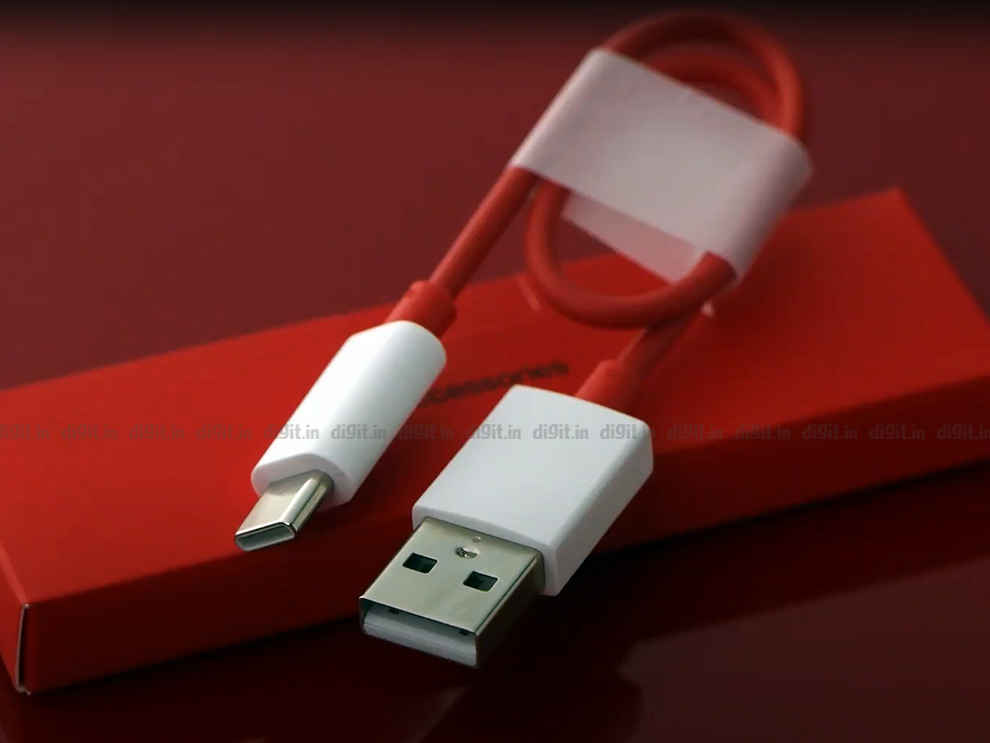 When we tested the battery life, the buds lasted for 4 hours and 50 minutes with ANC turned on, at 60-70 percent volume, which is pretty close to the company estimate. The case was able to charge the buds 4 to 5 times over pretty easily as well. This is way better than the Samsung Galaxy Buds Pro's meagre 16 hours of total battery life with ANC on, and the Oppo Enco X's 20 hours of total battery life with ANC on.
The OnePlus Buds supports OnePlus' famed Warp Charge technology. You get a whopping 10 hours of playtime with merely 10 minutes of charging – 2 hours on the buds themselves and 8 hours via the charging case. To completely charge the earbuds from empty to full, it takes around 30-40 minutes. You also have Qi wireless charging support that works with any Qi compatible wireless charger, including the backs of some smartphones. The charging speed is significantly slower, but it's nice to have the option nonetheless.
OnePlus Buds Pro: Build and Comfort
Simplistic yet elegant. These are the words that come to mind when you look at the OnePlus Buds Pro. The earbuds are available in two colours – Glossy White and Matte Black, and we got the latter for review. Each earbud weighs merely 4.35g while the charging case weighs 52g. The earbuds are extremely lightweight and this aids in overall comfort, no doubt.
The buds are supremely comfortable to wear even over long periods of time, and we barely felt any ear fatigue during our 3-hour-long listening marathon during our testing process. The buds are part matte and part glossy, giving them an aesthetically pleasing dual tone look. The stems of the earbuds are glossy while the bulb-like earbud and the angular nozzle are matte.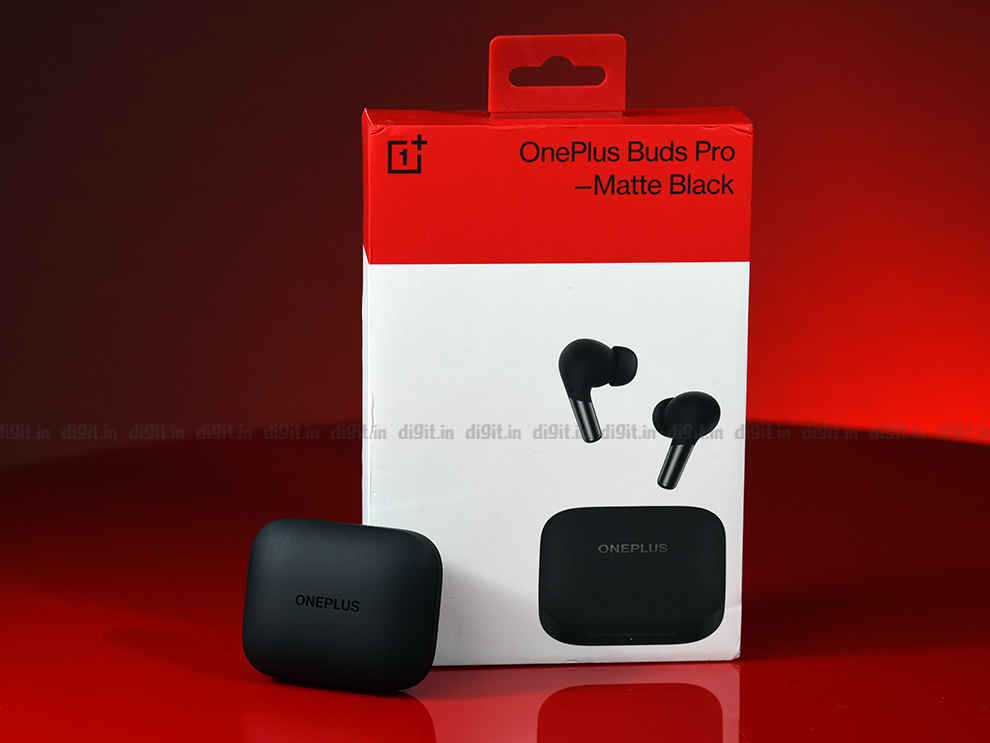 The angled nozzle aids in a secure fit that stays put during exercises, however intense. There is slight shuffling when you move your head frantically, but the fit still remains secure. The company has also provided 3 pairs of silicone eartips users can choose from in the box along with a USB Type-C charging cable and some documentation. The earbuds sport a minimalist yet classy look with the dual-tone texture and the simple design.
Moving on to the charging case, it has a matte finish except for the OnePlus logo, which is glossy. Again very simplistic and classy. The case is pretty flat so it is easily portable and doesn't bulge out too much from pockets. The case has an indent on the front that assists in opening it up, you can even open it one-handed, although it isn't very easy to do this consistently.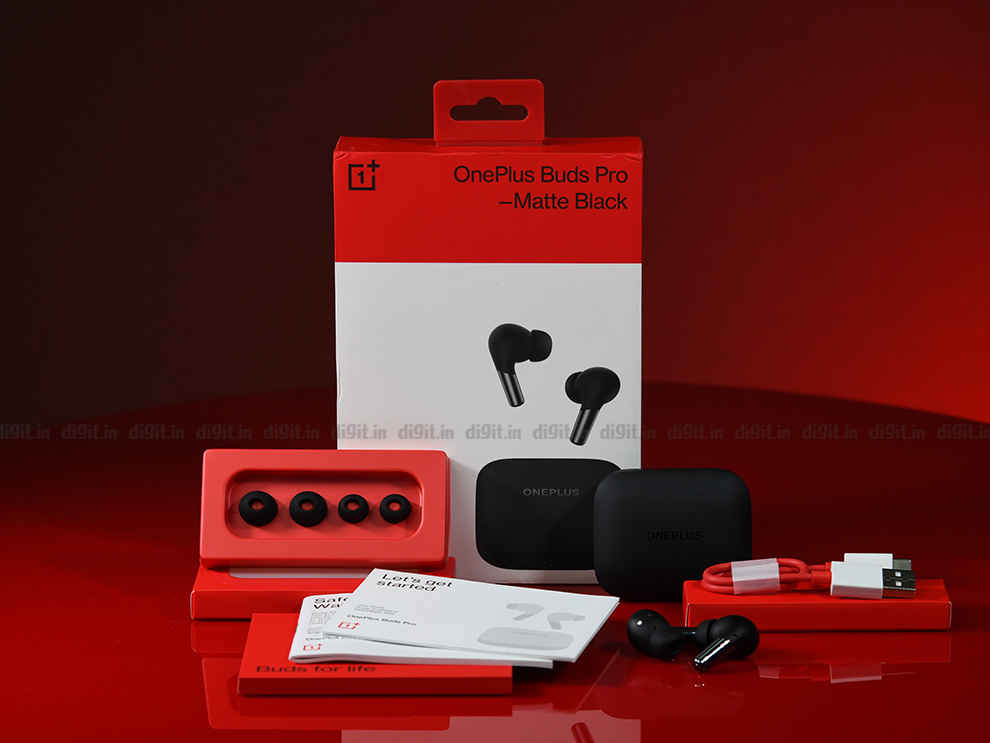 The magnets that hold the buds in the case aren't very strong and the buds fall out if they are jerked hard. So, note that if the charging case falls, the earbuds may tumble out of it. At the back of the case, you have the Type-C charging port and the front houses an LED battery indicator. Upon opening the case, you will see the earphones placed inside with convenient right and left symbols. There's also a pairing button right here.
The stems sport the pressure-sensitive control area that worked extremely well during our testing process. The area is responsive and isn't prone to accidental presses like traditional touch controls. Overall, these earphones are well-built, look classy and have a comfortable and secure fit. There's very little for us to complain about when it comes to the build and comfort of these earbuds.
OnePlus Buds Pro: Verdict
The OnePlus Buds Pro are, no doubt, a solid pair of mid-range truly wireless earphones complete with features such as Active Noise Cancellation, app support, Qi wireless charging, long battery life, and much more. Priced at Rs 9,990, they're possibly one of the most feature-rich pairs of TWS earphones we've come across, especially at this price range. Additionally, they are well-built, have a simple yet classy look, and are supremely comfortable.
However, the OnePlus Buds Pro is overshadowed by some of its competitors in the mid-range segment. The Oppo Enco X offers more detailed sound and a more balanced sound signature, while the Samsung Galaxy Buds Pro offers not only better sound but slightly better ANC. More inexpensive options such as the Nothing Ear 1 or the Realme Buds Air 2 offer a lot of the features present on the OnePlus Buds Pro but at a significantly lower price point.
So, the OnePlus Buds Pro finds itself smack in the middle of some strong competitors that offer either better audio performance, better ANC or simply more value for money. This doesn't mean that these buds aren't solid TWS mid-rangers, they surely are. However, within the cutthroat competition of TWS earphones, the OnePlus Buds Pro do fail to have that one area where they completely overshadow everyone else. Nevertheless, the OnePlus Buds Pro are all-rounders that do most things well, so there's very little to complain about, but also very little to glorify