VERDICT:
If price is not a constraint, the LG HS201G promises to be an ultra useful multimedia and office tool that fulfils all our entertainment & work related needs in one go.
The LG HS201G is an ultra portable LED projector (weighing hardly 800 grams) with 30,000 hours lamp life (factory rated), and direct USB media support that supports playback of DivX, MP3, JPEG and HD compliant video files (using HDMI input). This projector is targeted for the home and small office consumer segment, keeping in mind the compact, ultra mobile body build and the rich assortment of multimedia features.
Features and functionality:
The following are the key features of the HS201G LED projector:
Auto power off
Expert colour management
Device compatibility
Connector compatibility
Built-in speakers – supports Dolby Digital sound output
Divx, MP3, JPEG, MPEG4 support
HDMI input
Quick power on/off
Brilliant Colour™
30,000 hours lamp life
Kensington security lock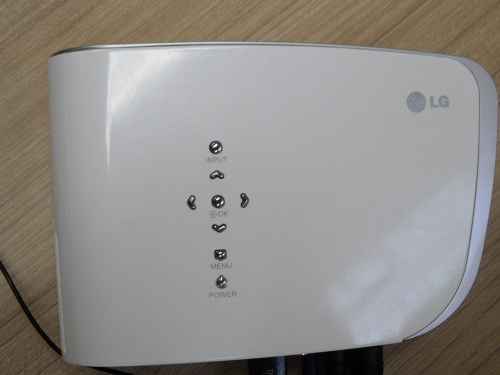 High-Definition Multimedia Interface (HDMI)

It ensures transfer of high quality video & audio signals through a single cable and thereby reduces the clutter of cables between the devices.
Expert colour management
This function allows the user to individually control the gain (contrast), saturation, and the colour tone of Red, Blue, Cyan, Magenta and Yellow. The result is a crisp, sharp and vivid image that satisfies your eye-candy needs.
Brilliant Colour™
Brilliant Colour™ technology provides enhanced brightness in non-primary colours and boosts overall colour intensity/colour depth by amplifying mid-tone color.
30,000 hours lamp life
You are invited to enjoy the privilege of long lamp life – up to 30,000 hours (factory rated) in normal mode.
Auto power off
When there's no signal, it automatically turns off the power. This minimizes wastage of electricity and reduces the wastage of lamp life, thereby incorporating the 'Green' theme concept.
Quick power on/off
User can save his precious waiting time in trying to power on and power off the unit manually after usage.
Built-in speakers
The built-in speakers are designed to deliver both stereo and Dolby Digital sound output, with excellent automatic bass and treble balance. It also has a software based volume and treble control to boost the sound output under feeble sound playback circumstances.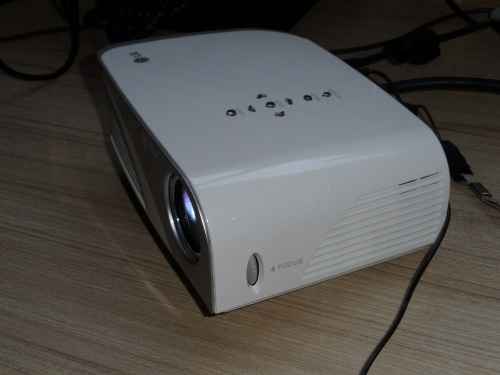 Kensington security lock
Allows the user to connect the Kensington security cable to the rear panel of the projector to prevent theft of the device.
Read on to know about supported file formats, device compatibility, connector compatibility & accessories on the next page…
Supported file formats
The user can playback video files of type: AVI, MPEG4 and support for HD content through HDMI input. Also, the user has the privilege to playback MP3 audio files in a favourite playlist, and JPEG image files on a slideshow. In addition, the user can playback streaming video and audio when connected to the internet through a desktop or laptop computer.
Note 1: The supported file-formats are applicable for playback from the USB media connected to the projector itself, as if it were a local drive on the projector. However, there is no limitation in file-formats while playing from an external source like: PC, DVD player, home theatre system or a HDTV. You could even upload a 3GP video file from your mobile to your computer and watch the video on the projector, provided you have the compatible 3GP player installed on the computer.
Note 2: This projector cannot playback copy-protected files and music files less than 16 KB.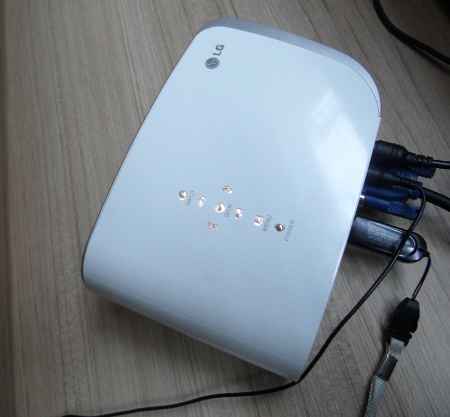 Device compatibility
The LG HS201G can be connected to a desktop PC/laptop (VGA cable or HDMI cable, and 1:1 audio cable), DVD player (component cable), HDTV (HDMI cable) and also to an USB mass storage device like a pen drive (for music & video playback, photo slideshow).
Connector compatibility
The LG HS201G supports the following connectors: VGA, HDMI, USB, 1:1 3.5 mm audio, component video-in, RGB to component video-out.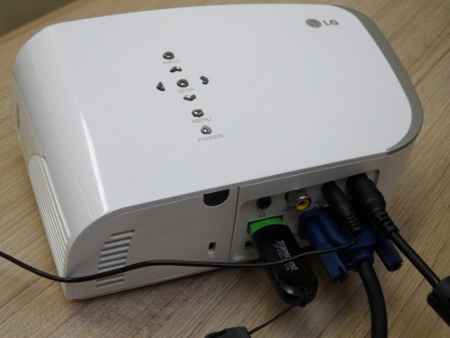 Accessories
Remote control, 3V Li-ion battery (CR 2032), owner's manual, CD owner's manual, polishing cloth, power cord/AC adapter, VGA cable, RGB – component cable, lens cover and strap.
Read all about the technicalities of operation, and how we tested the projector, on the next page…
Technicalities of operation
Remote control: As per the factory recommendation, the remote control should be used within a range of 3 metres from the projector and at a maximum angle of 30 degrees (left/right) from the IR sensor, if there is a cable obstruction between the sensor and remote. The maximum range of the remote control, when there are no cable obstructions between the sensor and remote, is quoted as 6 metres (factory recommended) with a maximum angle of inclination at 30 degrees.
DTV/DTH programs: To display or view DTV/DTH programs, it is necessary to purchase a DTV/DTH receiver (set-top box) and connect it to the projector.

How we tested
Built-in speakers & MP3 audio test:
The built-in speakers are not too audible beyond a range of 6 to 8 feet, even after maxxing out the treble slider to 100%, though this does improve the audibility by a considerable margin. We would have been more pleased, if we had a high wattage speaker on our hands that could deliver superior decibel levels.
To our disbelief, the built-in speakers showed a lot of promise, and delivered excellent bass and treble balance with dynamic stereo output during our MP3 audio test. The sound clarity was good, and provided us the privilege to cherish even background instrumental music with its finer details, as well as the good vocal sound reproduction with lows and mids that were clearly distinguishable. The best part is that the sound system offers low noise feedback even at the maximum volume. The amplitude sufficed for a small room, where you will not require an external speaker to handle the audio output. We were not disappointed with the consistently impressive sound performance of the built-in speakers (across Bollywood and English music).
Projector setup test:
In our test, the projector was placed at a distance of 3.5 feet from the screen and delivered a maximum projection screen size of 3.5 x 2.25 ft (approx.) with optimum image clarity. The keystone feature came in handy when aligning the projected image at right angles to the projector, and to get a display area close to a rectangle by reducing trapezoidal curves & fissures across the sides.
a) The picture clarity looks very faded and blurry with the ambient light of two pairs of tubelights fully lighting up our cosy 6 x 5 (feet) testing room.
b) However, the picture clarity appeared sharp and crisp with vivid colours in a fully darkened room (achieved by turning off the tubelights), with all external light cut off from entering the room (we used dark plastic sheets to cover the windows from outside).
Hence, for obvious reasons we chose the option 'b' for all our video, font & image tests.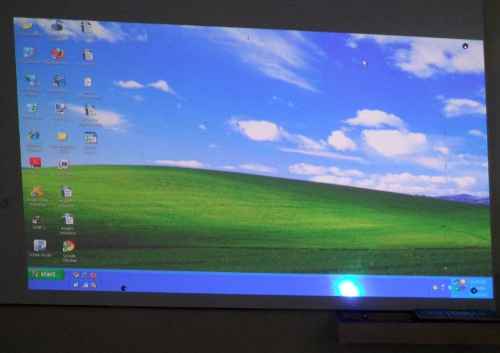 Font and text image test:
The font and text images on the screen often looked a bit blurry, and even selecting the presentation mode hardly made any difference to the image clarity. The focus wheel was handy in adjusting the image clarity, and made the font and text readable (with about 10 to 20% sharpness correction), although it fails to deliver 100% sharp and crisp fonts.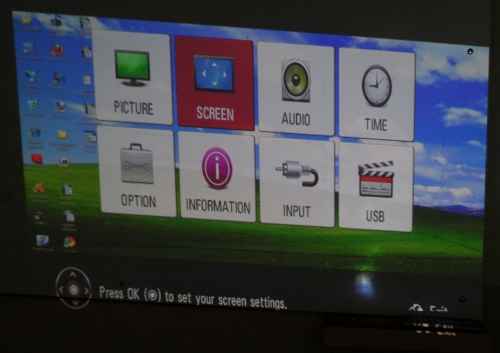 Read on to know about the video test, image test, background noise test & more in the next page…
Video test:
As far as the video output is concerned, it does well with the image clarity and colour crispness, and exhibited a vivid colour pattern. Although, a negligible amount of grain particles were visible, particularly with warmer colours like red. We used a high resolution 3GP file and AVI format from our PC, to test the video quality of the projector, via VGA/RGB cable. The projector supported only two video aspect ratios namely: 4:3 and 16:9.
We observed that the video quality looks best at 16:9 aspect ratio, set to maximum screen resolution of 1360×768 (in 'Cinema' user mode), rather than the regular 4:3 aspect ratio. Overall, the video performance was satisfactory and aptly suitable for viewing HD movies in wide-angle mode. We did not test the the 1080p HD video output, as the HDMI cable is not shipped as a standard accessory.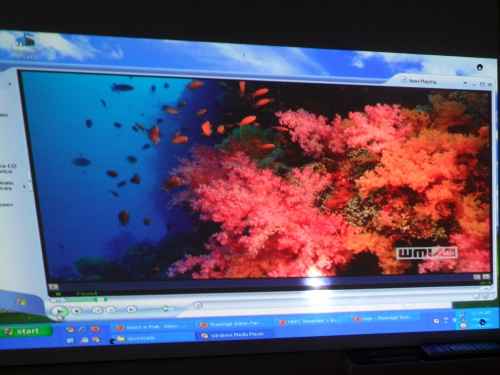 However, we did download a 102MB video sample recorded at 1080p HD and we could successfully playback the high-definition file over the projector, that was stored on the computer's hard drive. We did notice that HD content playback was not supported over the USB media. The video and audio playback performance was very stable during the HD video test and yielded consistent frame rates, crisp colours and sharp images. Overall, we were very satisfied with the video performance of the projector.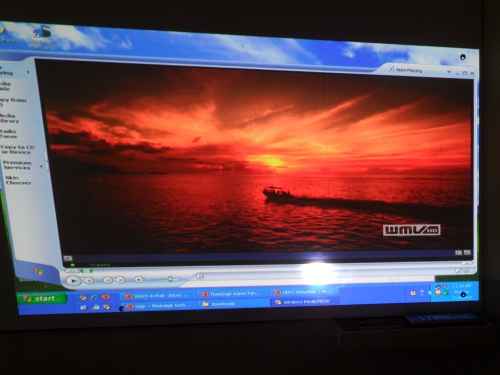 Photo/still image test:
For the image test, we tried running a slideshow of various JPEG images including company logos, game expo snapshots, mobile pictures, components of computer, video game icon images. All the images appeared very crisp and showed impressive colour gamut satisfying the eye-candy needs. Although, there was slight blurriness along the skeletal lines of the images, we did not notice any significant colour resolution issues or image clarity issues during the test. Overall, the image test was very satisfactory.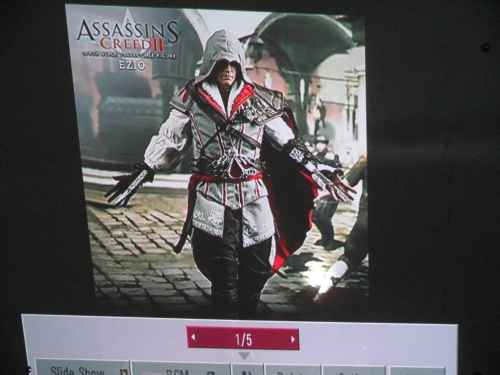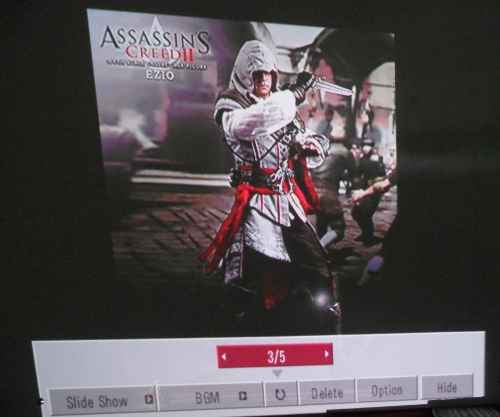 LED background noise test:
The background noise of the lamp during the operation is very mild, but it becomes quite noticeable when processing an image during the start of a slideshow or loading videos initially and then subsides after the screen is loaded. The projector LED also tends to make a lot of noise while browsing a PDF document like a user manual, particularly while scrolling a page or loading a new page.
Streaming video song test:
The projector LG HS201G delivered amazing video clarity and very good mids and lows with soothing music playback. We tried playing a video song from a Bollywood flick and it worked like a charm!
Read on to know about the various USB media tests we conducted in the next page…
USB media test:
We plugged in a 4GB USB pen drive from Transcend, which was loaded with JPEG images, MP3 songs and an MPEG4 video file. We had created three user-defined folders – one for each category: JPEG, MP3 & Movie folder and placed the respective files in them (for ease of access). The intuitive software loaded the drivers immediately and provided us 3 interactive menu options on the screen. We could also browse the location of the files, as we normally would on our PC: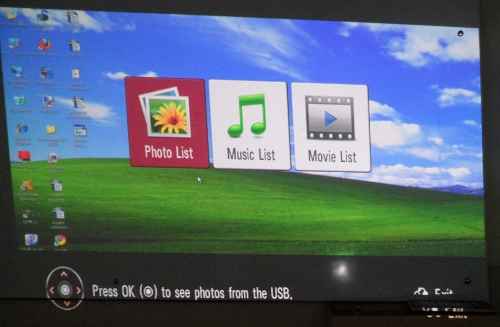 1) Photo List: The Photo List provides an intuitive interface to view individual photos or mark them all for a slideshow view using the remote control. However, one should note that the slideshow does not work without the remote 'Play' command. Unfortunately, in our case we had a DOA (Dead On Arrival) remote control (demo/test piece) on our hands and we promptly sent it back to the service center for repairs.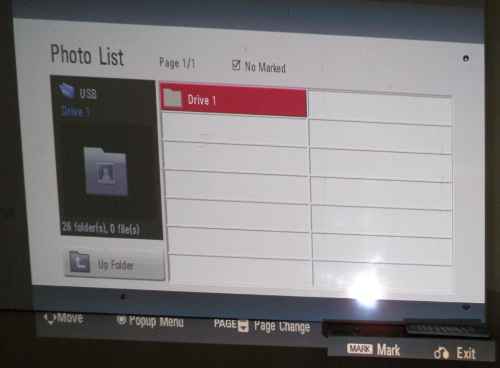 2) Music List: The best part of this test is, we could set the projector on Auto Sleep mode (it turns off display to save power!) and allow it to play all the MP3 tracks in the selected playlist in a linear fashion without our input. It also gave us the option to select the songs of our choice for the custom playback, but since we had already shortlisted & uploaded our hot pick, we just let it do its job. In case you want to interrupt or stop the playback, you could use the stop/pause button on the remote or if remote is not working (like our scenario), you could press the input button on the projector and it exits the USB media playback application, revealing your home screen or your desktop. That's an intuitive shortcut!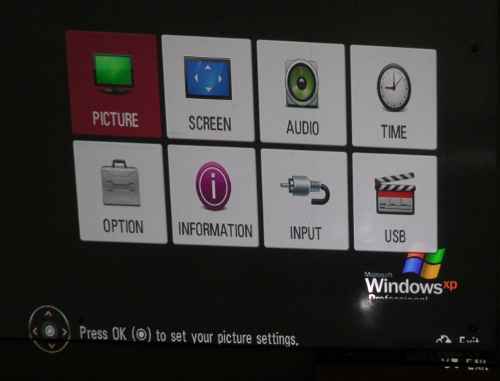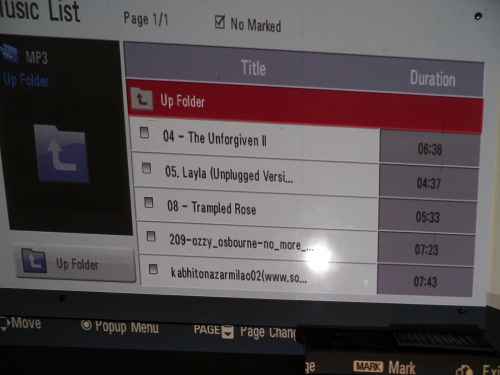 3) Movie List: Similarly, we tried our hands on movie playback from the movie list interactive menu option. The video and audio playback lived up to our expectations and beyond, making us forget for an instant that it is our office white-board screen and not a home entertainment TV! The unwavering brightness, extremely good contrast ratio, crystal clear picture quality and vivid colour crispness with a hint of extremely sharp images added up to our entertainment show. We give it full marks for its versatile entertainment value. It is a big plus to carry around, where you don't have a TV. I mean, it literally makes perfect sense, doing a lot more than what you can imagine!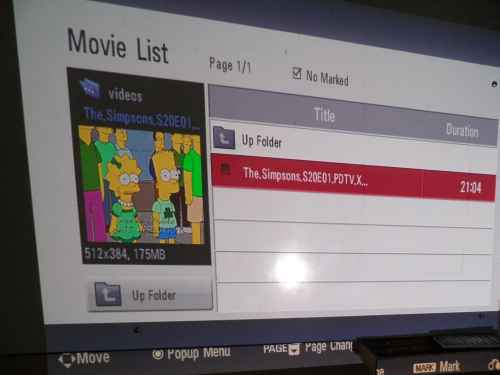 Read on to know about the Usability test – multitasking and our final verdict based on the test results, in the next page…
Usability test – Multitasking at office or home:
If you ever felt very strained looking at your PC monitor for a long time while working at your office or home, this projector comes in handy to get your presentation whiteboard to double up as your projector screen. You could do all your work, including e-mails, chat, documentation, watch videos, listen to music and lots more. You might listen to music, while you research something on the website or watch a photo slideshow, type out an e-mail, playback a video and keep switching between office apps. The LG HS201G ultra mobile projector comes in handy for all your multitasking and entertainment needs. Basically, replacing your small size monitor screen with a big projector screen giving you a magnified view of everything on a wide area across the screen.
With the handy remote control, you could pause, stop, rewind or fast forward your legendary hero in a movie, pause/playback an MP3 file, pause/playback a photo slideshow, switch between media apps, eject the USB media and do a lot more.
The Verdict:
The LG HS201G is a compact ultra portable projector, that reveals itself to be an ultra useful multimedia and office tool fulfilling all our entertainment & work related needs in one go. Although the price seems to be a little high at Rs. 48,000, it still delivers a lot of bang for the buck, considering its intuitive interface and feature rich configuration. Overall, it promises to be a formidable mobile projector with highly reliable performance across all the tests except the fonts and text, where it did not deliver satisfactory results.
Our Ratings:
| | |
| --- | --- |
| Features | 8 |
| Performance | 7 |
| Build Quality | 8 |
| Value for Money | 7 |
| Overall | 7.5 |
You can find the detailed specifications of the LG HS201G projector at the LG website, here.
Contact & price details:
Website: http://www.lg.com/in/computer-products/projector/LG-HS201.jsp
E-mail: http://www.lg.com/in/support/complaint-registration/index.jsp
Phone: 1800-180-9999(Toll Free)
Price: Rs. 48,000