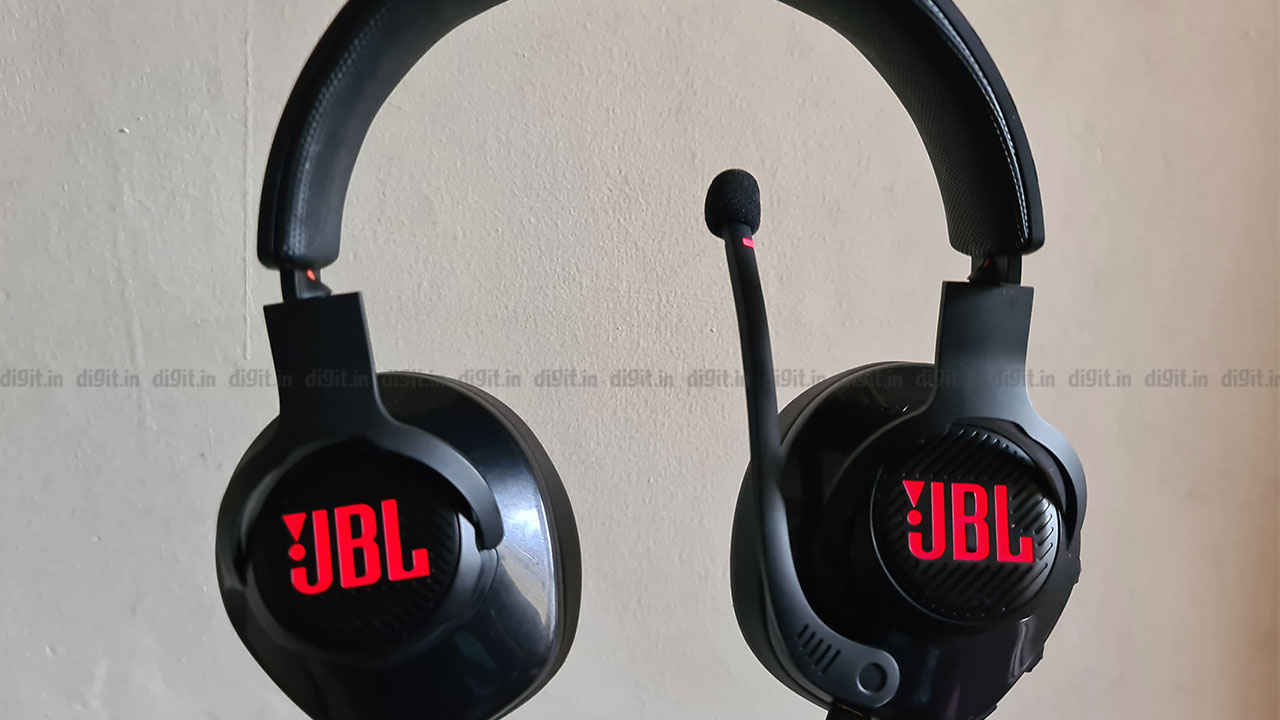 VERDICT:
The JBL Quantum 400 gaming headset is a versatile, mid-range gaming headset packed with a plethora of features and customisation options. If you're a basshead, you may find the bass response slightly underwhelming, however, for the purpose of gaming, these headphones are a pretty great purchase with an immersive soundstage and stellar directional imaging.
Multiple audio brands today are looking to expand beyond their market segment, and delve into newer areas. JBL, a name that's well-known in the audio space for their varied and compelling collection of headphones, has now forayed into the lucrative gaming space. A company has released, not one, not two, but a massive lineup of seven gaming headsets at different price points and unique offerings. Dubbed the JBL Quantum lineup of gaming headsets, gamers have an array of options to choose from, right from the budgetary JBL Quantum 100 costing Rs 3,999 all the way up to the premium JBL Quantum One, priced at Rs 29,999. We received the mid-range JBL Quantum 400 for review that costs Rs 10,999, but at the time of writing this review, can be purchased for Rs 7,999 on the JBL India website. The versatile pair of gaming headphones support cross-platform compatibility as well and work with all popular gaming systems including PC, PlayStation, Xbox, Nintendo Switch and smartphones as well. At this price point, the JBL Quantum 400 goes up against gaming headsets such as the HyperX Cloud Revolver, the Razer Kraken 7.1 V2 and SteelSeries Arctis 5. So, let's look at what the JBL Quantum 400 has to offer in the same price range, and how it performed in our tests.
Build and design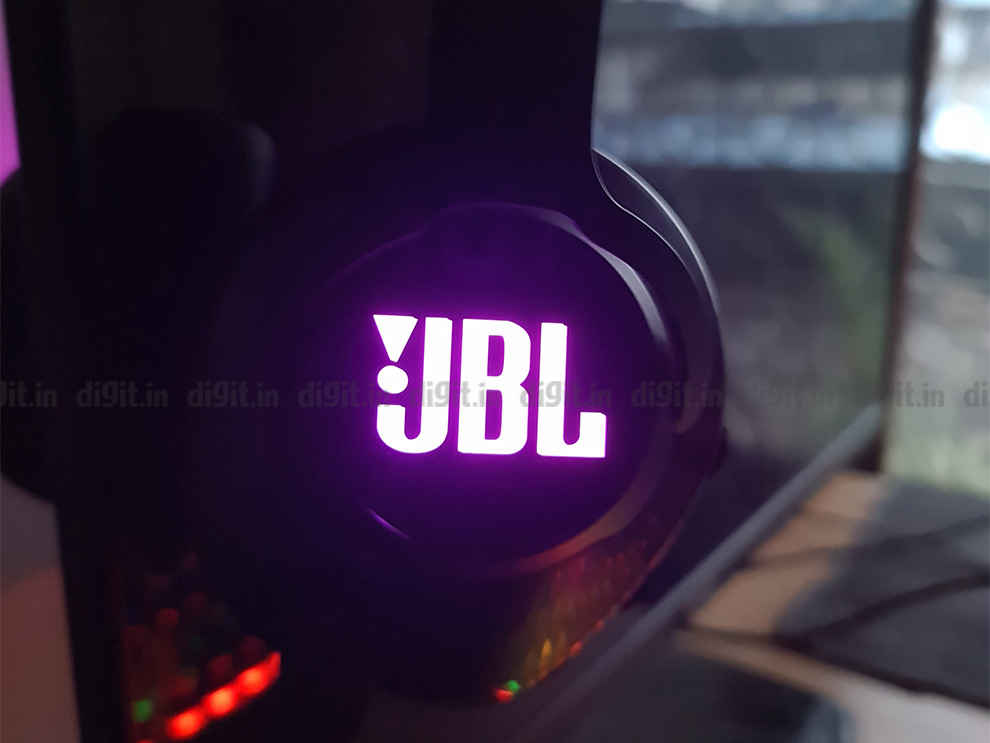 The bold, gamer aesthetic of the JBL Quantum 400 is evident from the moment you set your eyes on the box. The box even has a flip cover that opens up to allow users to take a sneak-peak at the headset itself. Within the box, you will find the headphones themselves alongside a few extra accessories. Firstly, you get a three-meter-long USB Type-C to USB Type-A cable for PC gaming and secondly, you get a 1.2 meter-long 3.5mm audio cable for all other platforms. Unfortunately, there's no USB Type-C to Type-C cable included for laptops or smartphones with no 3.5mm port. You will also find your usual paperwork tucked inside which most of us gamers never bother to open. This is a wired-only gaming headset. If you're looking for a wireless option, you can check out the JBL Quantum 600.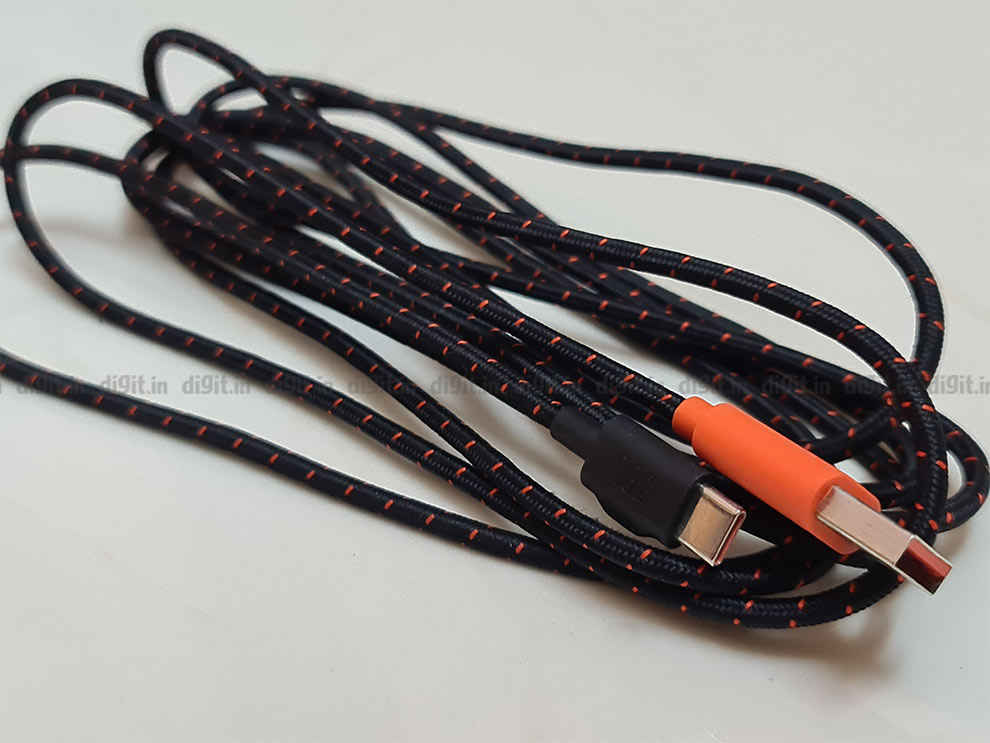 Coming to the cables again, we were extremely pleased with the sheer quality and aesthetics of the cables. Both cables are braided and come with specs of orange mixed in the black fabric, making it look super pleasing to the eye and premium. They look like robust cables that can be roughed up but will still hold their integrity for quite some time.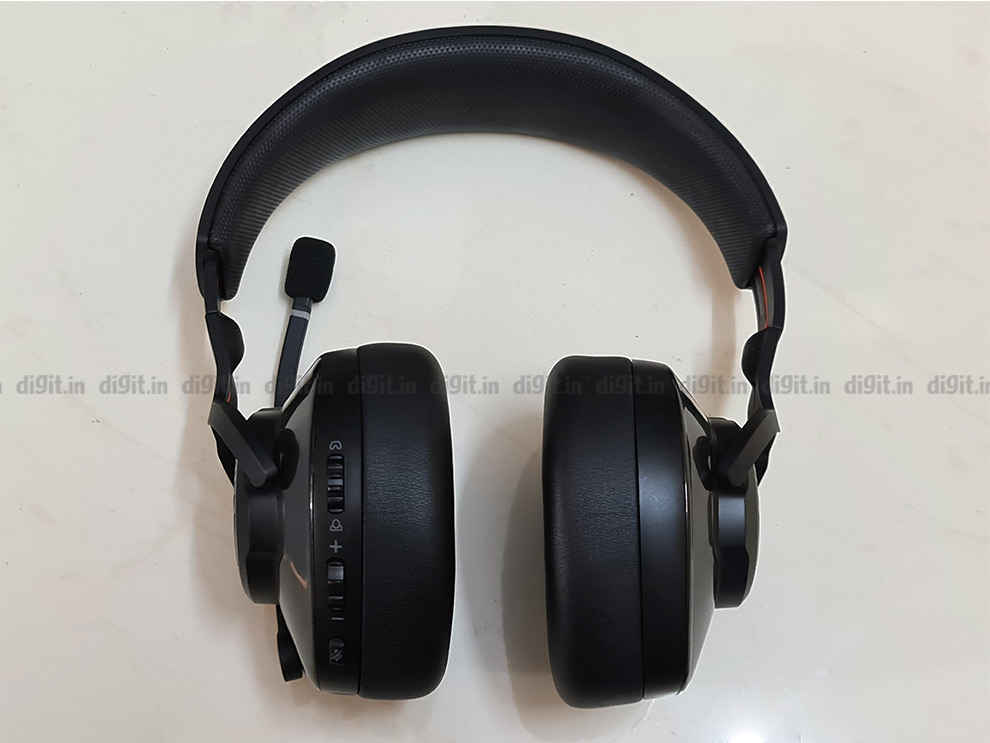 Now, let's get into the meat, the headphones themselves. The JBL Quantum 400 are circumaural (over-ear) headphones that come with large, memory foam padded ear cups with a soft leatherette material atop. The headphones are completely made out of plastic, however, they do not feel cheap or 'plasticky' to the touch. The earcups have a gloss finish while the rest of the headphones have a slick, matte finish. They are sturdy yet lightweight, weighing merely 274g. The large, ovalesque ear cups have the JBL logo etched onto the back panels, and the logos are the RGB-lit areas of the headphones.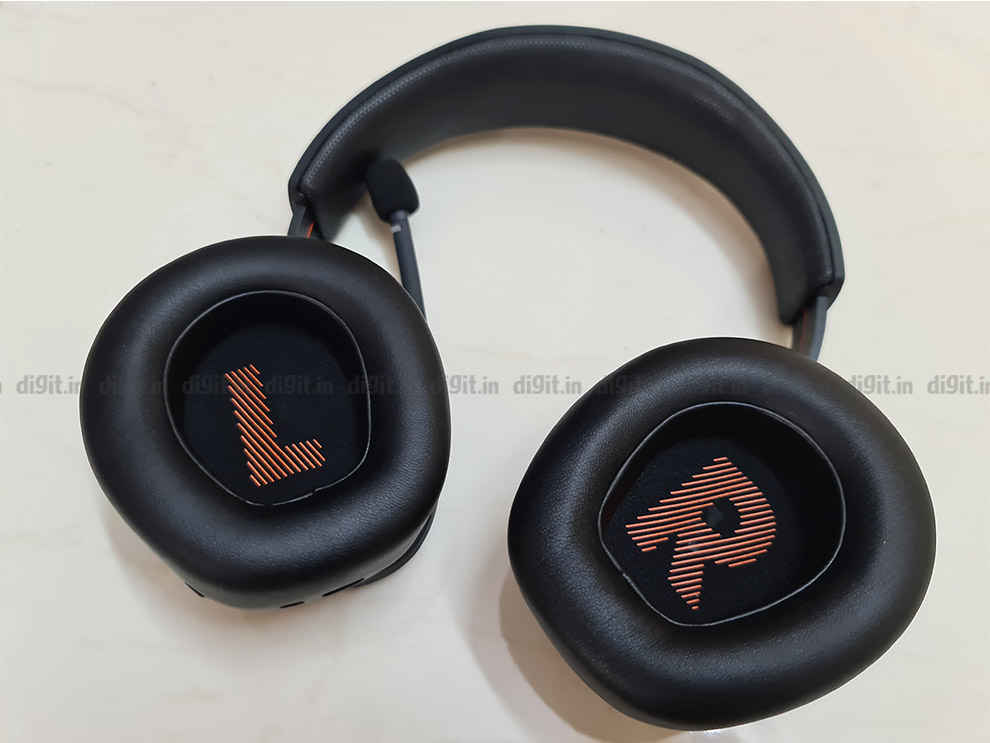 The earcups can be tilted and pivoted slightly to adjust to the shape of your head. The cups also mounted on swivels and can turn 180-degrees, allowing gamers to place them on surfaces or their chest easily. In addition to this, the headband has a ton of flex and is also adjustable to up to 7 levels. We pulled the two ear cups apart significantly and we could hear no creaks at all and no components seemed susceptible to damage while doing this. That is a pure testament to the solid build quality of these headphones. The headband also sports a soft, rubberised padding material on the underside.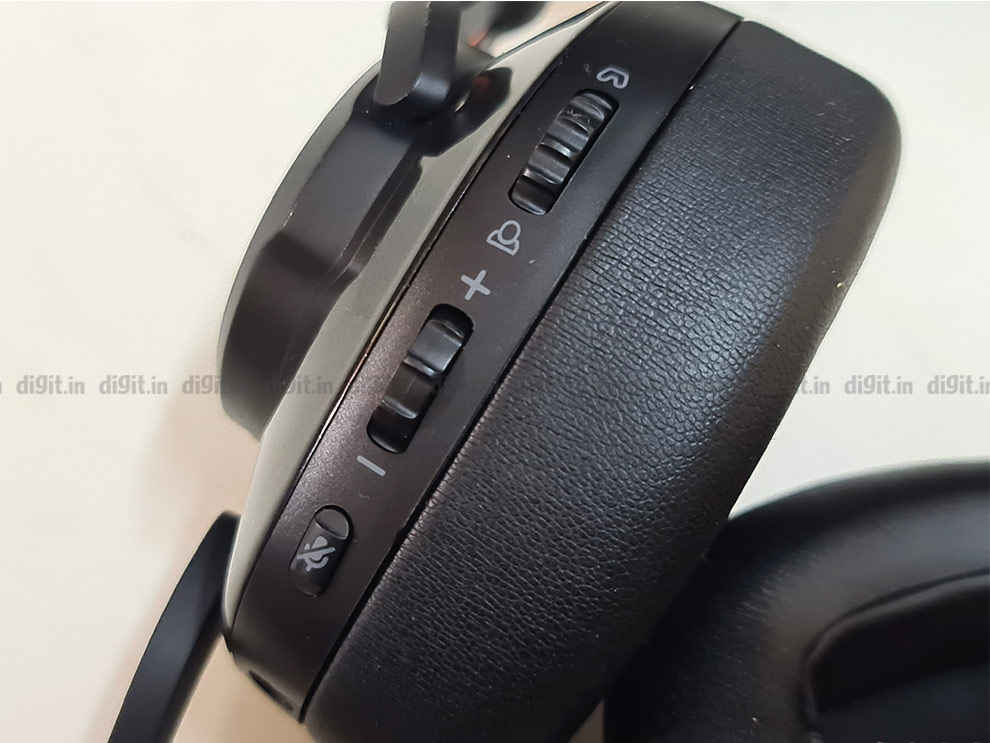 The left ear cup houses all the controls and connectivity ports on the back and bottom of the cup. The USB-C cable port and the 3.5mm port resides on the bottom, while the back edge houses the microphone mute button, the volume wheel and the game chat dial. The controls are easy to reach and use, however, the game chat dial is a tad rickety and has difficultly staying put in the middle setting.
The microphone also resides on the left earcup, however, it is not detachable. Still, the microphone is one of the most unique aspects of this gaming headset since it is a nifty flip-to-mute microphone. The action of simply flipping up your mic mutes it completely and this will be indicated by the LED below the microphone capsule lighting up red. Gone are the days of scrambling around, looking desperately for your mic mute button on the headphone when your mom comes barging into your room, screaming at you for gaming way too long.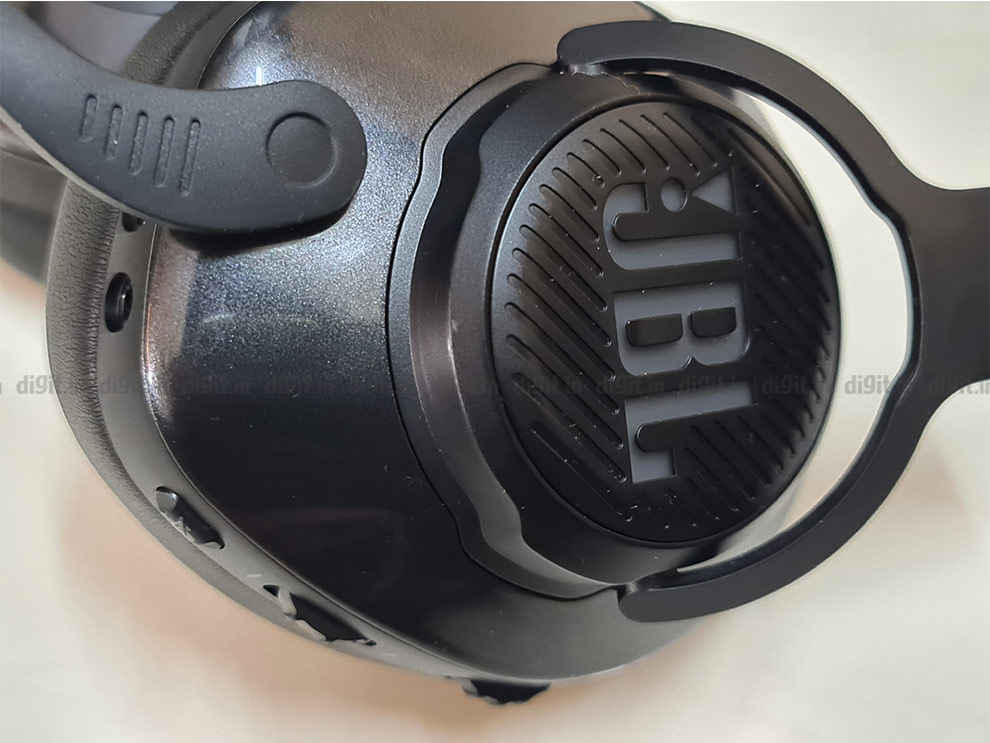 Overall, the JBL Quantum 400 is a lightweight and robust pair of headphones, that isn't too garish in appearance. It is the perfect blend of flair mixed with minimalism. The flip-to-mute microphone mechanism, the premium braided cables, and the flexibility of the headband impressed us quite a bit on this gaming headset.
Comfort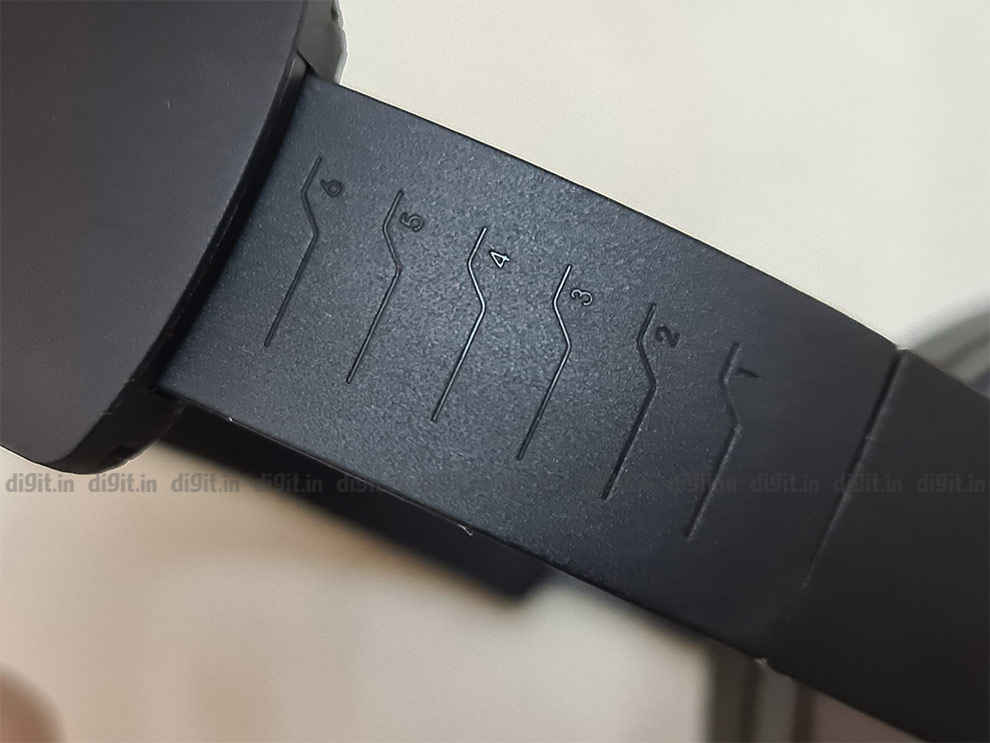 Comfort is non-negotiable when it comes to gaming headsets due to the sheer number of hours most gamers spend wearing these contraptions around their head. The JBL Quantum 400's plush, memory foam ear cups and the soft padding on the headband ensures that wearing these cans over the course of long gaming sessions is a piece of cake. They're supremely comfortable and the adjustable headband should fit most head sizes easily.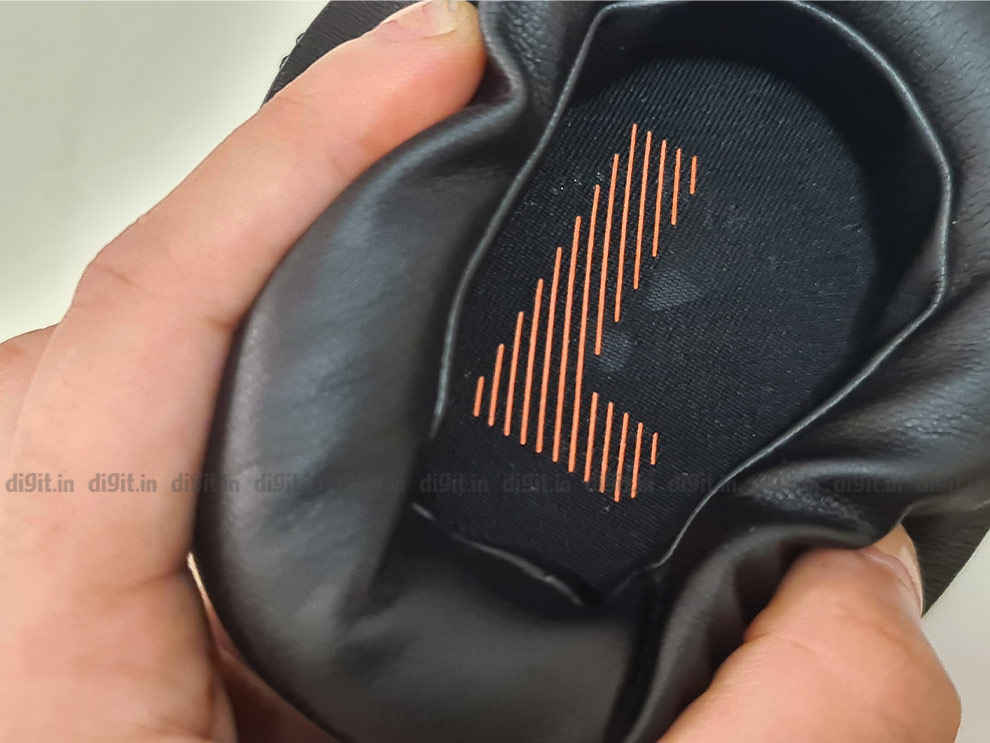 The clamping force is not tight enough to be overwhelming over extended periods of time but is also not loose enough that it hampers the seal. We checked the fit by passing it along to a couple of people with differently-sized heads, and there were no overbearing complaints.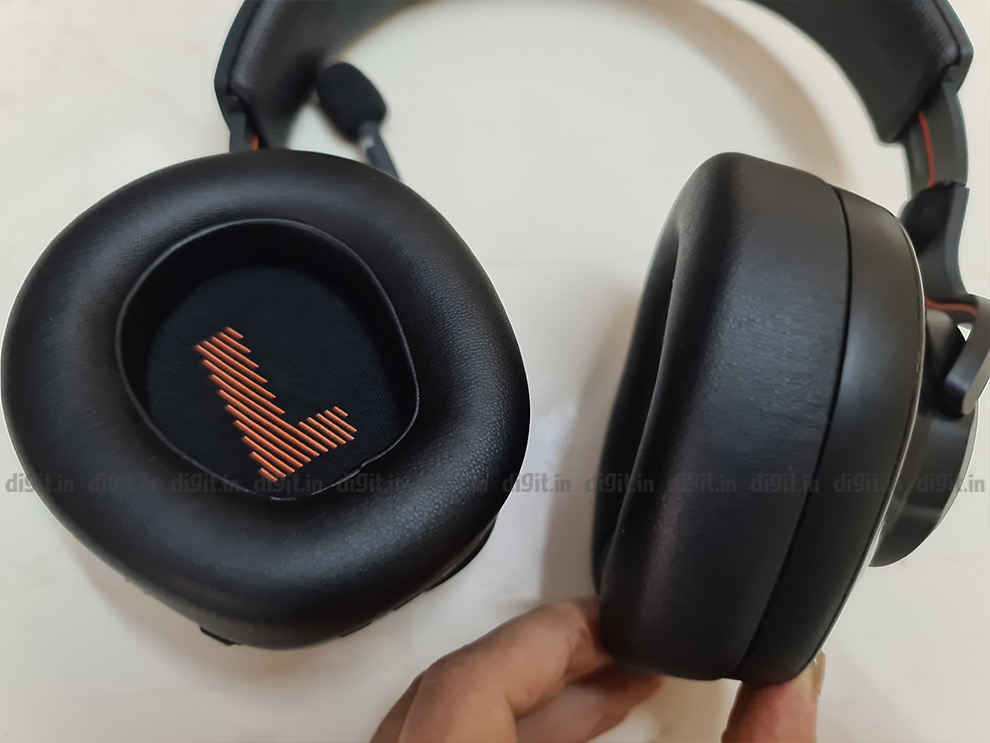 The leatherette material on the ear cups, however, can tend to make some users' ears warm over extended gaming sessions which can lead to sweating. While the reviewer didn't explicitly face this issue, a few people who tried on the headset did face this it, but only after 2-3 hours of gaming. Mesh or fabric would be more breathable, however, it tends to attract a lot of dirt, so we can't really fault JBL for going with the soft leather material. Thankfully, the leather used on the JBL Quantum 400's ear cups isn't as dense as on some other headsets. It is pretty breathable for leather.
Software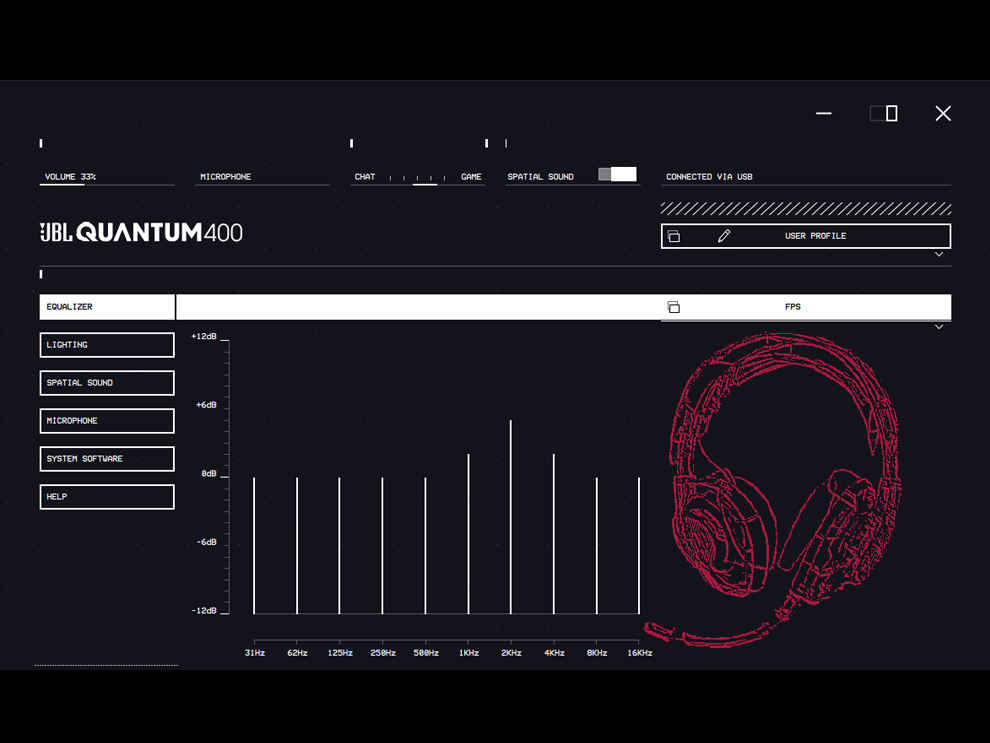 If you are using the JBL Quantum 400 gaming headset with your Windows PC via the USB Type-C to Type-A cable, you will get access to JBL's QuantumEngine software. Packed with a plethora of customisation options, this is where you will be able to unlock the full potential of your JBL Quantum 400 headset. Within the software, you will get access to six tabs – Equalizer, Lighting, Spatial Sound, Microphone, System Software, and Help. The first four allow you to customise your headset as per your liking.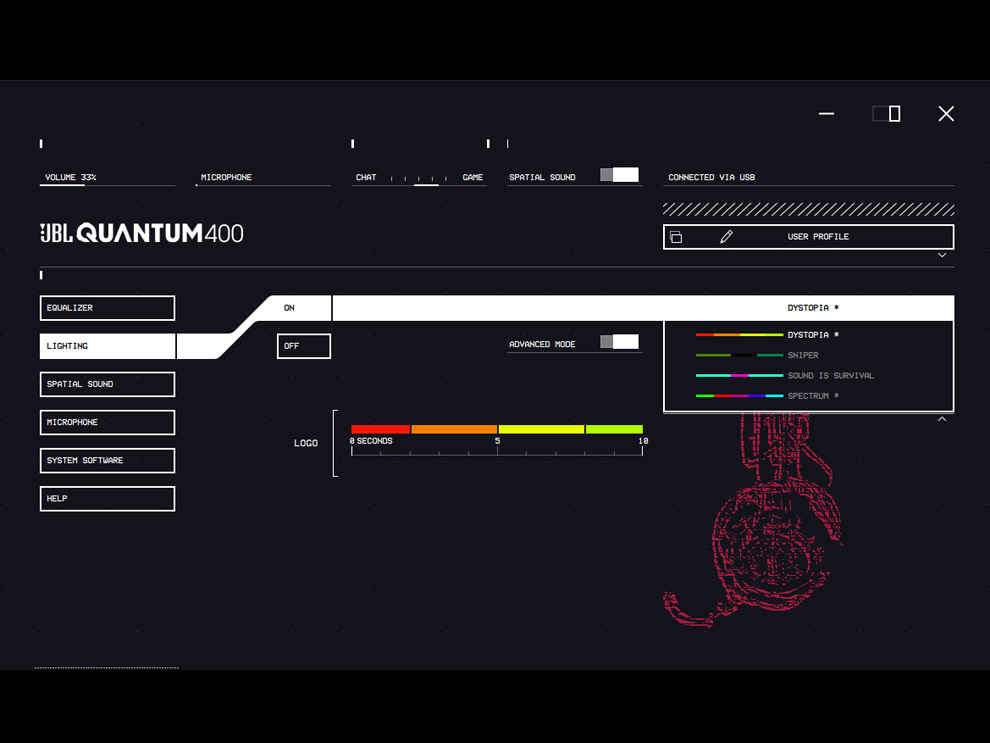 The first tab, Equaliser, offers the user with a fully adjustable equaliser as well as multiple presets such as Bass Boost, Bass Cut, Clarity, FPS, Flat, etc. You can make your own equaliser settings for particular games and save them to the software as well. The second tab gives you granular levels of control over the RGB-lit area of the headset – the JBL logos on the ear cups. You also have a few presets here that you can choose from, or you can delve deep into minutely tweaking the lighting. You can set the colours, the tempo of each colour, the animation style of the RGB (pulse, breathing, glitch) and much more by turning on Advanced Mode.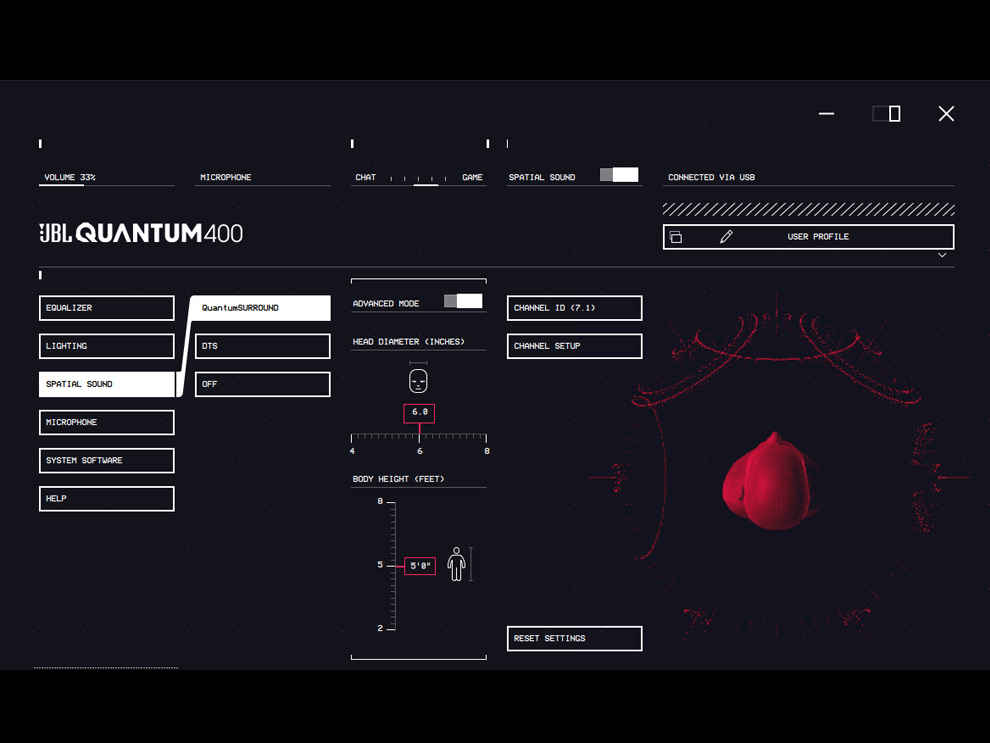 The third tab allows you to access possibly the most coveted feature of the JBL Quantum 400 – JBL QuantumSurround. It is a simulated 7.1 Surround Sound experience which JBL achieves by adding overhead channels to give users a sense of spatial awareness. The headphones also support DTS, which has a smaller soundstage in comparison to QuantumSurround. So, from this tab, you can choose to enable QuantumSurround, DTS or turn the spatial sound off completely.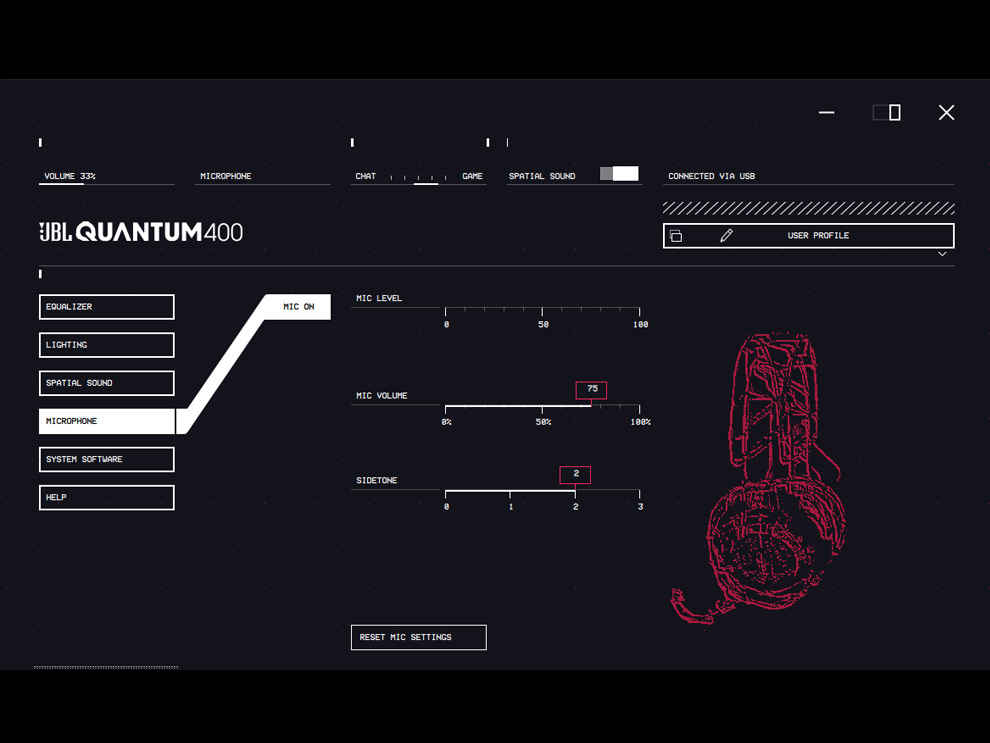 The fourth tab allows you to control microphone settings by controlling the microphone levels, the microphone volume, and sidetone (the ability to hear yourself so you don't end up talking too loud). After making all your adjustments and tweaks, you can consolidate all your preferred settings into one custom user profile. Overall, the software's interface is quite intuitive and highly dynamic, which makes it quite a fun ride for gamers who love customisation.
Sound quality – gaming and media
One of the most lucrative offerings of this headset is the JBL QuantumSurround experience. The JBL Quantum 400 created a virtual surround sound experience that offers solid directional imaging in games that feature tons of explosions and gunfire such as Valorant, CS:GO and PUBG. Gamers will immediately 'feel' the difference when they turn on Surround Sound mode and pinpointing footsteps, gunfire, and other action sounds will become a rather simple and accurate affair. Note that you only get the QuantumSurround experience on a Windows PC and not other platforms.
When QuantumSurround is on, the audio no longer sounds like it's just coming from the right or left, but rather all around you. You can also determine the distance between you and the audio cues and not just the direction, which is exceptionally useful in FPS games. DTS is a toned-down version of Surround Sound with an overall smaller soundstage and a tighter auditory experience. If you are not used to Surround Sound, you may find it a bit jarring in the beginning. So, we suggest you first familiarize your ears to DTS and then transition onto QuantumSurround.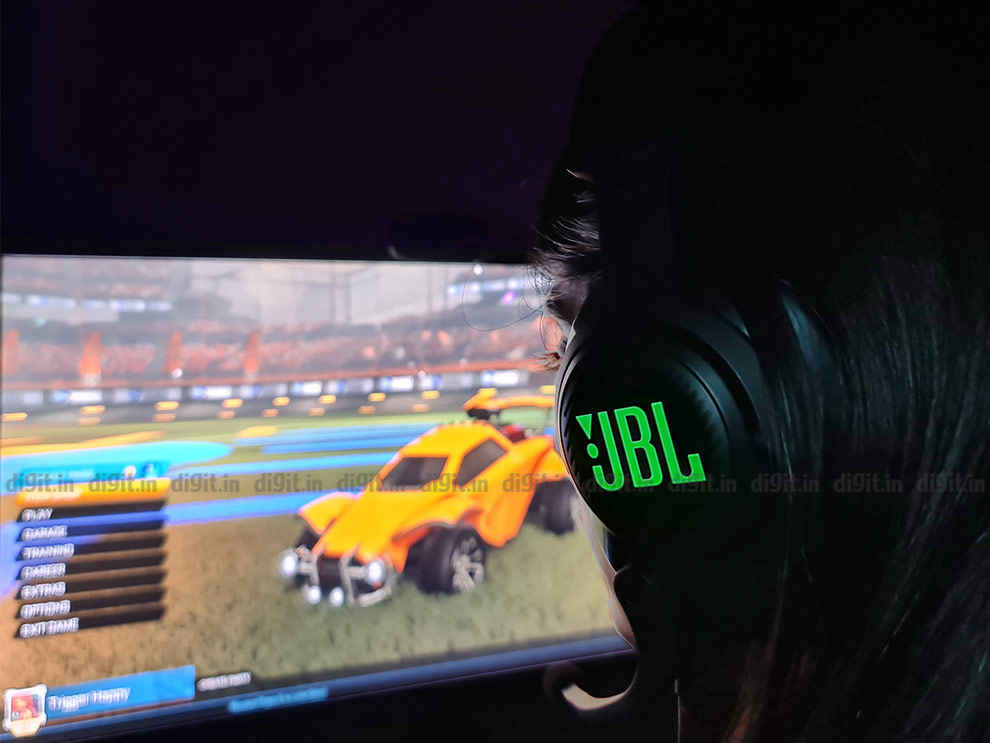 Now, despite the enhanced spatial awareness and accurate directional and distance audio cues Surround Sound provides, both QuantumSurround and DTS sound a tad too artificial at times. Still, it is a solid first attempt from JBL and we cannot wait for a newer rendition that is slightly better tuned. Still, we prefer JBL's QuantumSurround to the Super X-Fi on the Creative SXFI theatre, since it sounds more positionally accurate when gaming.
We also tried using QuantumSurround with music and films too, and we recommend that you listen to music with DTS and Surround turned off. However, when watching action films, the QuantumSurround adds an extra dimension of immersion and does a pretty good job at emanating sounds from accurate angles.
Now, stepping away from QuantumSurround, gaming in general on the JBL Quantum 400, whether you're on PC or console, is a rather enjoyable experience. Melodies in games are super prominent and well-balanced. Even with just stereo sound, the imaging is quite accurate and the natural soundstage is sufficiently wide, so you will be able to tell the general direction of footsteps and other audio cues. We used the JBL Quantum 400 with the Nintendo Switch too and gunshots, explosions, slashes, whips and more sound quite energetic and impactful.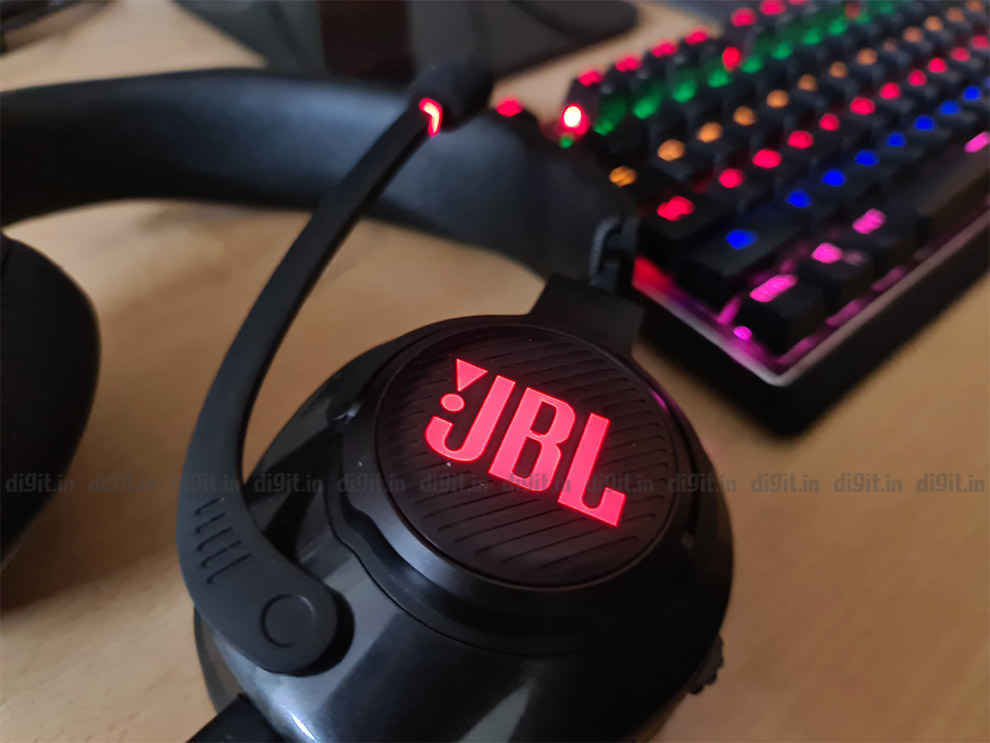 When it sounds to sound performance when listening to music, the JBL Quantum 400 leans towards a warm sound profile with commendable mids, soaring highs, but a slightly underwhelming bass response. There's also no distortion in the music even at maximum volume levels, which is quite impressive. The lack of bass response, however, is a bit odd, seeing that JBL audio products are usually known for their punchy and impactful bass performance.
Bassheads especially will likely be disappointed with the lack of bass response, however, for those who prefer a neutral or A-shaped sound profile, these headphones will be quite ideal for music. Fortunately, you can tweak around the sound profile using the customisable EQ available in the software if you're on Windows PC.
Another great feature which translates well when you're gaming is the game-chat dial. The game-chat dial is certified by DISCORD and is also compatible with TeamSpeak, Skype and other communication platforms. The dial allows you to adjust the volume levels based on priority for game sounds and chat sounds. If you turn the wheel towards game, then the in-game sounds will be enhanced and if you steer towards chat, then the voices of your teammates will be amplified. This is really useful if you are playing with annoying, toxic teammates that you simply do not want to hear, or if you want to hear your teammates talking and lower the thunderously-loud game sounds.
Microphone
The microphone on the JBL Quantum 400 gaming headset is one of the best, if not the best, at its price point. It picks up your voice naturally and relays it with clarity. There were also no noticeable distortion or muffled speech complaints when we played with our team. The microphone is a directional boom microphone that zeros in on your voice and doesn't pick up too much background chatter. The flip-to-mute mechanism is extremely convenient and it is hard to go back to headphones with a plain ol' mute button now.
Bottomline
The JBL Quantum 400 gaming headset is a versatile, mid-range gaming headset packed with a plethora of features and customisation options. Additionally, the memory foam ear cups and the adjustable headband lends to a very comfortable wearing experience even during long gaming sessions. JBL's QuantumSurround brings life and extra tactility and immersion to games, especially FPS ones and the flip-to-mute microphone is both convenient and impressive. If you're a basshead, you may find the bass response slightly underwhelming, however, for the purpose of gaming, these headphones are a pretty great purchase with an immersive soundstage and stellar directional imaging.