JBL Go detailed review
Bluetooth speakers today fall into two categories- the ones meant to stay indoors and the portable ones you can take along with you. While the former kind offer powerful audio performance, the latter compromise on that aspect but make up for it with their portability. The JBL Go falls into the latter category and is one of the lightest and smallest Bluetooth speakers I've seen so far.

But is portability the only thing that the JBL Go has in its corner?

Specifications
Bluetooth version: 4.1
Support: A2DP V1.2, AVRCP V1.4, HFP V1.6, HSP V1.2
Driver: 1 x 40mm
Output power: 3.0W
Frequency response: 180Hz – 20kHz
Signal-to-noise ratio: ≥80dB
Battery type: Lithium-ion polymer (3.7V, 600mAh)
Dimensions (H x W x D): 68.3 x 82.7 x 30.8 (mm)
Weight: 130g
Design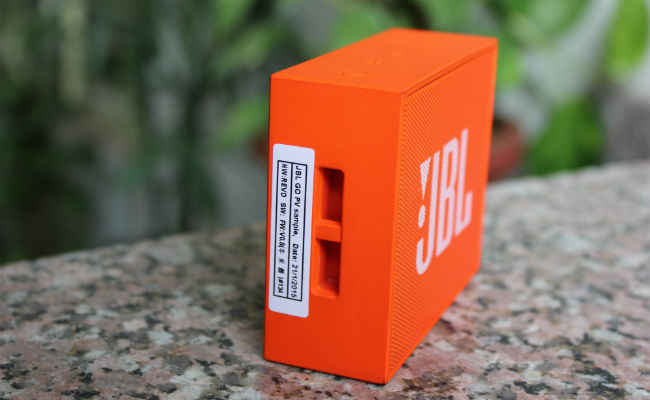 The JBL Go is a block-shaped Bluetooth speaker that resembles an oversized matchbox. It is very light at 130 grams and is small enough to fit into most handbags. The unit I reviewed was bright orange in colour and it's also available in blue, black, pink, red, light blue, yellow and grey. I liked the way the Go looked and its design grabs attention in the best way possible. The front of the speaker has a plastic grill with the company logo painted on it while the rest of the body is covered in plastic with a smooth rubberized finish. The top has the power, Bluetooth, volume and call receive buttons while the right side has the USB and 3.5mm port along with a mic pinhole. The Go's back also has the JBL logo painted on it while the left side has a lanyard loop to keep the speaker in place.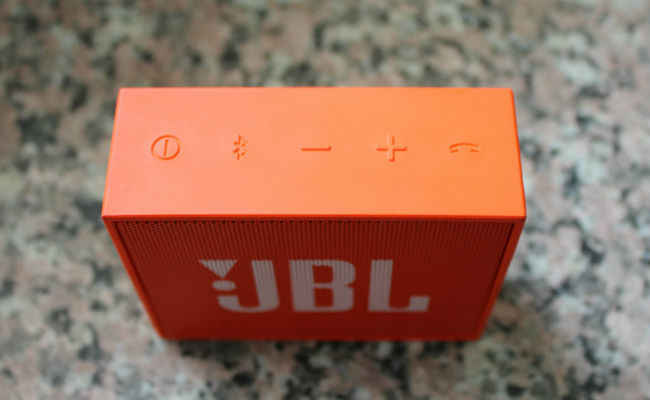 Overall, the design of the JBL Go is a good mix of the functional and the aesthetic.

Performance

Considering its size, I was surprised by the audio performance of the JBL Go but not to an extent where it would be able to compete against the larger, more expensive Bluetooth speakers. The JBL Go is reasonably loud and the audio output is without distortion till about 60-70% of the maximum volume level. Beyond that, there is audible crackling.
The Go is most comfortable with genres of music that depend on treble and highs. When it came to acoustic tracks or rock songs without too much instrumentation, the Go was very impressive. On the contrary, the Go disappoints when it comes to genres that rely on bass and quite frankly, if you've got a lot of EDM or other club music in your playlist, you won't get the best out of the Go.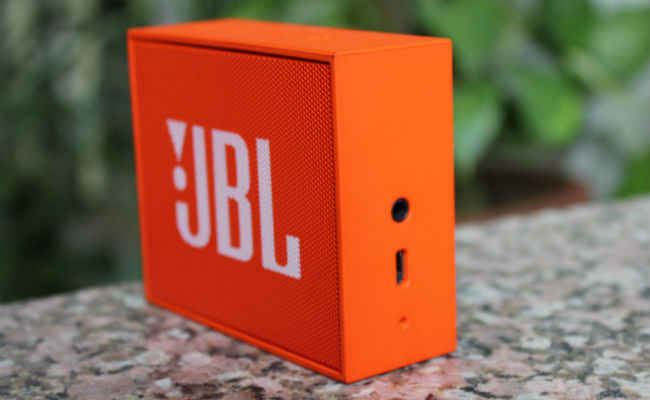 The Go has very good battery life and even though the company claims that it's able to deliver about five hours of continuous playback, I was able to eke out 10 and a half hours. The range though, isn't so great. Without direct line of sight, the speaker stopped playing about 81 feet away from the source smartphone. This means that you can only trust the Go to play music without issues when your smartphone is in the same room or a few rooms away and not over longer distances.
Bottomline
The JBL Go is currently available for Rs. 1,999. It's a good buy if you're looking for a decent Bluetooth speaker that you can carry around anywhere without issues. However, if you want better audio quality and don't mind losing out a bit in the portability department, and also don't mind spending more, then look at the JBL Charge or the JBL Flip II.