Infinix Quiet X detailed review
Infinix made a fairly big splash when it launched its first products in India a few months back, in tune with how most companies announce their arrival in new markets. While the company emphasises on its smartphone business to get a share of an already-crowded budget smartphone market, it also has a number of other gadgets up its sleeve to cement its reputation. The Infinix Quiet X wireless active noise-cancelling (ANC) over-ear headphones is one such product, which the company had launched alongside its Quiet X series in-ear canalphones.
The Infinix Quiet X wireless ANC headphones were priced at Rs. 4,999 upon launch, but presently retails at Rs. 8,999 on Flipkart. At this price, does it manage to stand its ground among products from more reputed audio gear manufacturers?
Build and Design
To begin with, the Infinix Quiet X wireless ANC headphones look rather nondescript. There's nothing really that would excite a buyer or draw attention to it upon first glance, which could be a bit of a miss given that Infinix is not an already-recognised or critically acclaimed brand in the audio sphere. However, the muted design may actually work for many.
With matte black finish and large ear cups and chassis, the Infinix Quiet X often resembles Sony's range of over-ear headphones, particularly those in the Xtra Bass segment. There is a distinct ridge to the outer part of the ear cups, which adds a bit of texture to the visual appeal of the headphones. The overall build is quite solid and sturdy, and despite our extensive, rigorous rough treatment of it, there are no scratches or blemishes on its all-metal body. The ear cups also swivel, which makes it easy to find a proper fit around the ears and flatten them for easier stowage in bags.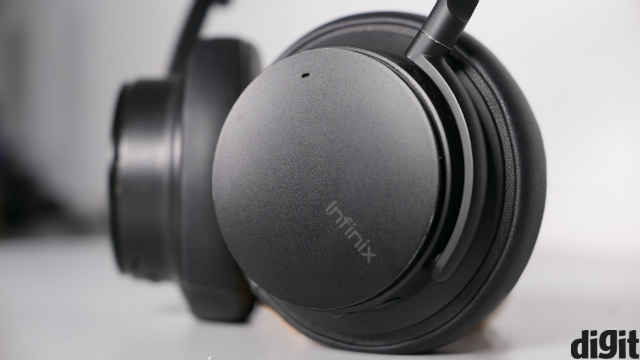 However, the metal headband does not fold in, which makes it take up quite a bit of bag space, especially if you travel light (like me) and do not lug around a bulky backpack all the time. The headband gets smooth, rubberised, rexine-coated cushioning to the underside, while the ear cups themselves get softer rexine of the same, smooth texture. The overall build is quite pleasant, and the Infinix Quiet X headphones feel like they are built to last. There are also no squeaks around the swivel joints of the ear cups or the ridged headband adjuster, which adds to the sturdy, overall feel of the product.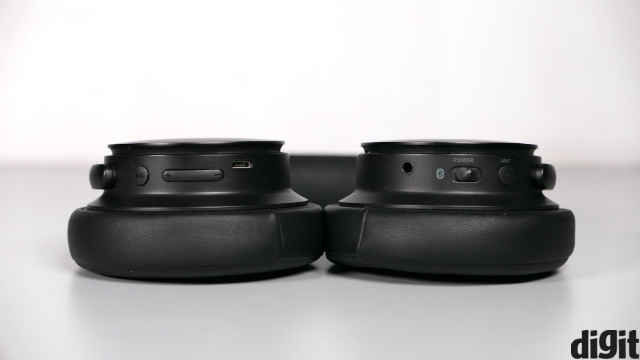 Overall, the Infinix Quiet X wireless ANC over-ear headphones score high in terms of the build quality, and feel like they belong to a category higher than what it is priced at. The design, as mentioned before, is nothing much to exclaim about, although I do like the understated appeal of it. However, it is important to note that I have only come around to liking it of late, and for most of my initial days with the Infinix Quiet X, I was rather unsure of whether I liked its understated design, or it was simply too plain jane. You may find your opinion evolve into liking it, once you actually begin using it as a daily driver.
Comfort and Ergonomics
Having a snug-fitting pair of over-ear headphones is a bit of a task, and it gets even more difficult if you listen to music for long hours at a stretch. With the Infinix Quiet X wireless ANC over-ear headphones, it is a bit of a mixed bag. The soft, light cushioning has a good balance - it is neither too flimsy, nor is it too deep to make you instantly sweat around the ears. The swivel adjustment of the ear cups, coupled with the adjustable headband make it fairly easy to find the right fit. The rexine cushioning also succeeds in covering the entire rim of your ears, and the cups themselves are big enough for most.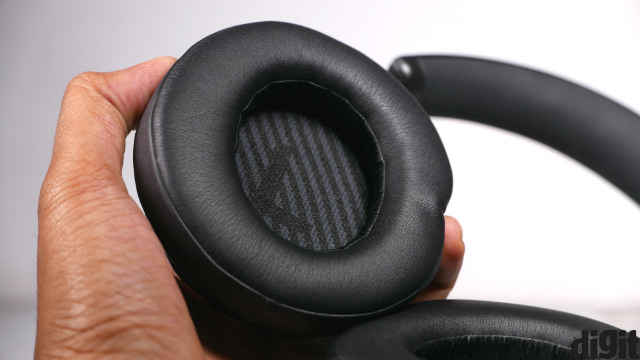 However, the snug-fitting rexine also creates a bit of claustrophobia, and over time, I often found myself taking it off to rid myself of a slightly asphyxiating feeling. The good bit, though, is that you do not really sweat around the ears because of its cushioning, and as I discovered about a week after I started using it, the induced claustrophobia is because of a different factor (more on this in the performance section). The headphones are also a tad heavy, and after a point, you do feel the heft of the solid metal casing. If you're on the move and wish to take it off and place around your neck for a bit, expect it to feel a bit bothersome.
The left ear cup gets a 3.5mm aux-in, the power/Bluetooth slider and a circular button to switch the active noise cancellation (ANC) on/off, with a tiny LED embedded at its centre to denote ANC status. This LED also glows red when the battery is low, and/or when the device is charging. It simultaneously glows green to let you know if it is fully charged, and glows blue when a wireless connection is active. It is also the only battery indicator on the Infinix Quiet X, and the integrated voice prompter only states 'battery low', and not about remaining active/standby charge.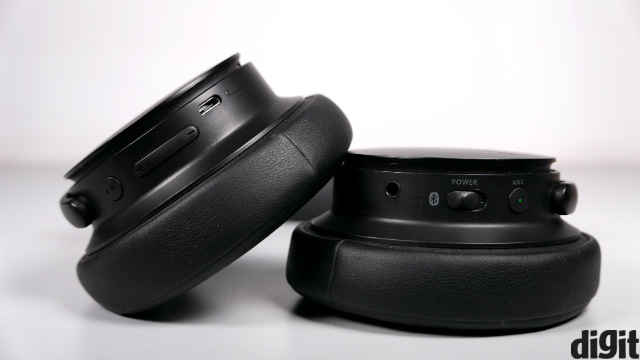 The right houses a microUSB port for charging, a volume rocker and a play/pause button that also doubles up to receive/reject calls. Both the ear cups get an outward-pointing microphone, which enables the ANC. The buttons feel solid and tactile, and are easy to reach. They are also fairly easy to get used to, and there is no/minimal learning and adjustment curve here. Overall, while the Infinix Quiet X is reasonably comfortable to wear through long hours for some, many (like me) will find the claustrophobia disconcerting. In terms of ergonomics, however, there's not much to complain, except for the non-folding design that may make carrying it around a bit tricky.
Performance and Battery life
The Infinix Quiet X is a curious performer - often sounding really good, while surprisingly letting down with many tracks. Let's elaborate this for easier understanding.
The Quiet X has adequate frequency response range, which is apparent despite the lack of a product description page on the website. It also uses fairly competent drivers, which deliver good sound pressure levels, although the threshold may not be low enough. Furthermore, the headphones have low-enough impedance, which keeps its performance almost similar even you play audio via an auxiliary cable, without it being powered on.
The reason why I mentioned the threshold factor is due to one factor - distortion. At volume levels above 85 percent, there is discernible distortion in the highs, upper mids and lows. The low frequency output is its weakest link - while it does offer ample bass, it does so in dollops and not in fine servings. Objectively put, the bass delivery of the Infinix Quiet X lacks refinement and intricacy, and the overall bass performance sounds almost rudimentary and is unjustified in a pair of headphones that presently retail at Rs. 8,999. Powerful, intricate bass lines by Flea or Billy Sheehan often sound muddled, and lack intricate low frequency note distribution, which compromises the details in bass lines. In soundtracks like Hans Zimmer's Interstellar OST, the booming, utopian sound design sounds a bit too overpowering, with the lower range sounding too cluttered, and there's discernible distortion, too.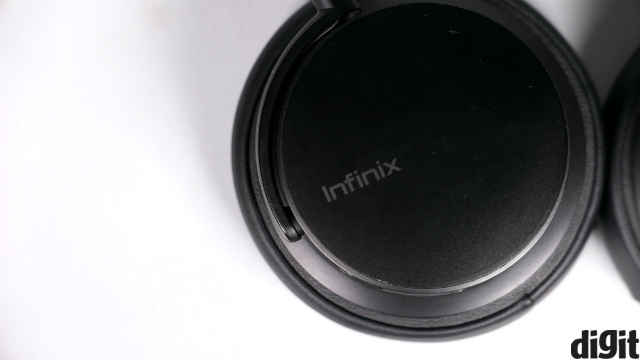 The mids, though, are much cleaner and pronounced much better. The Quiet X manages to pronounce the mids with much better composure and composition, which helps flourish a wide range of vocals - from Matt Corby's baritone to Roger Daltrey's often-maniacal screech. The mid-range of the frequency is, however, somewhat subdued, and there is an audible lack of intricacy, which the likes of Audio-Technica M50x, Skullcandy Grind and Plantronics BackBeat Sense provide at the same price point. The muddled, overpowering bass also eats into the mid-range here, which in turn affects the overall audio timbre.
The highs are fairly decent, although yet again, suffer from a lack of intricacy and distortion (at higher volume levels). Thankfully, the highs do not sound shrill, but are not blunt either. The highs are in fact balanced quite well, and the slight lack in fine details can even be forgiven had it not been for the levels of distortion that kick in after a certain level of volume. The Infinix Quiet X is the most enjoyable in tracks that have quieter bass lines and lesser grunge patches, like Human by Rag 'n Bones, Dixie Chicks' Travelin' Soldier and Bruno Mars' Billionaire, at around 70 percent volume level. The Quiet X is quite loud, and most people will be happy at the 70-percent volume mark, which is where its sweet spot lies. At this point, most tracks with thinner bass lines sound quite impressive - relaying a strong-ish bass line, pronounced mids and sweet, well-balanced highs.
It is only the lack in consistency of performance across the entire frequency range that hurts the Infinix Quiet X. The overall soundstaging is fairly decent too, and spatial distribution of sound, albeit not being best in class, is not too bad. If you happen to enjoy sonatas or even modern renditions of them, you will find yourself pleasantly amused by the impressive soundstaging that the Infinix Quiet X offers. That said, the overall audio output is far from exciting, and there is an almost-flat sound signature that the Quiet X offers. There isn't enough zing in the audio here, and you do not get an "oh, wow" moment at any point. It is, at its best, quite decent, and that's about it.
With a 600mAh battery, the Infinix Quiet X advertises 25 hours of active noise cancellation time, on standby. With playback at 90 percent volume and ANC on, we got eight hours and 56 minutes at peak. That, though, is not too bad, considering that we achieved this after about 40 minutes of charging time. For most, this will translate to at least three days of listening time (and one full working week at a stretch), which is not bad at all. However, two cons here are the lack of a battery percentage indicator (you only get a 'battery low' voice prompt and a tiny red LED blinking that you'd more often miss than notice) and the lack of auto switch-off, which may have saved countless hours of playback/standby time.
Noise cancellation
The Infinix Quiet X wireless ANC over-ear headphones is the only pair in its price segment to offer active noise cancellation in India. While that is great, the noise cancellation itself is not too great. It lacks the level of refinement that more expensive pairs offers, and is not too strong either. However, it does not sound naturally induced, and there is a sense of your surroundings being blocked out, which makes you feel uncomfortable after long-ish hours of streaming music and demands you to take regular breaks.
It is this that affects performance and comfort of usage. For most of my time with the Infinix Quiet X, I streamed audio with ANC turned off, and disappointingly, liked the sound more with ANC switched off. This is somewhat difficult to justify for a pair of headphones that use ANC as its key selling point.
Verdict
The Infinix Quiet X wireless active noise cancelling over-ear headphones promise to offer a lot, and make a good start with impressive build quality, battery life and acceptable comfort. However, it stutters in terms of performance - lack of clarity and refinement in bass, attenuated mids taking the onus away from the high frequency performance and soundstaging. What makes it even more difficult to justify is its faltering noise cancellation performance, which is its USP.
If you must buy a pair of ANC headphones but do not have enough budget for one, the Infinix Quiet X is pretty much your only choice at the moment. However, seeing that it fails in core audio performance and noise cancellation, it is difficult to recommend in a market that has stronger contenders from Sennheiser, Plantronics, Audio-Technica, Marshall and others.