The competition in the mid-range segment of truly wireless earphones is heating up! In 2021, we've already seen some stellar mid-range TWS under Rs 10,000 such as the Oppo Enco X, the OnePlus Buds Pro and a few others. Google has entered the race with its own TWS product under 10K that we're going to be taking a closer look at – the Google Pixel Buds A-Series. This is Google's third attempt at the Pixel Buds. They're essentially a more stripped-down version of the 2020 Pixel Buds. With these buds, Google is banking heavily on handsfree Google Assistant integration to make a case for themselves since they don't have other prevalent features at this price range such as Active Noise Cancellation. So, is this formula going to work for Google?
Google Pixel Buds A-Series: Performance
We're tackling what matters most first - the performance. With formidable competitors such as the Oppo Enco X, Soundcore Liberty Air 2 Pro, and the OnePlus Buds Pro, the Google Pixel Buds A-Series has got a lot to prove. The earbuds feature custom-designed 12mm dynamic drivers and support the SBC and AAC audio codecs. If you're looking for high quality codec support such as aptX or LDAC, unfortunately, the Google Pixel Buds A-Series doesn't have that going for it. Coming to the audio signature of the earphones, these buds deliver a fairly balanced, close to neutral sound, however, the bass response is somewhat muted on the default EQ setting.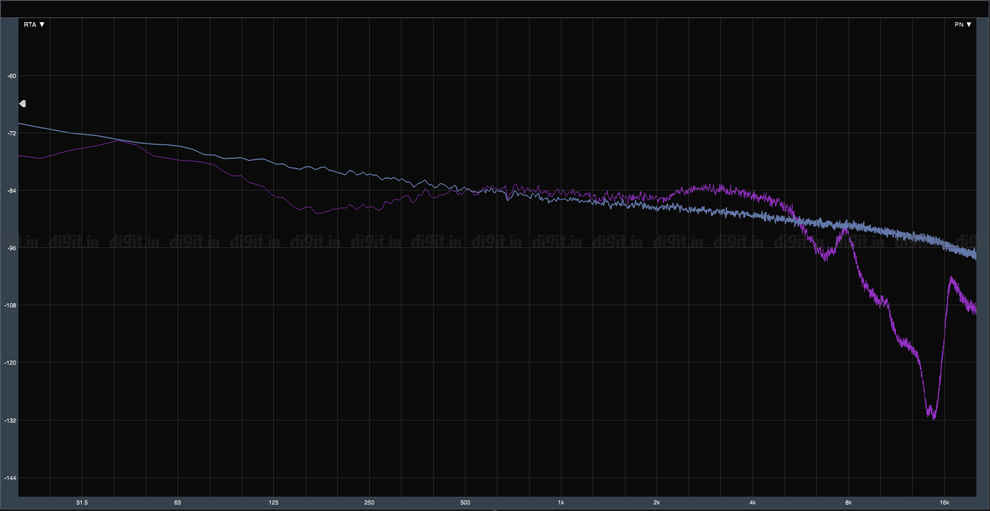 Uncompensated frequency response graph of Google Pixel Buds A Series (Purple) vs Flat response (Light blue)
For objective testing, we use a measurement microphone from iSEMcon paired with an adapter from SLS audio that is made specifically to test earphones. As for our audio interface device, we use the Focusrite Scarlett 2i2. All of this is hooked up to a PC running the SMAART-Di v2 software that generates frequency response graphs for headphones, indicating their sound signature. In the uncompensated frequency graph of the Google Pixel Buds A-Series, you can clearly see that the entire bass region of the frequency range is underemphasised in comparison to a neutral sound signature. This means, genres such as rap, hip hop, pop, EDM, and Bollywood will lack thump and punchiness when it comes to bass. In comparison, the mids from 500Hz onwards, up until the highs up to 5.5kHz are well represented in the mix, giving mid and high frequency sounds such as vocals and other instruments, a greater presence in music tracks compared to the bass.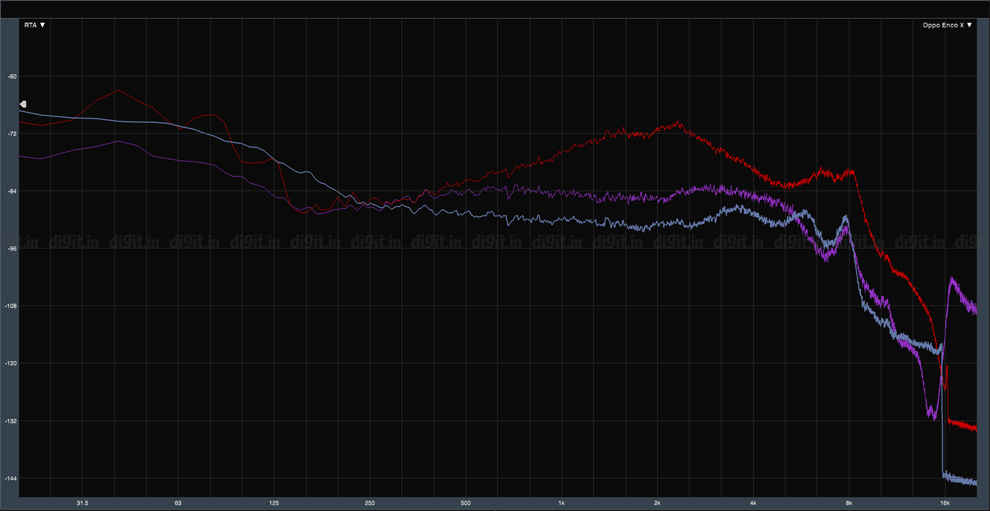 Uncompensated frequency response graph - Google Pixel Buds A-Series (Purple) vs Oppo Enco X (Light Blue) vs OnePlus Buds Pro (Red)
Additionally, the volume levels of the Google Pixel Buds A-Series is also on the lower side, and we had to bump the volume all the way up to 80-90 percent to get enough drive and energy from the music we were listening to. Turning up the volume can cause the highs to sound a bit shrill and can cause added sibilance as well. However, all this is pretty easily rectified by turning on the Bass Boost EQ preset in the Pixel Buds app... for Android devices only. Yeah, if you do own an iOS device, you're pretty much stuck with what you get since the app is not yet supported on iOS. With the bass boost EQ turned on, the lows got a much more commanding presence in the mix, however, the range from around 125 - 350 Hz is still under our ideal neutral response. Nevertheless, with this EQ mode active genres we mentioned above such as rap and pop got a boost of dynamism injected with punchy lows that don't sound muddled or distorted. Additionally, in rock songs, you can prominently hear kick drums and bass lines without compromising the quality of the mids and highs.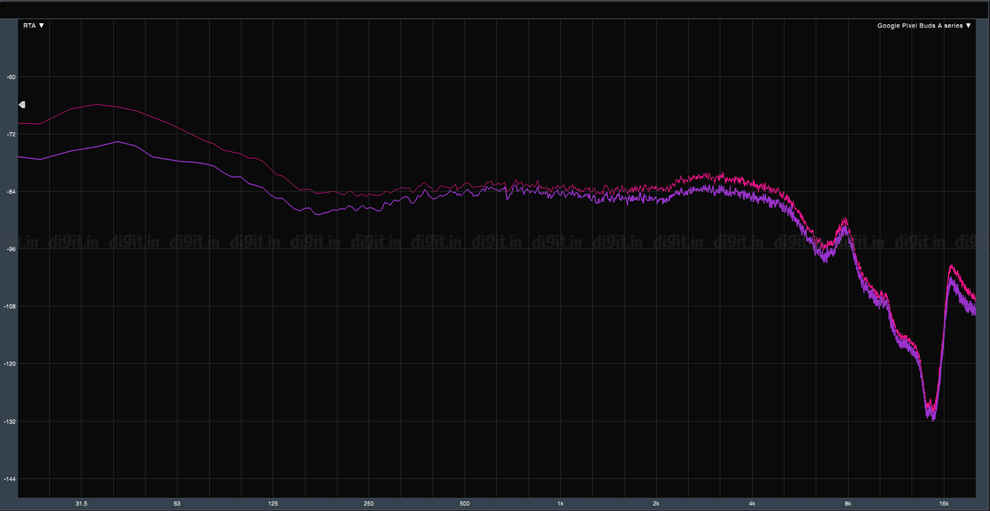 Uncompensated frequency response graph of Google Pixel Buds A-Series Normal EQ setting (Purple) vs Bass Boost EQ setting (Red)
In our opinion, the default EQ setting is more suited to vocal-centric music or to listen to podcasts. The Bass Boost EQ setting is a bit more dynamic and energetic, even though the low bass response is slightly above ideal. As for the mids and the highs, in both EQ settings, they sound detailed and close to neutral. Vocals especially sound great, with excellent clarity and presence. Overall, we like the Google Pixel Buds A-Series' sound quality, but were more inclined towards the Bass Boost EQ setting for general music listening purposes. So, it's disappointing that iOS users won't get to experience this or even choose between the two according to their preferences, for now at least.
The soundstage of these earbuds is pretty decent, possibly due to the spatial vents provided that open up the stage more and help avoid the plugged-ear feeling. However, these spatial vents do negatively impact passive isolation. If you're in a fairly loud environment such as an office or commute, you will be able to hear your surroundings pretty easily. This may cause you to crank up the volume even further, which is not ideal for your ears. In the mid-range segment, we prefer the Oppo Enco X's sound signature in comparison to the Google Pixel Buds A Series. The Oppo Enco X handles all frequencies well with its coaxial dual drivers and offers excellent sound quality with textured and well-defined lows, detailed mids, and sparkly highs.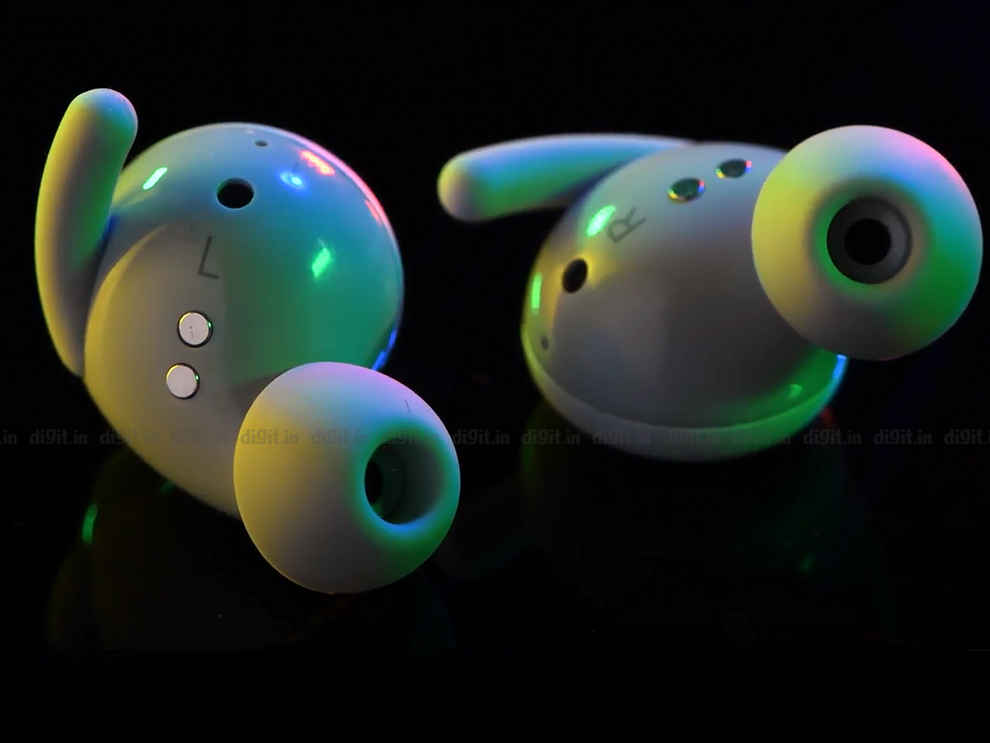 Moving on the microphone performance, the Google Pixel Buds A series comes with dual beamforming mics on each earbud that picks voices up well. The voice sounds more or less natural with little distortion. The buds also do a decent job blocking out external sounds. As for wireless connectivity, the Google Pixel Buds A-Series are powered by Bluetooth v5.0 whereas competitors like the Oppo Enco X and OnePlus Buds Pro use the new Bluetooth 5.2 standard. The earphones don't support multi-device or multipoint pairing though, which can be disappointing, but not many earbuds at this price do. The earbuds support Fast Pair, so on Android devices, all you have to do is open up the A-Series' charging case near your phone and just tap to connect. For some reason though, Fast Pair refused to work on our Samsung Galaxy S20 Ultra, which is odd since it has worked previously with other earbuds with Fast Pair support. So, we had to connect the traditional route by using the pairing button. Connectivity is solid, there were no lags or stutters we encountered during our testing period. As for latency, the buds have very little noticeable latency when playing games or watching content on phones, so you needn't worry about that at all.
Google Pixel Buds A-Series: Pixel Buds app and other features
Now, let's move on to the feature-set on the Google Pixel Buds A-Series. Google has gone down a different route and has chosen not to add Active Noise Cancellation to these buds which may surprise some, since it is a prevalent feature at this price range and even lower. Instead, Adaptive Sound is Google's alternative to noise cancellation. Essentially, what this feature does is compensate for external sounds by simply raising the volume of whatever you're listening to automatically. Most users already do this manually. Say you're in a noisy office setting and you don't have ANC on your earbuds, most people would increase the volume of the earbuds to be more immersed in the music. Here, the Pixel Buds A-Series does this for you on the fly by analysing environmental sounds and adjusting volume levels accordingly.
We found that this feature worked decently well in most instances, however, there were some cases when the volume levels weren't adjusted to desired levels or weren't adjusted at the right moment. Google also may have added this feature due to the lack of volume controls on the buds to adjust the levels manually. Honestly, we would have preferred to have volume controls so that we could be more in charge of them instead of letting AI dictate the levels. However, you can increase or decrease the volume by giving Google Assistant the command to do so. So, we turned off Adaptive sound and chose to give google assistant the command to do so.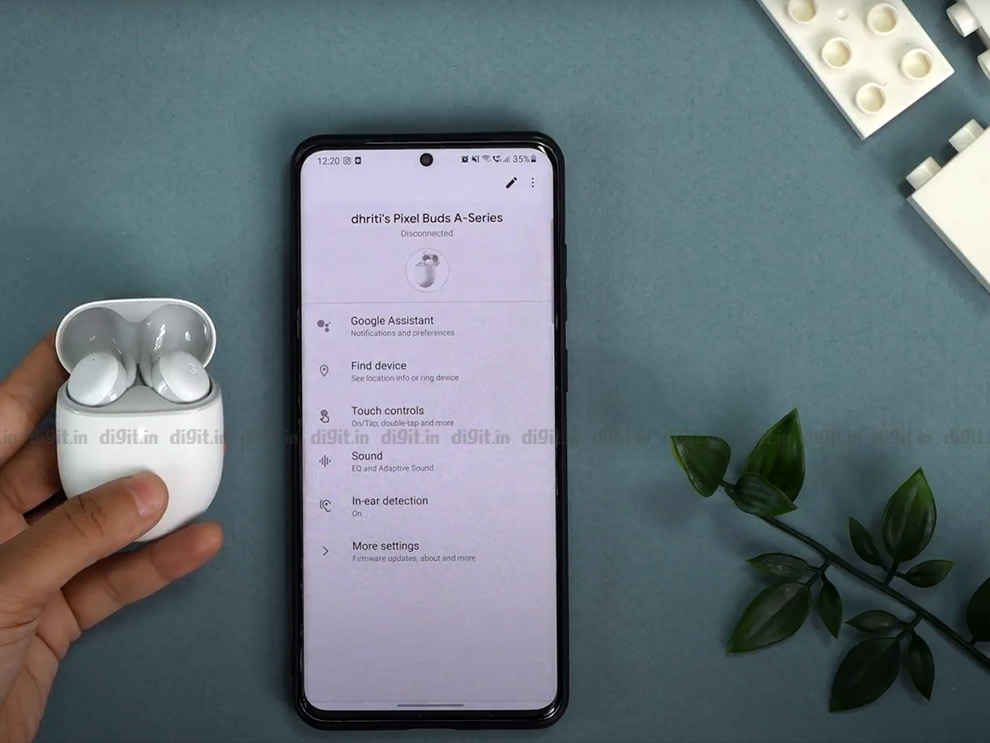 The Google Pixel Buds A Series do come equipped with other touch controls though for music playback and calls. You can pause or play music, skip between tracks, answer or decline calls, and summon Google Assistant using these controls. Now, most TWS earbuds in this price range come with an app that allows users to customise these controls according to their preference. Sadly, this isn't the case for the A-Series. The Pixel Buds app only gives users the option to turn off touch controls, but you cannot customise any of their functions, which is extremely disappointing. There are some nifty things you can do within the Pixel Buds app though. You can use the app to switch between Normal and Bass Boost EQ modes, toggle Adaptive Sound, view battery levels, perform firmware updates, Find your device, and toggle in-ear detection. Find your device is a useful feature that allows you to ring either earbud in case you have misplaced it as long as it is connected to the phone. In-ear detection is another useful and now, ubiquitous feature, that automatically pauses the music when the earbud is removed from the ear, and resumes it when it is put back into the ear.
One of the most interesting features is handsfree Google Assistant, which can be activated via the app. All you need to do is say "Hey Google" to activate Google Assistant on these buds and you can follow that by any command you please such as calling a contact, setting reminders, playing music, reading notifications, and more. All this without having to press a button to activate it. It is a much more intuitive way of using Google Assistant with earbuds and we found ourselves using Assistant a lot more on these buds than with other TWS earbuds that supported voice assistants. You also have the option of pressing and holding either bud to activate Assistant in a more traditional manner, but we couldn't think of a reason why you'd want to do that instead of merely saying the wake phrase. Not only this, but you can also use your Pixel Buds to translate a language. We tried this out with French and Hindi and it worked very well. Not only was it accurate most of the time, but Google also responded very quickly to the phrases we wanted translated.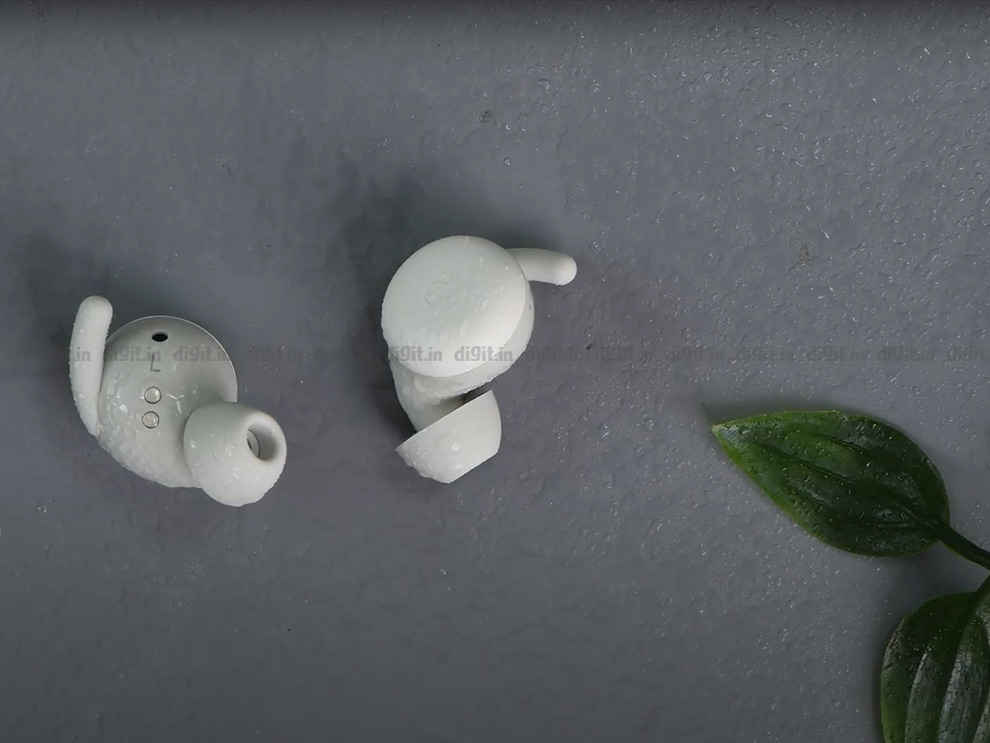 The earbuds are also rated IPX4 water resistant so they can easily shrug off light splashes and sweat. The buds support single bud use, where either earbud can be used independently of the other. So, the Pixel Buds A-Series have a fair number of features on them, some of which we really enjoyed such as handsfree Google Assistant. However, some features we missed on these buds are manual volume controls, customisable controls, a larger variety of EQ presets or a customisable EQ, and finally, Qi wireless charging. Qi wireless charging, in particular, is present on buds such as the Oppo Enco X and OnePlus Buds Pro, and can be useful to charge your buds in a pinch, especially with new phones that have reverse wireless charging.
Google Pixel Buds A-Series: Battery life
The Google Pixel Buds A-Series' battery life is nothing to write home about. The wireless playtime on the earbuds is rated at 5 hours and the total battery life along with the charging case is 24 hours. In our tests, the earbuds lasted a little over 4 and a half hours on a single charge, probably due to the fact that we had to listen to the earbuds at 80-90 percent volume due to the low overall volume levels. The case provided an additional 3-4 charges, keeping true to the company's rating. The A-Series' battery life pales in comparison to the OnePlus Buds Pro that provides a whopping 38 hours of total battery life and 7 hours on the earbuds alone without ANC turned on. It is marginally lower than the battery life of the Oppo Enco X and the Soundcore Liberty Air 2 Pro that provide 25 hours and 26 hours of total playtime respectively.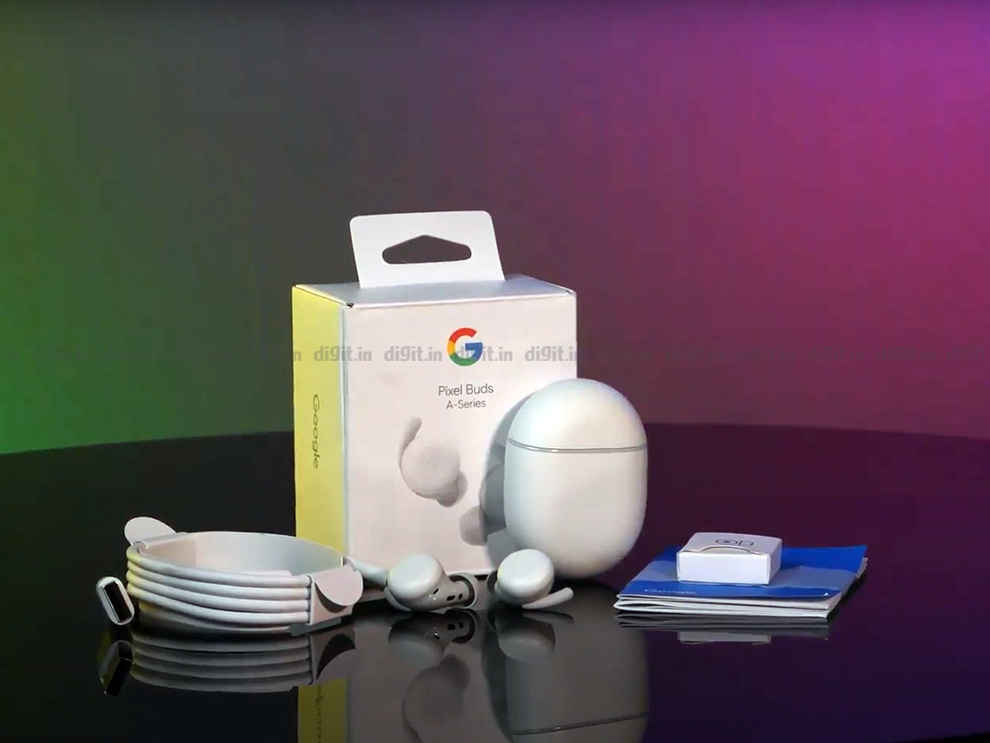 You also get Fast charging support where a 15-minute charge gives you up to 3 hours of listening time. The battery also fully charges up from zero to full in about an hour, which is pretty good. However, there's no Qi wireless charging support, as we mentioned before.
Google Pixel Buds A-Series: Build and comfort
The Google Pixel Buds A-Series are nearly identical to the 2020 Pixel Buds. The Tamagotchi-esque charging case is almost the same size as well but it does not have wireless charging support. Despite being a mid-range TWS product, the Google Pixel A Series manages to have a pretty premium aesthetic due to the matte finish and the rounded oval shape of the case. The case houses the USB-C port at the bottom, an LED light on the front, and a pairing button at the back.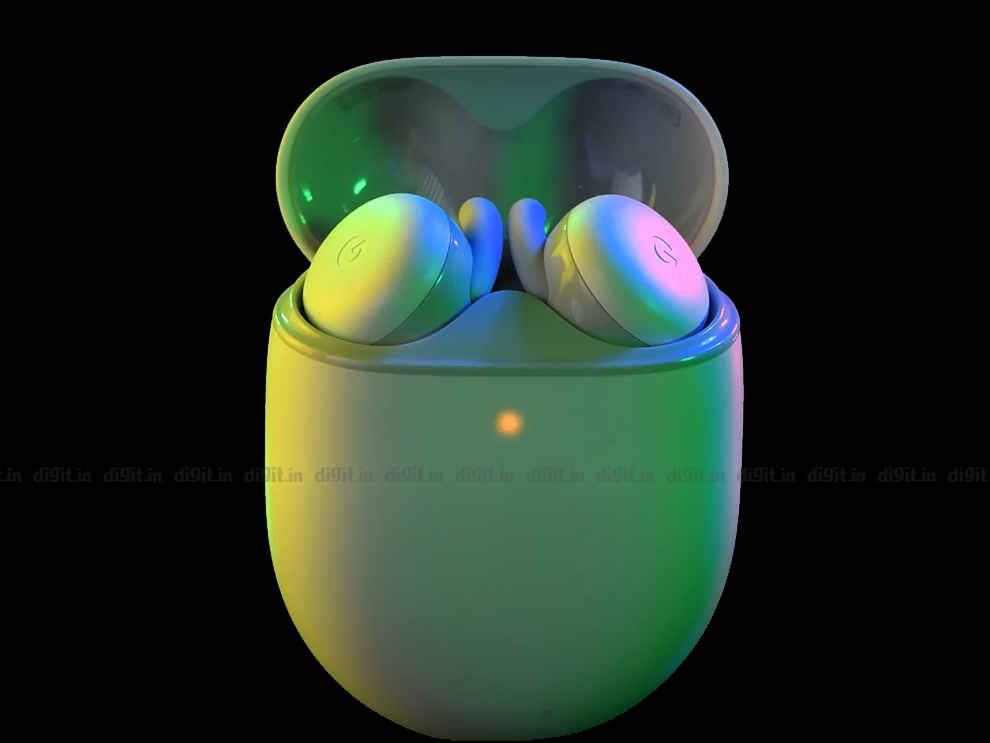 The case flips open one-handed easily and snaps close shut audibly, which we really like. Overall, it's a practical and functional design but it doesn't look shabby at all. The case is also very compact and slides into pockets easily without bulging too much. The magnets that hold the buds inside the case are strong and the buds didn't fall out even when we shook the case with force.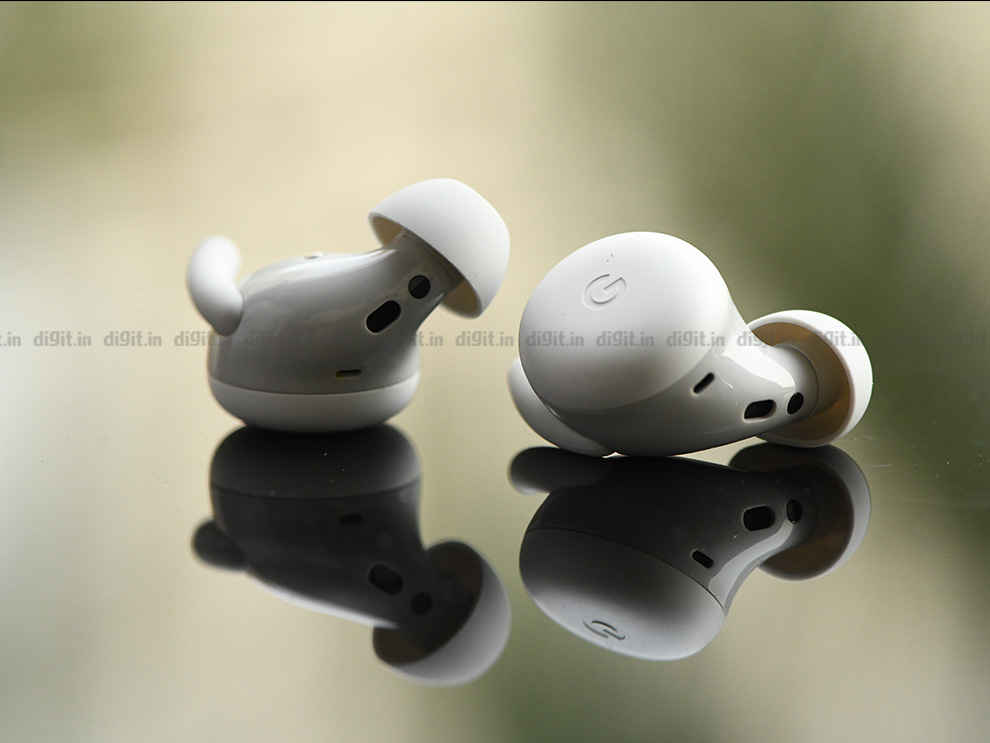 Moving on to the buds, they're compact and fairly lightweight, weighing 5gs each. The buds have a dual matte and glossy texture that looks aesthetically pleasing. The back of the buds houses Google's G logo and it also doubles as the touch-sensitive zone for controls. The touch zone responds well for the most part with little to no misreads. The earbuds also have an angled tip that aids with fit and comfort. You also get earbud stabiliser arcs on both sides for added security.
The box has two additional pairs of silicone tips as well. All of this combined ensures that the Pixel Buds A-Series provides an excellent fit that is not only secure but also extremely comfortable over hours of listening. People with smaller ears, however, may have issues with the stabiliser arcs not tucking perfectly in the ear. Nevertheless, you can still use these earbuds when you're walking, jogging or exercising since they have a secure fit and IPX4 water resistance as well.
Google Pixel Buds A-Series: Verdict
Priced at Rs 9,999, the Google Pixel Buds A-Series is a solid mid-range TWS with good sound and microphone quality, a secure and comfortable fit, and excellent integration with Google Assistant. The battery life is also pretty decent but not the best we've seen in this price range. However, we're not convinced that Adaptive Sound can truly replace ANC when it comes to the overall immersiveness. So, other options in the same price range such as the Oppo Enco X, Soundcore Liberty Air 2 and OnePlus Buds Pro look more enticing from a features point of view. Additionally, we also prefer the sound quality of the Enco X and the Liberty Air 2 over these buds; and the OnePlus Buds Pro makes a great case for itself over these due to its stellar battery life and huge feature set. So, it is hard for us to wholeheartedly recommend the Google Pixel Buds A-Series over these competitors since they offer better performance in some areas and a larger feature set. However, if seamless Google Assistant integration is something you've got your eyes set on, look no further than the Google Pixel Buds A-Series.