Flipkart SmartBuy VBT10W1 detailed review
Portable, wireless speakers are essential accessories now, providing marked improvements over native smartphone speakers in slim, mobile sizes. The less expensive segment of portable speakers unsurprisingly see the highest level of interest, with most buyers looking for rugged speakers that sound good, fit anywhere and do not burn a hole in pockets.
To tick all of these checkboxes, e-commerce giant Flipkart has introduced the VBT10W1 portable wireless speaker under its own SmartBuy line of gadgets. Aimed at rivalling Amazon's own line of gadgets under the AmazonBasics moniker, the Flipkart SmartBuy VBT10W1 is fairly impressive upon first sight. But, how does it fare as a daily companion in the long run?
Audio Performance
The Flipkart SmartBuy VBT10W1 is not strikingly impressive, but is no pushover either. Producing net power output of 10W and powered by two active speakers and a passive radiator for producing bass lines. It quotes frequency response range of 20Hz to 20kHz (the hearing range of human ears), and impedance of 4 ohm.
These specifications sound fairly impressive, with the low impedance being perfectly suited for low-power audio sources like smartphones, and 10W rated power output coupled with frequency response covering the entire sonic range sounding promising for a portable speaker priced at Rs. 2,199.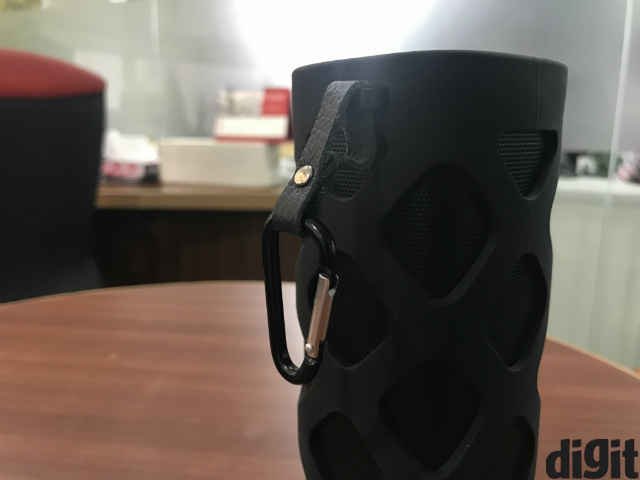 After having used it as our go-to speaker for over two weeks now, we are left with mixed thoughts about the Flipkart SmartBuy VBT10W1. To begin with, the speaker produces good audio balance, churning out neat bass lines coupled with decent vocal emphasis and clean highs. The bass frequencies are not intricately detailed and sound slightly muddled at times, particularly as the bass gets heavier in tone. 'Dirty' bass tones, overlaid with grunge patches or synthetically processed wobbles as heard in most EDM compositions, sound a bit messy, and lack the clarity and definition that similarly priced competitors like the Logitech X100 produce.
However, despite the lack of high detailing, the bass frequencies are well balanced. They sound smooth and well calibrated in accordance to the rest of the frequency range, which contribute to the overall audio balance. The strong point of the Flipkart SmartBuy VBT10W1 is its mid-frequency performance, which delivers good vocal performance. There is good clarity, although the dynamic range of the mids sound rather restricted in comparison to the likes of JBL Go, which makes vocals sound slightly mellow. There is a lack of innate peppiness in the audio, but the VBT10W1 holds its composure well across various vocal tones and pitches – from Roger Daltrey's energetic high octaves to Geoff Tate's mellow baritones.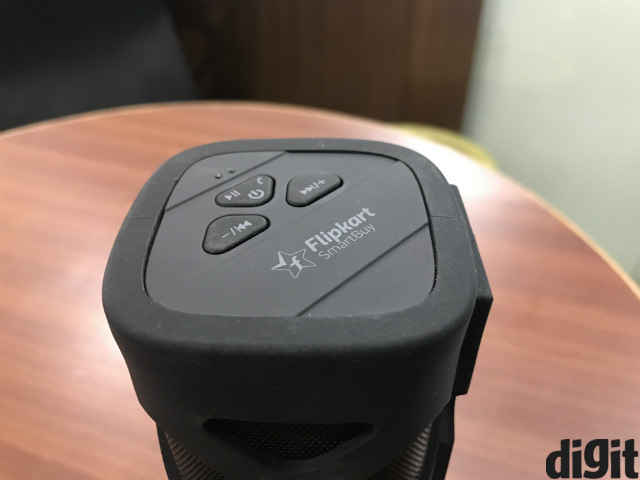 The highs are not very intricately detailed, but are well expressed in terms of overall performance. You get well-composed tones, but the lack of details may put you down if you are a fan of soaring solos and fast-paced hi-hat rolls. The overall audio sounds fairly well composed and tightly delivered, but the speakers do push the driver a bit too hard, which produces discernible distortion at highest volumes. The SmartBuy VBT10W1 plays best when you restrict volume levels to at least two stops below peak where there is no distortion, but that leads to another problem.
In contrast to what the specifications suggest, the Flipkart SmartBuy VBT10W1 is not very loud. It is loud enough to play decent audio in a closed room with about five people adding to the ambient noise, but its closest competitors – Logitech X100 and JBL Go, both churn out higher volume levels. The best aspect about the Flipkart SmartBuy VBT10W1 is its overall audio balance, which is certainly among the best for its price. It also plays with a tinge of warmth that adds willowy character to the audio performance, which is impressive for this category.
You also get an integrated microphone that will allow you to take calls on it. This adds more features to it, which in turn makes it more functional than other similar portable Bluetooth speakers. Call voice quality is decently clear, and voice reception shows strain if you are more than four feet from it.
Build and Design
The Flipkart SmartBuy VBT10W1 is a pretty decent looker, and looks sleeker than the rather boxy JBL Go. It is light enough to be carried in backpacks without feeling its weight, and yet does not feel flimsy. The patterned rubber casing on the outside, and although we have not really carried out a drop test, it does look and feel sturdy enough to withstand a few accidental drops. The Flipkart SmartBuy VBT10W1 is also the best-sounding rugged speaker for its price, offering decent audio balance alongside being durable.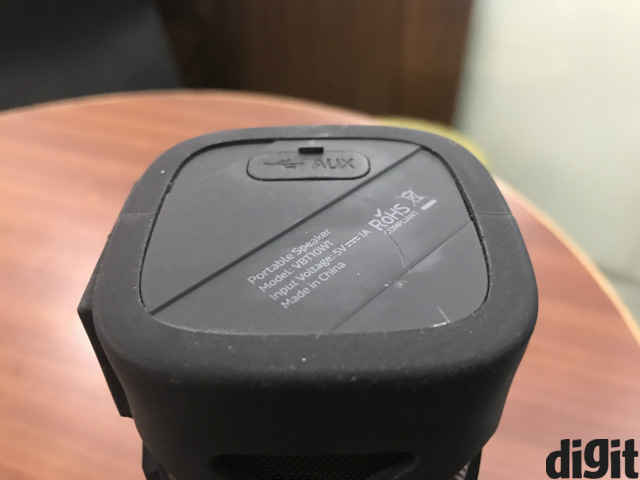 It is also weather-proofed, which gives it a go-anywhere benefit. There is a hook that will let you sling it on your backpack, and you would not need to worry about the speaker sustaining damages. There is a rubberised flap that seals the microUSB charging port and the 3.5mm aux port, and three rubber buttons and two LEDs on the other end carry out all operations. The power button also acts as play/pause, and pairing. The two navigation buttons control volume with long presses. The overall speaker looks fairly rigid, which is again impressive for its segment.
In terms of design, the speaker looks sleek, and the black finish makes it look better on office desks than, say, a blue Logitech X100 or an orange JBL Go. The rubber coating on the exterior looks reserved, and is not extravagant. All of this combine to make the Flipkart SmartBuy VBT10W1 one of the better builds and designs among inexpensive portable speakers available in India today.
Connectivity and Battery life
Wireless connectivity is taken care of by Bluetooth v4.1, which retains connectivity without any loss of signal for 25 feet within obstacles. There are no irregular losses of signal noticed across more than six smartphones that we have paired it with and played music on, and overall playback goes as it should.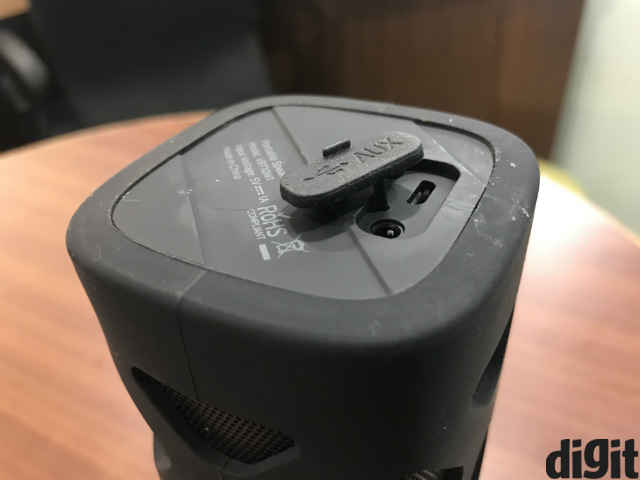 You also get aux connectivity, which allows you to continue playing music if you cannot connect wirelessly for some reason. You also get a microUSB port here, but that is used to charge the 2000mAh battery pack.
Unfortunately, the Flipkart SmartBuy VBT10W1 does not offer extensive battery life. Despite being rated at eight hours, the speaker returned a little over 5 hours of playback time. This is significantly lesser than a number of other speakers in this segment, and if you play it frequently, you would require to charge it every second day.
Bottomline
The Flipkart SmartBuy VBT10W1 is a mixed bag. It offers good audio balance and impresses with mid-frequency performance, but loses clarity in lows and highs. It also produces audible distortion at highest volumes, which itself is not too high. It offers good, durable build quality and even looks good, but loses out on battery life and connectivity range.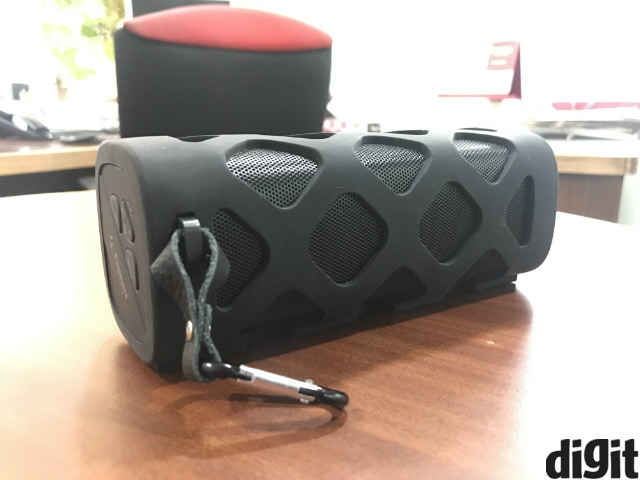 It is recommendable for anyone looking for a rugged speaker at around Rs. 2,000 that produces decent audio quality, albeit a few noticeable cons.