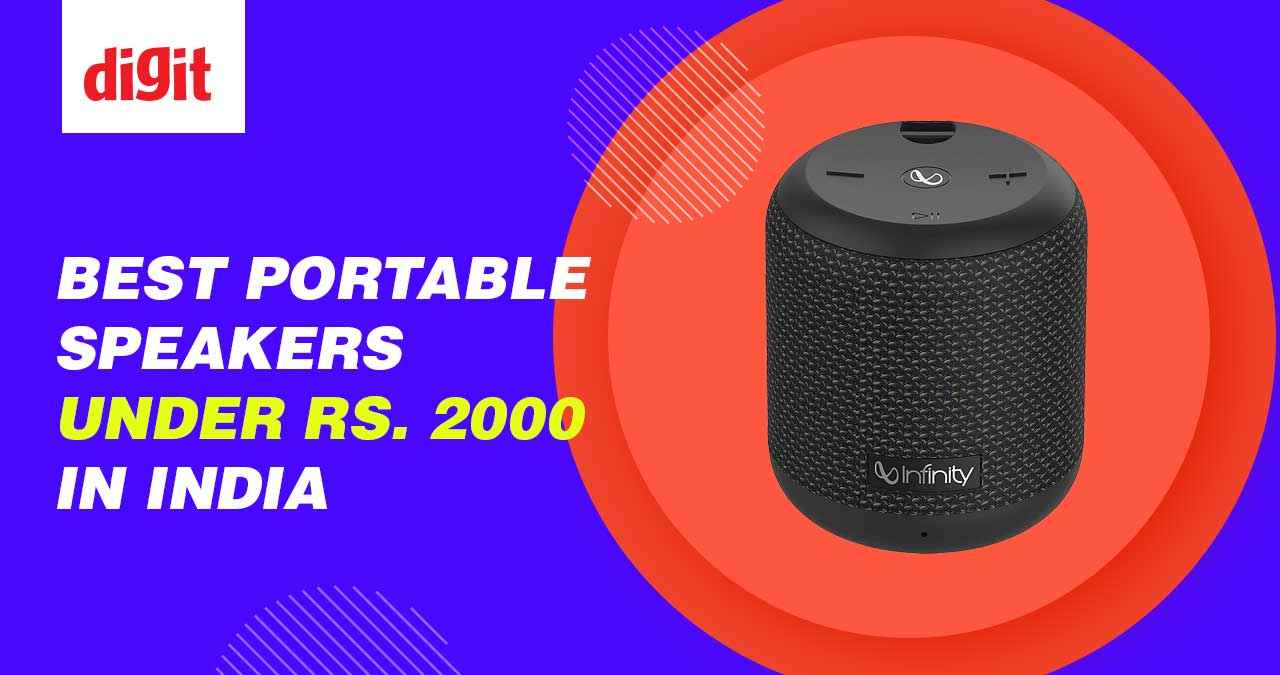 Budget Bluetooth speakers are a dime a dozen today. It seems like every new lifestyle brand is getting into producing wireless speakers, and rightfully so, since users consider it an indispensable addition to their tech roster. Bluetooth speakers under ₹2,000 are extremely popular, not just due to their inexpensive price, but also because of the convenience and portability they bring. Despite the diminutive size of these speakers, many pack enough punch to fill a small to medium-sized room, at least. The latest Bluetooth standards (Bluetooth v5.0 and onwards) also offer solid connectivity with incredible wireless range. Most of these are also super portable and can be simply slipped into a bag or purse. You also get to see additional features such as water resistance, voice assistant support, onboard controls and microphone, and much more. If you're looking for a reliable speaker under ₹2,000, the JBL Go 2 is one of the best options out there. It is ultra portable, comes with IPX7 water resistance, and a noise-cancelling speakerphone. Other options you could consider including the boAt Stone 650, Infinity Fuze Pint, and Blaupunkt BT55.
The Mivi Roam 2 is a tiny 5 W speaker with impressive sound quality. The speaker does bass pretty well, it is quite balanced for the price. The speaker is also dust and water resistant, although Mivi hasn't specified the actual IP rating. The most impressive feature is 24 hours of playtime, which is pretty much unheard of in this compact form factor.
If you're scouring the market for a decent-sized 10 W speaker on a budget, the boAt Stone 650 is actually a pretty decent option. In typical boAt fashion, the bass response is pretty bloated, but those who enjoy bass-heavy sound should also enjoy listening to this speaker. The speaker features an IPX5 rating, up to 7 hours of wireless playback, and AUX connectivity.
Portronics is well-known in the audio industry for its affordable products, and the SoundDrum P is one of them. It is a 20 W speaker priced under ₹2K and it comes packing a bunch of features such as hands-free calling, USB and AUX connectivity, 6-7 hours of playback time, and a lightweight design. It is the perfect combination of portability and power and therefore, is a great travel companion.
Infinity is JBL's sub-brand and the company has some pretty interesting budget audio products in its portfolio. The Infinity Fize 100 is a compact Bluetooth speaker that comes with a Dual EQ mode that switches between Normal and Deep Bass EQ presets, so you can choose the sound profile you prefer. It also has an IPX7 rating and has the ability to connect to other Fuze 100 speakers.
The Portronics Breeze Plus is a good budget alternative to the JBL Flip speaker lineup. It comes packing 20 W speakers that output a bass-forward sound signature. It supports features such as AUX playback, IPX6 water resistance, and more. You get about 7 hours of battery backup out of this speaker, which is quite decent.
If you're looking for quality sound on a budget, the Blaupunkt BT55 is a good option. These 12 W speakers have a surprisingly balanced sound and come packing several useful features as well. You get a built-in microphone, Bluetooth 5.0 connectivity, and a lightweight build. The speaker also supports Google Assistant and Siri voice controls, making it more intuitive than others at this price.
The boAt Stone 180 is a super compact speaker that you can easily slip into purses and handbags. Despite its lightweight build, the speaker is not light on features. You get IPX7 water resistance, 10 hours of playback time, and AUX connectivity. This is a 5 W speaker, so the sound is not very loud, but it is enough for a small-sized room.
The boAt Stone 580 is an impressive-looking speaker that sets itself apart from plain-looking speakers with its colourful LED lights. The speaker also has TWS functionality which lets you connect two of these together for a stereo sound setup. There's also IPX4 water resistance, 8 hours of playtime, and USB and AUX connectivity options.
The F&D W4 speaker is a tiny Bluetooth speaker with a 1.5-inch driver that provides decent sound for its price. It claims 360-degree sound as well. One drawback is Bluetooth 4.0 connectivity, which is quite dated in 2023.
The JBL Go 2 is an affordable compact speaker that brings the famous JBL Signature Sound tuning to a tiny form factor. The bass is plenty punchy and volume levels are excellent for the size. Additionally, you get an IPX7 rating, meaning you can use it at a beachside or by the pool without worrying about potential water damage. You get about 5 hours of battery life out of this tiny speaker.
Disclaimer: Digit, like all other media houses, gives you links to online stores which contain embedded affiliate information, which allows us to get a tiny percentage of your purchase back from the online store. We urge all our readers to use our Buy button links to make their purchases as a way of supporting our work. If you are a user who already does this, thank you for supporting and keeping unbiased technology journalism alive in India.