Evidson AudioSport W6 detailed review
Whenever a previously unheard of name appears out of nowhere, we just tend to assume it's yet another one of the many new chinese entrants trying to flood the market with inexpensive products. When Evidson reached out to us offering to send their products for review, that's pretty much what everyone at the Digit Test Labs thought. On further investigation though we found out that it's actually an Indian brand based out of Chennai. Can an Indian challenger match up to the Chinese guys? If I think of previous attempts in a similar vein, Signature Acoustics and Tekfusion come to mind. While their offerings were by and large decent, there were misses in their portfolio. How does Evidson's most high end offering fair? Let's find out...
The Evidson AudioSport W6 is a sports oriented, high-impact activity focused in-ear headphone. Naturally, it's expected that such headphones have a certain build quality and at the same time deliver a good fit. In those respects, the W6 does not disappoint. The size and shape of the housing makes for a perfect seal and the loop that goes over the ear provides additional support. It would be very difficult for you to dislodge them from your ear even if you tried it deliberately. The cable only has a single button clicker as opposed to a three-button volume +/- that most IEMs feature at this price point, which is a downer.
The AudioSport W6 comes with five sets of silicone eartips in various sizes including bi- flange and tri-flange ones (in case you prefer those). The box mentions a storage pouch but I couldn't find one inside my review unit. To be fair though, since the Evidson is priced a good Rs. 400 lower than the XF-200, it would be too much to expect a carrying case of the quality that Brainwavz offers. Still, some kind of sleeve or ideally hardcase would've been nice.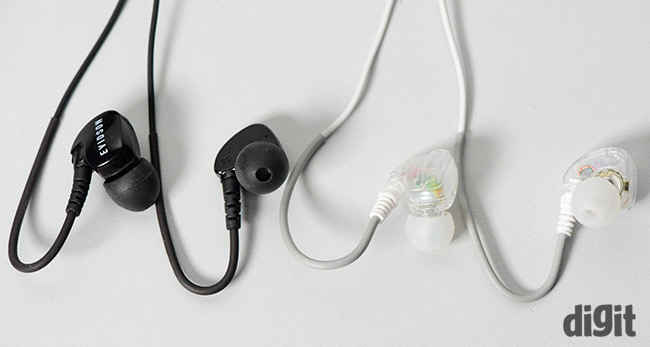 Evidson AudioSport W6 (L) Brainwavz XFit XF-200 (R)
Now for what really matters: the performance. The W6's sound signature is surprisingly well balanced unlike the overtly bassy IEMs that make up the bulk of the offerings at this price point. I threw quite a few genres at it with a mix of Dream Theater, Bedouin Soundclash, Edward Maya and it came through quite evenly. The entire frequency range is well represented but I wish there was a little more detail in the upper ranges. The bass will be adequate for most listeners but some "bass-heads" might find it lacking in that department.
Overall for the asking price (currently sub-1k on Amazon) they are a worthy purchase for anyone looking for good quality audio at a low price point, not just for sports usage but even your regular day-to-day scenarios. I would not only recommend them over the Brainwavz XF-200 but also go so far as to recommend them over the Audio-Technica ATH-CKS550iS, if only for the value and not the pure aural performance.
Specifications
Impedance: 16 Ω
Frequency Range: 20 Hz ~ 20 kHz
Sensitivity: 118 dB at 1 mW
Cable: 1.3 m Y-Cord memory cable
Plug: 3.5 mm Gold Plated
Contact
Website: www.evidson.com
email: info@evidson.com
Availability: Amazon and FlipKart
Warranty: 1 Year