Creative Sound Blaster FRee detailed review
After the success of the almost ubiquitous Flip portable speakers from JBL, the cylindrical design seems to have caught the fancy of most manufacturers. The UB Boom followed suit back in 2013 and now we have Creative's own take on this design language – the Sound Blaster FRee. It's a sturdy cylindrical speaker which can be played kept horizontally or vertically, thanks to its design. It's certainly not a bad looking speaker with its shiny red accents on both ends, giving it a break from the black metallic grille on the front.

On one side you have the four main controls, the volume control keys along with power and bluetooth pairing buttons and the other side has the creative logo imprinted on a rubber base.
On the features front you have a couple of things that are in favour of the Creative Sound Blaster FRee like microSD playback and a three LED battery level indicator. The aforementioned microSD slot is incidentally nicely sealed under a rubber flap. Yep you guessed it the speaker is splash proof and comes with an ingress protection rating of IPX4 (protection against splashes from all sides). Where it lacks is things like NFC pairing and USB charging. Since you're lugging around a big battery you might as well have the option to draw some power out to charge your phones right? And many portable speakers have started incorporating this feature.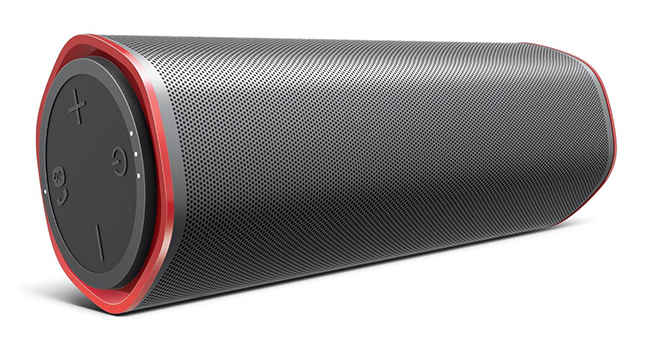 What about performance? It features dual radiators that work well enough to increase the overall amount of bass outputted but the bass isn't tight or particularly low. Let's just say it's voluminous if nothing else. We compared it to the UE Boom and it's easy to notice that the Boom is more clear and accurate. Then again it's almost twice as expensive. But is it twice as good then? Not really. We'd say the FRee is a louder, more bassier variant of the original Flip which is within the same price range.
Bottomline: If you are looking for something all weather and want an option that's different from the JBL Pulse variants, this is the speaker to consider.
Specifications
Dimensions: 2.78 x 7.9 x 2.7 inches
Weight: 0.4kg
Battery: Li 2200 mAh
Rated battery life: 10 hours
Bluetooth Profiles: A2DP, AVRCP, HFP,HSP
Contact
Creative
Phone: 912-242460777 / 022-67114444
Email: thomas@ecreativeindia.com
Website: http://asia.creative.com/