Corsair SP2200 detailed review
Corsair's entry into the Audio arena is something we've keenly followed here at the Digit test labs. In fact we were fairly impressed by the Corsair HS1 headphones that we'd got our hands on sometime back and since then were eager to try out the Corsair SP2200 speaker set. Much to our delight the SP2200 has been with us for quite some time and so without much ado lets delve into each of the aspects of the speaker system targeted at gamers.
Design, build and features
The satellites have a fairly small footprint which is good for cramped desks and huge gaming mats considering these are after all aimed at gamers. The front panel of the twin satellites have a metallic grey finish while the body is matte black . The trapezoid shape looks quite attractive while the see through grille adds that raw edge which we're sure gamers would appreciate. The right speaker has all the control dials (volume and bass) and connects to the subwoofer unit via a thick 12-pin proprietary cable. This satellite also features a headphone jack and an auxiliary input for quickly connecting other sources. At the back you have a hardwired 3.5 mm jack going to the PC. The left satellite connects to the subwoofer via what seems like a regular RCA connect. Speaking of the subwoofer it features a six inch side-firing driver but the overall space occupied by the unit is not that large.
Performance
To test these speakers, we hooked them up to our Asus Xonar Essence STX, which is pretty much the class of card, gamers in these parts are likely to have. Apart from games we ran our standard frequency samples and test tracks. In the first few minutes of hooking up these speakers you'd realise that they deliver quite a punch; way beyond what you'd expect with the 46 RMS rating. They roughly delivered half the volume level of the Logitech Z623 (which we had with us at that time) while being rated at about 1/4th the power output of the Logitechs. We had these speakers with us for a long enough time to consider this a long-term review. In fact they've been hooked up to our gaming rig since we played and finished Crysis 2. Games (including Crysis 2) we felt, seemed more immersive than other 2.1 systems. In a nutshell the gaming performance can be described as very good.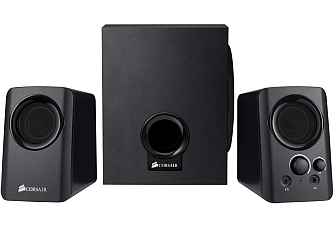 That being said the regular audio tests were not all that impressive. Our 30 Hz sample strained the driver quite a bit. In fact our bass heavy test tracks like Angel by Massive Attack or Brutal Hearts by Bedouin Soundclash didn't go down well with the speakers. The accentuated (though not clear) mid range made vocals and certain instruments sound quite warm and full-bodied. Vocals on Call on Me (Chris Rea) and the cello on both While My Guitar (Santana) and Buying New Soul (Porcupuine Tree) were rendered very well.
A problem that was pretty annoying was the inability of the speakers to deliver when dealing with songs with high instrument density. For parts where both the bass and mid frequencies were high, the volume of the higher frequencies would go down briefly, producing this sort of wavy Doppler effect each time a kick drum was struck or low bass note sustained for long. This can be mitigated by not cranking up the volume knob too high though.
Verdict
Overall a very loud and punchy system in the 2.1 range. Though it lacks a bit of clarity, the speaker set it not bad at all for that price (Rs. 5,500). Gamers won't be disappointed. Budding audiophiles might want to look elsewhere, unless you have a strong penchant for a warm sound signature.