Bose SoundLink Revolve+ detailed review
When we last heard a Bose SoundLink portable speaker, it was over a year back with the SoundLink III. A lot of time has gone by since then - portable, wireless speakers have gradually become necessities instead of luxuries, and steadily evolved in terms of audio performance, features and peripheral elements.
Bose made a number of big splashes in India with the wireless home speakers under its SoundTouch lineup, and even exorbitant home theater setups under the Lifestyle portfolio. The SoundLink Revolve+ that we have here, meanwhile, is a more sensible offering considering the daily routines. Like most Bose designs, it focuses on being serene instead of the outright youthfulness of Ultimate Ears, and has a lot going in its favour.
Audio performance
The Bose SoundLink Revolve+ is the bigger of the two new 'Revolve' speakers. The name owes origin to its 360-degree omnidirectional audio design, and it is this very aspect that strikes you first. The SoundLink Revolve+ focuses on delivering uniform, omnidirectional audio, and uses a downward-firing transducer inside with omnidirectional deflectors at the bottom to achieve uniform audio distribution.
Studio-recorded tracks with separate stereo channels still sound uniformly bidirectional here, although the separation of audio channels is not very discernible. The Bose SoundLink Revolve+ produces slightly bass-heavy sound, where the low frequencies gain audible preference. There is a distinct focus on the lows, with the lows forming a solid backbone for the mid and high frequencies. The lows are impressively clean, and there is no discernible distortion that you hear at higher volume ranges when you stream music (taking the average streaming quality at 256kbps .aac) from mobile devices, which is what this speaker is aimed to do. There is also good detailing of bass, with clean notes and accurate low tones. This makes the likes of Red Hot Chili Peppers and Mr. Big sound particularly impressive, owing to the intricate low frequency details by Flea and Billy Sheehan. Even in tracks laden with heavy highs like those of 2cellos, the low frequencies hold their composure well, and would please almost every listener with an ear for heavy, detailed lows.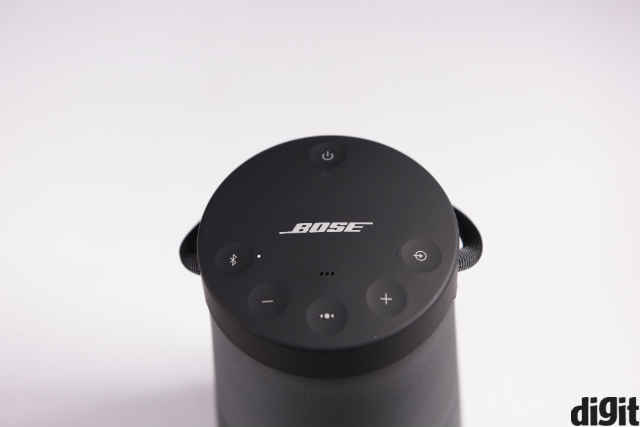 The mid frequencies are nearly sufficient, but are slightly lowered in level against the rest of the frequency balance. The audio timbre is impressive, which makes all the difference here. There is a mellow, woody undertone to the audio production, making vocals of a wide variety sound full, warm and wholesome. While baritones sound the best here, high pitched voices do not sound shrill. Instead, they hold their pitch and composure really well, and pair well with the solid, powerful bass. It is only in tracks that are heavy on instruments that vocals sound slightly out of depth and lacking in terms of the rest of the audio delivery.
The highs are very well balanced for a portable speaker, preserving the intricate details and accuracy of tracks without sounding too sharp. Tracks like Porcupine Tree's Blackest Eyes and Ed Sheeran's Shape of You sound bright, and would have been very well balanced with better mid frequency performance. Good pitch accuracy makes soaring high octave vocals like that of Roger Daltrey sound quite well balanced and precise, all of which combines to make the Bose SoundLink Revolve+ sound very well balanced.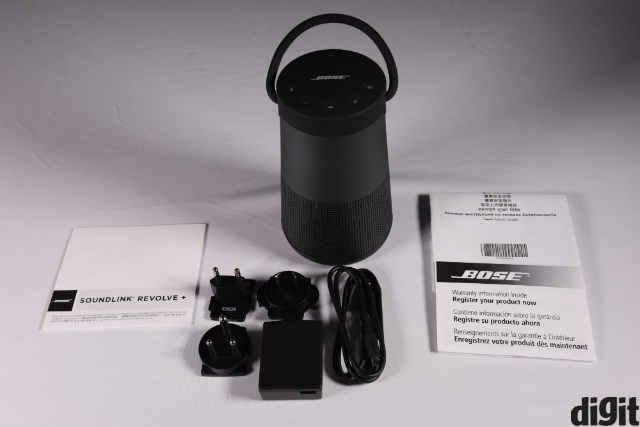 The 360-degree design means omnidirectional audio works wherever you place the speaker. Stereo audio distribution is clear and among the best in its class, and the minimal discernible distortion produced by the speaker makes most tracks sound clean, and retain the originality of the sound.
Connectivity, Battery life, App
The Bose SoundLink Revolve+ has three modes of connecting to source - Bluetooth, microUSB and aux. Easy access buttons on the top of the speaker allow you to switch actively between USB audio and wireless, and Bluetooth connectivity remains stable for nearly 30 feet, as rated. You can keep up to four devices paired via Bluetooth in the speaker's memory, and the speaker connects to either the closest or the latest paired device on priority. Tapping the Bluetooth button allows you to manually switch between devices, and alternatively you can simply tap on the USB button to switch to wired connectivity.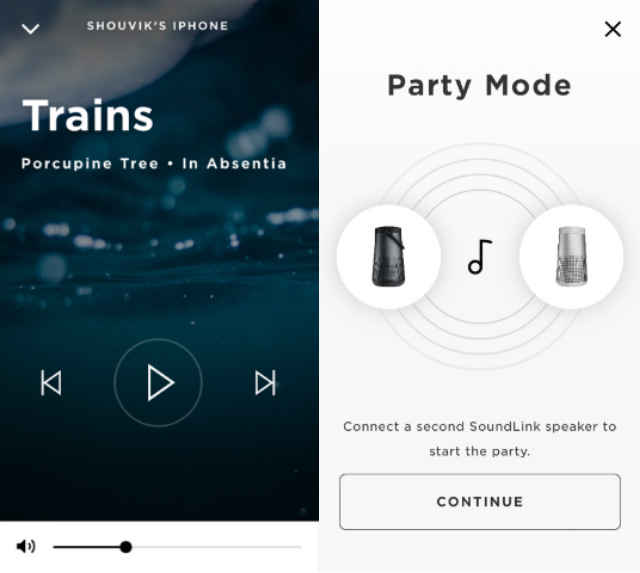 The Bose SoundLink Revolve+ takes an hour and 15 minutes to charge fully. Once fully charged, the speaker lasts for a little more than 14 hours of wireless playback, which is reasonably impressive. Once it falls below 20 percent, there is a slight drop in peak volume, although that is not a major deterrent, as you can still use it for listening to music or watching movies, maybe even without noticing.
The Bose SoundLink Revolve+ also synchronises itself with the Bose Connect app to receive OTA firmware updates, or facilitate stereo connectivity with another SoundLink Revolve+. You can also give it a nickname to personalise it, and the app itself has an appealing interface that actually makes you want to use it often.
Build and Design
The Bose SoundLink Revolve+ is built of a single aluminium sheath without any crease on its body. It has a rubber base and top, and even comes with a loop that makes it look like a lantern. Five buttons to the top include Bluetooth, volume keys, play/pause/calling and wired connectivity. On the bottom panel, you get a four-pin mount for an extra easy charging accessory that you can buy separately, and a tripod mount should you require it. The rear end of the grille houses microUSB and 3.5mm aux ports, and accessibility of all buttons and ports are easy.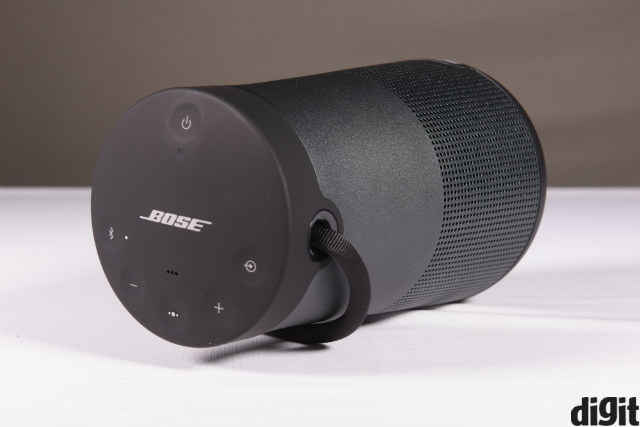 The speaker is rated to be water and shock resistant, so you may drop it without severe consequences. While we did not drop test it, the SoundLink Revolve+ did get its accidental splash of water, and has continued playing the way it previously did without a flinch. The overall build quality has a touch of finesse, with a precisely drilled grille and smoothly wrapped metal giving it a premium overall feel. The SoundLink Revolve+ is also rather heavy for its size, but the heft adds to its overall build quality.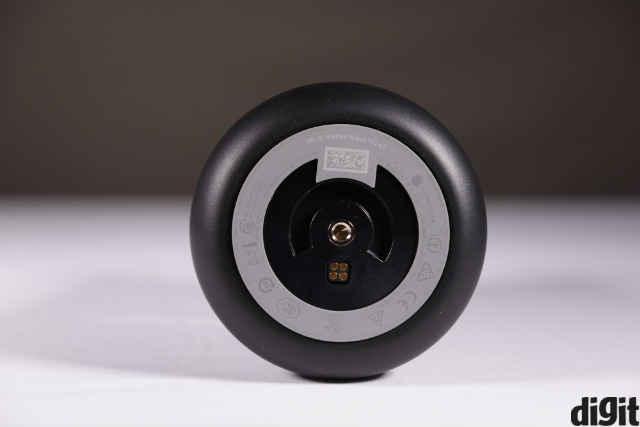 In terms of the design, while the Bose SoundLink Revolve+ is certainly unusual against Bose's recent products, it is a bit polarising. Some would appreciate its lantern-like design, although many around me stated how they miss the stately design of the SoundLink III. I personally like the suave finishing of it, and the 360-degree design is also rather unusual (and good). There certainly isn't anything to complain about here.
Bottomline
The Bose SoundLink Revolve+ sounds quite impressive, and easily equals the audio quality parameters set forth by the older SoundLink speakers. It produces excellent bass and bright highs, with slightly mellow mids. There is no distortion at high volume levels from mobile devices, the the speaker itself is well made and suavely designed to please discerning buyers.
To sum up, at Rs. 24,500, the Bose SoundLink Revolve+ is quite impressive for what it offers. There is no going wrong with this one.