After the immense popularisation of wireless headsets, wired ones have sort of become the anomaly. Audio companies, across all budgets, are directing their time and resources towards manufacturing wireless headsets that not only deliver when it comes to sound and looks but also when it comes to latency, especially since mobile gaming is garnering so much attention. However, most gamers, especially at competitive levels, prefer their latency-free wired counterparts even today. To that end, Taiwanese company ASUS recently launched an in-ear wired pair of gaming headphones that are primarily geared towards gamers. These are the ASUS ROG Cetra gaming earphones that come equipped with lucrative features such as Active Noise Cancellation, Ambient Sound Mode, USB-C connectivity, Hi-Res audio compatibility, and even lights! Priced at Rs 7,699, the headphones scream gaming just when you look at them and can feature cross-platform compatibility on PCs, mobile phones, laptops, and even the Nintendo Switch. Let's find out how the ASUS ROG Cetra fared in our review.
Build and comfort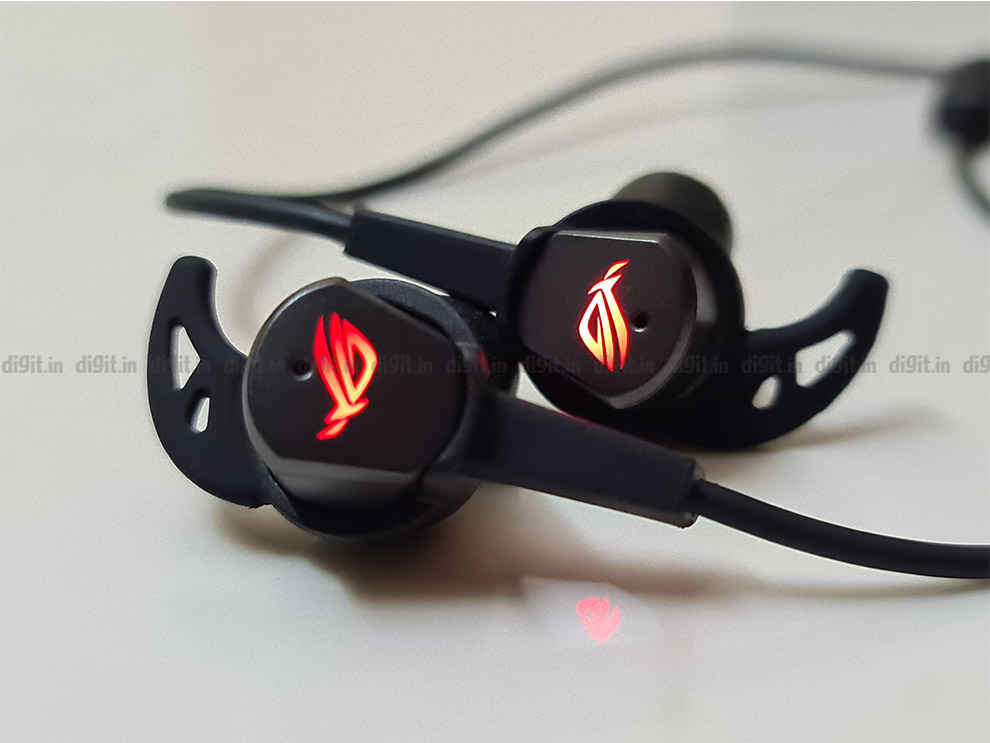 The ASUS ROG Cetra in-ear headphones are designed stylistically to match the gamer aesthetic. The earphones are primarily black in colour with the outer casings of the earbuds that house the ROG logo lighting up red when they are plugged into the source device. Speaking of the source device, the earphones draw power from the connected device that powers the ANC functionality and the lights.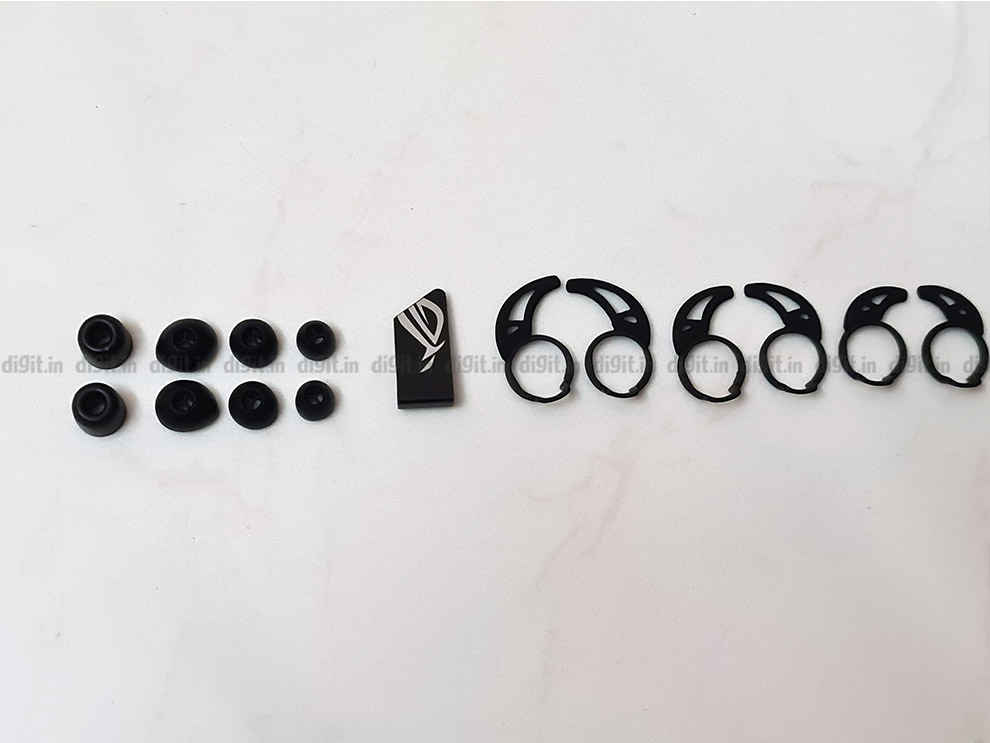 The earbuds feature a rather conventional design with an angled nozzle and silicone buds at the end to aid fit and comfort. However, they do come with silicone wings or fins to further enhance the fit. ASUS has packed three sizes of silicone ear tips (S, M, L) and an extra pair of memory-foam tips, which were, by far, our favourite. The earbuds are comfortable, ergonomic, and fit most ears given the number of ear tips options provided. There's also a tiny carry case and a shirt-clip provided in the box.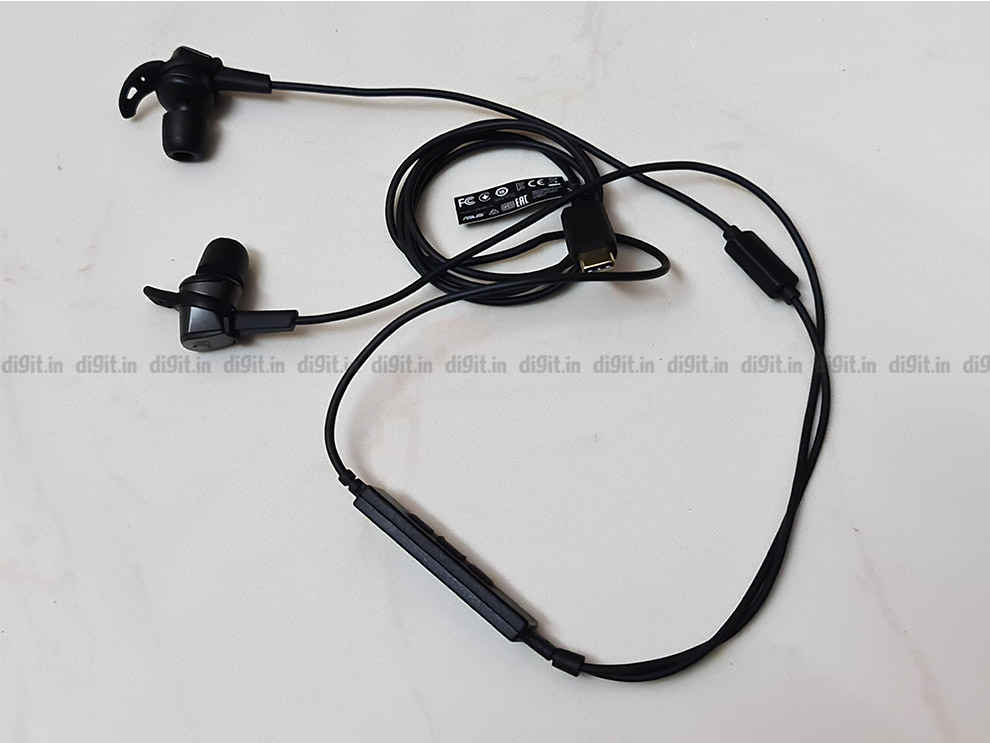 The cable length is a generous 1.25 metres which is more than adequate for laptop and mobile users, and good enough for even PC users. The cable, however, isn't braided or nylon, which is disappointing at this price point. The in-line module on the earphones features controls for Active Noise Cancellation, Ambient mode, playback, volume, and calls. There's also a microphone that's higher up on the cable.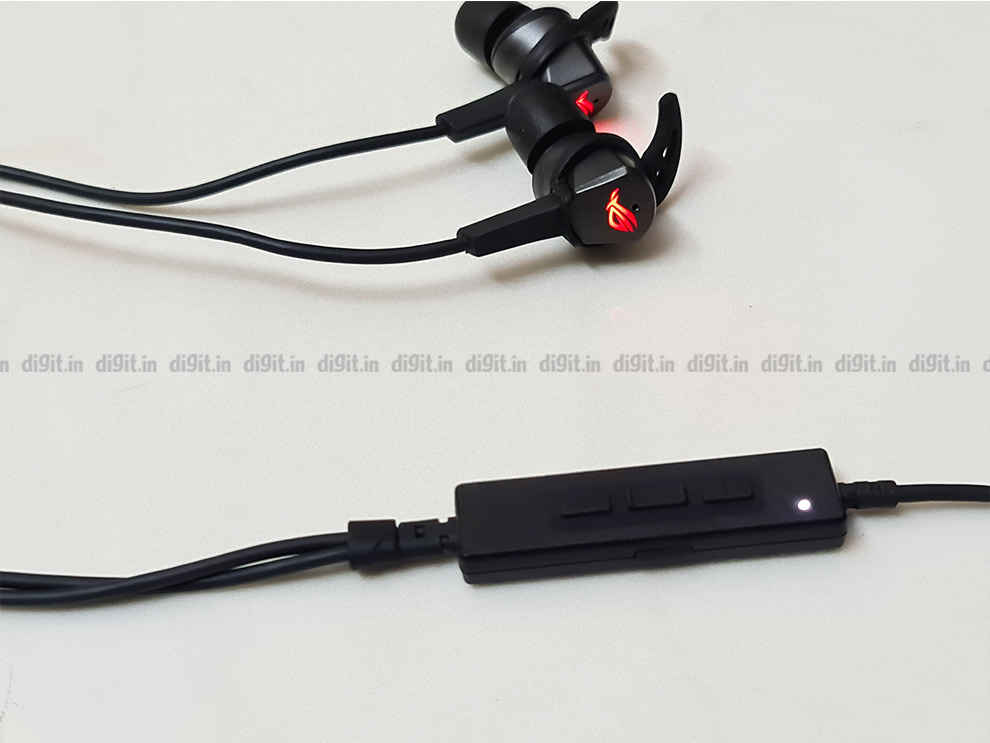 The in-line remote as well as the microphone unit are made out of plastic and feel a bit rough around the edges. The buttons, especially, feel quite plasticky and are pretty unyielding. We often found ourselves exerting a bit more pressure than desirable to press the buttons. Nevertheless, the controls work fine and are intuitive enough. At the other end, the earphones have a USB Type-C connector that isn't angled. Overall, the earphones scream gaming aesthetically and are sufficiently well-built but the hard-to-press controls on the in-line remote mar the experience slightly.
Features
Two of the biggest headlining features the ASUS ROG Cetra employs are Active Noise Cancellation and Ambient Sound mode. The company has added separate microphones for ANC on the earphones themselves. While ANC on these earphones isn't close to as impressive as on the premium on-ear headphones and true wireless earphones from Sony and Apple, it is enough to significantly drown out some distractions such as the AC drone, PC hum, and more. The ROG Cetra's ANC works best with low-frequency, consistent sounds and it has some trouble drowning high-frequency, erratic ones such as a mechanical keyboard or a high-speed fan. Unfortunately, we did find that there's a considerable amount of cable noise when the microphone touches your clothes at times when you're moving around.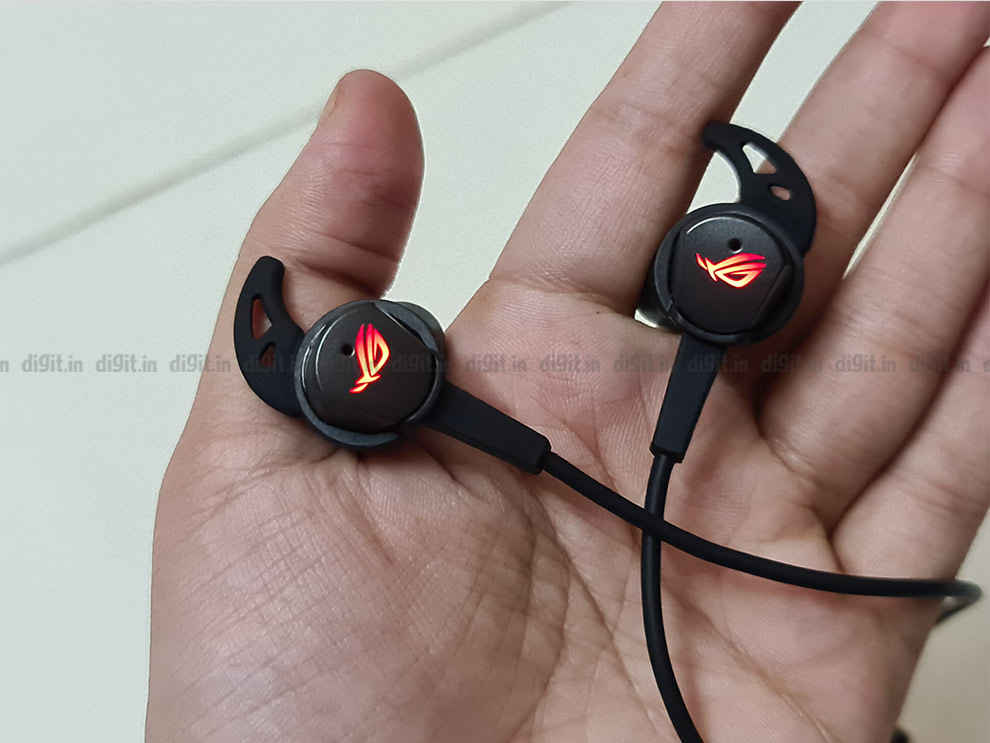 Ambient Sound works pretty well and amplifies background sounds significantly to a point where you can hear them even if there's music playing at about 40-50 per cent volume. While we didn't utilise the Ambient Sound mode as much as the ANC mode since we're working from home, it's nice to have the feature available nonetheless, for when we need it in the future.
Now, if you are using the ASUS ROG Cetra in-ear headphones with your laptop or PC, you can install the Armoury II software that offers additional controls and customisations. The software comes equipped with an adjustable EQ, bit rate and frequency response controls, sound presets, and a Virtual Surround Sound toggle. You can create different kinds of profiles for different games and apply them when necessary. The software isn't available in app form for mobile phones.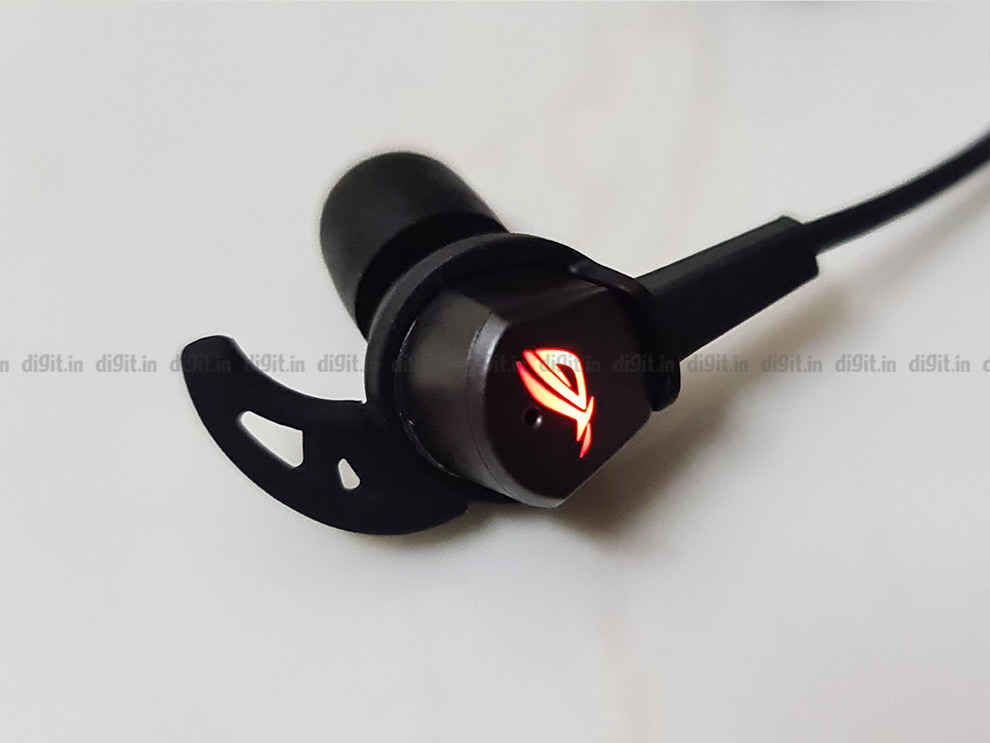 Additionally, as mentioned above, the earphones can be used across platforms such as mobile phones, PCs, Mac, laptops, and the Nintendo Switch. If your phone or laptop doesn't come with a USB-C connector, you can consider purchasing the ASUS ROG Cetra Core instead which comes with a 3.5mm connector, albeit without ANC. Note that ASUS states that Android phone compatibility is limited to a list of phones mentioned on the official product page, however, the earphones worked with full functionality on our test device - the Samsung Galaxy S20 Ultra, and even on our secondary device - the Pocofone F1, which weren't mentioned on the official list.
Performance: Gaming and Music
Featuring 10.8mm dynamic drivers with a frequency response of 20-40,000Hz, the ASUS ROG Cetra certainly sounds like they're especially tuned for gaming. The earphones feature excellent staging and separation that make games such as Call of Duty: Mobile sound positionally-accurate, and dynamic. The wide soundstage allows for accurate positioning of gunshots and footsteps and the emphasised treble response makes gunshots sound lively and dynamic. In other games such as Asphalt 9 that have a prominent background score, the ROG Cetra weren't as impressive, but slightly better than standard wired earphones. Also, with the cacophony of background music as well as in-game sounds, the otherwise superb directional cues are slightly diminished.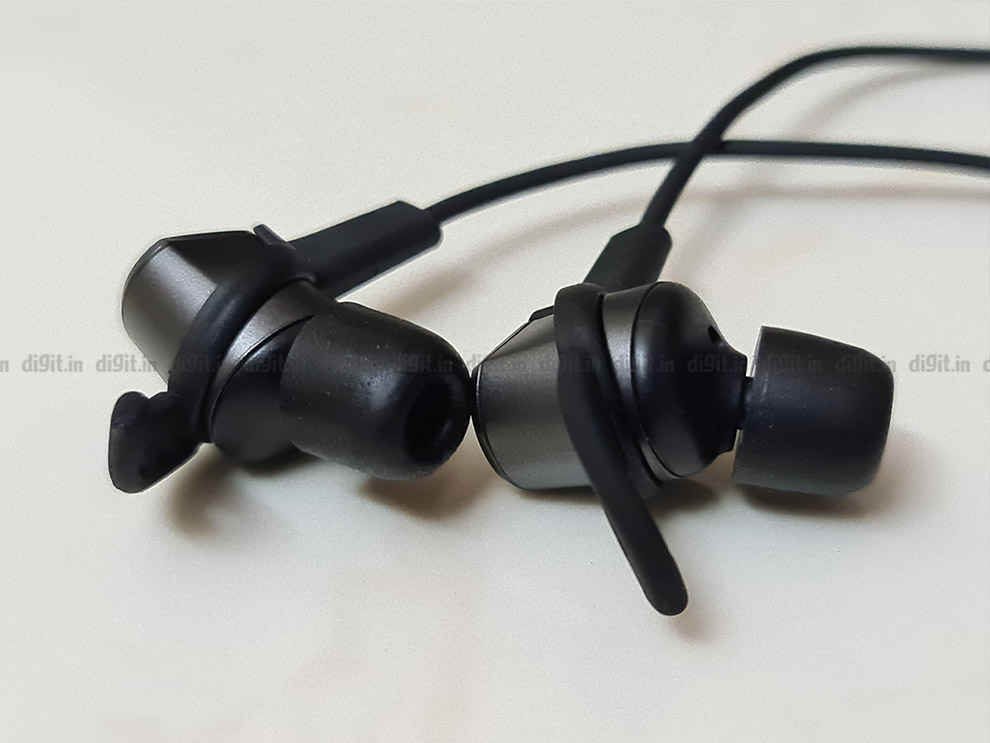 The omnidirectional microphone on these gaming earphones are pretty competent and work well for games such as Among Us that require you to talk on Discord. The microphone picked up our voice and relayed it sufficiently well, with minimal distortion. The microphone also filters out a significant amount of background noise such as a high-speed ceiling fan and AC drone.
Coming to music, the ASUS ROG Cetra are out of their element here. The sound signature is overly bright with subdued lows and bass, and tinny highs. The soundstage is pretty good and imaging is excellent even in tracks with multiple instruments such as Hunter by Bjork. However, the underwhelming lows and the shrill highs were enough to deter us from listening to a lot of music on these earphones, since the overall signature is a tad too bright. This caused some listening fatigue over an hour of listening to music. Overall, if you are planning to solely purchase a pair of headphones to listen to music, the ASUS ROG Cetra wouldn't be the way to go, but if you're looking for a solid pair of gaming earphones, these earphones are great options with the added benefit of Active Noise Cancellation.
Bottomline
The ASUS ROG Cetra in-ear headphones are designed, stylistically and sound-wise, for gamers. They feature premium features such as ANC and Ambient Sound, as well as multi-platform compatibility and software support for PC and laptops. The sound quality for gaming is commendable with stellar staging and emphasised highs that make for directionally-accurate and lively gunshots in FPS games. The earphones are also pretty good for other games such as Among Us owing to the solid omnidirectional microphone performance. However, for music, these earphones are a bit too bright and have subdued lows and bass response. Overall, for Rs 7,699, the earphones are quite pricey but if you value excellent positional cues in gaming and a gamer aesthetic, the ASUS ROG Cetra may be the right choice for you.