VERDICT:
At Rs. 12,700 the Nano is expensive, unless you are looking for something really tiny, in which case, it fits the bill perfectly. Apple has cut corners on performance, something we do not care for. Also, the price is very close to the iPod Touch 8 GB, and if size is not an issue, we can't see many people biting this Apple.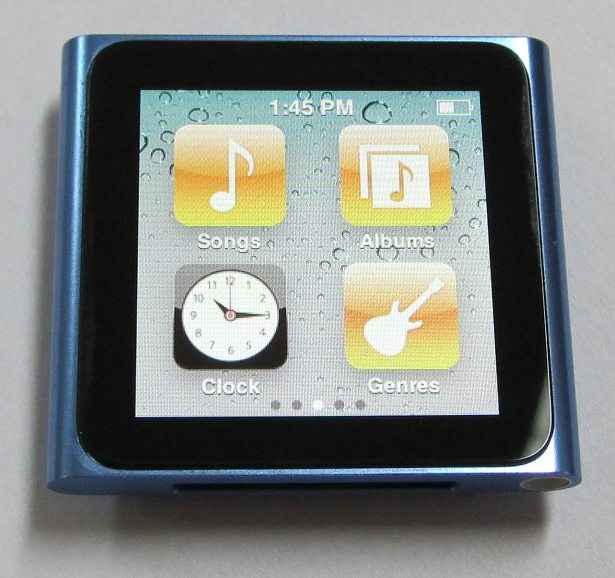 [RELATED_ARTICLE]The display cleverly shares a single sliver of glass with the bezel, giving it the appearance of being larger that it is when switched off. It's a lot tinier switched on, and surprisingly incorporates a capacitive touch-screen. While some might argue that the display size (1.54-inches diagonally), is too small to really practical as a touch interface, but after using it, we're inclined to disagree. The menu structure is quite simple, and using touches to accomplish things is a lot better than the click-wheel that we, quite frankly consider a pain. The aluminium enclosure is compact and stylishly designed and the anodised finish is glossy, while retaining the "hot" colours than Apple is know for – black, silver, mustard-yellow, smoky blue, girly pink and green.

Click next to read about the look and feel of the iPod Nano Touch
Look and feel
In case you chose to disregard everything I've said above about the Nano's looks – it's sleeker than before, tiny even, and feels very sturdy, thanks to a minimal footprint and aluminium on the body. The display is small, but the simplistic interface proves easy to work with. The menu system comprises of four icons per screen, and swiping to your right reveals the next set of options, while swiping to your left will take you back to the previous menu or list of options. Owing to the tiny display, video playback was dropped from the list of features. Image viewing is still supported.
[RELATED_ARTICLE]We must say – the 240×240 pixel display looks sharp on a per pixel level, although it's apparent that it's not a very good performing LCD doing duty under that glass. For one, colours aren't too great, although to its defence, the Nano isn't going to be compared to the iPod Touch despite the uncomfortable nearness of the pricing. Secondly, the contrast is pretty weak. Evidently, Apple reckons that videophiles will steer clear of the device. And we can't fault their stance, for the Nano is super small and would be more at home in a jogger's pocket. Or you could use the large, robust belt clip.
And this is the kind of person that will appreciate the size of the Nano. When you're jogging, you want something small. After all, which person likes their track-pants' pockets flying around, to the rhythm of a steady jog? Even office goers will appreciate its small, slim dimensions; it's an inconspicuous fit in your pocket – aesthetic and not easy for pickpockets. Heck, they'd probably not notice it there.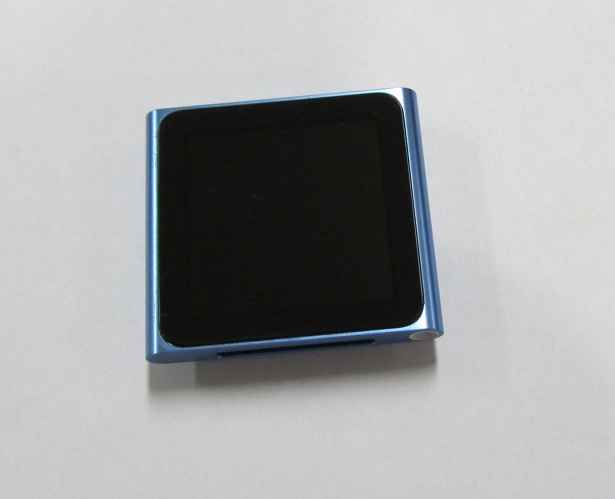 The top of the device has three matte-chrome finished buttons – a larger display on/off-cum-start button, and two volume buttons. Just like the new Touch 4G, these buttons are hard, and owing to their diminutiveness, not the easiest to use. The 3.5mm headphone jack is located on the bottom of the device.
Besides the usual gamut of features Apple includes on their iPods, the Nano has FM Radio support, as well as an inbuilt pedometer. Available in 8 and 16 GB, the Nano can hold a fair amount of music and photos. The camera found on the previous Nano has been dropped.
Click next to read our take on its performance
Performance
The one thing that most people will rate the Nano on first is audio quality. Needless to say, Apple gets things right macroscopically, although the Nano is by no means an audiophile-grade device. For the first time, with the latest generation Pods, Apple seems to have digressed from the path of "audio quality above all else". Although the new iPod Touch was no slouch, there were finer elements missing, and the more you listen to it, the more the feeling sinks in. A to B comparisons may not yield huge differences, but as a long term listening companion, you'll notice discrepancies that should not be present. Read our review here. And if anything, the new Nano is worse off.
We tested the Nano using its default earphones and also a set of SoundMagic PL11s, and our supra-aural Grado RS1i. Starting off, the volume level is a lot lower than previous iPods, and even lower than the volume on the new Touch – a fact we find alarming. Apple is clearly sacrificing volume levels, and therefore the ability to properly drive slightly harder-to-drive earphones, for better battery performance. Obviously, when you make a device slimmer and lighter, you also necessitate a lower capacity battery.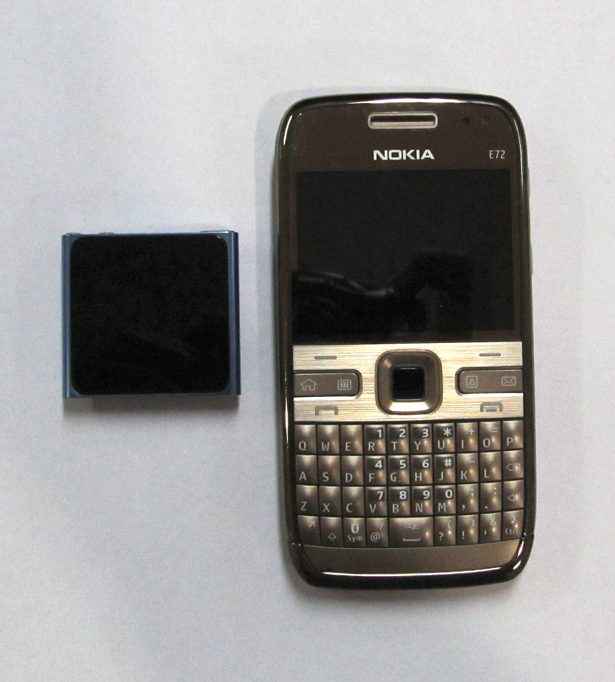 [RELATED_ARTICLE]The Nano Touch is also bassier than before, moving further away from a neutral tone. Bass remains reasonably tight, and is not woolly, but there is a lack of detail to bass notes i.e. they all sound the same. Bass is also looser than on the Touch that sounds more impact-full. The mid-range has a slightly euphoric colouration to it, lending vocals more depth and body than they might otherwise have. The problem is, the mid-range seems slightly recessed, as if vocals and guitars are coming from a couple of metres behind the bass or one is listening to the singer singing behind a curtain, this is what is referred to as veiled. Whereas the older iPod Touch could drive the RS1i well, the Nano Touch doesn't quite produce decent bass, even at maximum volume levels. Guitar tones also seem slightly mellow, and over-rich. While this is good for Blues and acoustic music, it's not so good for Rock and Metal, where distortion and long riffs lose their sizzle.
Click next for performance part 2 and our final take
As mentioned earlier, the volume level is lower than the new iPod Touch. We reckon by around 10 per cent. This puts the volume level at least 20 per cent lower than the older iPod Touch. The slightly non-neutral presentation is also a killjoy, for there are ways to colour sound if you desire, but a coloured source is not a good way to begin. While neutrality can be boring, the Nano takes away all choice in the matter by being non-neutral to start with. In all fairness, this evaluation has been done on the same vein as "audiophile" gear. You might be a bit kinder than I, and a lot less discerning on the whole. Or you could be more discerning, in which case the Nano is certainly not for you.The Nano has much better audio quality than most PMPs in this segment on the market, it's just that it's not as good as expected from Apple. The interface is fast, although USB transfers are slower than on the Touch. Viewing photos on the Nano is a so-so experience. One cannot complain about the quality, but given the display size, it's fairly unsatisfactory. FM Radio is a plus.

Conclusion
At Rs. 10,700 for the 8GB version, and 12,700 for the 16GB version, we feel the larger capacity Nano is better value. You get a tiny device with a touch-screen and a good sounding PMP for the money. However, older versions sound better, and the low volume thingy bothers us, for it represents a dilution of principles, as much as, a reduction in associated performance. Apple needs to stay truer to the iPod genes that they themselves instilled in previous generation devcies. Those looking for value should also remember that the iPod Touch is available with 8GB of storage at a similar price, making the Nano Touch very ordinary value for money. However, its intended audience (joggers, commuters and such) are well served.
Specifications: Display: 1.54-inches, 240×240 pixels, capacitive-touch; storage: 8/16GB; weight: 21 grams
| | |
| --- | --- |
| Brand | Apple |
| Model | iPod Nano Touch |
| Features | |
| Capacity (GB) | 8, 16 |
| Display Type | LCD |
| Number of Colours | 16M |
| Resolution | 240×240 |
| Size of Display | 1.54-inches |
| Type of Battery | Li-ion |
| Weight of Device (in grams) | 21 grams |
| Firmware Upgradeable (Y/N) | Y |
| Memory Upgradeable (Y/N) | N |
| Type of upgradeable memory | NA |
| FM Tuner (Y/N) | Y |
| Voice Recording (Y/N) | N |
| Audio Formats supported | AAC, Protected AAC, HE-AAC, MP3, Audible, Apple Lossless, AIFF, WAV |
| Image Viewing (Y/N) | Y |
| Image formats supported | JPEG, BMP, GIF, TIFF, PSD, and PNG |
| Video Playback (Y/N) | |
| Video Formats supported | – |
| Screen Brightness adjust (Y/N) | Y |
| Screen Orientation Sensor (Y/N) | N |
| Bluetooth (Y / N) | N |
| Built-in Speakers (Y/N) | N |
| No of Preset Modes | 22 |
| Customisable Equaliser (Y/N) | N |
| Point A to B Track Repeat (Y/N) | N |
| Custom Playlist saving (Y/N) | Y |
| PC connectivity type | Proprietary |
| Audio File Transfer (Sync/Copy) | Sync |
| Use as Portable Drive (Y/N) | Y |
| Addon Features | |
| Built-in Calendar | Y |
| Built-in Contacts | Y |
| Built-in Stopwatch | Y |
| Built-in Alarm | Y |
| Bundled Software | – |
| Bundled Accessories | – |
| Additional Features (If any) | – |
| Menu Layout (So 10) | 6 |
| Navigation (So 10) | 7 |
| Performance | |
| Transfer Speed (in MBps) | 6.4 |
| General Display Performance (So 10) | 6 |
| Video Performance (So 10) | |
| Brightness | 0 |
| Colour | 0 |
| Contrast | 0 |
| Overall Video Viewing Experience | 0 |
| Music Performance (Out of 10) | |
| Dire Straits – Money For Nothing | 7.5 |
| Robert Plant & Alison Krauss – Trampled Rose | 7.25 |
| U2 – Where the streets have no name | 7 |
| Eric Clapton – Layla | 7 |
| Pink Floyd – Us and Them | 7.25 |
| Ozzy Osbourne – No More Tears | 7.5 |
| Sound Performance (Out Of 10) | |
| Treble Detail | 7.75 |
| Mid-Range | 7 |
| Bass | 7 |
| Soundstage | 7.75 |
| Bundled Headphone Quality (Out of 10) | 6 |
| Battery Life (Actual Tested) | 18 hrs 36 min |
| Price (Rs) | 12700 |
Rating:
| | |
| --- | --- |
| Features: | 6.5 |
| Performance: | 8 |
| Build: | 9 |
| Value: | 6 |
| Overall: | 7 |
Contact: Apple India

Email: indiasales@mac.com

Phone: 080-2574-4646
Website: http://www.apple.com/ipodtouch/
Price: Rs. 12,700 (MRP, 16 GB)